Formulated an herbal supplement to help women with menstrual cramps
Offered help and advice to women re: health issues during an era when male doctors did not take women's health issues seriously
First woman to become a household name through advertising
Lydia Estes Pinkham was born in Lynn, Massachusetts, the tenth of twelve children. The family was Quaker. They were ardent anti-slavery proponents and anti-segregationists; their home was a frequent meeting spot for those who were active in the abolition movement.
Her father started out as a shoemaker but did well in real estate so Lydia was able to attend the Lynn Academy, and she taught school before her marriage to Isaac Pinkham, a shoe manufacturer. They married in 1843.
Because there were so few medicines in that day, women commonly mixed up concoctions that they learned about from friends and neighbors, and Lydia Pinkham did so as well. By 1865 she was making a supplement that became known throughout the town for helping to ease "female complaints." Her Vegetable Compound contained "unicorn root, life root, black cohash, pleurisy root, and fenu-greek seed" in a mixture that was 19-20 percent alcohol. This level of alcohol was stronger than beer or wine, but if taken as prescribed it would not have caused drunkenness. (Lydia was active in the temperance movement so she would not have intentionally created something that may have been occasionally mis-used.)
Women's Health Issues Unspoken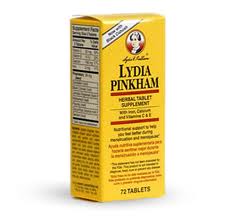 In that era, women would have been very uncomfortable describing "female complaints" to a male doctor. In addition, doctors often believed that relief from menstrual problems necessitated surgical intervention. Because the importance of sanitary conditions for surgery was unknown at that time, surgery was a high risk solution.
Women found the concoction helpful, and Pinkham was happy to provide it at no charge to friends and neighbors who approached her.
Bad Economic Times
In 1873 the country's economy took a sudden downturn, and many business owners were ruined, including Isaac Pinkham. He was arrested for indebtedness and while he seems to have stayed out of jail, the experience was enough to make it difficult for him to function as he was no longer able to help the family.
When women from Salem, Massachusetts arrived in Lynn to obtain Lydia's Compound, her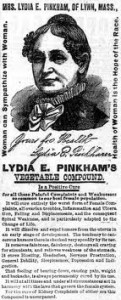 son Daniel suggested that the family should go into business. Lydia turned the cellar into a factory, her daughter and one son held jobs to bring in money to invest in the herbs and bottles for dispensing the compound, and the other two sons started making sales calls—one in Boston and the other in New York—in order to sell Mrs. Pinkhaam's Vegetable Compound.
The first year did not go well, and the family was very discouraged. Daniel decided that they needed to make a last-ditch effort by placing an ad, though the advertisement would take all the money had. They also decided that their mother had to be front-and-center with the product. Lydia had her photograph taken, and it was used in the advertising and on all the product labels.
The gamble paid off and business picked up. As sales increased, Pinkham started hearing from customers with their health questions. Physicians of the day did not know much about women's "issues" and women were discouraged from asking such questions, so Pinkham opened up communication that had not been there before. Pinkham believed in a good diet, moderate exercise, and the wearing of loose clothing (that was probably a bigger issue that modern women might guess), so Pinkham's replies to her customers were generally sound and helpful. Eventually many of the subjects were published by the company as Pinkham's Pamphlets.
Soon the business was grossing about $300,000 per year.
Several years later, the family encountered tragedy. Two of the sons died of tuberculosis, and Lydia had a stroke a year later, dying in 1883. This was only eight years after first selling her "vegetable compound."
The remaining family members kept the business going, and Mrs. Pinkham's Herbal Product is still sold as an herbal supplement. The product was somewhat reformulated after the establishment of the Food and Drug Administration in 1927.
Lydia Pinkham changed the lives of thousands of American women by drawing attention to serious female medical issues that were being neglected by mainstream medicine.