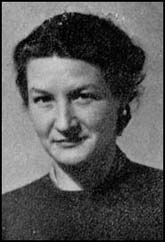 Virginia Hall worked as a spy for the Allies during World War II. She served overseas, and when the war ended, she was awarded the Distinguished Service Cross. She was the first woman and the first civilian to receive this honor during World War II.
Virginia Hall's Childhood
Virginia Hall (1906-1982) was born to a well-to-do family in Baltimore, Maryland. She attended Radcliffe and Barnard Colleges, completing part of her education in Europe. She spoke French and German fluently. After working at several American embassies, she became intent on getting a job with the U.S. State Department. She wanted to work in foreign service.
While working at the American embassy in Turkey, she was invited to join friends on a hunting expedition. During the trip and when they were in a remote area, her gun discharged unexpectedly. The bullet went through Hall's left foot. By the time her friends got her to a hospital, her leg below the knee had to be amputated in order to save her life.
Hall did not want this accident to slow her down, so she returned to the U.S. and had a wooden leg created and then set about practicing so that she could do almost everything she had done before. She walked with a limp and could not run as quickly. Otherwise, she was extremely competent and managed well on her own. She returned to Europe but knew she had to shift her plans. The State Department would not hire someone with a false limb.
Returns to a Europe in Chaos
At the time of her return, Germany had just invaded Poland. Hall went to Paris and enlisted in the French Army as an ambulance driver. As she saw what the Nazis were doing to the Jewish people in Poland, she became convinced that she had to go where she could help.
Hall joined the British Resistance, an organization known as the SOE (Special Operations Executive). Within a few weeks working with the SOE, Hall went undercover as a journalist. She moved to a southern section of France that was occupied by the Nazis. Virginia Hall worked efficiently to create safe drop zones for Allies. That way new agents, supplies, money, and weapons could all be brought in.
Germans Knew of Lady with Limp
By this time, the Germans were aware that a woman they referred to as La Dame Qui Boite, the Limping Lady, was one of the key organizers there. They issued orders to find and capture her.
When the SOE got word that the German Gestapo was moving toward southern France, the resistance organizers were told to clear out of Lyon. Hall left with the group by train. The escape was dangerous and part of it involved a 30-mile trek which had to be done on foot.
The guide who agreed to lead them was displeased that there was a woman. For that reason, Hall did all she could to mask her limp. It was an arduous trip.
Learning to be Wireless Operators
The group made it back to London where they began training to be able to communicate via wireless radio. They knew communication was key.
After her training, Virginia Hall shifted to an American espionage organization, the Office of Strategic Services (the OSS). (The OSS also included another famous member, Julia Child.) This assignment took her back to France for more undercover work. Her disguise this time was as an old farm woman. The heavy clothing she wore coupled with her masquerading as being elderly gave better cover to her awkward gait.
She lived with a farmer's family and tended to the cows. She also traveled to the nearby market to sell the farmer's milk and cheese. There, she often overheard German officers in conversation. As soon as she got back to the farm, she pulled out her radio and would wire in any information she obtained.
Post-War Honors
After the war, President Truman wanted to make public the award she was to be given, but Hall refused. She wanted to remain in her line of work. She did not want her identity revealed.
Instead, in a private ceremony at the OSS office on September 27, 1945, Virginia Hall was given the Distinguished Service Cross award, making her the only American woman and the first civilian to be awarded this honor during World War II.
After the war, the OSS disbanded but its operations were folded into a new agency, the Central Intelligence Agency. Hall worked at the CIA offices until mandatory retirement at age 60. She died at the age of 76.
***
For another story on a very different type of job during World War II, see Guardian of the Manhattan Project: Dorothy Scarritt McKibbin.