• Refused admission to the bar and the practice of law by the Illinois Supreme Court because of her gender;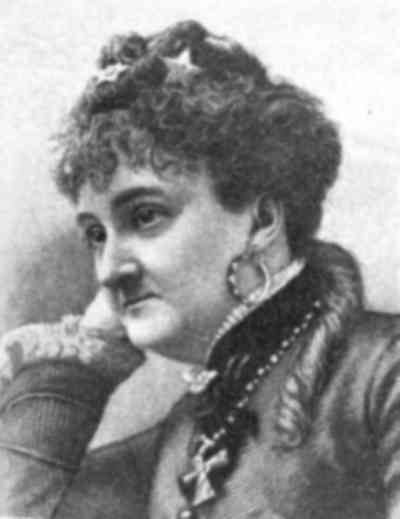 • Established the Chicago Legal News, which became a vital information service for attorneys;
• Helped Mary Lincoln fight an unjust commitment to an insane asylum;
• Assisted in securing the passage of a bill that gave women the right to retain their own wages and protected the rights of widows;
• Often cited as the first woman attorney in the United States; this is untrue. Arabella Mansfield in Iowa was the first woman in the country admitted to practice law (1869).
Myra Colby Bradwell was born in Manchester, Vermont in 1831. Her family left Vermont when Myra was quite young and they lived in western New York state for a time, eventually pushing on to Cook County, Illinois. When a sister married and moved to Kenosha, Wisconsin where there was a school Myra could attend, Myra moved to Wisconsin until moving back to Elgin, Illinois after a female seminary opened.
After graduation she became a teacher, and met James Bradwell, a poor law student. The Colby family did not approve of James, but Myra married him in 1852 and they moved to Memphis, Tennessee, where they opened a private academy. James was also studying for a career as an attorney, and Myra studied along with him. At the time there were few formal law schools, so most future attorneys learned the law by apprenticing under experienced attorneys and then petitioned to start their own practices.
By the mid-1850s, the Bradwells had relocated to Chicago, and James was granted a license to practice law. He eventually went on to be a state legislator.
The Civil War
Life throughout the country was disrupted by the Civil War from 1861-1865. Myra and James were raising a young family at this time. James continued with his law practice, and Myra found time to work with the Northwestern Sanitary Commission, an organization that collected and distributed food, clothing, and medical supplies for the Union soldiers.
Applied to Practice Law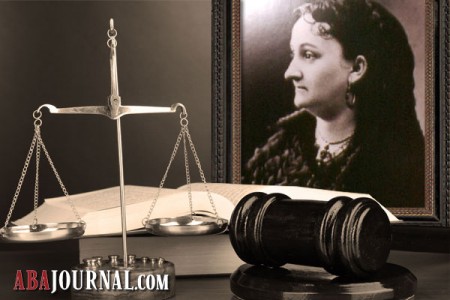 In 1869, Myra Bradwell submitted an application to the Illinois Bar for a license to practice law. She had read along with James and was an astute student of the law. Had she been a man, this would have been enough for her to qualify in the 1860s. However, she was refused admission by the state Supreme Court because of her gender.
Myra was so incensed by the rejection that she filed an additional brief and argued the case. The Court responded: "God designed the sexes to occupy different spheres of action, and …it belonged to men to make, apply, and execute the laws."
She appealed to the U.S. Supreme Court (Bradwell v. State of Illinois) and was backed by Elizabeth Cady Stanton and Susan B. Anthony, but the court refused to overturn the Illinois decision.
Successful Newspaper Business
For a married woman to start a business in the 1860s, Myra Bradwell was required to apply for a special charter. Once that was granted, Bradwell established the Chicago Legal News in 1868. Myra soon made the paper, which carried information about laws, ordinances, and court opinion, a necessity for Illinois attorneys.
As publisher and editor, Bradwell also used its pages to advocate for social reform including women's suffrage and property rights, a more just court system, prison reform, and railroad regulation.
The newspaper enjoyed major growth when Bradwell applied for and received permission from the state to publish new statutes passed by the legislature. It generally took several months for the state to release these decisions, and yet, they were vital to all attorneys practicing law in Illinois.
Since Bradwell had expanded so nicely within Illinois, she took that model and approached the lower federal courts around the country for access to their decisions as soon as they were made. In that way, she began to expand her readership beyond state boundaries, and the newspaper soon became the most widely read legal paper in the country.
Because the newspaper business required printing press, she also began to develop ways to publish legal decisions and legal forms that were used throughout the country. Lawyers' briefs,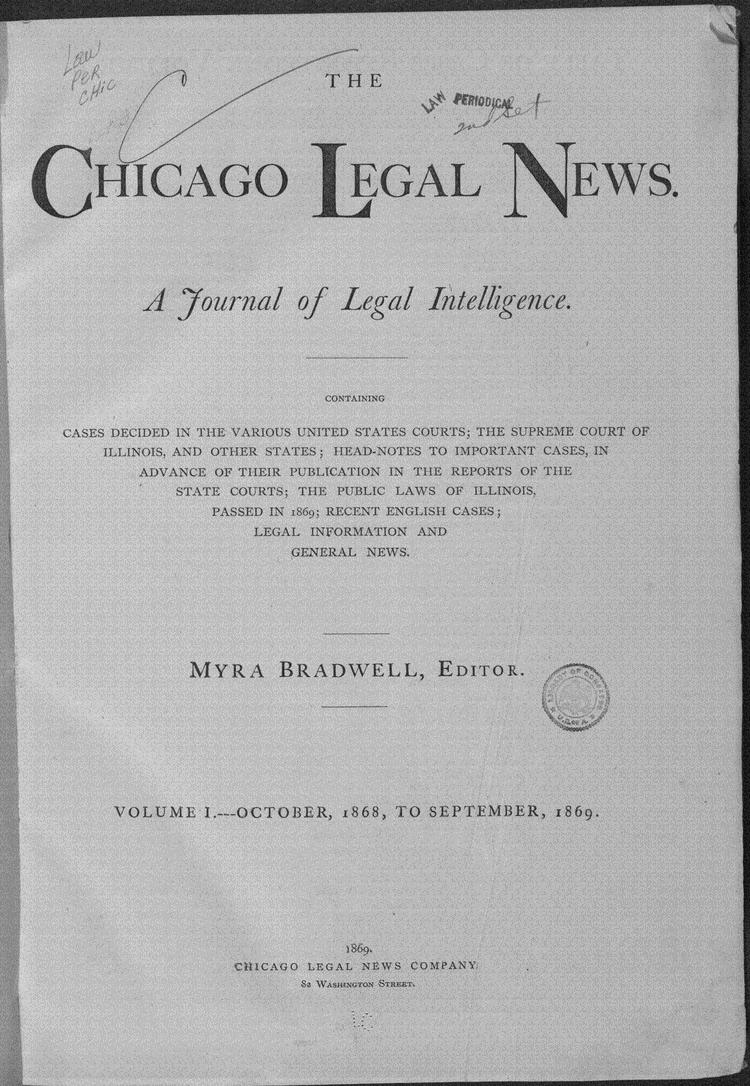 law books, and legal forms soon began to roll off the presses turning the Chicago Legal News Company into an empire.
Chicago Fire of 1871
The fire which tore through so much of the city ruined the careers of many Chicago professionals, and Myra Bradwell's office was not spared. The only thing salvaged from her business was the subscription book for the Legal News. Bradwell retrieved this and quickly hopped a train to Milwaukee, and arranged for the newspaper to be published by a press there. The next issue of the paper was delivered to its readers on schedule.
She also approached many types of advertisers after this tragedy, knowing this was a business opportunity since so many of her readers would have to rebuild their libraries and restock their offices. Because of her business acumen, her company grew and expanded.
What Myra Bradwell Did for Mary Todd Lincoln
In the late 19th century, it was relatively simple to have women committed to mental institutions, and this is what happened to Mary Todd Lincoln in 1875. Her only living son, Robert Todd Lincoln, took her to court where a trial was held. Though Mary had a defense attorney, the fellow failed to call a single witness, while the prosecuting attorney brought forward seventeen people to testify. Mary Todd Lincoln was declared of not of sound mind, and she was placed at Bellevue Place, an asylum for "genteel women."
While historians and clinicians continue to discuss what Mary's condition might actually have been, there is no doubt that Mary Todd Lincoln's life had been filled with trauma. She was holding her husband's hand at the theater the night he was assassinated, and she had lost three sons (two during infancy and one, Tad, four years before the trial in 1875). As a result, the question as to whether she needed to be institutionalized will always be debated.
Mary managed to get one important letter out of Bellevue Place, and that letter was to Myra Bradwell, a friend and neighbor, who took up her cause.
Bradwell immediately published stories of what had occurred. She also had a few stories she ran about Robert that he would rather not have had known. Bradwell made an appointment to visit Mrs. Lincoln at Bellevue Place and took members of the press with her. The press reported that Mary seemed perfectly sane. Robert Lincoln was publicly embarrassed. After the whole scandal died down, he relented and allowed his mother to be freed.
Bradwell's Causes
Her main cause was the legal rights of women. Working with her husband who was in the state legislature, she pushed for married women to have the right to their own earnings, equal guardianship of their children, and for a law that would provide widows with an interest in their husbands' estates. She also wanted equal access for women in all professions after she had been turned down by the bar and was also refused a license to be a notary public.
Within just a few years, change began to occur. In 1872 women became eligible for the bar (Bradwell refused to re-apply but she was given an honorary membership later that year); in 1873 the guardianship laws changed; and in 1875 women were eligible to become notaries public. While the vote for women was still a long way off, Myra Bradwell cleared the path for many women to enjoy somewhat more equal opportunity in other spheres.
In acknowledgment of the work she had done in the profession, in 1892 the U.S. Supreme Court granted her a license to practice law in the top court of the land.
Myra Bradwell died just two years later, passing away on February 14, 1894. Her daughter, Bessie Bradwell Helmer, continued on as publisher of the Chicago Legal News, carrying on the precedent set by her mother of publishing a newspaper that focused on both profit and principles.
On February 24, the paper ran a tribute to Myra Bradwell:
"The future historian will accord her the breaking of the chain that bound woman [sic] to a life of household drudgery. She opened the door of the professions to her sex, and compelled law makers and judges as well, to proclaim that it was not a crime to be born a woman."