First woman of color in U.S. Congress
First Asian-American in Congress
First woman to represent Hawaii
Patsy Takemoto Mink served two separate stints in the US Congress (1965-1976) and (1990-2002), representing Hawaii's 1st and 2nd Congressional Districts. As the first woman of color elected to the U.S. House of Representatives, she worked tirelessly for civil rights, women's rights, economic justice, civil liberties, peace, and the integrity of the democratic process.
Early Life
Mink was born in Hawaii on the island of Maui to second-generation Japanese-Americans. Her father was a civil engineer and her mother a homemaker. Her father, the first Japanese-American to graduate from the University of Hawaii, had experienced discrimination as a civil engineer in Maui. Several times he was passed over for promotions with white males getting the better jobs. After World War II, he resigned and moved the family to Honolulu where he established his own surveying company.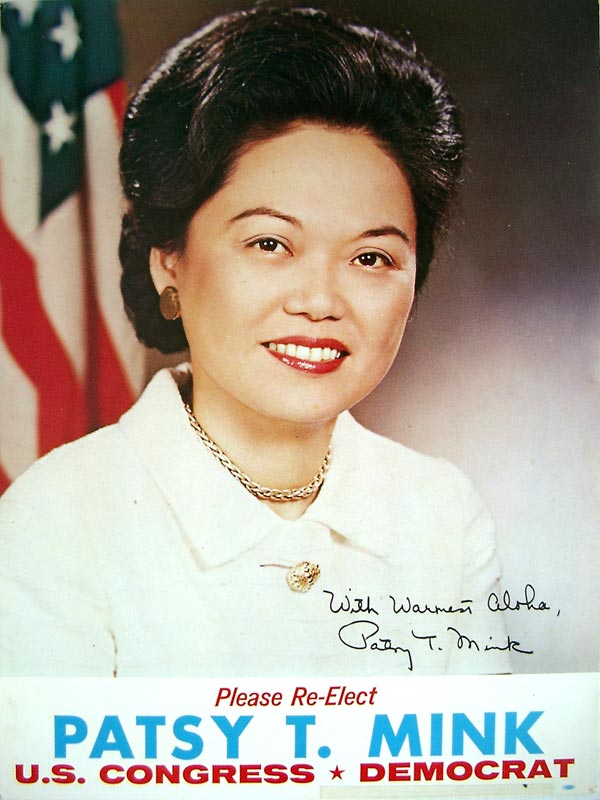 Mink learned campaign strategies and coalition-building as early as high school when she ran successfully for student body president. As a female who was of Japanese descent at a time when American tensions with Japan were high (World War II), Mink had to overcome prejudice and persuade the students that she would work hard for their interests.
She began college at the University of Hawaii. She transferred to the University of Nebraska and was surprised to encountered segregation—all non-white students lived in separate dormitory housing. Mink organized a coalition of students, parents, staff and administrators and fought successfully against this policy.
Mink intended to get a medical degree but soon found that out of 20 schools she investigated in 1948 none would accept women. She decided to gain the tools to fight discrimination by goint to law school. She was accepted to the University of Chicago, and while living there she met and married John Mink, a hydrologist. They eventually moved to Honolulu.
Life in Hawaii
In 1956 as the Territory of Hawaii considered statehood, Mink was elected to the territorial legislature, representing her district in the House of Representatives. In 1959, Hawaii became the 50th state of the Union.
In 1965, Mink became the first female minority to join the ranks of Congress. She served six consecutive terms. Mink took what she learned in high school and built some of the most influential coalitions in Congress. Her most important was for the Title IX Amendment of the Higher Education Act that she co-authored, prohibiting gender discrimination by federally funded educational institutions.
While the amendment covered any type of discrimination, the issue was particularly important in the field of athletics. The National Collegiate Athletic Association (NCAA) was created in 1906 to oversee men's football but had become the ruling body of all college athletics, but it offered no athletic scholarships for women and held no championships for women's teams. There was also no funding for facilities or transportation for women. As a result, in 1972 there were just 30,000 women participating in NCAA sports, as opposed to 170,000 men.
Since the enactment of Title IX, women's participation in sports has grown exponentially. The number of girl athletes in high school has increased from just 295,000 in 1972 to more than 2.6 million today. In college, the number has grown from 30,000 to more than 150,000. In addition, Title IX is credited with decreasing the dropout rate of girls from high school and increasing the number of women who pursue higher education and complete college degrees.
In recognition of her contributions to equal rights in the country, Congress named the Title IX Amendment of the Higher Education Act the "Patsy T. Mink Equal Opportunity in Education Act."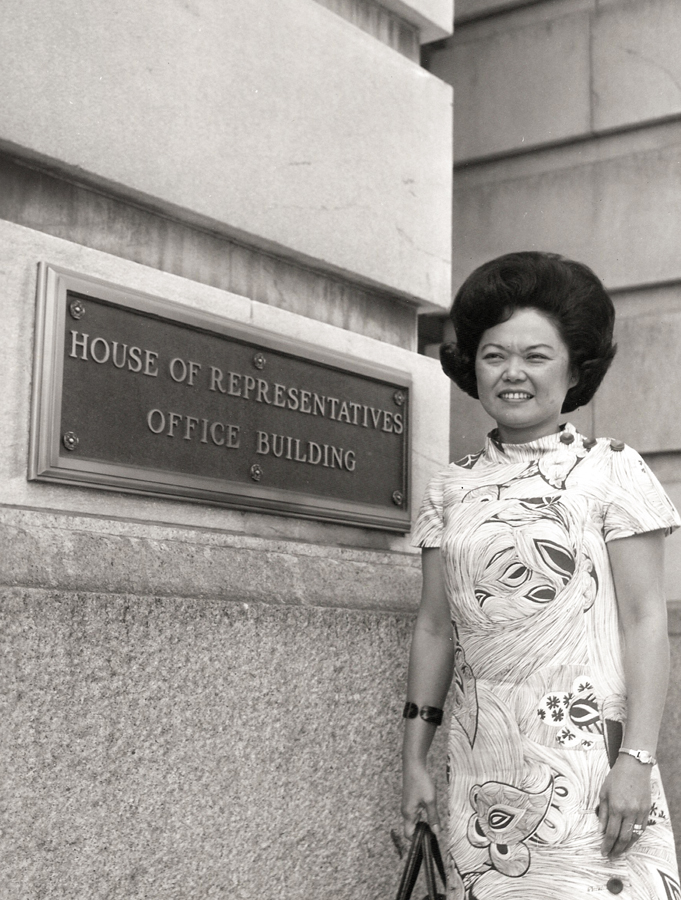 Other Accomplishments
Mink also introduced the first comprehensive Early Childhood Education Act and authored the Women's Educational Equality Act. In 1972 she felt strongly about getting out of Viet Nam that she got herself on the Democratic primary ballot in Oregon.
In 1976, Mink gave up her seat in Congress to run for a vacancy in the United States Senate. After she lost the primary election for the Senate, she received an appointment from President Jimmy Carter to become Assistant Secretary of State for Oceans and International Environmental and Scientific Affairs, serving under Cyrus Vance and Ed Muskie.
After her service in the Carter Administration, Mink returned to Hawaii where she was elected to the Honolulu City Council. In 1990, she had the opportunity to run for Congress again, and she won back a seat in Congress.
Mink was in the midst of running again for her Congressional seat when she was hospitalized in Honolulu with complications from chickenpox. She died unexpectedly. On November 5, 2002, Mink was posthumously re-elected; Ed Case filled the vacancy after a special election in January 2003.
In 2003 the Patsy Takemoto Mink Education Foundation was established to carry on Mink's commitment to support the educational goals of low-income women. Each year, the Foundation offers five awards of up to $2000 each to assist low-income women with children who are pursuing education or training: www.patsyminkfoundation.org.