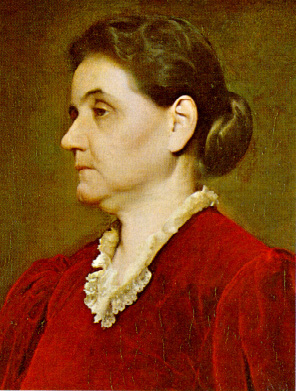 Jane Addams was born in 1860 in Cedarville, Illinois.  Her father was a prosperous businessman who served in the Civil War and was a state senator for sixteen years.  Her mother died when Jane was young; when her father remarried, the family expanded to contain nine children.
Jane suffered a congenital spinal defect and she often had bouts of ill health.  Later in life, her spinal difficulty was remedied by surgery but she still had times when illness slowed her.
In 1881 Jane Addams graduated from the Rockford Female Seminary, the valedictorian of a class of seventeen. She undertook the study of medicine but was hospitalized intermittently, and so she did not continue.
Finding her Cause
At the age of twenty-seven, during a tour to Europe with her friend Ellen G. Starr, she visited what was the world's first settlement house, Toynbee Hall, in London's East End. She and Starr began contemplating how to open a similar house for the poor in Chicago. 
In 1889 the two women leased a large home built by Charles Hull at 800 South Halsted Street. The house was located in a densely settled urban neighborhood with immigrants from many countries.  The women established their own home there and began offering what became a wide variety of services.  They provided kindergarten and day care facilities for the children of working mothers, an employment bureau, a library, and English and citizenship classes.
The complex eventually expanded to include thirteen buildings at which point Hull House added cultural offerings including theatre, music, and art classes.  Addams also instituted the Jane Club for single working women and a Labor Museum so that the young people of the neighborhood would have some way to connect with the home country experiences of their parents.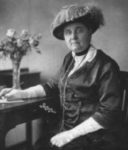 Addams also became known for her political work in the Nineteenth Ward. So disturbed was she by the condition of the streets that she asked for the post of garbage inspector, a job she managed for three years in order to bring about reform.
Addams realized that there would be no end to poverty if laws were not changed. Workers joined Addams to lobby the state of Illinois to re-think laws governing child labor, and the factory inspection system to increase worker safety. She also pushed for legislation to protect immigrants from exploitation, limit the working hours of women, mandate schooling for children, and recognize labor unions.
Addams efforts on behalf of the workers alienated some of her donors who supported Hull House, so she supplemented Hull House funding with revenue from lecture tours, article writing, and eventually the profit from several books.
She also believed strongly that young people should not be tried in adult courts, and she worked hard to create a juvenile justice system.  The first juvenile court opened in Chicago in 1899 and by 1920 only three states did not have a separate court for juveniles.
She also worked for women to be given the right to vote. Addams became first vice-president of the National American Women Suffrage Association in 1911.
Peace Effort
Publicly opposed to America's entry into World War I, Addams was attacked in the press and expelled from the Daughters of the American Revolution, but she found an outlet for her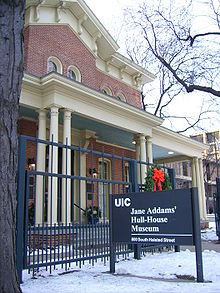 humanitarian impulses as an assistant to Herbert Hoover in providing relief supplies of food to the women and children of the enemy nations, the subject of her book Peace and Bread in Time of War (1922).
In 1919, Addams was the American delegate for the Second Women's Peace Conference where the Women's International League for Peace and Freedom began.  Addams was elected the first president, a position she held until her death (1935).
Final Days
After sustaining a heart attack in 1926, Addams never fully regained her health. The day the Nobel Peace Prize was to be awarded to her in Oslo, Addams was being admitted to a Baltimore hospital.
She died in 1935 following surgery. The funeral service was held in the courtyard of Hull House.
I have a personal fondness for Jane Addams and use a quote from her on my website and business cards.  Her words are my mission:
"People do not want to hear about simple things. They want to hear about great things—simply told."