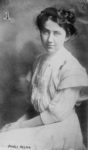 First female president elected to head an international labor union
Nestor began work in a glove-making factory when she was still in her teens, and by the age of 22 she was a strike organizer, pressing for better pay and better work conditions. She went on to become one of the founders of the women's International Glove Workers Union.
Nestor was born in Grand Rapids, Michigan in 1880. In 1887 her family moved to Chicago and when still a young teen, Nestor found employment in a glove factory. (There were no child labor laws then and it was actually common for children and adolescents to work in factories.) In 1898 the workers at the glove factory went out on a ten-day strike, and during this time, Nestor became one of the leading activists.
Why did they strike? Certainly wages and work conditions were at the core of the strike, but Nester, in a document called, "I Became a Striker" writes there were other injustices: "We were charged fifty cents a week for the power furnished our machines. At first we were tolerant of the charge and called it 'our machine rent.' But after a time that check-off of fifty cents from our weekly pay made us indignant.
"We were obliged, besides, to buy our own needles. If you broke one, you were charged for a new one to replace it. We had, also, to buy our own machine oil. It was expensive; and to make matters worse, we had to go to certain out-of-the-way places to obtain it.
"But this was not all. Every time a new foreman came in, he demonstrated his authority by inaugurating a new set of petty rules which seemed designed merely to irritate us. One such rule was that no girl must leave her own sewing room at noon to eat lunch with a girl in another room."
In 1902 Nestor helped form the International Glove Workers Union. In 1903, she joined with notables such as Jane Addams and Mary McDowell to form the Women's Trade Union League (WTUL), an organization of both working class and more well-off women formed to support women's efforts to organize labor unions to eliminate sweatshop conditions.
Nestor eventually served as president of both organizations. She was president of the ILGWU from 1913-16, and president of the WTUL in Illinois from 1913-48. Over the years, Agnes Nestor became active in many important causes including woman suffrage, minimum wage issues, and maternity health legislation. She also strongly opposed child labor.
Among her most notable achievements was an early one—in 1909 she helped get through the state legislature a law that limited work for women to 10 hours per day (up until then a 60-hour work week was the norm). She also believed in education for workers, and developed various courses that were operated by the WTUL and the Chicago Federation of Labor. She was also instrumental in helping to craft the Smith-Hughes Act of 1917, which provided the first federal aid for vocational education.