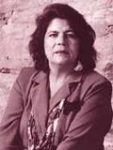 Native American community activist, tribal chief and tribal legislator

Wilma Mankiller served her people as a Cherokee Chief from 1985-95, making her the first woman to lead a major tribe. Her work was noted nationally, and in 1998 she was awarded a Presidential Medal of Freedom.
Wilma Mankiller was the sixth of 11 children born to Charley Mankiller, a full-blooded Cherokee, and his wife, Clara, who was of Dutch-Irish descent. The family name of Mankiller was earned by one of their forefathers to designate a specific tribal rank.
Her childhood was spent on a 160-acre tract of land near Tahlequah, Oklahoma that was given to her great-grandfather as part of a settlement the federal government made for forcing the Cherokee people to move away from their tribal lands in the Carolinas and Georgia. He was one of more than sixteen thousand Native Americans and African slaves who were ordered by President Andrew Jackson (1767–1845) to walk from their former homes in the Southeast to new "Indian territory" in Oklahoma in the 1830s. The harsh weather, hunger, disease, and abuse from U.S. soldiers that the walkers faced is what came to be called the Trail of Tears. At least four thousand of them died on this forced march.
The U.S. government continued their misguided treatment of Native Americans into Wilma's father's generation. Families like the Mankillers could barely scrape by in Oklahoma so the government started trying to relocate these families in big cities. However, there was often no employment for them available, and the Mankillers, who had been relocated to San Francisco found there were many challenges in finding work and settling in a new place.
As Wilma Mankiller recalled in her autobiography (Mankiller: A Chief and Her People), "I experienced my own Trail of Tears when I was a young girl… the United States government, through the Bureau of Indian Affairs, was again trying to settle the 'Indian problem' by removal. I learned through this ordeal about the fear and anguish that occur when you give up your home, your community, and everything you have ever known to move far away to a strange place. I cried for days, not unlike the children who had stumbled down the Trail of Tears so many years before."
By 1969 Mankiller was married and had two daughters. Wilma's new family was living in the San Francisco region when a young group of Native Americans took over and occupied an abandoned prison on Alcatraz Island in San Francisco Bay to call attention to the mistreatment of Native Americans by the U.S. government. This ignited Mankiller's concern for her people, and she dedicated herself to creating education programs to help the Pit River Tribe in California.
By 1976 Mankiller was divorced and decided to returned with her two daughters to Oklahoma. She found a job as a community coordinator in the Cherokee tribal headquarters and enrolled in graduate courses at the University of Arkansas in Fayetteville.
In 1983 Ross Swimmer (1943– ), then principal chief of the Cherokee Nation of Oklahoma, asked Mankiller to run for election as be his deputy chief. Swimmer and Mankiller succeeded and took office in August. Two years later, Swimmer was nominated to head the Bureau of Indian Affairs in Washington, D.C. Mankiller replaced him as principal chief of the Cherokee Nation. She focused on education and health care, overseeing the construction of new schools, job-training centers, and health clinics.
After completing Swimmer's term of office, Mankiller went on to be elected in her own right, Over the course of her three terms, Mankiller made great strides to bring back that balance and reinvigorate the Cherokee Nation. Under her leadership, infant mortality declined and educational achievement of tribal members rose, although she was quick to say much more needed to be accomplished.
Mankiller was the first female in modern history to lead a major Native American tribe. With an enrolled population of over 140,000, and an annual budget of more than $75 million, and more than 1,200 employees spread over 7,000 square miles, her task equaled that of a chief executive of a major corporation.
In 1995 she declined to seek another term as principal chief for health reasons, but she continued to write and give lectures across the country. She always stressed that if all the Native Americans who were eligible to vote actually did so, officials elected with those votes would be forced to address the problems of Native Americans.
In 2010 Wilma Mankiller died of pancreatic cancer. Among those who spent Wilma's final days with her was her long-time friend, Gloria Steinem.
In Mankiller's autobiography, she wrote: "Friends describe me as someone who likes to dance along the edge of the roof… I try to encourage young women to be willing to take risks, to stand up for the things they believe in, and to step up and accept the challenge of serving in leadership roles."