• First African-American woman to own and operate a newspaper
• Crusaded against job and housing discrimination, police brutality, and media stereotyping. Advocated for civil liberties, women's rights, immigration; and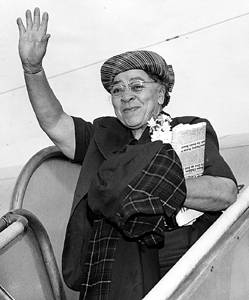 championed local, black-owned businesses.
• One of the most influential African-Americans of the early 20th century, galvanizing national energy around civil rights.
Charlotta Amanda Spears was born in October of 1880 in Sumter, South Carolina. She was the sixth of 11 children, but not much is known about her childhood. After graduation from high school, she wanted to escape the Jim Crow South so she moved to Providence, Rhode Island and eventually got a job selling ads for the Providence Watchman, a black-owned newspaper. She worked there for ten years and learned a great deal about the newspaper business.
The northeast weather did not seem good for her health, and Southern California was drawing people for the better climate. In 1910 Bass moved to Los Angeles and sought an interview with the publisher of the black-owned paper, The Eagle. She was soon hired to sell subscriptions by founder and publisher John Neimore.
Two years later, Neimore became quite ill but he had seen the value Bass brought to the newspaper. In her autobiography, she writes that she visited him during his illness, and he asked that she keep the paper alive after his death. He then arranged it so that she could own the newspaper and a companion printing business after he died. This made Bass the first African-American woman in the country to own and run a newspaper.
Running a Newspaper
Her first challenge as editor and publisher of the paper was to put it on sound financial footing. She changed the name from The Eagle to The California Eagle and began to expand beyond community service to more news coverage of issues affecting African-Americans. In 1912 she hired a new editor, Joseph Blackburn Bass, a Kansas newspaperman. They eventually married. (She kept her maiden name of Spears for the first 10 years of their marriage.)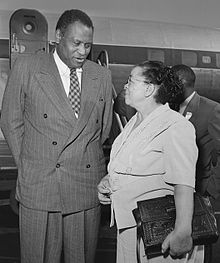 In an early experience with editorial-writing, she saw the power of taking a stand. Bass denounced D.W. Griffith's The Birth of a Nation (1915) for its glorification of the Ku Klux Klan and white supremacy. Her voice was soon joined by African-American papers throughout the country. This emboldened her to take on more causes that were important to African-Americans.
In 1925 the newspaper reported on activities of the Ku Klux Klan, and they printed a KKK letter outlining a strategy to manipulate the black vote. The KKK sued for libel but the Basses won.
In 1926-27 Bass moved to New York to take some journalism classes at Columbia University. When she returned, she created a new editorial column, "On the Sidewalk," and began to strengthen her voice.
By the mid-1930s, Bass had the newspaper she dreamed of—a paper that took important editorial stands and one that was on solid financial ground; its circulation of 60,000 made it the largest African-American paper on the West Coast.
Death of Husband Led Bass to Even More Activism
In 1934 her husband died unexpectedly, and this caused Bass to re-evaluate. While the newspaper was still her priority, she also wanted to expand into community activism. She participated in the NAACP, the Urban League, the Civil Rights Congress, the Universal Negro Improvement Association, and founded the National Sojourner for Truth and Justice Club (to improve working conditions for black women). Her activities on the national level brought her in contact with people like Paul Robeson and W.E.B. DuBois.
In 1945 she ran for a spot on Los Angeles City Council, and in 1950, she was the Progressive Party's candidate for state senate. She didn't win either race but the campaigns gave her a platform to talk about issues she felt were important to African-American.
Later Career
In 1951, after almost 40 years at The California Eagle, Bass sold the newspaper and began to prepare for a run for vice president on the Progressive Party ticket. Bass was the first African-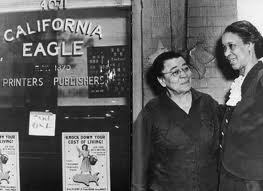 American woman to run for a national office; the presidential candidate was Vincent Hallinan, a white attorney from San Francisco. Bass had no dreams of winning but she campaigned with the motto: "Win or lose, we win by raising the issues."
Her activities brought her to the attention of those who like Senator McCarthy were attempting to hunt down communists, and she was placed under surveillance by the FBI. In 1950 she was called before the California Legislature's Joint Fact-Finding Committee on Un-American Activities. They never found fault with Bass or with her newspaper but she was subjected to surveillance for the rest of her life.
In 1960 she moved to Lake Elsinore and turned her garage into a community center and reading room. She continued to hold regular voter registration drives, protested against apartheid in South Africa, and fought for prisoners' rights.
In 1966 Charlotta Spears Bass suffered a stroke, and never fully recovered. She died three years later.
Bass summed up her life by describing her calling: "In public, in private, wherever I have heard the challenge, the call for a greater effort, the need for further struggle…I have continued to this day to work and fight and struggle toward the light of a better day."
Lifetime Commitment to Issues
From her arrival in Los Angeles until her very last years, Charlotta Spears Bass contributed greatly to the well-being of citizens in California and the U.S. Here are some of the causes she undertook:
Voting: In 1911 California women won the right to vote in state and local elections. Bass quickly organized women's clubs, churches, and civil rights groups to get women registered. The California Eagle also took stands on candidates, backing those who supported equal access to restaurants, theaters, and public places.
Job Discrimination: The first case Bass advocated for in her newspaper was for the Los Angeles County Hospital to hire black women, then in the 1930s she pushed for integration at the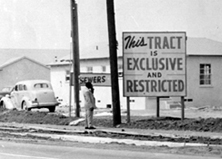 Southern California Telephone Company. In the 1940s defense jobs were available and blacks came to L.A. in big numbers. Bass and other black newspapers picked up the mantra of "Double V"—Victory at home and Victory in war abroad.
Housing Discrimination: As African-Americans began to move around the country, white people began to develop restrictions for them. Sometimes it was simply making a person feel unwelcome. In 1914 Mrs. Mary Johnson bought a small home on E. 18th Street in Los Angeles. One day when she went out on some errands, the neighbors let themselves in and moved all her furniture out on the lawn. They then boarded up her windows and doors. When Mary Johnson returned, she notified Charlotta Bass who rounded up one hundred church women to go to the house and stage a protest. Police eventually came and opened the home. Johnson moved back in.
After World War I, municipalities began to pass restrictive covenants limiting certain neighborhoods to white only. In 1942 Henry and Anna Laws were sold a home in an area where the neighbors felt they were protected from mixed housing. They were told to move out of their home; told they were barred from living in that neighborhood. The Laws stayed put and fought it in court. Eventually they lost a ruling and were put in prison for staying in their own home, however, the lower court ruling was ultimately overturned. In 1948 the Supreme Court ruled that racially restrictive covenants could not be enforced. Throughout the Laws' fight, the Home Protection Association (funded by The California Eagle) supported them.
"Don't Buy Where You can't Work" Campaign: The "Don't Buy Where You Can't Work" effort began in Chicago and spread; the purpose of this campaign was to put financial pressure on discriminatory business practices.
Police Brutality and White Supremacy: The California Eagle was there to cover the Zoot Suit riot in 1943, and they fought for an end to brutality against all minorities.