The California Eagle, a newspaper for black residents of Southern California, was the brain child of John James Neimore (1862-1912). Neimore, a California newcomer, observed other black settlers arriving in the West. Like him, they were in need of information on housing and jobs and other issues of daily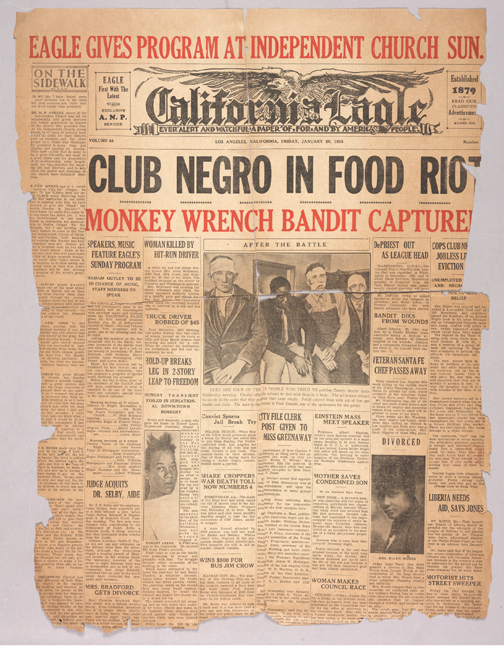 life in this new territory.
Neimore grew up on the family farm in Texas and decided to move West in the 1870s. In 1879, he founded The California Owl to provide helpful information and inspiration to those moving into the area. Newspapers owned by white men ignored minorities or portrayed them negatively. Developing papers that could provide needed news for African Americans was an important service.
At some point during his ownership, he changed the name of the paper from The California Owl to The Eagle. He located the offices at 4071-4075 South Central Avenue in Los Angeles.
First Woman Owner
Upon Neimore's death in 1912, a friend carried out Neimore's dying wish, which was that the newspaper be given to his most trusted staff member, Charlotta Spears Bass. When Bass took ownership of the paper she became the first African American woman owner and newspaper publisher. With her guidance, the paper became The California Eagle and expanded coverage to include social causes and news issues that were important to blacks.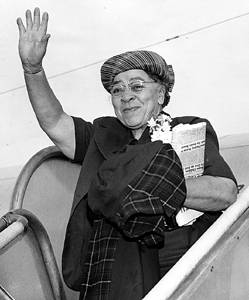 Bass and others on staff were active in civil rights, urging equal opportunity and an end to segregated facilities. The paper picked up readership, and by 1925 The California Eagle's circulation was 60,000, the largest of any African American newspaper in California.
The California Eagle Platform
In 1930, The California Eagle published its editorial platform for the first time. The newspaper editors and reporters took a stand for economic achievement among blacks and full equality for minorities.
The newspaper spelled it out this way:
The hiring of Negroes as a matter of right, rather than as a concession, in those institutions where their patronage creates a demand for labor;
The increased participation of Negroes in municipal, state, and national government; the abolition of enforced segregation and all other artificial barriers to the recognition of true merit;
The patronizing of Negroes by Negroes as a matter of principle;
More rapid development of those communities in which Negroes live, by cooperation between citizens and those who have business investments in such communities;
An enthusiastic support for a greater degree of service at the hands of all social, civic, charitable, and religious organizations.
A Move to Be Part of the Future
Charlotta Bass led with foresight. She knew that the Eagle's voice needed to be heard via new media. In 1938, the news team began producing a 15-minute "newspaper of the air" that was broadcast six nig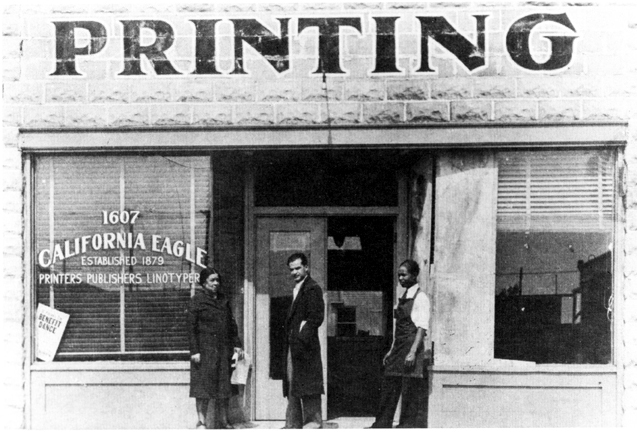 hts each week on radio station KGFJ. Two years later, The California Eagle Hour could be heard every Sunday evening over radio station KFVD.
By 1951, Charlotta Spears Bass' political activities had brought her under scrutiny by the state legislature's Joint Fact-Finding Committee on Un-American Activities. As the surveillance and questions continued, Bass felt it was harming newspaper sales. She was committed to her activism and chose to sell the newspaper.
Loren Miller (1903-1967), a law school graduate who moved West, started working at The Eagle in 1929. He rose from reporter to city editor. In the early 1940s, however, he returned to practicing civil liberties law with a specialty in housing discrimination. (In 1945 he represented Hattie McDaniel; he won her case striking down a racially restrictive covenant that would have kept her from buying her house on "Sugar Hill.")
When he heard the paper was for sale, he was interested. In 1951 he bought The California Eagle, maintaining the spirit Bass had established. Then in 1963 he was appointed to be a California Superior Court judge. This appointment by Governor Edmund "Pat" Brown necessitated that Miller sell the newspaper.
A consortium of investors purchased it from Miller, and things got off to a good start with a jump in circulation. Six months later, however, the business was in shambles, and the newspaper ceased operation in late 1964.
The California Eagle can be viewed online on microfilm. Click here.
To read about Harry McAlpin, an African American reporter who was first to break the color line at the White House, click here.