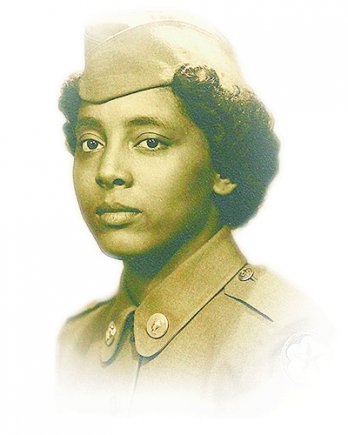 Sarah Keys Evans did not intend to take a stand for civil rights in 1952 when she boarded an interstate bus in Trenton, New Jersey. She was on leave from Fort Dix where she served in the Women's Army Corps. Dressed in her full military uniform, she was traveling home to visit her family in Washington, N.C.
Challenged on Trip Home
Her simple trip home did not go as planned.  In Roanoke Rapids, North Carolina, she was taken into police custody for refusing to give her seat to a white marine. While the South still enforced Jim Crow segregation laws, a different ruling had come from the Supreme Court in 1946. In Morgan v. Virginia, the judges ruled that passenger segregation was illegal on interstate travel. African Americans who started their ride in the North could remain in whatever seats they had taken at the beginning of the trip.
Once she arrived home, Sarah Keys Evans wanted to forget the whole thing, but her father urged her to fight for what was right. Keys v. Carolina Coach Company forced the Interstate Commerce Commission to stand by the Supreme Court decision of 1946 that ruled that Jim Crow laws could not be applied to interstate travel.
Keys and Rosa Parks
The Keys ruling was announced exactly five days before Rosa Parks took her seat at the front of the bus in Montgomery, launching a movement.
Both women deserve enormous respect, but the difference between them is notable. Rosa Parks was trained in civil disobedience and had an army of supporters ready to fight beside her.  Sarah Keys was all alone on that bus at midnight in the South when the bus driver decided she should give her seat to a white man. What occurred after that was a prolonged, lonely fight.
Changes in civil rights require both types of people—those like Sarah Keys, who take a stand when something is wrong; and those like Rosa Parks, who set goals and then strategize to accomplish them.
Sarah Keys Evans
Sarah Keys Evans was born in 1929. She and her siblings grew up on the family farm in Keysville, North Carolina. To make enough money to support the family, her father worked during the day as a cement finisher, and the children helped on the farm when they weren't in school.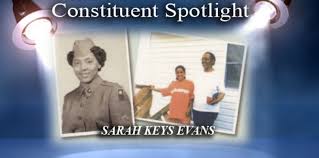 After Sarah graduated, she went to live with her married sister in Perth Amboy, New Jersey. She tried a variety of jobs but nothing excited her until she saw ads for women in the military. She soon enlisted. After Basic Training in Fort Lee, Virginia, and a short stint in Houston, she was given a permanent assignment at Fort Dix, New Jersey.
Traveling Home
Eligible for leave, Sarah Keys Evans was excited about going home to North Carolina to see her family. Her father had schooled all his children in the rules pertaining to traveling North to South. She had no concerns as she knew what was expected of her.
On August 1, 1952, Keys Evans boarded a bus in Trenton, New Jersey. Because the bus traveled straight through (she had no changes to make), she knew she had the right to sit where she pleased. She chose a seat in the middle of the bus as the back of any bus tended to be hotter and bumpier than the forward section. In addition, unpleasant smells from the engine frequently drifted in the rear windows.
Wakened and Asked to Move
Near midnight, the bus reached Roanoke Rapids, North Carolina, where a new driver was to take over. As was the custom, the new driver went through the bus and re-checked tickets. When he came to Sarah Keys, he asked her to move to the back of the bus. A white marine boarded the bus at Roanoke Rapids, and Keys Evans was told to give him her seat.
Sarah was groggy from sleep but knew her rights. She refused.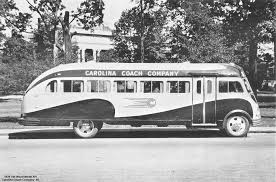 The driver proceeded down the aisle, but that was not the end of the issue. As the driver returned to the front of the bus, he announced that all passengers were moving to a different bus with one exception: The woman who refused to change her seat was to stay on the bus as long as she wanted, because she would not be continuing on the route.
A sailor nearby helped Keys Evans off the bus with her luggage. She walked into the terminal to ask at the ticket office what happened. As she approached the window, the ticket seller pulled down the shade in front of his window. The janitor who was sweeping the floor turned to Sarah: "Don't you know where you are?"
At that point, Sarah Keys Evans realized her problem was bigger than she realized.
The Police Take Keys Evans
Moments later, two policemen came into the terminal. Each one took Sarah by an arm and put her to a patrol car for a ride to the police station. When she asked to call her family, she was told that they would make the phone call for her.
When she arrived home, her parents were frantic, not knowing what happened to her. She realized the police never called.
Sarah Keys Evans was very upset by the whole thing and wanted to forget it. But when her father, a former Navy man who was very active in their community, heard the whole story, he urged her to fight. He assured her he would stand behind her every step of the way.
Returning to Roanoke Rapids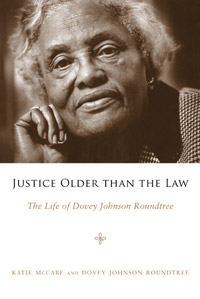 After the weekend, she and her father returned to Roanoke Rapids. The first visit accomplished little, but they hired a local attorney to help them through the process. When they returned to town for the hearing, the local attorney failed to appear. By this time, the story spread among their friends, and offers of help came in. One friend contacted a Washington attorney, Dovey Roundtree.
Dovey Roundtree Takes Case
Roundtree served in the Women's Auxiliary Army Corps in prior years, and she had experienced similar discrimination. She was happy to take the case.  Roundtree ran her law firm with another well-regarded attorney, Julius W. Robertson, and both of them knew what had to be done to bring a case before the Interstate Commerce Commission, the governmental body that would decide the case.
Sarah Keys Evans suffered during this time. She was a very private person, and since she was still in the military, she had to take leave for some parts of the preparation. She didn't like telling people what she was going through.
By 1953, her military service was complete. She received an honorable discharge. Keys Evans knew she had to get on with her life despite the ongoing case. Her dream was to style hair and eventually own her own beauty shop. She moved to New York City and enrolled in beauty school. She could attend at night and work elsewhere during the day.
Sarah Keys vs. Carolina Coach Company
Finally, a hearing at the I.C.C. was scheduled for May of 1954. Only one commissioner was at the hearing. In his opinion, the bus driver was simply asking her to switch seats and there was nothing wrong with that.
Roundtree was furious. She wanted a new hearing. She was well connected in Washington, and got Adam Clayton Powell, Jr. and others to apply pressure for a hearing with a full slate of the commissioners.
Court Decides
In November of 1955, Sarah Keys (now Sarah Keys Evans) case was scheduled for another hearing. After a full examination of the facts, the Interstate Commerce Commission came out with the decision that the Supreme Court ruling of 1946 applied to private bus companies as well as public transportation. If the private company tried to make its own rules, as had Carolina Coach Company, it still had to abide by the law.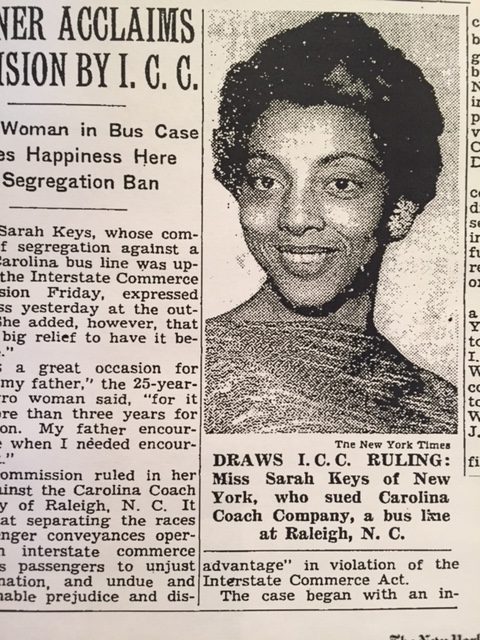 For Sarah Keys Evans, this was a victory.  The ruling was written about in major newspapers, including The New York Times (November 27, 1955) where Sarah Keys Evans expressed gratitude to her attorneys and said, "It is a great occasion for my father and me for it took more than three years for a decision. My father encouraged me when I needed encouragement."
Sarah Keys Evans Later Life
Sarah Keys Evans was delighted to put the issue behind her. Together she and her husband bought a beauty salon in Harlem. They had many successful years with the business, but then George Evans decided to return to school to train to be a therapist. They sold the shop, and for a few more years, Sarah rented space so she could continue to take clients.
In 1986, she retired.
Implementation of the Law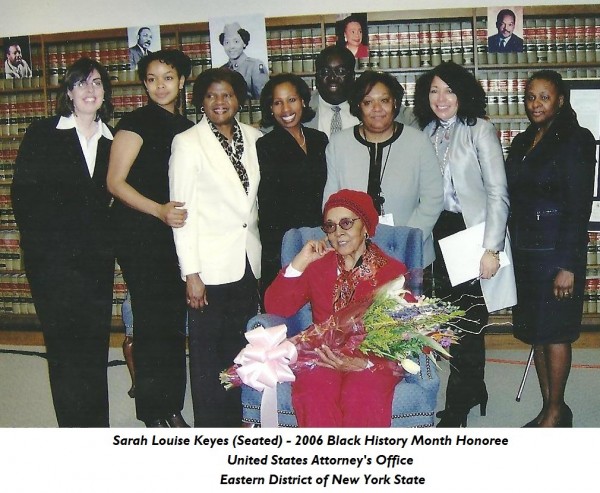 In an ideal world, bus companies would have revised their policies immediately after the ruling. As it happened, it was not until 1961 that the government forced the I.C.C. to enact the directive.
By this time, John F. Kennedy was president. Civil rights demonstrations were heating up, and Kennedy didn't like the worldwide negative publicity. His brother, Robert, was his attorney general, and Robert Kennedy set to work to straighten out. In short order, the I.C.C. made certain that all bus lines in the Deep South complied.
Though Sarah Keys Evans has been honored by many organizations, her name is not a household word in the way the name, "Rosa Parks" is.  But her case accomplished something important. The ruling was the first explicit rejection of the "separate but equal" doctrine for modes of transportation. The announcement came shortly after the 1954 Brown vs. Board of Education case that outlawed segregation in schools.
Slowly, the world was going to change.
For an article about discrimination on airplanes, read what happened to Jackie Robinson on his way to spring training: Jackie Robinson: Barred from Flying to Spring Training.