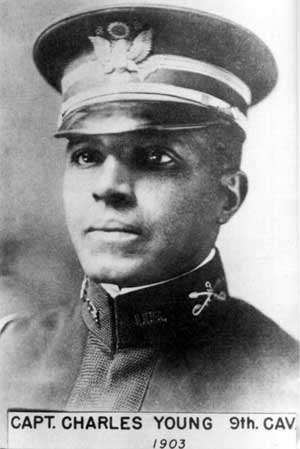 Charles Young (1864-1922) graduated from West Point and went on to achieve the rank of colonel in the military, the highest rank of any African American in the early 20th century. Young was also a brilliant linguist and was among the pioneers in the military's foreign intelligence field.
He served with the 9th and 10th Cavalry and the 25th Infantry, regiments known as the Buffalo Soldiers. These regiments served mainly in the western U.S. In the early 20th century, the military also oversaw the national parks. Young became the first black parks superintendent for any national park when he and his regiment were sent to Sequoia National Park in 1903.
Many of his achievements were African American firsts, but Young's career was impressive no matter what his background. He was an exceptional, dignified leader of men.
Charles Young: Early Life
Charles Young was born in Mays Lick, Kentucky, in 1864. The family moved across the river to Ripley, Ohio, shortly after Charles was born. In Ripley, his father joined a unit of the Colored Heavy Artillery to fight for the Union.
Charles Young attended school and did well. He took the exam given for admittance to West Point Military Academy and got a very high score. When another student dropped out, Charles Young was invited to attend.
Two other African Americans attended West Point prior to Young's admittance, but the social ostracism and hazing remained constant for all three. Young was referred to as a "load of coal," and when he was to work with another student on something, it was announced that someone had to take "nigger detail."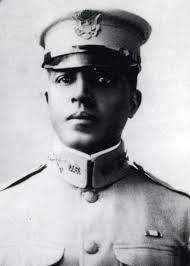 Young withstood it and applied himself to his school work. He excelled in languages, mastering Latin, Greek, French, Spanish, and German. He struggled, however, with his classes in engineering. A professor noticed that Young would likely not graduate if he didn't improve his marks in the sciences. The professor tutored him, and Young was able to graduate with his class.
Charles Young's first assignment as an officer was with the 10th Cavalry. The regiment was then assigned to a fort in Nebraska. In 1898, they fought in the Spanish American War. Later they were based at the Presidio in San Francisco.
Young as Parks Superintendent
In 1903 Captain Charles Young, commander of the 10th Cavalry, was assigned to take his regiment and report to Sequoia National Park. At that time, the military was in charge of the parks system—all park improvements were carried out by soldiers.
The trip from the Presidio to the park took sixteen days by horseback. Upon their arrival, Young saw that their priority needed to be road-building. Prior units had barely finished five miles of roads into the forest—not enough to get visitors near the giant sequoias.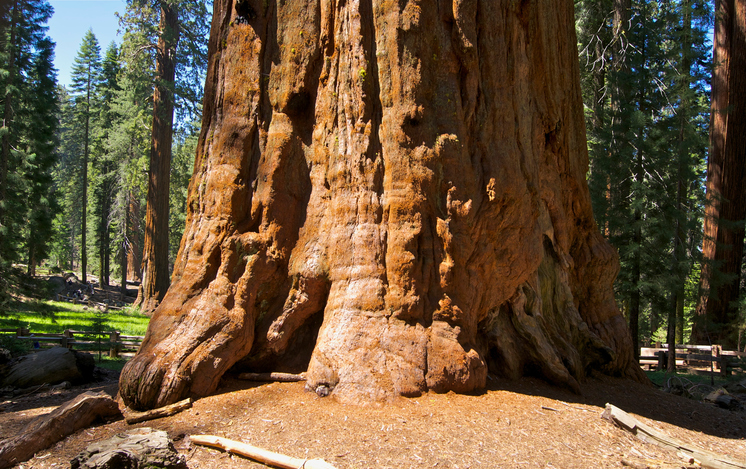 By the end of the summer, the cavalry cleared and built a road all the way to the base of Moro Rock, a dome-shaped rock formation located near the center of the park. Wagons—and soon automobiles—could travel into the park for the first time. It was a great accomplishment.
Military Intelligence Division
Charles Young's facility with language made him a decided asset to the government. A little over a dozen years after the military attaché program was created for foreign intelligence-gathering, Young was appointed to be an attaché in Haiti (1904). At that time, Haiti was in constant turmoil. The French colonized the country, but Germany was trying to infiltrate. In addition, there were warring local factions. The U.S. saw the country as a potential location for a naval base. Charles Young was sent to map the land and to assess what was happening among the people. It was dangerous work because of the constant unrest.
After a couple of years in Haiti, Young was sent to Liberia to create a frontier force along the British and French boundaries. While there, he also supervised the military in building some aspects of the country's infrastructure.
Following his assignment in Liberia, the NAACP awarded him their Springarn Medal, given to African Americans for outstanding achievement.
Part of Pershing Expedition
In 1916, Pancho Villa and his men carried out at least two attack on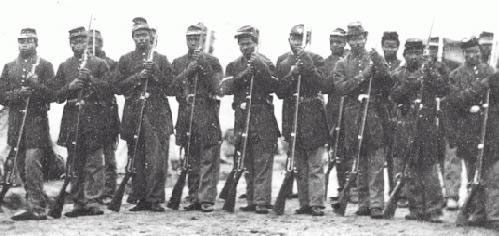 American soil, one on a garrison at Columbus, New Mexico, and the government wanted revenge. Young led the 10th Cavalry and reported to Pershing during this expedition (known then as the Punitive Expedition, now called the Mexican Expedition).
Based on Young's leadership, he was promoted to lieutenant colonel.
U.S. enters World War I
When the United States entered World War I, Charles Young, as a lieutenant colonel, hoped he would have a major leadership role. However, a complaint from a white lieutenant who didn't want to serve under black officers in the Army stirred up trouble at an inopportune time.
When the complaint went to Secretary of War Newton Baker, he let it be known that the white men should simply do their duty. However, in James Rawn, Jr.'s book, The Double V, he relates that the fellow with the complaint took it to his senator (Mississippi) who took it directly to President Wilson. Wilson, who had segregated much of the federal government, felt the lieutenant had a point and gave permission for the fellow to be transferred.
Baker now had a dilemma: Young was a lieutenant colonel. If he served in European combat, he would likely be promoted to brigadier general, at which point white soldiers would have to report to him; there would be no choice.
Charles Young: The Dilemma
Since the president overruled Baker, Baker needed a solution. He opted to remove Young from active duty.
Men were going for routine physicals in preparation for being sent overseas to fight in World War I. When Young went for his physical in June of 1917, the doctor told him that due to his high blood pressure, he would have to be on the "inactive" list. Young was devastated and angry.
To put this fully in perspective, it helps to know that Young later died of Bright's Disease, an illness with symptoms that include high blood pressure. While it appears that discrimination played a large role in his being taken out of active service, it is very likely that doctors had concern about a battlefield leader—in charge of many men–having high blood pressure.
Out to Prove Them Wrong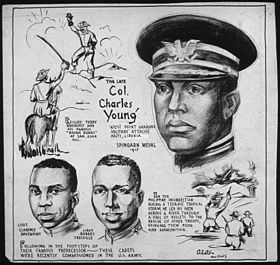 One year later, in June of 1918, Charles Young took matters into his own hands. He wanted to prove his fitness to serve, so he planned to ride on horseback from his home in Xenia, Ohio, to Washington, D.C. He would ride directly to the War Department where he had a friend who would get him in to see Secretary Baker.
The trip spanned a sixteen-day period, all covered daily by the black press. In many communities, Young had trouble finding a place where a black man could stay, reports Ebony magazine in an article that ran in 1974. He sometimes had to resort to asking to sleep on a porch near wherever he stabled and fed his horse.
When he arrived in D.C., he got to the War Department offices and his friend took him directly to Baker. Young requested reinstatement and to be given an assignment in Europe.
Baker respected Young. He reinstated him, and promoted Young to the rank of colonel, but his assignment was to Camp Grant, Illinois. Baker knew that at this stage in the war, there was no way to send over a new black regiment or to place Young in charge of a white unit already there. (The Harlem Hellfighters fought in World War I, but resistance of white soldiers to black men was so strong the Hellfighters were assigned to the French.)
By November of 1918, the war ended.
Young Needed for Intelligence Work
After a short stint with the military in Illinois, Young was called up by the Military Intelligence Department. He returned to Liberia, but traveled to Lagos, Nigeria for research. While there, he became ill and died.
Initially Young was buried in Nigeria, but his widow fought through the red tape involved to bring the body to the United States for burial.
Charles Young Laid to Rest
His official funeral service was held at the Memorial Amphitheater at the National Cemetery. It was the first service held there for an individual since the service for burial of the Unknown Soldier.
Charles Young's death was also memorialized in New York. On May 28, 1923, this article appeared in The New York Times:
"Memorial Services for Colonel Charles Young, graduate of West Point, who reached the highest rank ever held by a negro in the United States Army, were held yesterday at the armory of the 369th Infantry at 132nd Street and Seventh Avenue, and at the stadium of the College of the City of NY."
The body was then taken to Washington for interment in the National Cemetery at Arlington.
Later Honors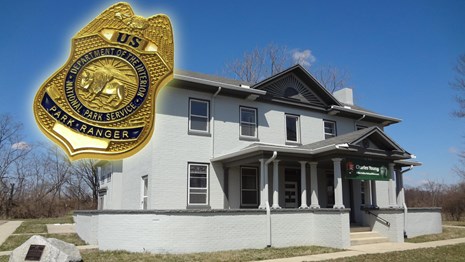 In more recent times, several groups have honored Charles Young. In 1999 his name was added to the Military Intelligence Corps Hall of Fame. In 2004 a giant sequoia was named for Young. And in 2013, President Barack Obama used the 2013 Antiquities Act to designate Young's house in Wilberforce, Ohio as the Charles Young Buffalo Soldiers National Monument. It is now part of the Parks system.
In February 2020, Charles Young was made a Brigadier General in Kentucky posthumously. The ceremony and the awarding of the star was presided over by Governor Andy Beshear. Sentiment has been that had Young been treated equally he would have been a Brigadier General. As it was, he was denied serving as a full colonel. In 1911, when he received the full rank of colonel, the military put him on medical retirement. The officers feared that white soldiers were not ready to serve under a Black Colonel in President Woodrow Wilson's segregated America.
But perhaps Teddy Roosevelt described Charles Young's contributions most clearly  Roosevelt wrote that he was a man who "by sheer force of character…overcame prejudices which would have discouraged many a lesser man…He approached life with the single purpose of seeing what he could do for this nation…[W]hat he has done will remain with us in the country as a constant inspiration and guide of the generations to come."
I learned of Charles Young from Charles Blatcher III, who heads up the Coalition of Black Veterans. Blatcher has been seeking greater recognition for Young. He recently sent me this video of poetry by Langston Hughes, Charles Young, and James Weldon Johnson. It deserves to be seen by many—I am so moved by it. 
Much of it is about the African American experience in World War II, and there is amazing film footage from the War Department. This is very much worth watching–The first poem by Hughes asks: "Will V Day Be Me Day, Too?:"