Worked to bridge gap between native healers and medical doctors in an effort to eradicate tuberculosis among the Navajos
Awarded Presidential Medal of Freedom in 1963
Second woman elected to serve on the Navajo Tribal Council (1951-1978)
Annie Dodge Wauneka grew up traveling with her father, the tribal chief, throughout the Navajo Nation and was made highly aware of the health needs of the Navajo people. Her life's work was improving public health standards.
Growing Up
Annie Wauneka was the youngest of four children born to Navajo Chief Henry Chee Dodge and his wife. Chee was the last official Chief of the Navajos and first Tribal Chairman, so he served as liaison between the Navajo people and the U.S. government.
Annie grew up on the family ranch, and like other Navajo children, she helped to herd sheep and goats until she was old enough to attend school. When she was 8, Annie was sent to boarding school in Fort Defiance, Arizona. During the first year she was there (1918), the Spanish influenza epidemic struck, and many students and faculty very ill. Annie's case of the flu was relatively mild, and when she was better, she remained at school to help others. The epidemic killed many people throughout the U.S., and Annie's firsthand experience began to shape the direction of her life.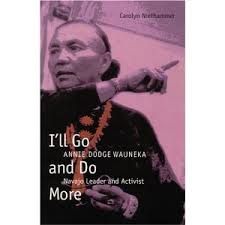 Even as a child she liked to accompany her father as he traveled the Navajo Nation, which stretched over parts of Arizona, New Mexico, Utah, and Colorado. They made frequent stops to talk to the people, and this deepened her understanding of the issues affecting the Navajo.
After four years at Fort Defiance she transferred to the government boarding school in Albuquerque. That school was for students from many different tribes. While in Albuquerque, she met fellow student George Wauneka whom she married in 1929.
Early Adulthood
Annie and George eventually had eight children, and because George was very supportive of Annie's interests, he frequently took care of the family as Annie still liked to accompany her father on his travels and to attend the Tribal Council meetings where she often addressed the health issues that were affecting the people.
When her father died in 1947, Wauneka continued to attend Council meetings and decided to run for a position in 1951. She was elected, making her the second woman to serve on the Tribal Council. (Lily J. Neil had taken a position in the mid-1940s.)
Once elected, Annie Wauneka traveled to villages and clinics, covering the 24,000 square mile territory, talking to the people about public health standards.
Representing Her People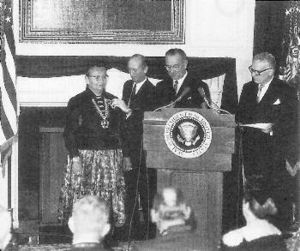 The Navajo Nation was a vast area with many tribal villages where the people often relied on the traditional healers rather than seeking out doctors. From the outlying areas it was difficult to reach a doctor but the primary reason people stayed with healers was because of custom.
The spread of tuberculosis was the first public health crisis Wauneka needed to address; it was spreading quickly among her people in 1953. Wauneka knew she needed knowledge, so she spent three months studying the tuberculosis epidemic with the U.S. Public Health Service and then went home to share what she learned with the Navajos.
While travel was important to reach people during this crisis, Wauneka also used a bi-weekly radio program to explain to the people what they needed to know. She knew it would be harmful to denigrate healers, but she urged the healers to work with the medical community to help prevent illness or make people better. To facilitate this, Wauneka compiled what was a first–an English-Navajo medical dictionary to enable healers and doctors to work together.
Following this experience, she went back to school to study public health at the University of Arizona. After graduating, she returned to the Navajo Nation and launched major campaigns against other issues that were having negative effects in the communities: influenza, trachoma, alcoholism, and peyote use. She also worked to improve drinking water, sanitary conditions, and she introduced the idea of wooden floors and modern plumbing in homes where the conditions were bad.
Annie also advocated for schools to be located closer to tribal communities so that parents could understand what was going on at the schools and become involved.
Bridge to the White Man
Annie Wauneka made many trips to Washington, D.C. on behalf of the Navajo people. Always dressed in traditional Navajo attire and silver and turquoise jewelry, she presented information to the Bureau of Indian Affairs. As she became better known, she was asked by the U.S. Surgeon General to serve on the Advisory Committee on Indian Health in 1956. It was for this work that she received the Presidential Medal of Freedom in 1963.
In addition to the Presidential Medal of Honor, she received recognition from the state of Arizona, the Arizona Press Women's Club, the Navajo Tribal Council, and she received honorary doctorates from the University of Albuquerque and the University of New Mexico. The Ladies Home Journal named her woman of the year in 1976, and in 2007 Wauneka was inducted into the National Woman's Hall of Fame.
People viewed her as a "bridge between her people and the white man," and she was honored and respected by those on both sides for her tireless work.