McKibbin served as the primary contact for people arriving to work on the Manhattan Project at Los Alamos, New Mexico
After the war, she remained in Santa Fe and became a valued member of the community
During World War II a top-secret project got underway just outside Santa Fe, New Mexico, and Dorothy Scarritt McKibbin (1897-1985) was the person who cleared all incoming people and equipment.
Starting in 1943 the government began sending scientists, tradesmen, and technicians—often accompanied by their families—to work on the Manhattan Project at Los Alamos, New Mexico. Every person who arrived had to be cleared by Dorothy Scarritt McKibbin, whose office was in Santa Fe.
McKibbin provided credentials for those who had clearance, and she worked out living arrangements and logistical problems for all who arrived. At the end of each day, she shredded every piece of paper that had come across her desk. National security depended on it. Any names or information about the work underway could jeopardize the project.
Dorothy's Early Life
Dorothy Scarritt was born into a well-to-do family in Kansas City, and she graduated from college in 1919. Shortly after graduation, Dorothy contracted tuberculosis and her parents sent her to the Sunmount Sanitarium in Santa Fe. Sunmount was a well-regarded TB treatment center, and the doctor in charge believed that patients would improve if they were able to get out and see the beautiful New Mexico setting to which they had come.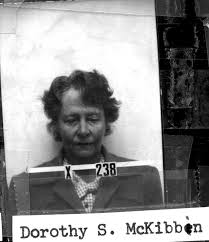 Dorothy's health improved while there, and she clearly had good memories of the experience as she chose to return to Santa Fe, not her family home in Kansas City, when her life took an unexpected turn.
Marriage & Family
Shortly after her recovery from tuberculosis, she married a fellow named Joseph McKibbin, and the couple settled in St. Paul, Minnesota. A son, Kevin, was born in 1930. Only a year later, Joseph McKibbin died of Hodgkin's disease leaving his wife and baby on their own in the depths of the Depression.
To the Scarritt family's surprise, Dorothy did not return to Kansas City—she packed her Model A Ford with her son and the belongings they could carry and set out for Santa Fe.
Her first job in the area was as a part-time bookkeeper for the Spanish and Indian Trading Company that represented native artists. She worked there for several years, but the tourist business faded with the onset of World War II, and the business closed in 1943.
In the meantime, government representatives had been scouting a location for what was known as the Manhattan Project, the scientific laboratory charged with creating an atomic weapon. The site selected for the laboratory was the Los Alamos Ranch School, which was 35 miles northwest of Santa Fe, up a winding unpaved mountain road. In bad weather, the trip could take up to four hours, so no one undertook the trip lightly.
Gearing Up for the Project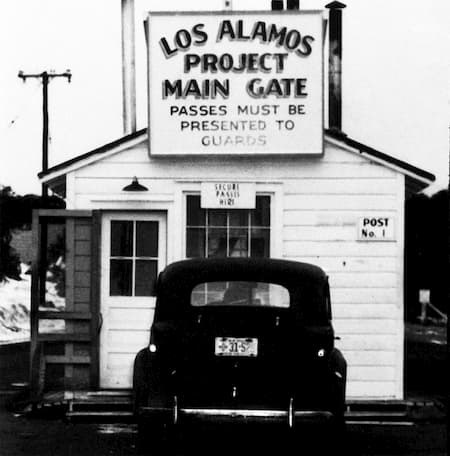 Dorothy had come to know many people in Santa Fe during the ten years she lived there. One friend, Joe Stevenson, was helping with the hiring for Los Alamos, and he thought of Dorothy. He set up a meeting for Dorothy and J. Robert Oppenheimer, a physicist and the scientist who would oversee the lab. McKibbin and Oppenheimer hit it off, and she accepted the job Oppenheimer offered her immediately.
While she was hired as "secretary," few secretaries are charged with the high level of secrecy and responsibility that was placed in McKibbin's lap. On the first day of work she asked Joe Stevenson about any special instructions. He answered, "Your instructions are never to ask for a name to be repeated and never to ask a question."
New Arrivals in Santa Fe
New arrivals, many of whom were European scientists fleeing the Nazis, were not sent directly to Dorothy McKibbin. Doing so might have been high-risk for Dorothy as well as the project.
Visitors were told to report to the Bishop building on Palace Avenue, Room 9. Room 9 was manned by a fellow who would then direct those who needed clearance to Dorothy's actual office at 109 E. Palace, just off the main square.
From there, she directed the flow of all civilian personnel and freight trucks. The trucks might be loaded with anything from critical scientific equipment and supplies to household furniture for those relocating.
Her earlier time spent in Santa Fe also made her an authority on where and how to find certain items around New Mexico, and many called her the oracle.
By 1945 the community involved in the Manhattan Project numbered 8200 people and McKibbin was the conduit through which all people and information passed.
Who Was Privy to Information on the Manhattan Project?
So secret was the project that locals were fed false rumors—that electric rockets were being built—in order to keep them off the track. The scientists sometimes wanted to get away and unwind, so they would come down "the Hill" (as Los Alamos was called locally) for drinks at the La Fonda, a lovely hotel in the center of Santa Fe. Covert government agents were always on hand to be certain that no one became too relaxed or too talkative.
Throughout all this time, those who did not actually work on the Hill were not privy to what was being developed there. Biographer, Nancy Cook Steeper in Dorothy Scarritt McKibbin: Gatekeeper to Los Alamos, says that not even Dorothy knew details of the project, though over time, the bits and pieces that she came into contact with began to give her the picture of what was being developed.
On July 16, 1945 the bomb was tested (code name: Trinity). When Trinity was deemed a success, it was only a matter of weeks until two bombs were prepared to drop on Japan. On August 6, "Little Boy" dropped on Hiroshima; on August 9, "Fat Man" dropped on Nagasaki. Within days, Japan surrendered.
Debate over the justification of the use of nuclear weapons against Japan is still debated.
The Post-War Years
Dorothy McKibbin continued to work for the laboratory until 1963. When she retired she remained in Santa Fe and was a beloved participant in all types of community activities ranging from the opera to historic and preservation activities.  She died in 1985.
For more information about women in World War II, see The 6888th Central Postal Directory Battalion. They were instrumental in keeping up morale by getting mail delivered.