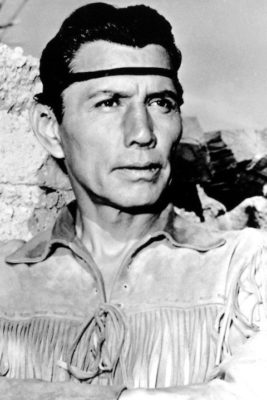 Jay Silverheels (1912-1980) is best-remembered for his role as Tonto in The Lone Ranger, an ABC television program that ran for 221 episodes (1949-1957).
Silverheels was a full-blooded Mohawk Indian born on the Six Nations Indian Reservation in Ontario, Canada. His birth name was Harold Smith, and he was one of 11 children born to George Smith and his wife. His father was Chief of the Six Nations tribe and was also a highly-decorated soldier in the Canadian World War I military forces.
Jay Silverheels achieved initial recognition as a gifted athlete in both lacrosse and boxing.
Silverheels Had Early Career in Sports
The lacrosse game at which Silverheels excelled was a new sport, called box lacrosse. Its history was documented in The New York Times as recently as 2013 (The New York Times, 8-31-2013).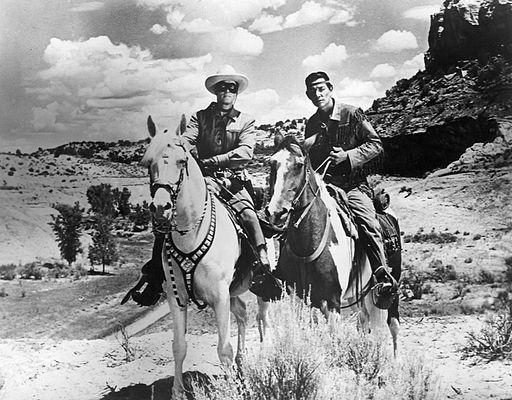 According to the article, the National Hockey League was looking for a way to use their arenas during hockey's off-season.The League observed how popular lacrosse was in Canada and western New York. They opted to develop a new game that would be played indoors. Each team had seven men, down from 12 for the outdoor game. This made the group size more compatible for the limited floor space. Harold Smith, as he was known then, played for the Toronto Tecumsehs.
Box lacrosse was a rough and fast game—it soon became known as the "fastest game on two feet."
When the team traveled to play a demonstration game in Los Angeles, actor and comedian Joe E. Brown (1891-1973) was in the crowd; Brown took note of the good-looking muscular player, Silverheels, as he was called by his teammates. The comedian spoke to Jay after the game and suggested he go for a screen test.
Smith/Silverheels, then known as Harry Smith, soon began working as an extra in films. Directors soon realized he could also do stunt work. During the 1940s, he continued to work in Hollywood, occasionally getting a minor role.
Jay Silverheels: Break-Through Opportunity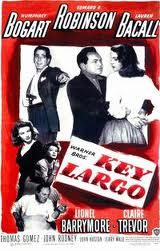 In 1947, director John Huston was casting what would become a classic film, Key Largo. Jay Silverheels was cast as one of two Native Americans fleeing the town's sheriff when a hurricane is approaching. The two Osceola brothers (the Native Americans) take shelter at the Key Largo Hotel, which happened to be filled with what was to become an all-star cast–Humphrey Bogart, Lauren Bacall, Edward G. Robinson, and Lionel Barrymore, among others.
Silverheels' role in this movie drew the attention of producers who were casting for the television version of the popular radio program, The Lone Ranger. Silverheels was chosen over 35 other actors who auditioned for the part of Tonto.
This was notable for one primary reason: Native Americans rarely obtained parts in film or television. Any "Injun" roles were usually played by white people. Italians were popular for these roles as as they were more likely to have darker skin. However, red face paint was frequently used. Typically, a special type of red clay was mixed with water to provide a Native American look. Perfect examples of this casting include Burt Lancaster being given the starring role of a Native American athlete in the 1951 film, Jim Thorpe: All American. As late as 1969, Raquel Welch was cast as a Crow Indian in 100 Rifles.
Bias Existed All Along
The bias against Native Americans ran deep. On a Lone Ranger fan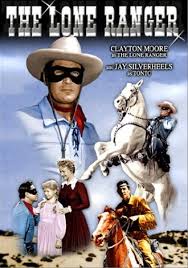 page, film and television critic Kliph Nesteroff cites a book, Making the Movies (copyright 1919), by Ernest A. Dench. Dench wrote that some felt that if Native Americans were given parts in the movies that it would "change" them:
"It might be thought that this would civilize them [the Native Americans] completely, but it has had quite the reverse effect, for the work affords them an opportunity to live their savage days over again, and they are not slow to take advantage of it," wrote Dench. "They put their heart and soul in the work, especially in battles with whites, and it is necessary to have armed guards watch over their movements for the least sign of treachery…"
These words were written thirty years prior to Silverheels' time in Hollywood, but the decades had done little to ease tensions among the races.
Lone Ranger Debut
After a long and very successful radio run, the television program, The Lone Ranger, was first shown on air on September 15, 1949. The Lone Ranger told the tale of a mysterious masked man and his faithful Indian companion fighting to bring peace and justice to the Old West.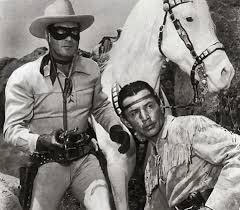 The show opened each week with dramatic footage of Clayton Moore as the masked stranger riding his horse Silver through a Western landscape. An announcer narrated over the scene: "The Lone Ranger! A fiery horse with the speed of light, a cloud of dust and a hearty Hi-Yo Silver! …a mysterious character of the early West who brought fear to the lawless and hope to those who wanted to make the land their own." To see a clip of the opening, click here.
At that time, few people had televisions, however, the number of television sets in America would increase greatly over the next few years. In the process, Tonto became a household name.
Silverheels' character was little more than a cultural stereotype. Tonto spoke broken English and always was subservient to the Lone Ranger. But as the first Native actor to play a Native American on television, he broke new ground.
Silverheels Expanded Career
Silverheels played Tonto for the entire run of the television series, from 1949 to 1957 (with one short period in 1955 when he suffered a heart attack and some filming shots required a double). To watch the entire first episode of The Lone Ranger, click here.
He also appeared in two Lone Ranger movies, The Lone Ranger (1956), and The Lone Ranger and the Lost City of Gold (1958).
While Silverheels is best known for his portrayal of the masked man's loyal companion, it was far from being his only role. In the 1950s, he starred as Indian chief Geronimo in three films: Broken Arrow, Battle at Apache Pass, and Walk the Proud Land. Later he was in True Grit, The Man who Loved Cat Dancing, and The Will Rogers Story as well as more than a dozen westerns. His complete filmography is listed here. He was disappointed that he could never break out of the stereotypical roles. (Later he did television commercials, and this 1970 one for the Chevy Blazer probably pleased him greatly because in one minute the commercial sums up how he surely felt about many things.)
Did Silverheels Use his Position Well?
While some accused Silverheels of docilely accepting his plight and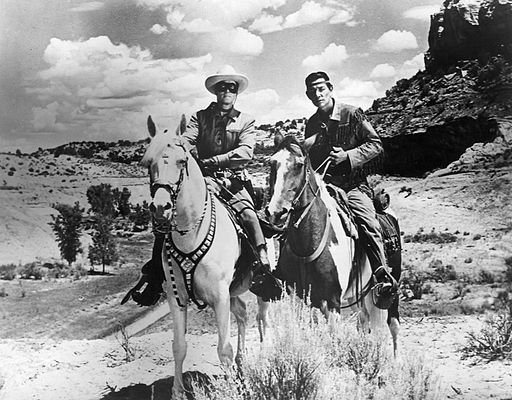 not fighting for the rights of Native people, Jay Silverheels was balancing between wanting to work while still advocating for Natives to be cast in parts other than savages.
Silverheels had witnessed what happened when African-Americans protested their on-screen stereotyping and casting. The result was that blacks were simply written out of more scripts. Silverheels knew there was a downside to taking too strong a stand.Silverheels Stood Up for What Was Right
Silverheels Took a Stand
According to Dawn Moore, the daughter of Clayton Moore who starred as the Lone Ranger, Silverheels was comfortable standing up for himself. In a 2011 article in The Huffington Post, she shared an anecdote that her father told.
The show was on location, filming in Chatsworth, California. Moore's costume was made of heavy wool, and Jay was in suede. The two actors shared a trailer as a dressing room, and it was beastly hot when they were working, as well as in the trailer when they were given a few moments to rest. Jay told Clayton he was going to say something to the director about working conditions.
Moore observed from afar as Jay talked to the director, and when he came back, Moore could tell by Jay's face that that the conversation had not gone well. Jay mounted his horse, Scout, and took off. Clayton was concerned about his friend and followed, riding Silver. When he caught up to the spot where Jay stopped, Moore said, "Jay, this isn't right, you shouldn't be holding up production like this."
Jay quietly turned and said, "No, Clay What isn't right is the way we are being treated…we need better working conditions."
Jay explained that he was going to stay there for a time to show that he was serious. Then he would return to finish shooting.
The next day there were two new dressing room trailers, one for each of them.
Other Pursuits
While the show continued in re-runs, and thereby paid Silverheels residuals, he eventually found that he wanted other things in his life. He wrote poetry that he sometimes performed, and he appeared on a variety of television shows, including a number of westerns.
In the 1960s he formed the Indian Actors Workshop based in Echo Park to train and prepare more Native Americans for film. (It no longer exists but you can see a short slide show of it here.)
In 1974 he received a license for harness racing and for a time enjoyed breeding and racing harness horses.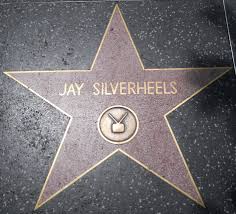 In 1979, Jay Silverheels was honored with a star on the Hollywood Walk of Fame. Silverheels was present when the star was dedicated, and according to coverage in The New York Times (7-21-1979), Silverheels wept.
Jay Silverheels' Riding Days Were Over
Jay Silverheels suffered a stroke in 1976 and was incapacitated from it to some extent. When New Year's Day of 1977 approached, Clayton Moore realized that times were changing. Traditionally Clayton Moore and Jay rode in the Pasadena's Tournament of Roses Parade each New Year's Day. Clay, of course rode a white horse called Silver; Silverheels was always on a horse that resembled his show horse, Paint.
That year, Clayton knew that Jay would not be able to ride. To commemorate his long-time friend, Clayton Moore rode a paint-colored horse that year in Silverheels' honor.
Jay Silverheels died in 1980.
After his death, Silverheels was inducted into the Great Western Performers of the National Cowboy and Western Heritage Museum in 1993—the first and only Native American to achieve that honor until 2013 when actor Wes Studi was accepted for the honor.
Hattie McDaniel, the first African American to win an Oscar was similarly criticized for playing stereotypical parts .But like Jay Silverheels, she opened the door for others. That was just the way it had to be done.