One of the early female comics (Moms Mabley preceded her, performing in the 1910s, but she was on the black vaudeville circuit; more about her another day)
Appeared on The Ed Sullivan Show more than twenty times
Born Celine Zeigman in Paris, France, she moved with her family to New York City when she was still a child.  Her father was abusive to her mother. Growing up in that atmosphere led Celine to the conclusion that she needed to be self-supporting, to never have to be dependent upon a man.
Spotted by a talent agent when she danced in an amateur show in the Bronx, Jean Carroll (the stage name she chose) soon joined a vaudeville circuit as part of a two-boy, two-girl dance act.   In the early 1930s Carroll met Buddy Howe, also a dancer.  They joined forces and toured with a dance act during which Jean would pull out for a few moments of humorous patter (written by her) before continuing the dance number.  They were married in 1936 and for the next three years they toured Britain before returning to the United States.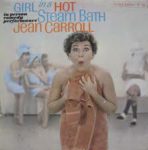 When the U.S. entered the war, Howe was drafted, and Carroll continued as solo comic and was quite successful. While Lucille Ball, Totie Fields, and Phyllis Diller cultivated personas that were frazzled, madcap or dowdy, Carroll always dressed beautifully, often wearing an evening gown and gloves to perform.
By 1949 Carroll became the first comedian to play the Copacabana, Paramount Theater and Capitol Theater in New York all within six months.
After the war, Howe returned and watched his wife work.  He realized the act was stronger without him so he became a talent agent, eventually becoming chairman of the Creative Management Agency.
In 1953-54 Jean Carroll had a sit-com on ABC called "Take It From Me." However, her most successful venue was night clubs doing stand-up.  She found humor in everyday experiences of clothing, shopping, social life, and family—and yes, she poked fun at husbands.  One of her oft-quoted bits went: "The thing that attracted me to my husband was his pride. I'll never forget the first time I saw him, standing up on a hill, his hair blowing in the breeze—and he, too proud to run and get it."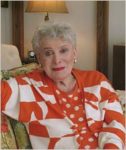 While women in stand-up are still too few (why are all the late night shows hosted by men?), Carroll opened the door so that women like Phyllis Diller, Joan Rivers, Lily  Tomlin, and Sarah Silverman could come through.  The door could be open wider but at least it's a start.