"Angel of the Battlefield"
Created and ran the Office of Missing Soldiers
Founded the American Red Cross
Clara Barton was born in Oxford, Massachusetts, the youngest of five children in a middle class family.  When she was eleven, one of her brothers was seriously injured in an accident, and it fell to Clara to see to his needs over a two-year period of recovery.  During this time, she gained nursing experience, which prepared her for the role she created for herself during the Civil War.
Early Career
Like so many women of her era, the only job open to her after she finished school was teaching, and she taught for about a dozen years.  Her last connection to education involved starting a school in West Millbury, New Jersey, but when a man was hired over her to run the school she had started, she left for Washington, D.C.  There, she was hired to be a clerk in the U.S. Patent Office, an unusual position for a woman of that day.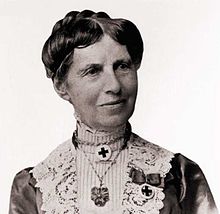 When the Civil War began, Barton was in D.C. and was very moved by the plight of the soldiers coming into town.  Her first observation was the need for supplies, so she left her job at the patent office and began to collect items of clothing as well as medical supplies that she knew would be needed.  She soon began venturing onto battlefields to deliver supplies, and she began to nurse the wounded.  She became known as the "Angel of the Battlefield." By 1864, she was made superintendent of the Union nurses.
War Time before Dog (I.D.) Tags
While Clara Barton is acknowledged for many accomplishments, she is less frequently recognized for what had to have been an incredible contribution: locating the missing and identifying the dead.
When the war between the states broke out, there was no organized system for supplies or for uniforms, and there was no method for keeping track of the whereabouts of soldiers or identifying the wounded or dead. If a young man was killed on the battlefield, his friends might write a letter to people at home.  Sometimes the identification of the injured or dead and any subsequent notification of the family was left to the medical people, if they located a letter or some sort of identifying information in the person's wallet.
One of Barton's first efforts in this regard occurred when a former prisoner at Andersonville (a Confederate prison in Georgia) came to Barton with a list of Union soldiers who had died while imprisoned there.  Barton visited Andersonville and saw that a record was made near there as to the Union soldiers who had died there –13,000 of them.  She also arranged for the dead to be listed in newspapers in the North so that families would know the answer to that terrible cry:  "What happened?"
As word of Barton's effort spread, thousands of people wrote to her pleading for help in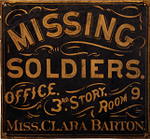 finding their loved ones.  Barton compiled lists and circulated them to post offices throughout the country, and in that way, she began to unravel the fate of many of the missing.  Some had intentional not gone home; some had moved elsewhere and married; some had died on the battlefield, and for some, no information ever came to light.
Eventually Barton had an office in D.C. (437 Seventh Street NW) from which to run her missing soldiers command center.  Recently the building was slated for demolition and a construction worker found a box of documents related to her operation.  Along with a sign that read "Missing Soldiers Office 3rd Story Room 9 Miss Clara  Barton," the box contained house slippers and other personal effects that indicated that Barton may have lived there for a time.
The Red Cross
The International Red Cross began in Europe, and Barton became involved with the organization after she went to Europe on doctor's orders to take a badly needed rest.  Clearly, Barton was not capable of resting or remaining on the sidelines.  She worked with the international group and then returned from Europe in the early 1870s and began work on establishing an American Red Cross.
The initial reaction from Americans was that a disaster aid group would not be necessary—there would never be another situation like the Civil War. Barton pushed her cause by noting that the Red Cross that she foresaw would help out with any type of disaster.   The American Red Cross held its first official meeting in 1881 with Barton as president, a position  she held for 22 years.   Among the early disasters in which the Red Cross became involved were the Johnstown flood (1889) and the Galveston Texas hurricane of 1900.
Barton also was highly dedicated to fighting for and furthering the rights of women; she worked closely with Susan B. Anthony, Lucy Stone and others.  Barton herself was the most decorated American woman, receiving the Iron Cross, the Cross of Imperial Russia and the International Red Cross Medal.  Her final act was founding the National First Aid Society in 1904.
In the late 1890s she bought a home in Glen Echo, Maryland where she lived during the last 15 years of her life.  When she died in 1912 at the age of 91, the Detroit Free Press wrote: "She was perhaps the most perfect incarnation of mercy the modern world has known."
Barton's Rules of Action
Clara Barton lived by two rules that bear repeating:
"Unconcern for what cannot be helped" and
"Control under pressure."