First African-American woman to sing on radio
First African-American to win an Oscar (Best Supporting Actress for her role in Gone with the Wind); however, McDaniel was not permitted to attend the movie's premiere
McDaniel has two stars on the Hollywood Walk of Fame—one for her work in radio and one for her work in film
Fought and won a racial discrimination case over a neighborhood covenant involving race
Hattie McDaniel was born in Wichita, Kansas, the last of the 13 children. Hattie's mother was a gospel singer, and her father was a Baptist minister who also performed in minstrel shows. (Minstrel shows were primarily white people performing in black face but a role for black people emerged over time; some numbers were black people in blackface or African-Americans playing what were considered Negro instruments such as the banjo.).
In 1901 the McDaniel family moved to Denver where Hattie attended school, and by her early teens she was performing part-time. Then in 1910 she dropped out of school to work full time, and in 1920 she signed with a big vaudeville company and toured with them for five years. This early success led to an invitation to perform on Denver's KOA radio, and this is thought to be the first opportunity for an African-American woman to sing on radio in the U.S.
She continued to work in vaudeville but when the stock market crashed in 1929, work dried up, and she had to take a job as a restroom attendant in order to make ends meet. The club that hired her, Sam Pick's Club in Milwaukee, soon began letting her fill a dual role—bathroom attendant and occasional performer at the club.
Hollywood Beckoned
Two of her siblings, Sam and Etta, moved to Los Angeles and were beginning to get small movie roles, and they encouraged Hattie to join them. In 1932 she got her first role in a film, playing a maid. Her credits soon blossomed—she was a maid in the highly successful Mae West film, I'm no Angel (1933), and appeared with Shirley Temple in The Little Colonel.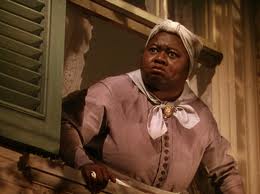 Her first major role was in John Ford's Judge Priest (1934) starring Will Rogers, in which the two were featured in a duet. More house servant roles followed, including one in Show Boat.
The Casting of Gone with the Wind
The search for the perfect Scarlett was the most-talked-about casting in Hollywood for a time, but the producers knew they needed the right person for Mammy as well. There were many who put their hats in the ring; even Eleanor Roosevelt wrote to producer David O. Selznick asking that her own maid be given the part. While Hattie McDaniel was well-known in the Hollywood community, she worried as she was known as a comedic actress. Ultimately, however, the role was hers.
The Movie Premiere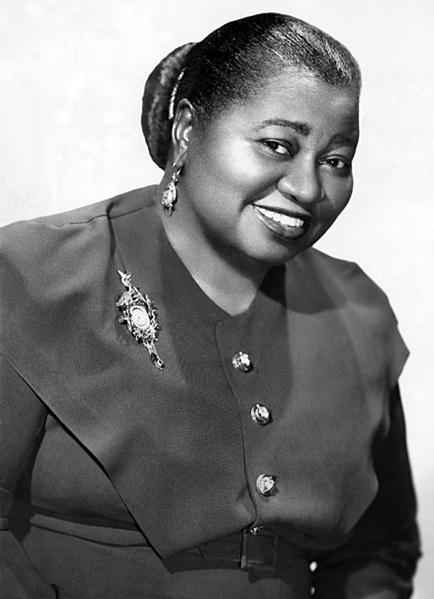 It was decided that the film would premiere in Atlanta in December of 1939, which was fitting for the setting of the movie but problematic for the African-Americans in the film. In advance, they were told that they would not be permitted to attend, nor would their photographs appear in the program. Clark Gable, a good friend of McDaniel's, announced that he did not want to attend if Hattie couldn't, but she encouraged him to go anyway. The public could not get enough of the stars and the film, so McDaniel knew Gable needed to be there.
When the film opened in Hollywood on December 28, McDaniel and the other black cast members were in attendance.
In 1940, Hattie McDaniel was nominated—and received—the Oscar for Best Supporting Actress. It was the first time an African-American had been thus honored. The mainstream press noted that she was "first Negro to receive the prize" but did not mention the issue over seating.
Because no African-American had ever been permitted to attend the awards dinner as a guest, the organizers decided the best way to seat McDaniel and her escort was at a table for two at the very back of the room. To receive her award, McDaniel had to thread her way through larger tables filled with the white members of the industry. When she arrived at the podium, her remarks were gracious and lovely: "I want to thank each one of you [for your kindness in..] selecting me for one of the awards…" No bitterness and no politics.
Criticism of McDaniel from Black Community
Though Hattie McDaniel's characters were usually strong and often sassy, the community took issue with the fact that time after time, she accepted roles as a house servant. McDaniel felt she was earning an honest living and there was nothing wrong with accepting the work that was available to her. "Why should I complain about being paid $700 to play a maid? If I didn't, I'd be making $7 a week being one."
Wins Important Neighborhood Segregation Fight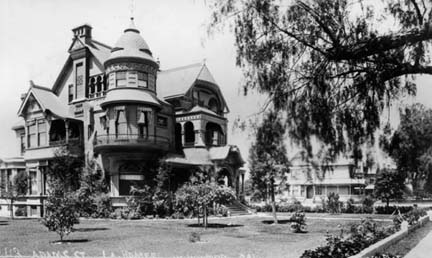 In Lon Angeles, the West Adams neighborhood referred to as "Sugar Hill" features beautiful old colonial mansions, and many of the African-American musicians and film actors were beginning to buy homes in the area. Some of the white neighbors were fine with it; others decided to dig out documentation that established that the area had a restrictive covenant that limited ownership to white owners only.
Hattie McDaniel was one of the house buyers who decided to test the issue in court. Her case was heard in December 1945 by Judge Thurmond Clarke, and McDaniel was represented by civil rights attorney Loren Miller, who was also editor and publisher of The California Eagle. After hearing arguments, the judge adjourned court until the next day so he could visit the neighborhood under discussion.
The next morning, Judge Clarke threw the case out of court: "It is time that members of the Negro race are accorded, without reservations or evasions, the full rights guaranteed them under the 14th Amendment to the Federal Constitution. Judges have been avoiding the real issue too long."
Helped During the War Effort
During World War II, McDaniel was chairman of the "Negro Division of the Hollywood Victory Committee," providing entertainment for black soldiers stationed at military bases. Because the military was segregated, the entertainment committees had to be as well.
Later in her career she appeared in several Warner Brothers movies. In 1949 CBS hired her for The Beulah Show, which started on radio and moved to television but only lasted for a couple of years.
Soon after the show was cancelled, McDaniel was diagnosed with breast cancer; she died in 1952.
Segregated Even in Death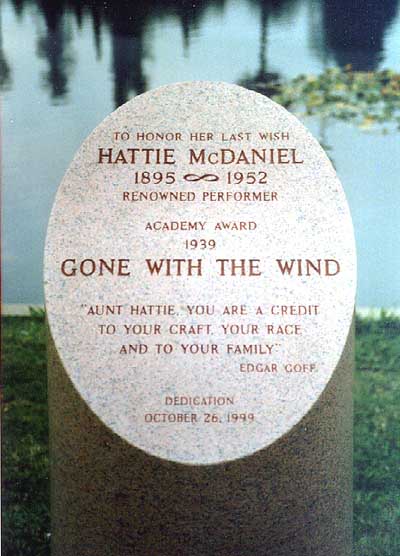 When Hattie McDaniel died at the age of 57, she left very specific instructions. She wanted to be buried in white, "with white gardenias in my hair," a white gardenia blanket covering her and her head resting on a pillow of red roses. She requested burial at the Hollywood Cemetery, the resting place of Douglas Fairbanks, Rudolph Valentino, Constance Talmadge, and many other luminaries, but, the Hollywood Cemetery refused to bury a black person. Instead she was interred at Angelus-Rosedale Cemetery.
In 1999, a new owner took over the Hollywood Cemetery and offered to have McDaniel re-interred at his cemetery; her family refused, not wanting to have her remains disturbed. To commemorate her, the cemetery built a monument dedicated to Hattie McDaniel. It continues to be a very popular tourist attraction.