Top National League catcher of his day
Second Black player selected to play in the Major Leagues
Inducted into the Baseball Hall of Fame 1969
His playing career was ended by a car accident, but he inspired others by the way he managed his paralysis
Roy Campanella was born in 1921 in a town just outside Pittsburgh. He was the last of four children born to an African-American mother and an Italian father. As a boy, Roy always worked to help the family—first he delivered newspapers, then he took a milk route (delivering via horsedrawn cart). When he finished his milk run, he went home to help his father, a vegetable seller, load his truck with that day's produce.
Campanella and Baseball
When Campanella was seven or eight, the family moved to Nicetown, Pennsylvania, a neighborhood in north Philadelphia. At an early age, Campanella excelled at several sports but baseball was his great love. He soon found himself included in pick-up games with boys several years older than he was. By the time he was 13, the Nicetown Giants, an adult team, had observed young Roy's talent and asked him to suit up with them.
When Roy was only 15, Campanella's family was approached by the manager of the Bacharach Giants (Brooklyn), an adult baseball team that made a deal with Roy's family for Roy to join them for weekend games. The job was for pay.
Moves Up to Negro League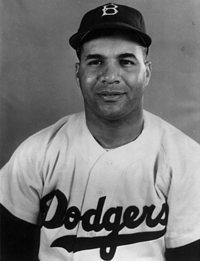 During this period, he was spotted by the Baltimore Elite Giants, a team that was part of the Negro National League. At 16, Campanella got his working papers and dropped out of school to play full-time for the Elites. His salary was sent home to his family and he received pocket money for day-to-day expenses.
For ten years, Roy Campanella excelled as a catcher in the Negro Leagues. Because the color line seemed so impenetrable, Campanella, who was often called Campy, wasted little energy bemoaning the fact that non-whites were barred from the regular professional teams. Major League team managers had their eyes on talented men like Josh Gibson (the Babe Ruth of black baseball), Jackie Robinson and Roy Campanella but team owners balked about hiring them.
New Commissioner Brings Change
When Commissioner Kenesaw Mountain Landis (1866-1944) died, he was replaced by Albert "Happy" Chandler (1898-1991), a former governor and U.S. senator from Kentucky. Chandler let it be known immediately that he believed in the Four Freedoms, and "…if a black boy can make it in Okinawa and go to Guadalcanal, he can make it in baseball."
Four months later, Branch Rickey, a former player who became president and general manager of the Dodger organization in 1942, took the cue and signed Jackie Robinson to play for the Montreal Royals, the Dodgers' International League affiliate. In 1947, Robinson moved up to play for the Brooklyn Dodgers, becoming the first African-American to play on a major league baseball team. Robinson encountered opposition from some teams and from some baseball fans, but the change had been made—within a few months, Branch Rickey also offered Roy Campanella a job. Campanella was sent to a Class B team in Nashua (New Hampshire), and by 1949, the Dodgers were ready to add him to their team line up.
Campanella proved his worth with the Brooklyn Dodgers. He played in five World Series and was selected as the National League's most Valuable Player in 1951, 53, and 55. Seven times he was selected for their All Star team, and in 1969, he was inducted into the Baseball Hall of Fame.
Campanella realized that athletes did not last forever so he had his own business, a Harlem-based liquor store, and in addition to community work visiting schools to inspire young people, the store was where he spent his time when not on the field.
Campanella's Accident
On January 28, 1958, he drove his car to work but left it for service at the dealer, so he was driving a loaner as he left the store. It was snowing, and the roads were not well cleared.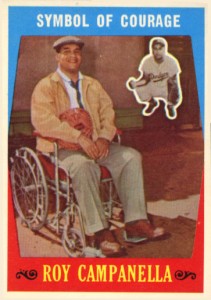 Campanella hit an icy patch and lost control, slamming into a telephone pole. This was a time before seat belts were required, and Campanella slid forward and was pinned under the dashboard, unable to move.
Neighbors heard the crash, so police officers were summoned quickly, but it was difficult to remove Campanella from the car. By the time he reached the hospital the situation was grave. Campanella had broken his neck and was paralyzed from the shoulder blades down. For several months, Campanella's recovery was uncertain.
Back to Work in a Wheelchair
After a long hospitalization, he was taken to the Rusk Institute (part of New York University-Bellevue Medical Center) for rehabilitation. Ultimately he re-gained some use of his arms and could power himself around in an electric wheelchair. Though he never returned to baseball as a player, he re-joined his beloved Dodgers as a coach and a scout. By the time he was ready to go back to work, the team had relocated to Los Angeles. Campanella didn't mind; his place was with the Dodgers.
On May 8, 1959, 93,103 fans filled the Los Angeles Coliseum. The occasion was an exhibition game between the Dodgers and the Yankees. The game was dedicated to Campanella, and he was honored by the darkening of the stadium lights so the fans could light matches to shine bright for Campanella.
In 1993 Campanella died at his home in California. In an obituary for Campanella in The New York Times (June 28,1993), Ty Cobb, a legendary outfielder, was quoted as saying: "Campanella will be remember longer than any catcher in baseball history."
I first wrote about Roy Campanella for The Westchester Historian because he was a long-time resident of that New York county.