The first war dog to carry messages for the Allies in World War I was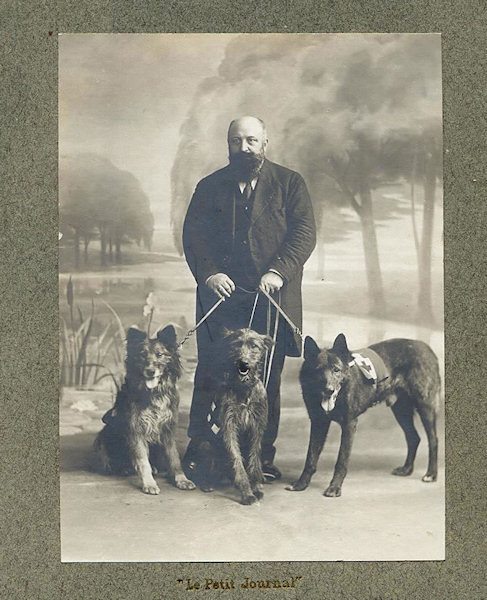 a Belgian Sheepdog named Taki.
The French military began working with Belgian Sheepdogs to train them as messengers for the war. Taki, the youngest of the dogs to be enlisted into the French military, was born in the spring of 1913.
War Dog Under Fire
As the German military began steamrolling across Belgium and into north central France in 1914, a unit of the French Army was trapped between the river and the oncoming Germans. The stranded troops needed to get a message out, but transmission wires in the area were nonexistent and no human messenger was going to be able to get out without being fired upon.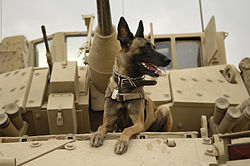 As yet, the use of messenger dogs to cross battlefields was untried in this war, but it seemed the only option. The dogs had been trained, and a planned-for method had been tested. Taki, the youngest of the trained dogs was the one selected for what would be a run through an active battlefield.
The message she was to carry was written in code. It was then inserted into a waterproof capsule that Taki was trained to carry in her mouth. Her master sent her off with instructions and reportedly, a prayer. To everyone's great relief, Taki got the message through, and the French military commanders were able to send relief to help the unit.
War Dog Worked Tirelessly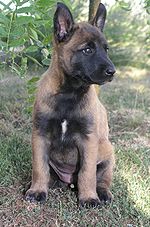 For the next four years, Taki worked tirelessly for the Allies. She made her way across shell-torn fields and under clouds of poison gas and through the smoke and shrapnel from bombs. Taki always made it through without serious injury.
At the end of the war she was decorated by two nations for gallant service. In December of 1918, the king of Belgium provided her with an honorable discharge.
Taki began her off-duty life by accompanying the officer who had taken primary charge of her to his new post in southern France. However, when the officer was ordered to a base in Russia, he needed to find a home for Taki. He gave the war dog to a niece, and the niece, who could not keep Taki, made arrangements to send Taki to other relatives in America who were eager to take the messenger dog.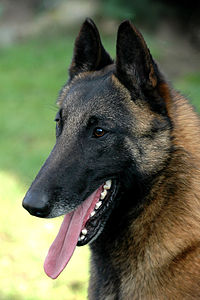 The family of Edward Newbegin lived in Redlands, California, so an orderly who was on his way to America took charge of taking Taki with him. They traveled across the Atlantic on board an American transport, landing in Norfolk Virginia. From there they likely traveled by train to California to meet up with the Newbegins, a Belgian-American family.
Must Have Encountered Bad Luck
In the summer of 1929, some family or personal occurrence must have happened that left Edward J. Newbegin feeling as though he had no options. One day he walked up the path with Taki, en route to the Long Beach Animal Shelter, the dog pound. By then Taki was 16 years old.
At the pound that day was shelter manager G.D. Olden. Newbegin explained that the dog was very old and probably wouldn't live much longer. Newbegin was unable to keep her, and since he couldn't imagine anyone taking such an old dog, he requested that Taki be put to death by the shelter.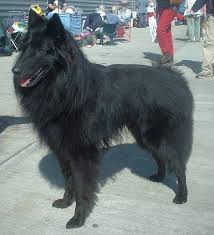 Taki was led to a stall to await her fate, but Newbegin followed Taki and Olden. He knelt in front of the cell and began crying, talking to Taki in French. Olden was puzzled by this turn of events, so he stayed with the man and asked about Taki's story. Newbegin told him of Taki's history.
Reporter Alerted to War Dog's Fate
Olden must have contacted the newspaper because soon reporter Nan Blake, a known lover of animals, came out to the pound to write Taki's story for the local Long Beach newspaper.
Surely someone would be willing to take an old war hero?
After the story appeared, the newspaper had many offers. A committee was formed to select the best home for Taki. One application was received from the National Guard Artillery Unit in the area. Given the dog's comfort with men in uniform, this offered the best home in which to place her.
War Dog Mustered In
When Taki was delivered to the welcoming National Guard, she was mustered in with full formality. Reporter Blake was on hand to report the story. She wrote that when Taki's story was told to the full group of men, there was not a dry eye among them.
Of course, Taki needed one handler who would take her home each night, and a fellow in the unit named Jack Pugh was the lucky fellow.
By day, Taki was in a kennel near the offices where Old Glory, and in Taki's honor, the Tricolor flag of France, flew proudly. At formal retreat, when the Colors were lowered, Jack Pugh collected Taki and took her home with him. Taki lived out her final years with Pugh and the National Guard.
This story is based in a report by John Meteer that appeared in the American Kennel Gazette on January 1, 1930 and can be found at the American Kennel Club Library.
The dog Americans know as the Belgian Malinois, now frequently used for police work and for military assignments, is a variety of the Belgian Sheepdog. Taki was simply early in a long line of war dogs. Cairo, who was with Navy Seal Six for the successful attack on Osama bin Laden's compound, is also a Belgian Mailnois.
Final Truth from Taki
In 2002 Annabelle Cambier and her husband, Jean-Luc Cambier, found the story of Taki in the AKC Gazette. They petitioned the Belgian Sheepdog Club of America to permit them to form a committee to create historic awareness of the Belgian Sheepdogs' role in the war as Messenger Dogs. They have created an active group as well as a web page, and are the major forces working to remember these wonderful dogs. On the website, Annabelle Cambier sums up so well what happened for Taki:
"It only takes a moment to be a turning point in a dog's life. Be in that moment."
For another famous World War I dog see Stubby, who was smuggled to Europe by some American infantrymen, and the dog performed admirably. And for another story of a messenger dog, read World War I and a Remarkable Messenger Dog.