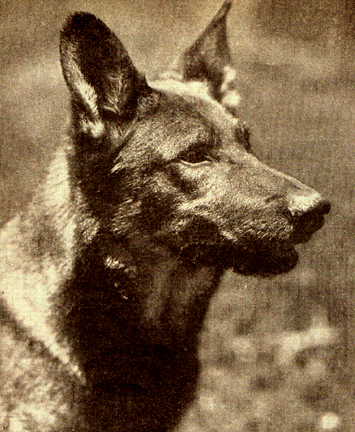 Rin Tin Tin likely would have been a German war dog if the World War I battle near Saint-Mihiel had gone differently.
In September of 1918, the Allies broke through the German line in northeastern France. As the Germans evacuated the area, some men were sent out to scour the countryside to see what remained. Among the discoveries were a mother dog and her puppies, left behind in a damaged war dog station.
Lee Duncan, a soldier from Southern California, couldn't bear to leave the dogs behind. With help from a buddy, he took them back to the base where his unit, the 135th Aero Squadron, was camped.
The rest is Hollywood history.
Lee Duncan's Childhood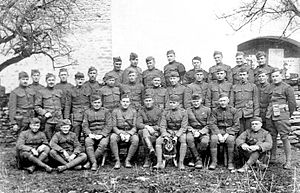 Lee Duncan (1893-1960) was born into a poor family in California. His father soon left them. In 1898, his mother placed Lee and his sister in an orphanage as she was unable to support them. (Orphanages were sometimes used by families for temporary placements at this time.) By 1900, Duncan's mother moved in with her brother. She was able to take the children back, but Duncan's family life was never a settled one.
As a young man, Duncan saw the call for the military as an opportunity. He became part of the U.S. Army Air Service, serving with the 135th Aero Squadron during World War I.
Duncan Acquired Dogs in Europe
Duncan's unit was part of the massive Allied effort to break through the German lines by taking back Saint-Mihiel in northeastern France. The fighting was fierce, lasting from September 15-18, 1918. Though the Germans knew an attack would be forthcoming, they were uncharacteristically disorganized. The Allies gained ground, and the Germans were forced to cede the land they held in that corner of France.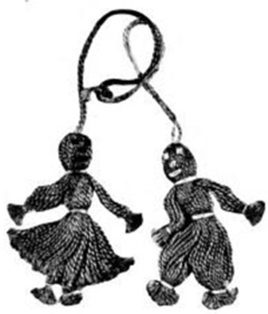 Duncan, an aerial gunner with the Air Service, was among the men who went to survey whether there was an open field that might make a suitable landing place for planes with the 135th Squadron. As they walked through the bombed-out areas near Saint-Mihiel, they came upon a German war dog station. Duncan found a starving female German shepherd with her five newborn puppies. They were so young their eyes were not yet open.
Taking the Dogs to Base
Duncan could not leave the dogs behind, so he and a friend took them back to their temporary base. Duncan made it his job to take care of the puppies and made sure the mother was getting enough to eat so the pups could nurse.
When the dogs were weaned, Duncan selected a male and female for himself. He gave the other three puppies to fellow soldiers. An officer had asked for the mother.
He named his dogs Rin Tin Tin and Nanette, after small good luck doll charms that French children made and gave to soldiers.
Bringing Home the Pups
When the fighting ended and troops were coming back to the U.S., Duncan convinced a superior to help him get permission to bring Rinty and Nanette on shipboard.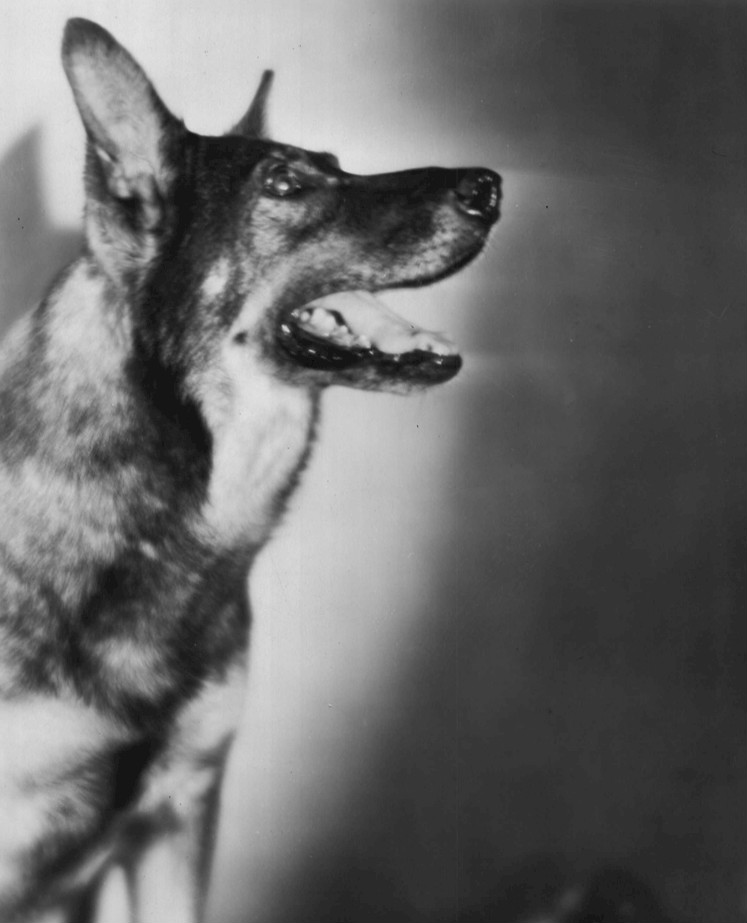 Once stateside, Duncan stopped in New York and found a woman who raised German shepherds who agreed to keep the pups until Duncan was ready to travel to California. (Nanette had become ill on shipboard. Despite good care from the breeder, the dog died of distemper in July of 1919.) When Duncan arrive to retrieve his pups, the breeder gave him a replacement dog from her litters. This dog became Nanette II and was eventually bred with Rin Tin Tin.
Returning to California
Duncan brought Rin Tin Tin and the new puppy home to Southern California, traveling by train. He returned to his job at a high-end sporting goods store where the owner frequently arranged hunting trips for wealthy clients. Duncan, who had worked with hunting dogs before the war, became one of the regular guides.
He devoted his off-hours to training his own dogs, and he was very good at it. Like most trainers today, Duncan did not use food as the reward. If Rinty and Nanette correctly carried out a command, they were each given their favorite squeaky toy and some time to enjoy it.
Rin Tin Tin and Dog Shows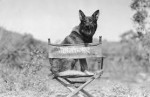 Rinty was a handsome dog and proved capable of great athleticism. Lee Duncan was very proud of him and began taking Rinty to dog shows. Perhaps through his connections at the sporting goods store, he got Rin Tin Tin booked for a performance competition at one of the shows.
The contest was to see which dog could scale the highest wall. Just as they do in horse shows, the officials kept adding incrementally to the height of the wall. Ultimately, Rinty scaled an 11-foot, 9-inch wall. He wowed the crowds and won the competition.
An added benefit came from one of Duncan's friends. The fellow had just purchased a new slow-motion camera, and he was eager to test it out. He went with Duncan to the dog show and filmed the entire competition, providing Duncan with proof of what his dog could do.
A New Star: Strongheart
In the meantime, a new star had announced himself in silent movies. In 1921, Strongheart, another beautiful German shepherd, appeared in his first film, The Silent Call. The movie was a huge hit, breaking attendance records in Los Angeles. It was so popular that theaters played it for eight shows a day for 13 straight weeks.
Of course, Lee Duncan was enormously proud of his own dog, and it occurred to him that if Strongheart was that popular, then other studios might like their own action-adventure canine star.
In those early days of filmmaking, a common way for unknown actors, writers, and directors to look for work was walking door-to-door along Gower Street in Hollywood. This was the home of some the smaller studios, and it was affectionately known as Poverty Row.
Duncan and Rinty made enough of an impression that someone in the front office at one of the studios remembered them. When one of the directors was struggling to get a good performance out of a wolf in The Man From Hell's River, Duncan got a call. He immediately reported to Warner Bros. studio. Rinty got his face smudged with dirt to hide the German shepherd markings, and a potential star was born.
Larger Roles
The part of the wolf in The Man From Hell's River was a bit part, but Duncan knew Rinty was "leading dog" material. These were the very early days of movie production, so Lee Duncan decided to write his own screenplay, starring Rin Tin Tin.
Duncan finished it and delivered the script to Warner Bros. They soon let him know the idea was a "go." Accomplished director Chester Franklin was put in charge of making Where the North Begins.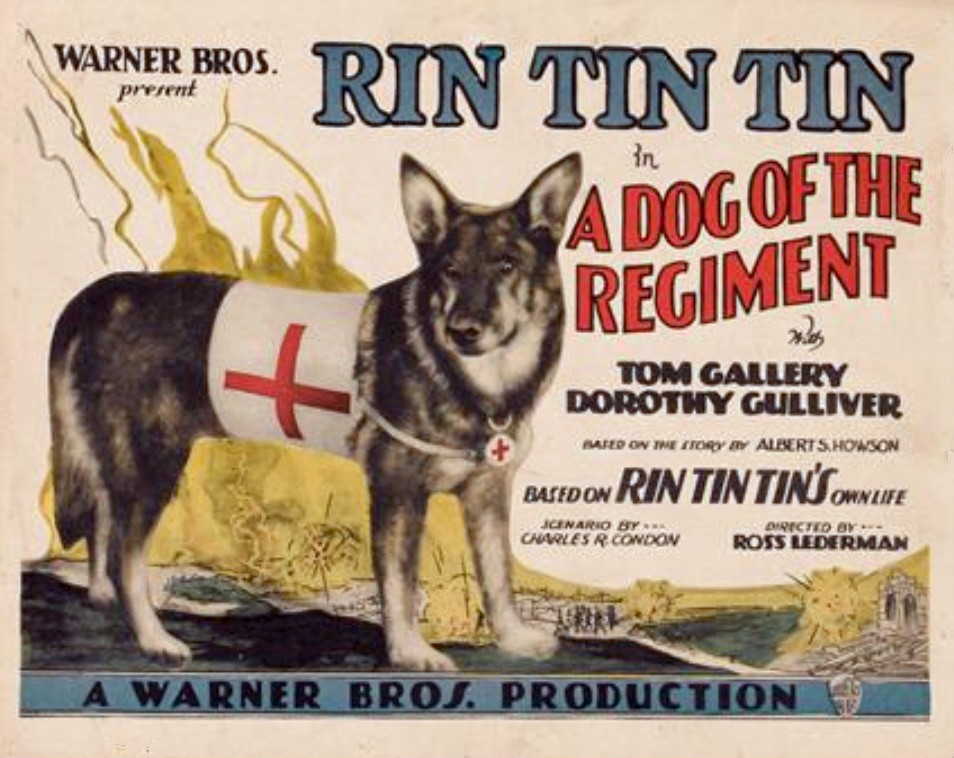 In 1923, Warner Bros signed Rin Tin Tin to be among their stable of stars. He earned $1000 per week and was insured for $10,000. (One newspaper mentioned that each ear was also insured for $1000.) Rinty and Lee Duncan were driven to the studio daily, and diamonds were added to the German shepherd's collar. This was a nice touch, but it meant Duncan covered him with a blanket for entering and exiting the car if they were out.
Warner Bros and Zanuck Benefitted
Having Rin Tin Tin as a star helped pull Warner Bros out of the red ink that was all too common with any start-up studio. Local theaters were also thrilled with Rin Tin Tin. People did not tire of the stories or the star, and the theaters filled night after night.
In addition, a young scriptwriter also floated along with Rinty's success. Darryl F. Zanuck arrived at Warner Bros with a bit of script-writing experience. He was soon placed in charge of churning out the dog adventure sagas.
Zanuck made his way through the studio system, producing many films and rising to be the top producing executive at Twentieth-Century Fox.
Stress and the Studio System
Eventually Rin Tin Tin made 26 films for Warner Bros. Stardom made him very popular for product endorsements, too. Rinty worked for the companies that made Ken-L Ration, Ken-L Biskit, and Pup-Crumbles.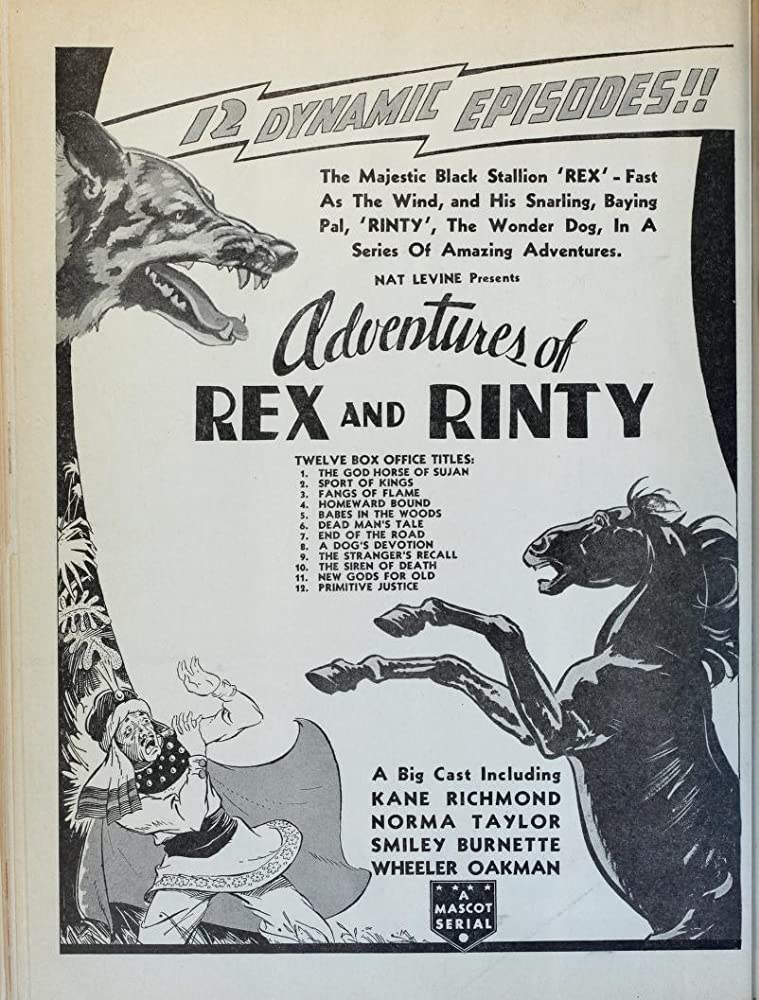 Not unlike other movie stars of his day, Rin-Tin-Tin was caught in a studio system where his living circumstances were determined by the requirements of his contract. And the contract terms were heavily controlled by the insurance company. The famous dog lived in a kennel, it seems, because Duncan believed that was best for him, but the studio's insurers placed other restrictions. Because they did not want him to roam free where he might get hurt, his exercise had to be taken at scheduled intervals on a hamster-wheel type of device.
There were some press reports that the need for "retakes" for filming may have caused Rin-Tin-Tin stress. Rumors occasionally went around that in re-doing (and perhaps "overdoing") a scene, Rin Tin Tin may have taken a nip out of a star or two.
Trips and Ceremonial Appearances
When not busy filming, Duncan put them on the road where Rin Tin Tin performed several times a day as part of various vaudeville shows. He also took Rinty to animal shelters and orphanages to provide awareness of some of the social issues that were important to Duncan.
No matter what, Rin Tin Tin spent almost all of his days working. A typical example of an important appearance involved traveling to Portland, Oregon to lay a wreath on the grave of Silverton Bobbie. Bobbie became famous for finding his way home from 2500 miles away. When he died in 1927, a visit from Rin Tin Tin was appropriate—and press-worthy.
Publicity photographs of the dog went out to all who asked. There was a paw print and Duncan hand-signed "Most faithfully, Rin Tin Tin."
Last Major Film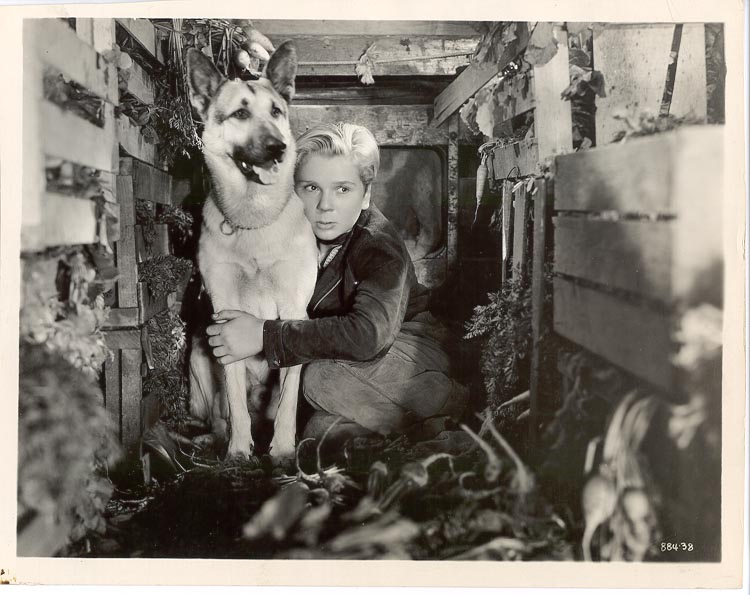 As filmmakers became more adept at making "talkies," Hollywood switched to this exciting new way of storytelling. While a dog's bark was of interest to audiences, what they truly wanted was to hear dialog from actors. With this change, the interest in Hollywood dogs began to fade. Rinty's last film for Warner Bros. was Rough Waters in 1930.
Rin Tin Tin was released from his contract shortly after the last film was released. Duncan was intent to keep going. He modified his command system so that Rin Tin Tin took hand signals and could appear in "talkies."
Duncan signed for Rinty to do a couple of low-budget programs with sound. Duncan was accepting deals for 1932 when Rinty died somewhat unexpectedly of old age.
In the United States, Rin Tin Tin's death was big news. Regular radio programming was interrupted for a news bulletin, and a one-hour special aired later that week.
Rin Tin Tin's Burial
Despite Rin Tin Tin's star status, Lee Duncan hit on hard times during the 1930s. He could not afford an elaborate burial. He buried Rin-Tin-Tin in a casket in his own backyard on Club View Drive in Los Angeles.
Not long after, Duncan realized he needed to sell the house to make money. He quietly arranged for Rin Tin Tin to be returned to France for reburial in the Cimetière des Chiens et utres Animaux Domestiques, the famous pet cemetery in Asnières-sur-Seine, a suburb of Paris.
War Interrupts
In the late 1930s, it became clear that the United States might be forced to enter the war. Some of the dog breeders on the East Coast had long urged the military to assemble a K-9 Corps like those that were used in Europe during World War I. The government was slow to act, so in 1942—after the bombing of Pearl Harbor–poodle breeder Alene Erlanger and her team put out a call for people to donate their pets to the war cause.
Ten thousand dogs were donated. To select and train those who could be used for the military, Erlanger sought out the best dog trainers of the day. Carl Spitz, Willy Necker, and Lee Duncan were among them.
Lee Duncan trained almost 5000 dogs for the war.
Rin Tin Tin Offspring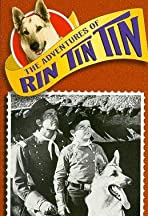 During Rin Tin Tin's lifetime, Lee Duncan was very much aware of the importance of breeding. Because Nanette II was of a different bloodline, Rin Tin Tin and Nanette were bred several times. Over time, he trained four generations of Rin Tin Tin's family for films and TV. Though there were exceptions, all the dogs that starred as Rin Tin Tin were from his bloodlines.
The most notable change-out was for the television show. The program began with Rin Tin Tin IV but was replaced by a German shepherd trained by Frank Barnes. The dog was named Flame.
In 1960, Rin-Tin-Tin was honored with a star on the Hollywood Walk of Fame.
Thinking of the Future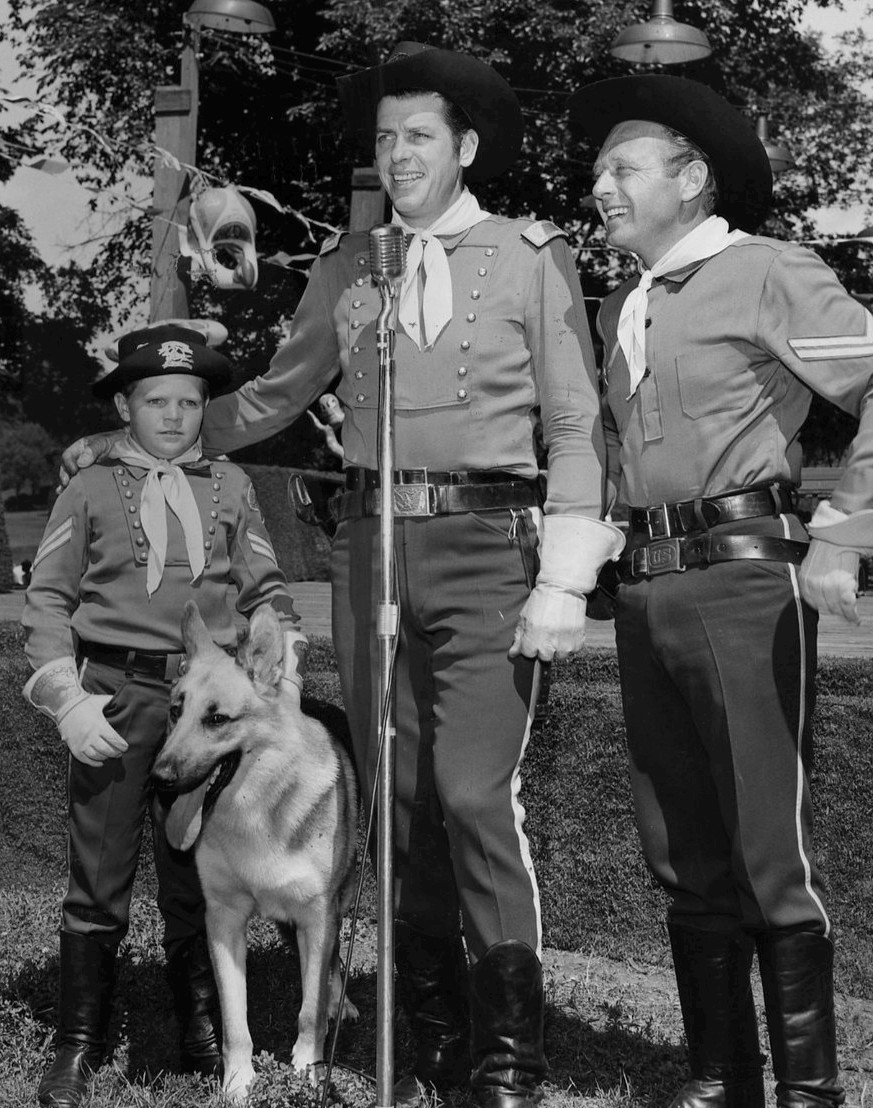 Lee Duncan was constantly being approached by dog breeders who wanted to pair their dogs with Rin Tin Tin or descendants. Duncan had little interest in most of them, but as he got older, one woman was particularly persistent.
At first, Jannettia Brodsgaard Propps, who ran a kennel called Bodyguard Kennels in Texas, just wanted to purchase a puppy. She asked Duncan repeatedly but no dog was forthcoming. Then in 1957, she sent him a full and serious proposal about why and how she wanted to maintain the bloodline.
Duncan finally agreed. She got her puppy and for the next few years—until Duncan died in 1960–she was careful to consult with him on genetic preferences.
Propps maintained the next generations of Rin Tin Tin offspring. When she died in 1988, her granddaughter, Daphne Hereford, took over the kennel; Hereford continued to maintain the line but actively went after trademarking various products that she could sell under the Rin Tin Tin name.
In 2015, a judge ruled Hereford overstepped her contract agreement, and he cancelled nine of the trademarks. Hereford remained mired in legal problems surrounding this until her death in the autumn of 2019.
To read a story about a descendant of Rin Tin Tin, read about Rinda, Daughter of Rin Tin Tin.
For another story about a movie star dog, read about Benji.