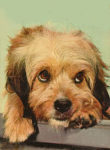 Benji was a dog who was hand-picked from a shelter and turned into a movie star. The lovable mixed-breed dog was discovered in 1960 by veteran Hollywood animal trainer Frank Inn (1916-2002).
Inn always looked first at shelters for animals needed for various show requests. The Burbank Animal Shelter near Hollywood was where he met and fell in love with the shaggy brown dog, known as Higgins. Higgins was destined to be his biggest star.
Who Was Frank Inn?
Inn was born to a Quaker family in Camby, Indiana, and his original name was Elias Franklin Freeman. He left home at age 17, intent on making a name for himself in Hollywood.
Two years later he was seriously injured in a car accident. He stayed at a friend's house while he recovered from his injuries. During that time, the family dog where he stayed had pups. Frank discovered he had a knack for working with animals. His ability soon landed him a job with Rudd Weatherwax, who trained Lassie and Rin-Tin-Tin.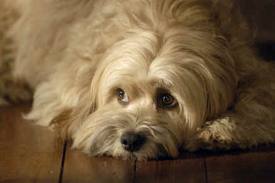 After 14 years working for Weatherwax, Inn went into business for himself and moved his family to an isolated area in the San Fernando Valley to accommodate his growing menagerie of more than 100 dogs, cats and exotic animals. A few years after going out on his own, Frank Inn acquired Higgins.
Higgins first role was as the nameless dog on Petticoat Junction. Inn saw how Higgins mastered new tricks easily. His intelligence and his winning look made him a natural for a bigger role.
Benji, the Movie
When the movie, Benji, was being cast, there were few signs that it would be a big success. The idea for the film came from Joe Camp, a fellow who made his living producing commercials in Dallas. Camp wrote the script, and began contacting people in Hollywood, only to receive rejection after rejection.
Camp was not going to be discouraged. He still loved his "dog picture" idea. In 1971, Camp and a partner decided to produce the movie independently and then look for a distribution deal. They failed there, too, so they formed their own distribution company, releasing the picture themselves.
Camp personally developed the marketing strategy, wrote the advertising copy and press releases, and supervised each and every booking worldwide.
In spite of the many obstacles they encountered in making the film, the audiences loved Benji. Variety reported the picture was the #3 grossing movie of the year.
Success Equals Sequel
The success of the movie led to a sequel, but by this time Higgins was 14. Frank Inn knew that Higgins was too old for a full-time commitment. Fortunately, Inn bred Higgins so there were offspring. Higgins's daughter, Benjean, played Benji in For the Love of Benji (1977). When the time came for a third movie, another of Higgins's offspring filled in.
In 2002, Joe Camp was contemplating another Benji feature film; Frank Inn passed away in July of 2002. Camp decided the answer was to undertake a new nationwide shelter search for a new Benji.
A search would generate publicity for the film to be produced, and Camp knew from prior experience that it was good for animal shelters. In the 1970s, the American Humane Society attributed a million additional adoptions to the news that the original Benji was a shelter dog.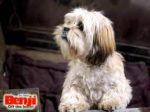 2002 Search Begins
Joe Camp and his company undertook a nationwide search, looking at animals across the nation. The field was narrowed to three candidates that were then put through a "Benji boot camp" run by Camp's wife.
Ultimately, the new Benji was a dog from a shelter in Gulfport, Mississippi. But the runners-up were winners, too. Having been trained and doted upon made them great pet material. One went off to live with a family The other was cast as Benji's sidekick in the film, Benji Off the Leash.
2018 Benji Continues
Brandon Camp, son of the creator Joe Camp, opted to bring out a remake of the original movie (1974) for Netflix. The dog who stars in this film was found after a search of animal shelters, and Joe Camp has accompanied his son for some of the publicity appearances.
***
Anyone interested in adopting a shelter dog need go no further than their local humane society. There are also lots of small rescue organizations who take dogs from shelters to help them find "forever homes." If you're interested in a specific breed, almost every breed has a rescue group. Check online or ask around.