The story of how the first dog who played Sandy in Annie is as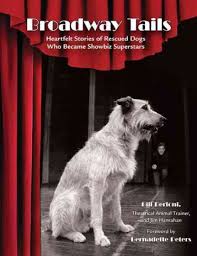 dramatic and heartwarming as the story of how little orphan Annie found a home with Daddy Warbucks in the musical version of her story.
The story begins with the 1976 staging of Annie that took place at the well-known regional theater, the Goodspeed Opera House in East Haddam, Connecticut. The executive producer, Michael Price, knew that the production could not be done well without a real dog but there was no money in the budget for an animal and trainer. Price called 19-year-old intern Bill Berloni in and offered him some bit parts in the summer shows, which would get Berloni his all-important Actors' Equity card, but there was a catch. Berloni needed to find and train a dog to be Sandy with no extra money spent.
Berloni's sole experience with pet training had involved living in a family that owned a dog. That did not dampen his enthusiasm for what he had been offered. He immediately phoned family and friends about the promise that he would qualify for his Equity card that summer.
Only later did he realize the daunting challenge in front of him.
Looking for Sandy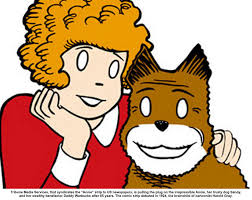 The producer had specified that the dog should be of medium size and sandy in color. Dog pounds were the only source of "free" dogs open to Berloni so he borrowed a car and began visiting the dog pounds in the area. As he describes in his entertaining book, Broadway Tails, in the 1970s there were very few animal shelters as we know them today. His search primarily involved visiting police stations that had a few dog runs where the police department would place strays they found around town.
After visiting several towns with no luck, Berloni was told about the Connecticut Humane Society where they had a greater supply of homeless dogs. When Berloni walked through the Humane Society facility he noted one dog that hung back in his dog run, not barking or greeting anyone who came by. The dog was filthy but looked as if he might be tan-colored so Berloni asked the employee to bring the dog out so he could see him. The man explained the dog had been badly abused; he would have to get a leash to pull the dog forward. While the employee left to get a leash, Bill opened the cage, and the dog crawled forward on his stomach to get the scent of the young man who was opening the door to the run. When the staffer returned, he said, "[That dog] has never done that for any of us!"
Berloni felt the dog was a good possibility, but he wanted to go back to get official approval. He told the Humane Society employee that he would be back for the dog in the morning.
Berloni relates in his book that the staffers responded, "Sorry. You've got to take him today or we're putting him down tomorrow.
"We keep them seven days. That's it."
Berloni was panicked and asked what it would cost to hold the dog.
The cost of the dog was $7. Berloni had only $3 with him. It was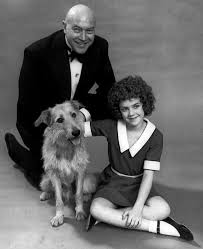 almost closing time, so there was no possibility of a quick roundtrip run back to Haddam. Berloni begged for a break, asked them to honor that he would be back in the morning; the staff members were unmoved. Clearly they had heard it all before.
The shelter was closing. Berloni had no choice but to leave without the dog.
When he got back to the theater his roommate urged him to go back and get the dog first thing in the morning whether or not he could reach the producer before then. Cast members helped him amass the full $7, and Berloni and his roommate returned to the shelter the next day at 7 a.m. and waited for the staff to arrive.
At 7:30, the shelter employees drove in and were quite surprised that the kid had returned. The transaction was carried out, and Berloni and his roommate left with the new dog. The dog was extraordinarily thin so the boys thought of picking up a hamburger for him at McDonald's on the way back to Haddam. Once there, Sandy, as Berloni decided to call him, was given a bath.
As a performer, Sandy had several responsibilities. He needed to arrive on stage when called and greet Annie warmly by putting his front paws up on her shoulders. He then needed to lie quietly beside Annie while she sang "Tomorrow."
Berloni had not considered that a badly abused animal that was afraid of people might be particularly difficult to train to appear in front of loud audiences.
Training Sandy

In addition to training Sandy and taking a few bit parts himself, Berloni had tech responsibilities. While he was busy helping build the sets, he didn't know what to do with Sandy. He finally decided the best solution was to take the dog, a blanket, a water bowl, and a rope so that he could tie Sandy in an area where Sandy could see Bill at all times. He warned the cast and crew of Sandy's fear of people, so those who approached him did so slowly and with kindness.
In the mornings, Bill Berloni also made a point of letting Sandy visit Kristen Vigard, the girl who was to play Annie. Kristen always had treats with her, and Sandy began to like Kristen and enjoy their visits.
Despite Berloni's lack of knowledge of animal training, he soon saw that he had been doing just the right things. When they began rehearsals for the show, Sandy trusted Bill and liked Kristen so he was able to perform the simple actions required of him and do them well.
Tragic Accident with Canine Star
One day when they were painting the set, Sandy was tethered in a spot where the crew needed to place some of the scenery. Someone moved Sandy's tether to an area where there was no shade. Sandy solved that by crawling under one of the trucks for a nap.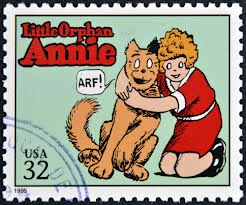 When a crew member got in the cab and began to move the truck, a heart-stopping cry came from under the truck—the tires had run over Sandy's legs.
In Broadway Tails, Berloni describes grabbing the dog and driving to a vet. After x-rays were taken, the vet pronounced that Sandy had been lucky. The dirt must have been soft and so his legs had sunk a bit as the truck went over them; nothing was broken. The vet recommended a two week "cage rest," after which the vet would make a new determination as to how to help Sandy get better.
The problem was that the show opened in 12 days.
The director was furious; he threatened to fire the fellow who drove the truck as well as the woman who had moved Sandy's tether.
And he ordered Berloni to go find a new Sandy.
Love or a Miracle?
But within six days the unbelievable happened: Sandy seemed restless so Bill decided to let him get up. Sandy did so and began limping around on three legs.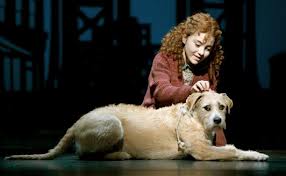 When Bill took Sandy back to the vet, the vet couldn't believe it: "The only way he could get better this fast is because he really wants to get better. He wants to get better for you. This dog really loves you."
By opening night, Sandy was ready to be a part of the show.
Over the course of the summer, the director and producer decided Kristen Vigard needed to be replaced, so they recast the lead with one of the orphans: Andrea McArdle. She was the young actress who took the show to Broadway.
What About Sandy?
As September neared, Bill needed to return to New York City for his classes at NYU. He started asking around for a "forever" home for Sandy but was unsuccessful. One of the crew members was staying Goodspeed an extra few weeks, so he took Sandy temporarily and Bill left for the city.
Both he and Sandy were miserable. Sandy refused to eat and was very lethargic. Bill was beside himself as to what to do.
When Norma Terrell, a musical comedy star who had retired and become an animal rights advocate, heard through the grapevine what was happening, she called Bill and said, "I'll pay for whatever it costs for you to take Sandy to live with you in the city; Sandy needs you."
After only a couple of months in school, Bill Berloni soon received an offer he couldn't refuse. Mike Nichols was mounting a production of Annie and wanted Sandy to reprise his role. Berloni soon found himself on the road with Sandy for tryouts before the musical opened on Broadway in April of 1977.
So Annie began a six-year run on Broadway. Sandy reclaimed his rightful part, and Bill Berloni built a career as a very successful animal trainer working with animals on Broadway as well as Hollywood.
There ought to be a musical about this!
You can read the continuation of Sandy's career and many other stories of Berloni's adventures in animal training by reading Broadway Tails. Berloni continues to train animals for Broadway, television, films, and commercials, and he stresses that he always selects rescue animals for his work. For more about Bill and his work, visit www.theatricalanimals.com.
He also maintains a Sandy fund for the Humane Society of New York and you can read about the organization here.
To read about the comic strip, Little Orphan Annie, click here.