Amy Carter was age 9 when the Carter family moved into the White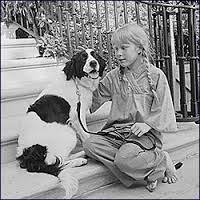 House. The family arrived with Amy's Siamese cat, Misty Malarkey Ying Yang. (Misty Malarkey was the last cat to occupy the White House until the Clintons moved in with Socks.)
Shortly after the election, Rosalyn Carter visited Washington to select a school for Amy. By the end of November, the Carter family announced that Amy would enroll in the public school nearby. Thaddeus Stevens School was just six blocks from the White House. Because the area had become more commercial than residential, enrollment was only 213 students. According to newspaper reports from 1976, 60 percent of the school population was African-American, a mix that Amy was accustomed to in her integrated public school in Plains, Georgia.
This made Amy the first child of an incumbent President to attend a public school since Teddy Roosevelt's son, Quentin.
By mid-December the Carters reported to the press that Amy was reluctant to move, so they brought her to the new school to visit. She saw the 4th grade/5th grade class where she was to be placed, and she met the woman who would be her teacher, Verona Meeder.
Perhaps because of Amy's nervousness about moving to a new home, new city, and new school, Mrs. Meeder did something special for Amy. She and her family visited the White House shortly after the Carters moved in, and they brought Amy a new puppy that was from a litter the Meeders' dog had given birth to on the night Jimmy Carter won the election.
Amy's New Dog

The puppy, named Grits, was a mixed breed/Springer Spaniel. It is not clear whether Mrs. Meeder or one of the Carter family members named the dog but the choice of the name referred to Carter's campaign slogan: "Grits and Fritz" referencing Carter and his running mate, Walter "Fritz" Mondale.
On January 24, 1977, The New York Times reported Grits' arrival at the White House. The puppy was 12 weeks old and weighed 17 pounds. The entire Meeder family–Mrs. Meeder, her husband, and their three children–arrived to present Amy with her new dog. The dog was wearing a brand new collar, and the family also brought along a supply of food, a blue pad for him to sleep on, and a book on dog care.
The New York Times also notes that J.B. (for Jet Black) came in to inspect the new puppy, growled, and left the room.
J.B. was a 5-year-old mixed breed that had been found in Plains near brother Billy's gas station (Billy was the President's brother) in Plains. J.B. was adopted by the Carters' son, Chip; Chip and his wife, Caron, also moved into the White House.
Jimmy and Rosalyn had three grown sons: Jack, the eldest, had finished law school and was still living in Georgia; Chip, 27, had worked on many of his father's campaigns so he moved in to the White House to help with the transition. He and his wife Caron were expecting a baby so the White House soon became home to their son, James Earl Carter IV.
Third son, Jeff, 24, was finishing his studies at George Washington University, so he along with his wife, Annette, and their parakeet Blueberry, moved in as well.
New Dog Makes News
By February, Grits was stealing headlines. An organization called the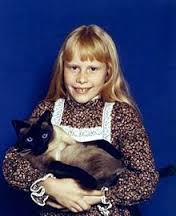 Voice for Animals society named Grits First Canine, Misty Malarkey was deemed First Feline, and Vice President Walter Mondale's blind collie, Bonnie, was named Vice Canine.
Photos show that Grits grew into a very handsome dog, but he did not last too long at the White House. He eventually went back to live with the Meeder family. There is speculation that he was never fully housebroken, but in a comment to the press, Rosalyn Carter tactfully said that Amy was off to summer camp and didn't have time for a dog, and the Meeder household was eager to have Grits return to them.
Some White House dogs–Grits was one of them–primarily lived in the White House Kennels and were cared for by a handler. While visits to the family were frequent and the pets were well-cared for, one can understand how a dog might feel disoriented living in the White House under such circumstances.
In the meantime, Amy Carter seemed to do just fine without a dog. She roller-skated through the White House's East Room and had a treehouse on the South Lawn. When she invited friends over for slumber parties in her treehouse, Secret Service agents monitored the social event from the ground. For a story on Amy's tree house, click here.
The other animal on record that arrived at the Carter household was an elephant from Sri Lanka that was given to them by an immigrant; the animal was given to the National Zoo in Washington, D.C.
For more stories on White House pets, read about the menagerie that lived with the Calvin and Grace Coolidge, or all the pets that belonged to Teddy Roosevelt's family.