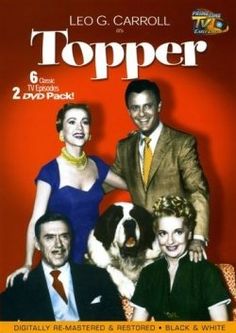 A big, goofy Saint Bernard named Neil starred in the television show Topper in the 1950s. Topper was the first fantasy sitcom on television. While shows like Bewitched and The Addams Family came along in the 1960s, Topper led the way.
Neil's first appearance in the sitcom is as a real dog, doing what St. Bernards are thought to do—rescuing hikers and skiers who run into trouble in the Alps. The catch is that Neil is fond of the brandy he carries, and he stumbles into the mountain scene where the trapped skiers await him. Neil promptly lies down—totally smashed.
The skiers awaiting rescue are a wealthy couple played by Robert Sterling and Anne Jeffreys. They are on a European ski trip to celebrate their fifth wedding anniversary. The avalanche that overtakes them theoretically was survivable if Neil hadn't been drunk.
Characters Return as Ghosts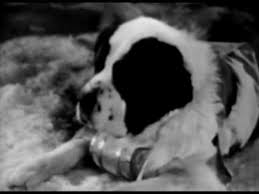 George and Marion Kerby, the attractive young couple, and the lovable Neil all come return to earth as ghosts. After the ski accident, the show is set at the Kerby's former home, which has now been sold to straitlaced, dignified Cosmo Topper (played by Leo G. Carroll.)
The actors keep the episode plots going, but Neil does his part with comic relief. He lifts filled glasses off tables to enjoy them himself, or sometimes, he simply stands on his hind legs with paws around a martini glass to lap up the drink that interests him.
Topper can hear the Kerbys speaking to him, though he can't see them, and of course, he notes that he seems to be emptying his glass rather quickly. Is he hearing voices because he's drunk , or is the place haunted?
Popular Dog and Show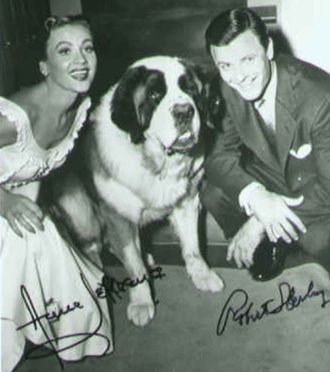 The comedy aired on CBS from 1953-55 (and later, on other channels in reruns). It was based on a novel by Thorne Smith that was turned into a 1937 film starring Cary Grant and Constance Bennett.
Neil, owned by well-known dog trainer Carl Spitz, was perfect for the role. He was the grand-nephew of the St. Bernard who played Buck in the film, The Call of the Wild, starring Clark Gable. Spitz also owned Buck.
Neil was the second-highest paid dog on television during the 1950s. Only Lassie, owned by Rudd Weatherwax out-earned him.
St. Bernard Made News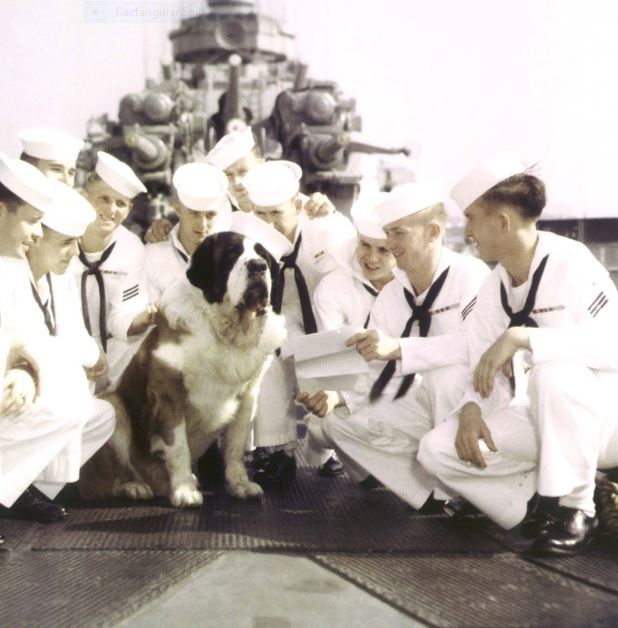 In 1955, the U.S. Navy arranged for Neil to pose with sailors on the U.S.S. Rochester docked in Los Angeles harbor. It was announced that the ship would adopt the dog as their mascot. In the press information, however, the Navy identified Neil as Buck as they felt that gave the U.S.S. Rochester a stronger image.
Other Press Coverage
Elsewhere, Neil had no trouble getting press coverage. One reporter described him as the first St. Bernard that "couldn't carry his liquor."
Mel Heimer, who wrote a syndicated column for King Features, "My New York," writes that Neil, the 165-pound dog, "blew into town to form the Society for the Prevention of Disparaging Remarks about Dogs." Heimer said Neil intended to wipe out terms like "A dog's life…" and "dirty dog…" so that people would think better of dogs. (Baytown Sun, Baytown, Texas, January 7, 1955.)
Another Day, Another Reporter
That same month reporter Phyllis Battelle visited Neil and Carl Spitz in New York in the four-room hotel suite that has been provided them.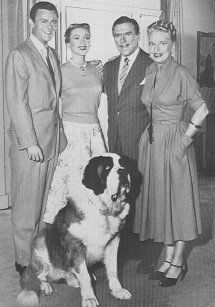 While with Battelle, Spitz mentions that Neil has lost five pounds because of traveling…that Neil worries during press junkets because he doesn't earn any money. (Unlikely.)
The reporter is more concerned about finding out what Neil consumes on the show. She then reveals that the martinis are actually beef broth with a little fruit juice.
During these questions, Spitz includes Neil in the fun. He remarks to Battelle that the ASPCA does not permit alcohol for dogs. Then he turns to Neil and says, "They do not even permit 3 percent wine, do they Neil?"
Neil raised his head and shakes it, distinctly signaling no.
Phyllis Battelle ("Assignment America," Daily Reporter, Greenfield, Indiana, January 11, 1955) concludes her article:
"With a snap of Spitz's fingers, he [Neil] will pounce on a movie villain and not hurt him…[With a..] whisk of the hand, look mortally wounded and roll off a 100-foot cliff. And when a director calls, 'Cut!' he'll walk off set to his dressing room."
Not bad for a dog's life.
For more stories about dogs on television, see Bullet, the dog on The Roy Rogers Show.

<