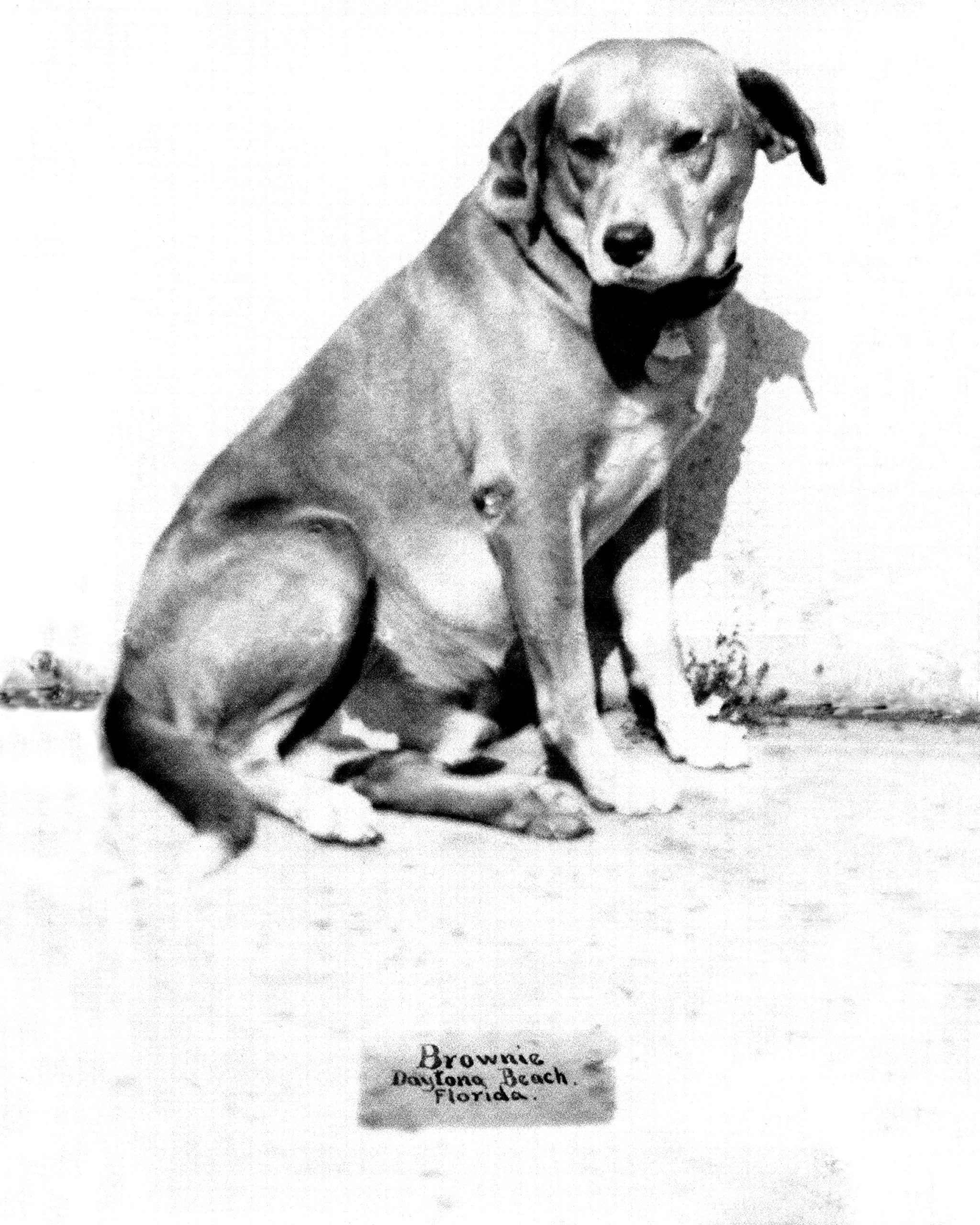 The stray dog must have been about a year old when he wandered down Orange Avenue to Beach Street in Daytona Beach in 1940. The junction of these two streets brought him to a central location in town right across from the marina. White sands…beautiful weather…a few people nearby…nothing wrong with this.
An additional attraction at that corner was the presence of the Daytona Cab Company, owned by Ed Budgen, Sr. who was having his lunch when the dog stopped by. Ed offered to share. All these elements were enough to say "home" to Brownie, as the taxi drivers began calling him.
Brownie the Dog
Brownie (1939-1954) is described as a short-haired brown dog with a white chin. Some locals felt he had a bit of Labrador retriever or Rhodesian ridgeback in him. While he headquartered at the cab company, he patrolled several blocks along Orange Avenue and Beach Street. There was a pool hall, Liggett's drugstore, a barbershop, and a bank. There was also a bus stop at that corner so there were always people around. Brownie got to know his new neighbors and let them know he was always available to help with anything they weren't going to eat.
As the weeks passed, Ed Budgen decided that if Brownie was staying he needed a house. He and a couple of drivers used an old moving box and created a decent-sized dog house.
Daytona Cars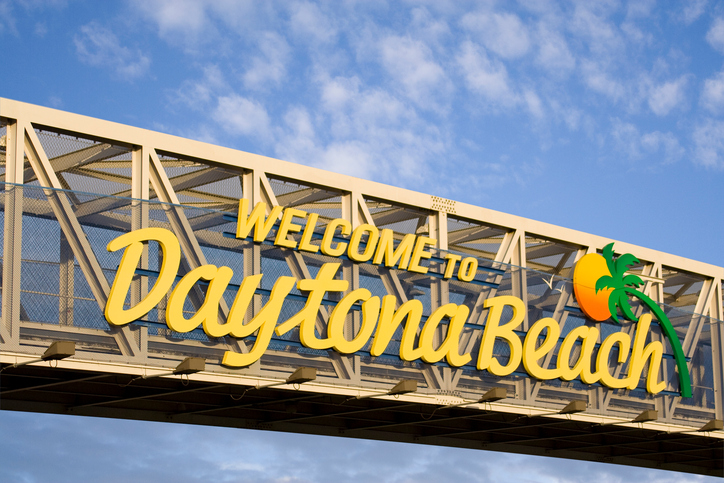 Even in the 1940s, Daytona Beach was place where people brought their fancy cars and enjoyed driving them. In 1947, Brownie—who had a tendency to wander into the street—got hit by a car. A taxi driver saw the accident, immediately stepped out of his cab and scooped up Brownie to take him to the vet.
When the taxi driver returned to the taxi stand, he posted a note: "Brownie has been hurt and is at the veterinarian's. Would you like to help out with his hospital bill?"
According to a write-up in the local paper, $32 came in during the first 30 minutes the note was up. The funds continued to grow, so there was plenty of good news: Brownie was getting better, and he was going to be able to pay for the care he received.
Real Doghouse
While Brownie was in the hospital, the taxi drivers opted to make a "real" doghouse for their favorite mutt. They built a new house out of plywood with his name writ large across the front. It was Brownie's house indeed.
A few days later when it was time for Brownie to leave the vet, the drivers drew lots to see who got to bring Brownie home.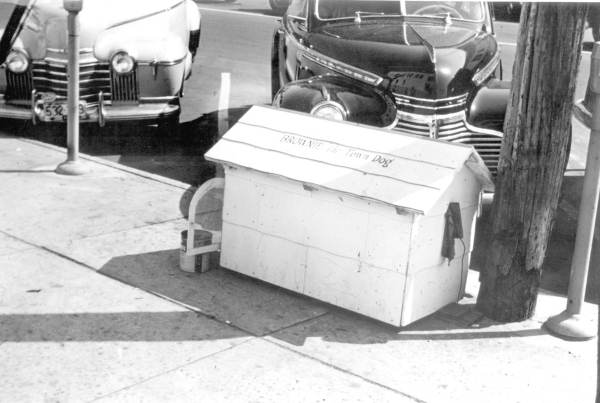 When the winning driver escorted Brownie back to his favorite corner at Orange and Beach, a small crowd waited to greet him. There were dinner scraps and a pork chop or two, all with a "Welcome Home" feeling to it.
A Bank Account for Brownie
As a responsible caretaker, Ed Budgen knew that a time might come when Brownie needed funds again. He took the remaining money from the donation box and established a bank account for Brownie at the Florida Bank and Trust Company down the street  (account number 3318, complete with Brownie's own bank book).  When there were vet bills or Brownie needed some dog food, the money was there for Brownie's use.
Package shop owner, C.P. Miller always took care of Brownie's dog license, and of course, it was important to the town that Brownie get License #1.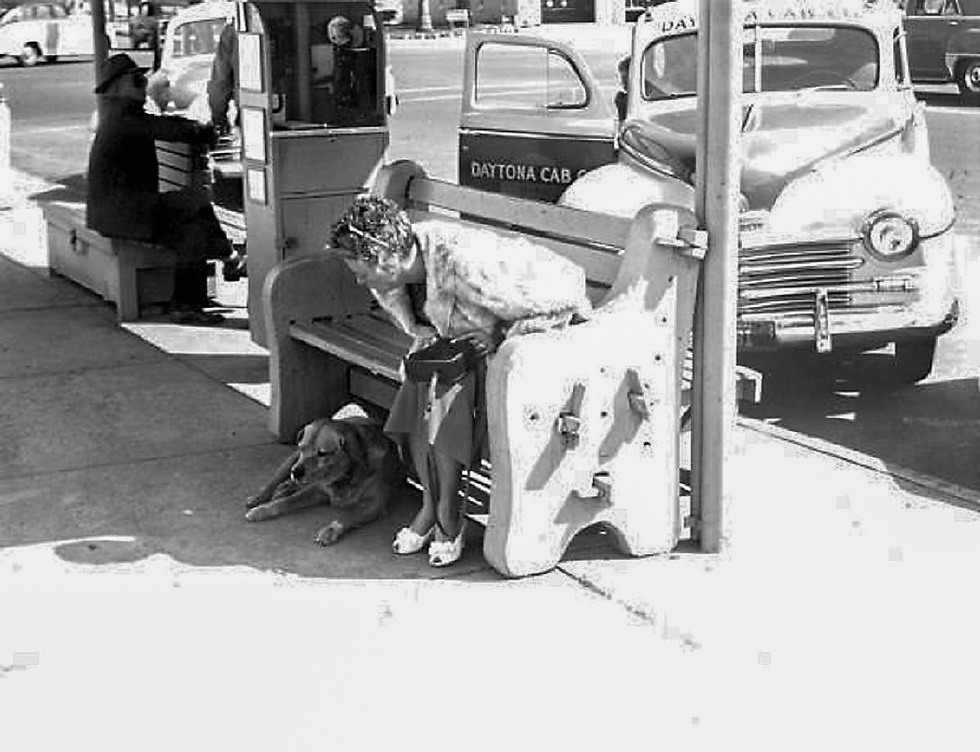 At some point the town put out a proclamation making Brownie the official Town Dog. Did he have to go to a city council meeting to be so honored? He might have, if there were treats.
With the business of life taken care of by others, Brownie was free to live up to his official responsibilities of patrolling his streets. There were always people around, going in and out of stores or sitting on the bench waiting for the bus. Brownie liked to lie in the shade under the bench, his head was within easy reach of hands that could give him a pat or an ear scratch.
The taxi company ran an all-night service and both Brownie and the night drivers were happy they were there together.
As one local said, "He was nobody's dog but he was everybody's dog."
Brownie's Fame Grew
Daytona Beach draws tourists throughout the year, and soon visitors realized that Brownie was a "town regular." He was written about in newspapers and magazines nationwide, and visitors arrived looking for him. They sent him Christmas cards and packages, too.
An enterprising local businessperson realized that Brownie needed something to send in return, so he created a postcard with Brownie's picture on the front. Of course, these also sold well to tourists, adding a little additional cash to Brownie's bank account. There was also a Christmas version of the card so Brownie had a way to thank all who remembered him.
In 1949, a local columnist for the Daytona Beach Morning Journal, Fred Langworthy, reported that a nurse rushed into the cab stand one morning shortly after her night shift ended at 7 a.m. She always waited for the bus at that corner and was greeted by Brownie. Today he was just lying in his house. Was he OK?
Brownie was fine… it was February. He probably saw no need to make an early start to the day.
Elsie Borden and her Calf Come to Town
Daytona Beach was a popular community, but who would have guessed that among the visitors would be the Borden cow and her offspring? The Borden family must have come in for several guest appearances, but the Fort Lauderdale News (12/30/50) noted that Elsie, Elmer and their calf Beauregard were "vacationing in Florida for the winter."
While Elmer may have been relaxing, Elsie and Beauregard were out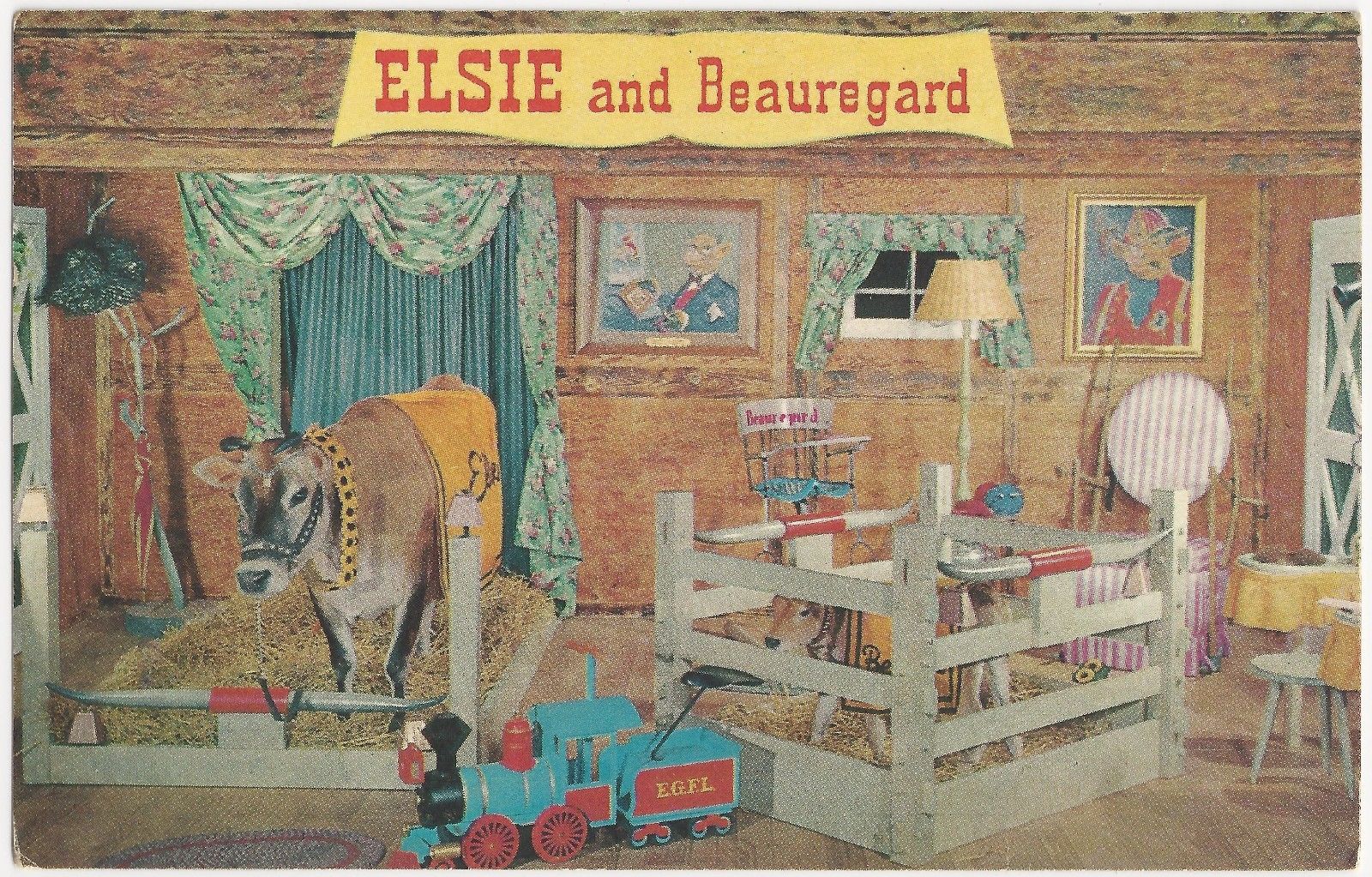 and about.
One afternoon the press was invited to Brownie's corner. Elsie was bringing Beauregard to meet Brownie. It was planned that Brownie and Beauregard would walk down the street together. Beauregard would wait while Brownie stepped into the bank to withdraw a few bucks. Then calf and dog walked on to Liggett's Drugstore where Brownie purchased a vanilla ice cream soda for each of them.
Perfect!
Reports as Brownie Aged
As Brownie grew older, the local reporters seemed to pay more attention to how he was doing. In 1951, columnist Fred Langworthy reported (12-27-51) that over the course of the year, two aggressive mutts picked a fight with Brownie.This sent him to the vet for a couple of days, drawing down a bit on his bank account. But as December came along, Brownie seemed fine. He was sporting a red ribbon someone had tied around his collar, and another friend left him a poem:
"Trusting old Brownie, you've done all a dog can do.
Faith to your highest instinct, ever loyal, kind and true.
And I think when you have ended your career of canine cares,
I shall hear your pattering footsteps as you climb the Golden Stairs.
Then I think that some bright angel at Heaven's gate will bear you through.
For you never were disloyal, that's as well as any dog can do."
Langworthy concludes: "Old Brownie, canine king and patriarch…has weathered another year and passed another jolly Christmas."
Another Year, Another Report
A year and a half later, Langworthy was back with another report: (May 11, 1952): Brownie was under the weather. It turns out Brownie had heartworms but was never adequately treated. The vet was starting a series of 14 treatments to try to make the town dog better.
Langworthy writes that the first treatment seemed to help. Brownie was back patrolling the street again. He "tagged along at the heels of police patrolmen," watchfully sniffing at the warm sounds and smells Of Orange Avenue, and keeping everything well under control.
The End Comes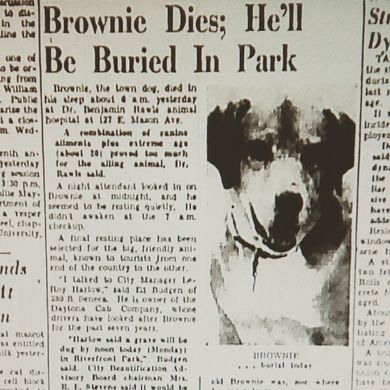 Brownie became ill in early October of 1954. For 20 days there were regular reports in the local paper as to how he was doing. As we all know, dogs never live long enough. Finally, Brownie breathed his last. It is estimated that he was 15 years old by that time.
Led by the taxi drivers, the citizens of Daytona did right by Brownie. The remainder of his bank account was used to settle his vet bill and cover funeral expenses. Two taxi drivers built a small casket for the body. He was to be buried across the street in Riverfront Park.
That Saturday morning about 75 mourners came to pay respects. The mayor gave the eulogy. He had many nice things to say about Daytona's loyal citizen, concluding with "Wherever it is that good dogs go, Brownie has already gone."
Life Moves On
Like all towns, the people of Daytona Beach moved on. A Brownie #2 took up a home at the post office and is buried there, but over time, the townspeople forgot about Brownie the Town dog.
Brownie Grave Re-Discovered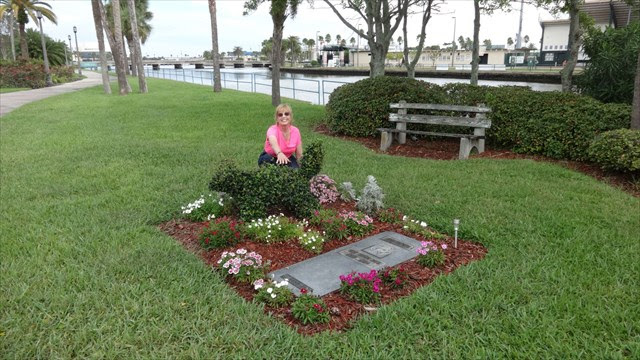 Then in 1994, members of the Daytona Civic Association were cleaning up Riverfront Park. Some volunteers found Brownie's grave site and decided the old dog deserved to be remembered.
Several years later, a local woman, Brenda Gibson, took responsibility for maintaining Brownie's grave. From that time on, it was always well tended and often decorated for an upcoming holiday.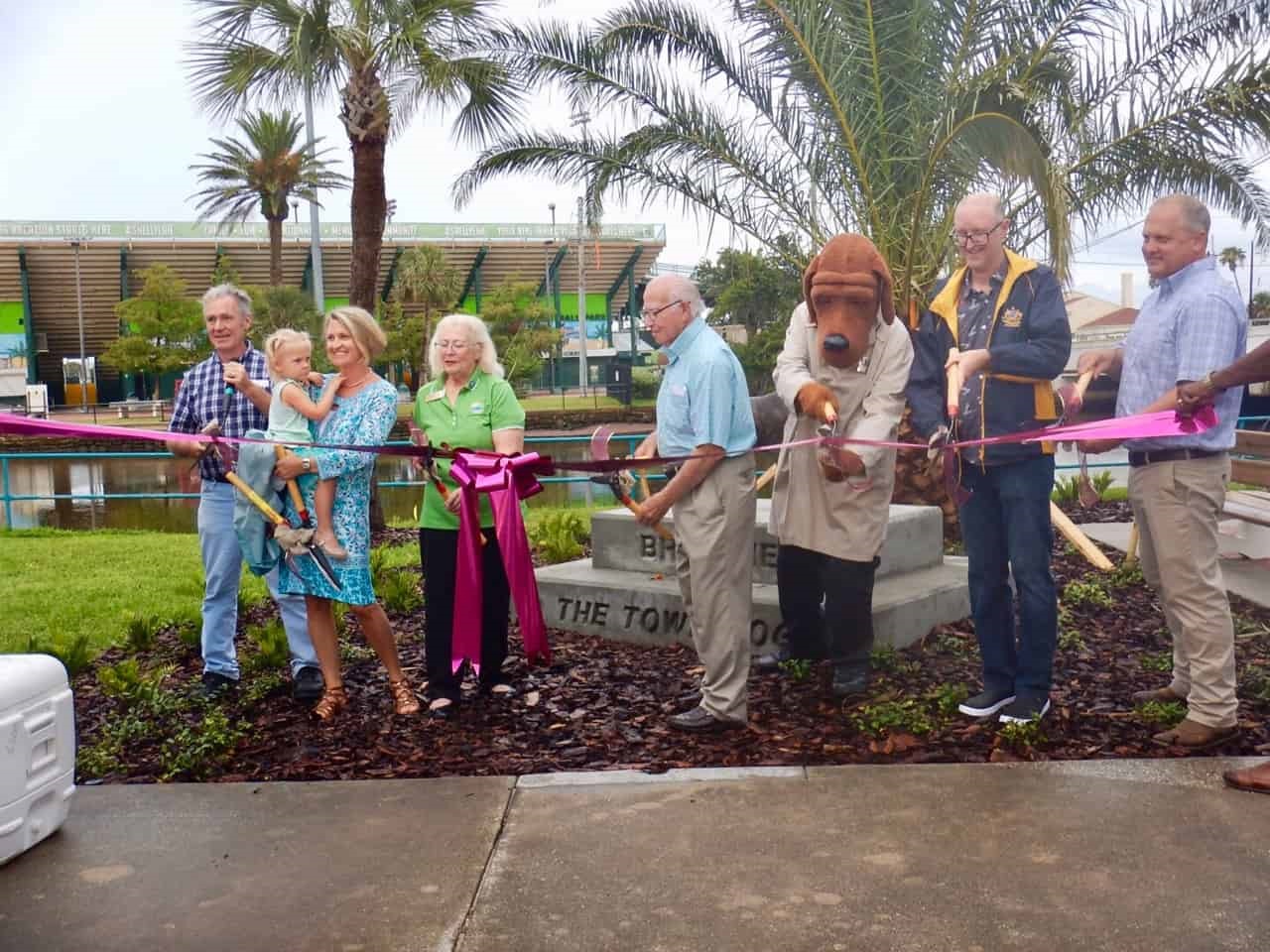 Gibson died in June of 2017, but fortunately, good people come along when needed.  Two weekend residents of Daytona Beach, Eddie James and Alvin Almodovar, decided to move to the community full time.
Alvin is a scientist and Eddie is a technology consultant, but they shared a love of animals. Between them they always have several dogs and cats, and often, rabbits and chickens, too. They felt Daytona Beach could use a specialty dog store, named after Brownie of course.
Brownie's Dog Boutique
Brownie's Dog Boutique was born in July 2016, and Eddie and Alvin enjoyed running the store for two years.
During that time, the men became stewards for Brownie-related information. They created a website to tell Brownie's story, made sure the gravesite was tended, and they worked to raise money for a statue to honor Brownie.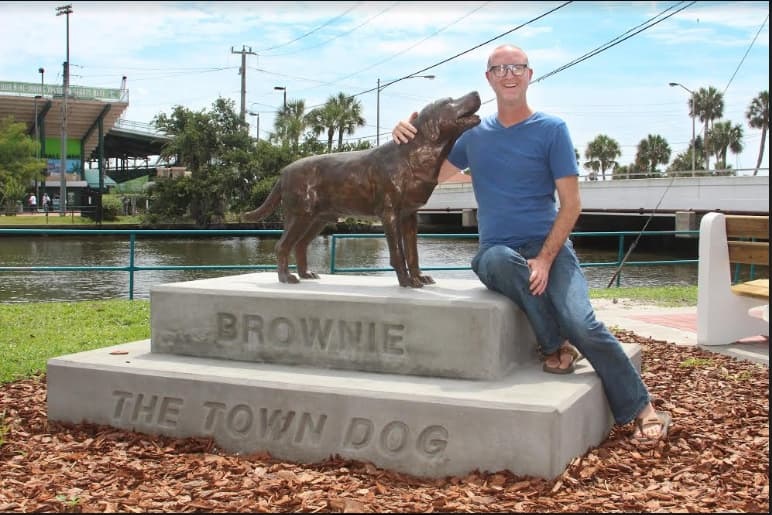 By 2018, the funds were raised for a memorial to Brownie. Beside the grave there is now a bronze statue of Brownie. Original benches from Brownie's lifetime were refurbished and were dedicated to people who helped Brownie during his lifetime (including the mayor, the vet, the people who built his dog house, his pallbearers, and friends.)
There is also a marker for Brownie's grave that tells his story.
Brownie's Dog Boutique closed in April 2018. It's now part of Brownie's story.
Beloved Dog
Then and now, Brownie is a great town representative and builder of a community. As Fred Langworthy wrote in the 1950s: "There's something mighty wholesome about a City whose people can pause …to remember an old and beloved dog."
If you are in Daytona Beach, please stop and visit the memorial.
I am indebted to Eddie James for telling me about Brownie. I've always said, "If dogs just left diaries…"  Eddie has sent me so much material on Brownie (and Brownie was so loved during his lifetime) that I almost feel like Brownie did leave a diary. Thanks, too, to Eddie for the updated information and photographs.