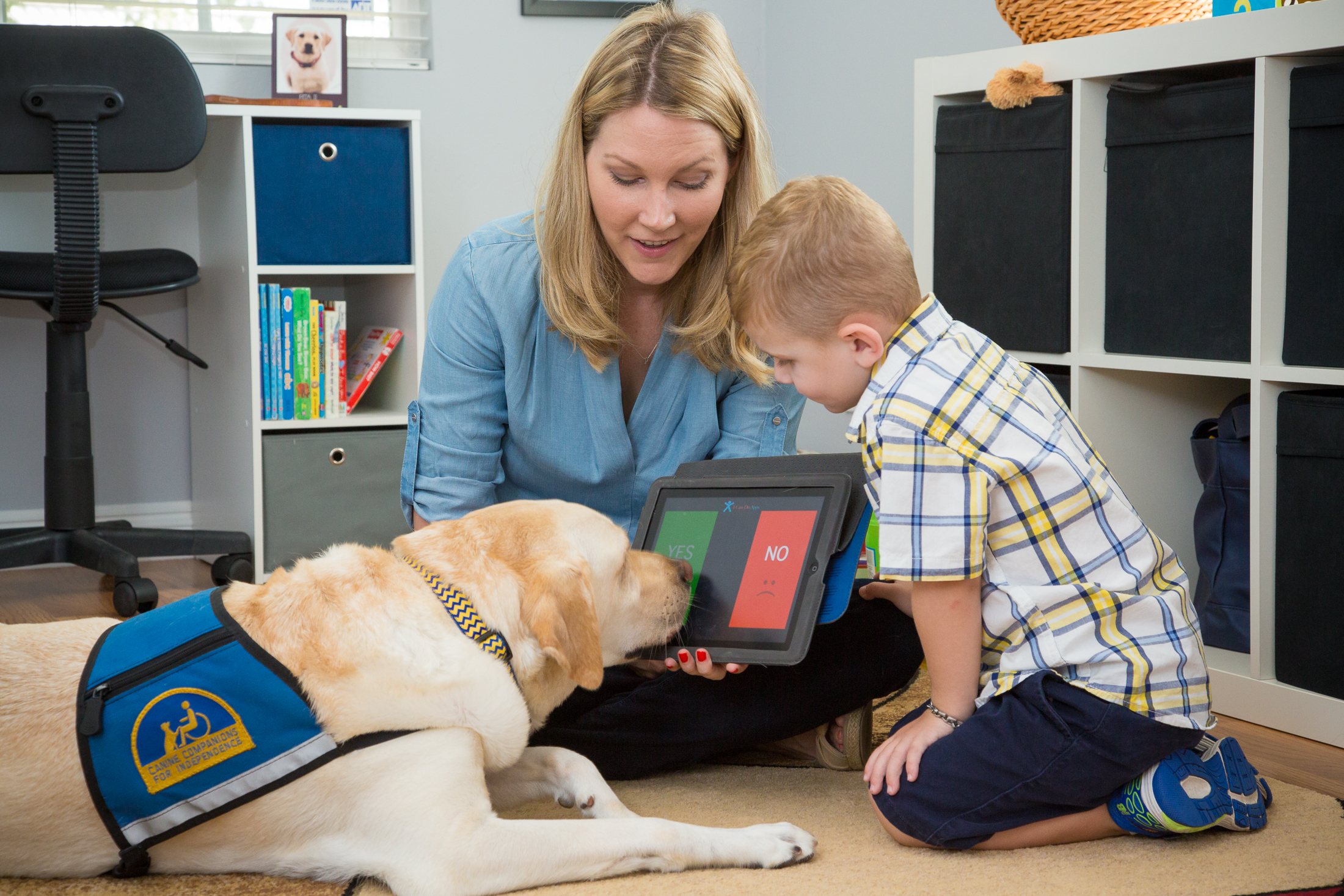 When Jen Nance Yost became a speech pathologist six years ago, her first position involved working in a private pediatric practice. She never dreamed that at some point she would head up a speech team of two—herself and a four-legged assistant.
Now she and her dog Pita are "co-clinicians," as Jen sometimes describes them.
How Pita and Jen Became a Team
In the private practice where Jen began, one of the other speech pathologists had a facility dog who worked with her to help the children. It was apparent that the pathologist and dog were great together, and the children enjoyed the fact that a dog was part of the process.
Jen's colleague recommended Jen apply to Canine Companions for Independence for a dog. (CCI's headquarters are in Santa Rosa, but they have a large office in Oceanside, not far from where Jen lives.) With this encouragement, Jen decided to put in an application.
Making a Match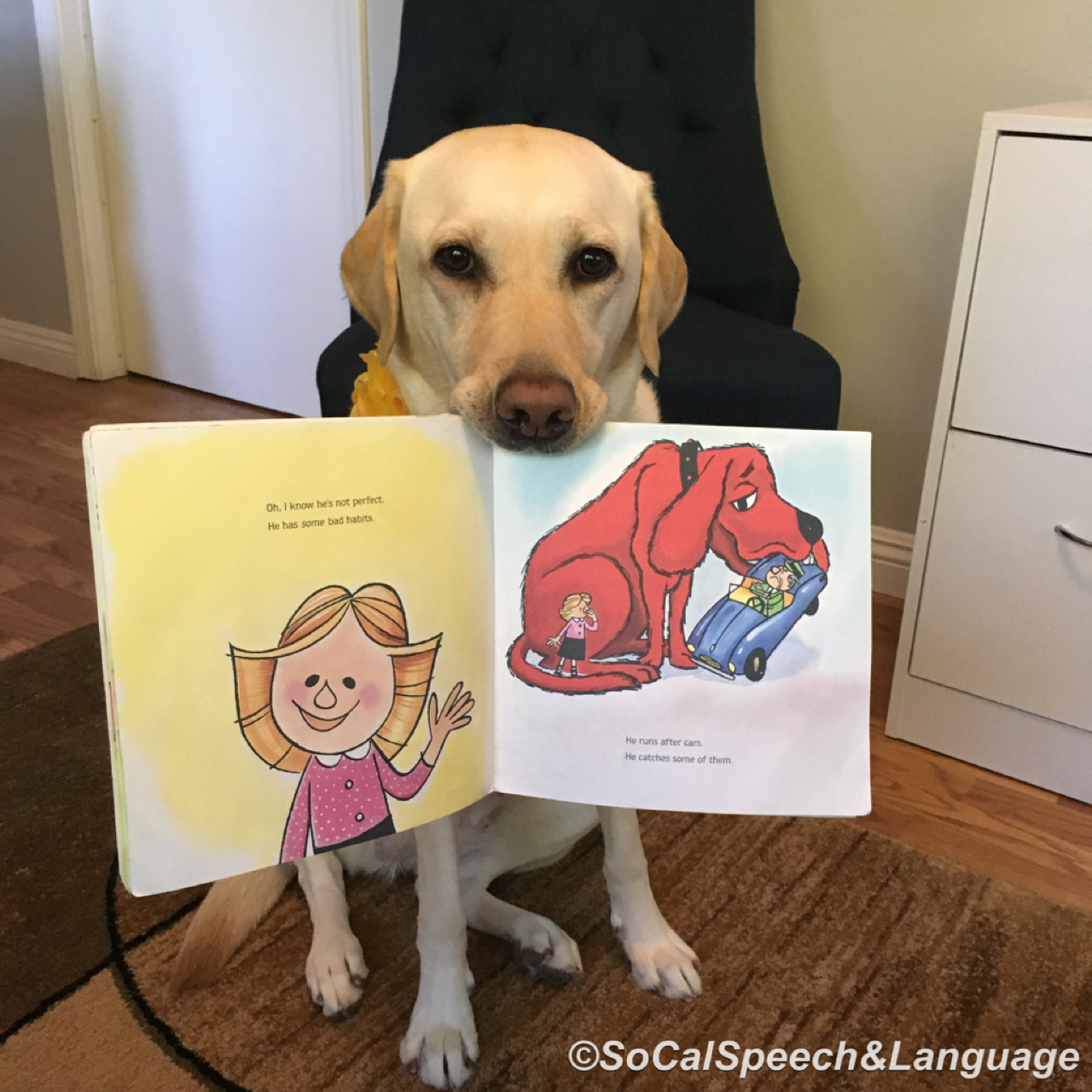 The process of reviewing applicants and matching the right dog with suitable candidates requires time, but within a year, Jen received a call from CCI. They believed they had a dog for her. She was invited to participate in one of their two-week training classes.
The final pairing must be done during this training period. While CCI staffers have ideas of which dogs might be right for each accepted applicant, the chemistry between dog and human is the determining factor.
Over the course of the two weeks, Jen worked with five different dogs. Jen explains: "I fell in love with Pita right away and hoped I would be matched with her. But I had faith that the trainers would match me with the right dog. I was so happy when that dog turned out to be Pita."
About Facility Dogs Like Pita
Pita, a lovable, calm golden lab, is trained to be what is known as a facility dog. (There are different categories of assistance dogs.) Facility dogs are expertly trained to partner with a human facilitator in many types of environments. Most facility dogs respond to about 40 commands and are great at offering love and compassion.
One of the new uses of facility dogs is in some courtrooms. Training organizations have worked for several years to obtain permission to bring in facility dogs into courthouses. It was felt that the dogs could be particularly beneficial with children who may have to testify about abuse or custody issues.
Speech Therapy Dog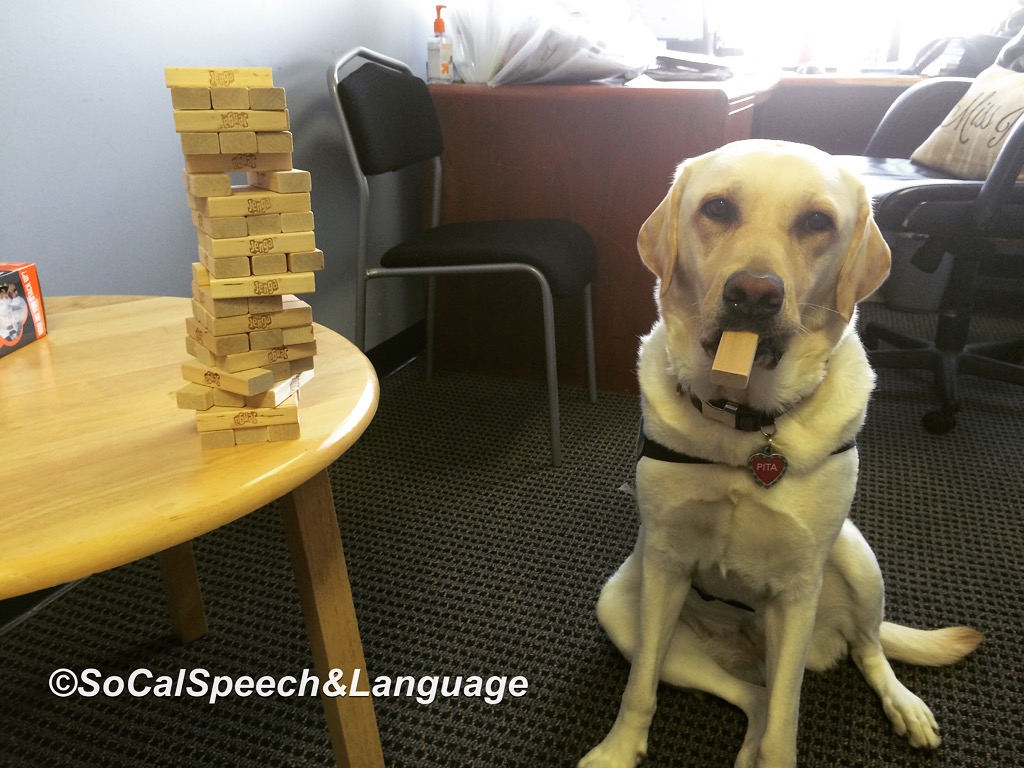 Initially, Pita joined Jen Yost in her work in the pediatric practice. When Jen was offered a job as a speech pathologist at a public school in Orange County, she had to make sure that Pita was included in the deal. Fortunately, Pita was.
Today, Pita and Jen operate in two spheres. During the school year, they are busy with the schoolchildren who are referred to them for speech therapy. She and Pita see about 60 kids per week.
During her off-time, Jen still sees some private clients.  Her clients range from about 18 months to 15 years.
 What Does Pita Offer?
"Pita serves as a playmate for my interactions with the children," says Jen. "She is also loving and totally nonjudgmental—two wonderful qualities for working with any individual."
In speech therapy, the desire is for a child to use his or her words, and Pita is a big help. The youngster can command her to stack blocks, pull a small wagon, or put oversized coins in a plastic piggy bank.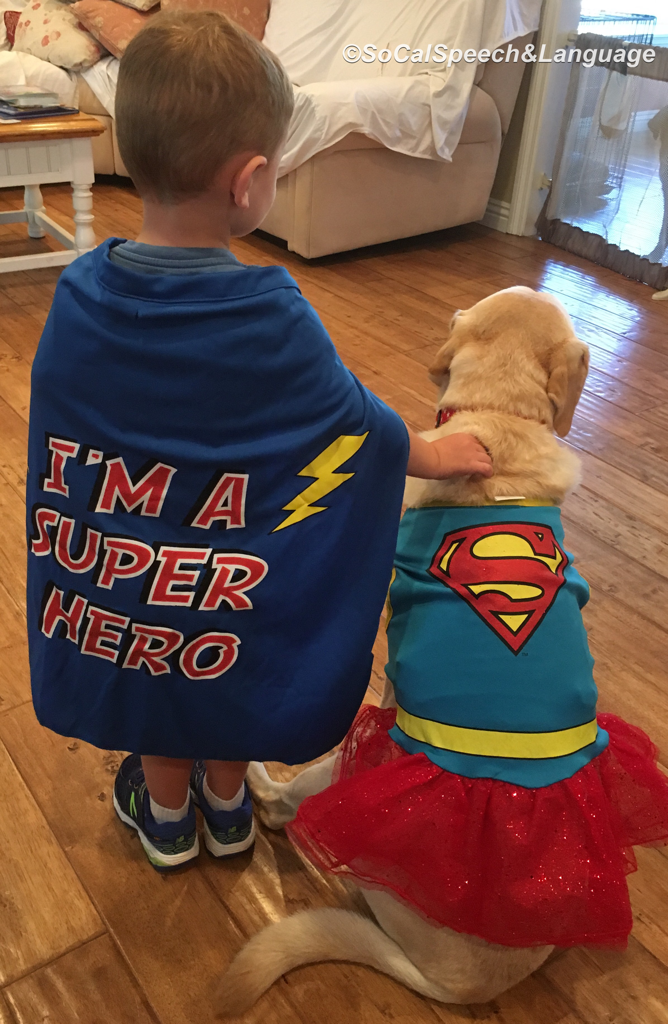 This process also teaches children social interaction. To command any dog, one needs to look directly at the dog and give a clear command. This teaches children how to interact with people, too. All people respond best to those who look directly at them and then speak clearly.
Children can also step into the "teacher role" and quiz Pita about various things. For this game, Jen brings out her tablet with the "yes" and "no" buttons. The children ask Pita a question and Pita then answers them by pointing with her nose to the "yes" or the "no." (No one will ever question whether or not Pita tells the truth every time!)
Other Jobs Pita Does
For children still learning their body parts, Pita helps. Pita can identify nose, eyes, and mouth, and the kids then do it with her.
Pita also "draws." Holding a marker in her mouth, Pita creates a picture on paper.  Then Jen encourages the child to talk about what the picture looks like. This offers opportunity for conversation but it also sometimes opens an avenue for a child to express concerns.
With autistic children, Pita can have a calming influence. Jen Yost notes that in her experience, autism symptoms are sometimes lessened by a calming level of pressure, so being able to snuggle up to Pita and hug her can help bring calm to a child.
Pita is also good at helping with tantrums. A friendly nudge of the child's arm with Pita's cold nose, is enough to halt the crying. With Pita's calm presence, most children begin to feel calmer quite soon.
Games Pita Plays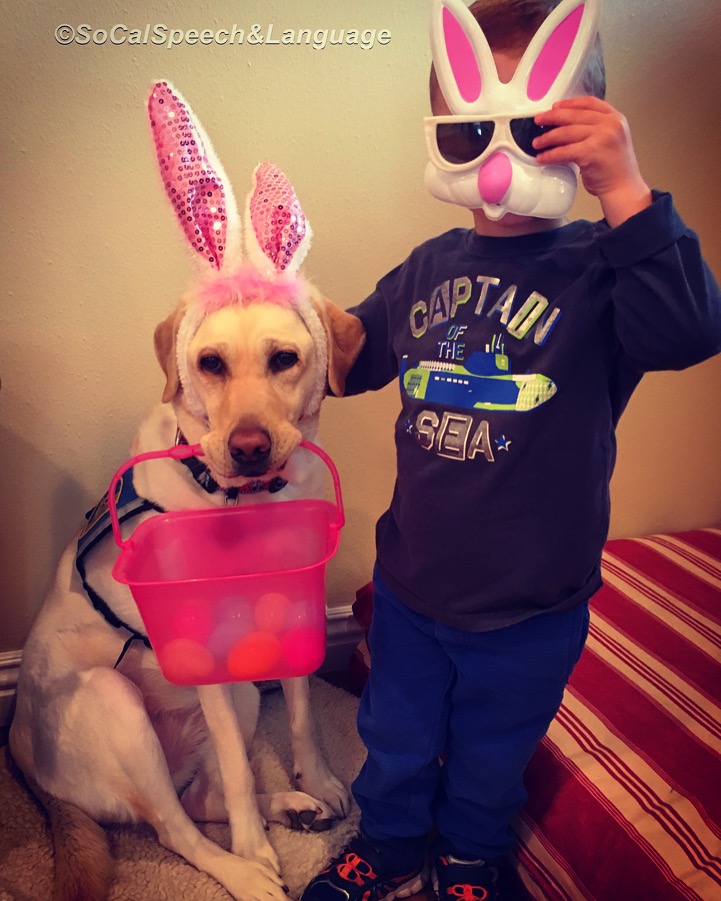 Games require conversation and social skills. For example, the child who likes Jenga can play it with Pita, who is pretty good at removing pieces without knocking over the tower. This game—and others—requires turn-taking. Pita is a model citizen when waiting her turn. A child has a much easier time waiting for a dog to take the next turn than they do waiting for another child. It's a positive way to teach an important social skill.
Pita, of course, loves being read to, and even reluctant readers are willing to give reading a try with Pita. As for page-turning, sometimes Pita turns the page; sometimes the child does.
Some children love to act out stories, and for this, Pita is a natural. Jen Yost's storage baskets are filled with a full wardrobe of costumes for Pita. Pita can be anything from a princess to a bunny rabbit… whatever the child wants her to be. Crafting the story encourages verbal interaction as the child explains what Pita must do.
Pita at School
At school, Pita is very popular… Children and adults alike love seeing her in the hallways. And who wouldn't love a dog who is a great sport? Pita willingly dons pajamas on Pajama Day and crazy socks on Crazy Sock Day.
She also helps remove the possible stigma when a student must leave class for speech therapy.  Jen describes her process: "Both Pita and I will go down the hallway to pick up a student, but only Pita goes into the classroom. She enters the room and sits at the front of the class until the teacher acknowledges her."
The teacher then releases the child who has the honor and pleasure of leaving with Pita. Jen meets them outside the classroom, and the three of them journey together to her office.
Time with Pita is sometimes offered as a reward for hard work. If a child overcomes a big obstacle, then he or she may be invited to join Jen and Pita in the speech office for lunch.
The principal has found that kids who do not need speech help often ask to be sent to speech so that they can spent time with Pita.
Occasional Challenges
Have there every been problems?
In one case, a child had significant allergies so Jen worked with the child in a different room without Pita. (Training organizations such as CCI have carefully outlined regulations about bathing and brushing assistance dogs. For that reason, allergies are must less likely to be a problem.)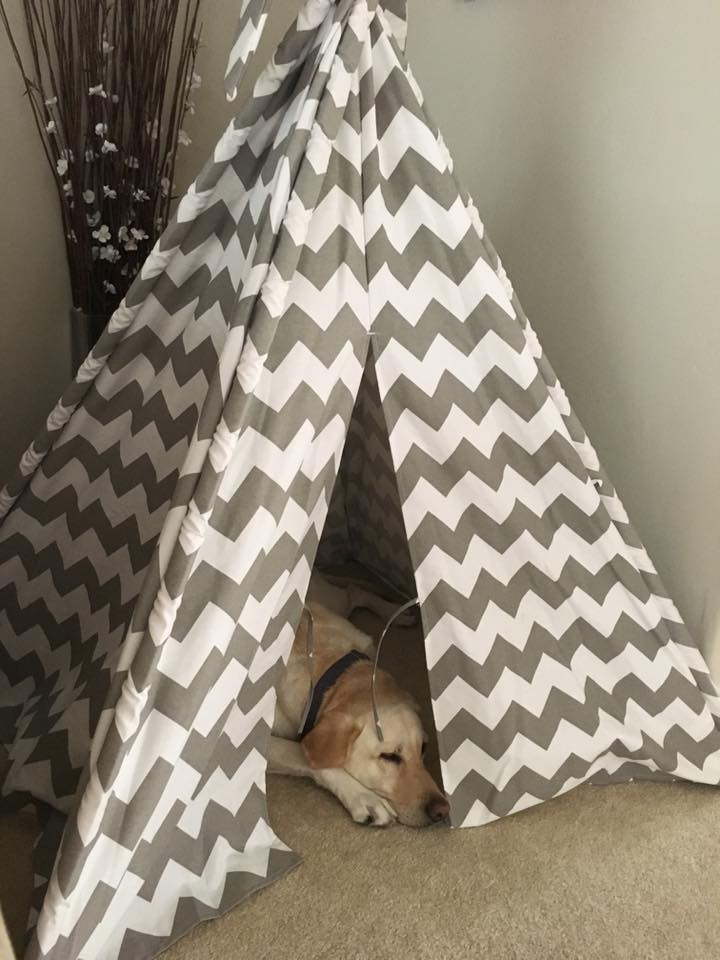 Occasionally, Jen and Pita must overcome fear of dogs. Jen says that with children, the fear generally starts with the parent. When Jen is told a student is anxious about coming into the room with a dog, then she makes certain that Pita starts out in her bed, far from the student.
When the child is ready, he or she may call Pita over.  "But that may not happen that first session," Jen Yost notes. When Pita arises to come to the child, she is a gentle giant. There is no bounce or bark… Pita calmly comes over, wagging her tail, and then she sits.
More About Pita
Pita has a Facebook page with many more photos. (You'll note that Jen Yost is a new mother, and her 18-month-old has discovered that Pita is part dog and part Big Pillow.)
Yost also posted birthday wishes to Pita a couple of months ago. Her words sum up what she feels about their relationship:
"Happy 5th birthday to our angel, Pita. You have been such a blessing to our family and to the many children you serve. I am in awe of your patience, kindness, and your innate ability to know when someone needs your love. Thank you for all that you do… you make the world a better place."
What more need be said?
***
To read about other assistance dogs, click on Whistle, A Very Important Service Dog, or A Hearing Dog Named Heather.  Or to read about a dog who has helped not just one but two veterans, read about Slate.