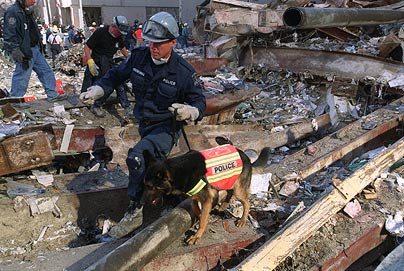 The dogs and their owners who survived the tragedy of 9-11, and those who came afterward to help with rescue should never be forgotten. Here are stories of a few:
The Dogs of 9-11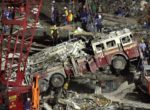 Dorado was a guide dog who was on the scene when the first plane hit the North Tower of the World Trade Center on September 11, 2001. Omar Eduardo Rivera, a computer programmer who is visually impaired, was working in his office on the 71st floor with Dorado, lying under his desk as he always did. Rivera heard, felt, and smelled what was happening and noted the unbearable heat. As he and Dorado moved toward the exit, Rivera thought about the number of stairs ahead of them and felt he could never make it. He unfastened Dorado's leash and gave him an order to go, thinking that at least the dog could escape.
At first Dorado got swept away in the crowd trying to leaving the 71st floor offices, but within moments, the dog found his way back to Rivera and nudged his leg… Clearly, Dorado wasn't leaving without his owner. Together, they started down the stairs. A co-worker soon made herself known to Rivera and joined them. Rivera held her arm with his right hand and with Dorado guiding him on his left, the dog helped them get down the 71 flights of stairs.
Rivera says there were moments of confusion and panic, but that people soon realized that remaining calm was the way to survive. For Rivera and Dorado, the descent took more than an hour. Shortly after they reached the ground and had moved away from the building, the tower collapsed.
Without Dorado, Rivera would never have survived.
Search and Rescue Dogs
Just as regular volunteers streamed into Manhattan to help out, so, too, did search-and-rescue teams consisting of dogs and their handlers. They arrived from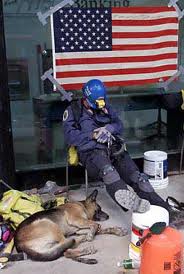 all parts of the U.S. and other countries as well. (Estimates are that about 300 pairs of dogs and owners arrived to volunteer.) They were there to help locate the living as well as the dead in the "pile," as the massive ruins from the collapsed buildings were called.
As the volunteers and rescue workers combed through the debris, they called out, "dog over here…" "dog over here…" as needed. Dogs could only move in if enough layers of twisted metal and concrete had been cleared out. Then perhaps a rescue dog could find the location of a survivor…or the remains of a body.
Vital to these teams were the volunteer medical units that arrived to help care for the animals. (The U.S. actually has a Veterinary Medical Assistance Team that goes in to help during presidentially-declared disasters.) In addition, there were volunteers from many veterinary schools who arrived and wanted to help. While exact figures are hard to come by, the various groups probably treated about 100 dogs a day. Most of the injuries were paw-related, from the jagged glass and steel.
A Canadian company that makes "Muttluks," waterproof Hydroflex-coated socks with padded soles, was contacted to provide foot protection for the New York Police Department's thirty search-and-rescue dogs. The company soon provided footwear for all dogs working on site.
Keeping Track of the Dogs
Dr. Cindy Otto at the University of Pennsylvania's School of Veterinary Medicine was among the early volunteers at the WTC site. She determined that it would be important to monitor the health of the search dogs over time so that a more complete understanding of the environment would be known. She implemented such a program.
Otto noted that so many teams came to volunteer that it was impossible to keep track of who had come or what happened to them afterward. She recommended a central registry to create a record of who was working on the site, what their credentials were, and what happened to dog and handler afterward.
Dr. Otto also used the opportunity to observe and recommend better animals safety measures for future disasters. She also recommended a more organized system for work-and-rest rotations and a better rest area where the dogs could receive food and drink.
A Rescue Dog's Rescue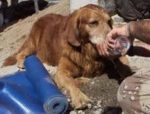 The dogs were extraordinarily valuable to the crews working on the site. When one of the dogs was injured, there was an outpouring of support to help with the rescue.
The dog, Servus, came to help with his owner Officer Chris Christensen from East Carondelet, Illinois. Servus was a nine-year-old 70-lb Belgian Malinois (these dogs look very much like German shepherds). Chris and Servus were working in an area when they heard three bangs of a fireman's axe on a piece of metal. This was the signal that the teams needed to clear out because some part of the building was about to collapse.
"We heard the signal but there was no place to go," says Christensen. The next thing he knew, Servus had fallen 20 feet into a pocket of debris filled with glass, rebar, and powdered concrete.
Saving Servus
Christensen got down to the dog, and saw that he was struggling to breathe. He tried to clear the dog's nose and mouth of the debris, and then he covered Servus' mouth with his own mask to prevent anything else from entering his air pathway. Christensen then called for help, and the response was immediate. The rescue workers all knew the value each dog brought to the work day, and several firemen came over immediately.
After Servus was pulled out of the hole, the men carried him to a fire truck to administer oxygen and start intravenous fluids. Despite these efforts, Servus had gone into shock so the men transferred him to a police cruiser that took him up to the Animal Medical Center on E. 62nd Street; Servus was stabilized and treated.
Though Christensen intended to return and work without him, Servus would have none of it… After a rest at the Medical Center, he was ready to go back to work. Like other volunteers, Christensen stayed for the time he could and then he and Servus returned to Illinois as other volunteers stepped in.
What happened to the American people on that day was devastating. The first-responders, the rescue workers, and the search-and-rescue teams were vital to helping the country through those early hours, those early days. We will not forget any of them, the victims or the rescuers, who stepped willingly into harm's way.
For more stories of dogs who have acted heroically, click here.