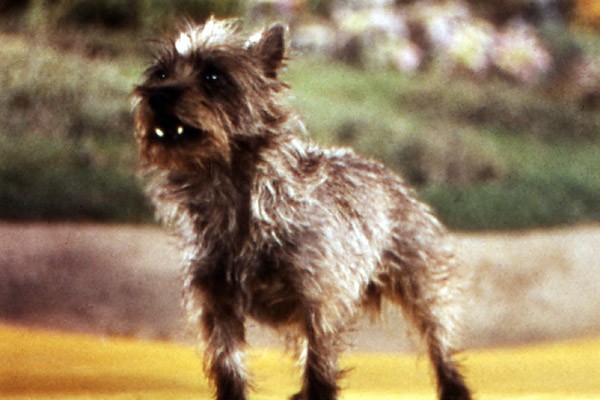 The 1939 film of The Wizard of Oz is memorable for many reasons. Toto, Dorothy's adorable dog, is certainly near the top of the list.
How the dog came to be cast in the starring role is a perfect Hollywood story. It involves unkind, deadbeat owners, the rescue of the little dog by a trainer and his family, and of course, it involves little Toto/Terry herself, a female Cairn Terrier. Terry, as she was initially known, seemed to understand that succeeding in show business guaranteed her a good home. She would never have to go back to her mean owners again.
In the Beginning
But let's back up a bit to explain what happened. Terry is said to have been born in 1933 in Alta Dena, California. She was adopted by a married couple from Pasadena. They had no children and showed little patience for puppy training. As a puppy, Terry had a problem with wetting the rug. (Small dogs, small bladders.) The couple became frustrated and called dog trainer Carl Spitz. Spitz ran the successful Hollywood Dog Training School. Most of the dogs he worked with were for movies, but he boarded and trained regular people's pets on occasion.
Spitz accepted Terry. Within a relatively short time, Terry was housebroken and ready to go home. When Spitz notified the owners, they had no intention of picking up Terry—or paying the bill.
Spitz realized he had inadvertently acquired a new pup. Terry was already an occasional guest in the Spitz house, which was located on the same property as the kennels. Soon she was finding laps to sit in and endearing herself to the family.
Terry's First Audition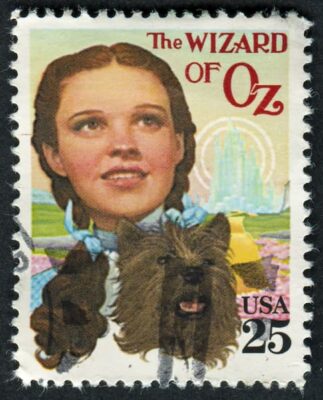 The first audition to which Spitz took Terry was one for Bright Eyes (1934) starring child star Shirley Temple. The initial selection of possible dogs was made by the casting people. The final test was meeting Shirley and her own dog, a Pomeranian named Ching-Ching. When Terry did well with Ching-Ching, Shirley turned to the adults observing the scene and gave her approval: "She's hired."
The Wizard of Oz
Terry appeared in five additional films before there was a casting call for The Wizard of Oz. Carl Spitz heard that a new film of the book was to be made. He researched the story, running Terry through all the types of training that might be necessary if Terry were cast. Ultimately, Terry was selected to play Toto.
The success of Toto in the film is to Spitz and Terry's credit. Terry played a part involving a vast and some might say "frightening" cast. Think of a dog playing opposite men in animal and fantasy costumes, the Munchkins, the Winkies, and the Flying Monkeys. It could not have been easy for a canine to remain cool and collected.
Generally, Hollywood's approach to animals in films is to keep them off screen as much as possible. Terry, however, excelled at everything from listening intently when Judy Garland sang Somewhere over the Rainbow to withstanding three wind machines that mimicked the tornado. There was one bad incident; a large Winkie accidentally stepped on Terry's foot, and Terry was given a few days off to recover from the injury.
For her work, Terry was paid $125 per week—more than the Munchkins received.
Toto's Performance Draws Mention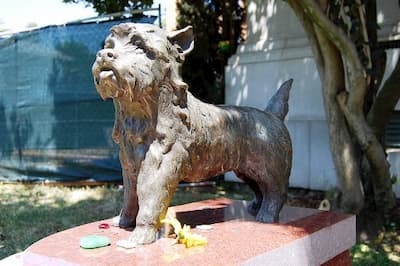 Toto's performance even merited specific and detailed mention in at least one review. This appeared in American Girl Magazine in March 1940:
"The hardest thing this little dog ever had to do was during the drawbridge scene in the Wizard of Oz, when she was chased by the huge Winkie guards of the Wicked Witch. Toto had to come running out of the castle and was trying to cross the drawbridge. She had almost reached the middle when the drawbridge was pulled straight up. The only safety Toto had was by clutching the edge of the bridge with her little paws and balancing herself thirty feet in the air. One of a dog's greatest fears is the fear of falling, so it took a great deal of courage to follow her master's orders that time."
Terry Becomes Toto Officially
By the end of the film, everyone considered the dog "Toto." No one used her original name. At that point, Spitz decided the only thing to do was to go along with the crowd. From then on she was known as Toto.
While Toto will always be known for The Wizard of Oz, the dog went on to make seven more films.
Spitz Mounts Bus Tour of Famous Dogs
In addition, in 1942 Carl Spitz mounted a bus tour for his canine stars. He traveled the country scheduling performances for what had become his well-known stable of stars. In addition to Toto, Spitz took Buck (Call of the Wild), Prince Carl (Wuthering Heights), Mr. Binkie (The Light that Failed), and Musty (Swiss Family Robinson). (Another trainer who took his dogs on the road was Willy Necker whose troupe of Dalmatians never ceased to amaze.)
Toto's last film came out in 1945. Toto was getting ready to retire by that time. She lived comfortably in the Spitz household on Riverside Drive until the autumn of 1945 when she died. The Spitz family had a dedicated area of their backyard that they used as a cemetery for beloved pets, never expecting to have to move.
But change occurred in 1958. The Ventura Freeway was being built and the Spitzes were forced to find a new location for their home and kennel. Eventually, Spitz bought a kennel property that belonged to another famous trainer, Rudd Weatherwax (trainer of Lassie).
This new location on Vanowen Street in North Hollywood was home to the Spitz's Hollywood Dog Training School, until the school finally closed in 2017. (For more on the story of the school, click here.)
when the family moved, they had no choice but to leave behind Toto and the remains of other dogs buried in their pet cemetery.
Hollywood Forever
Today, however, there is a place to visit and remember Toto. In 2011 a memorial at the Hollywood Forever Cemetery, funded by an active group of Toto fans, was unveiled in memory of Toto.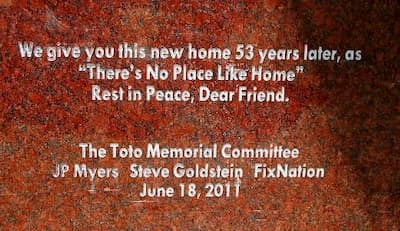 A dog's life is not always easy to research but writer and director Willard Carroll (1955- ) was determined to track down everything he could and has put together Toto's story by writing Toto's autobiography in the dog's voice. The facts are what you read above but the voice Carroll creates for the canine star is quite amusing. You might want to check out I, Toto: The Autobiography of Terry, The Dog Who Was Toto. Carroll is also thought to own the world's largest collection of Oz memorabilia. He lives in Maine and continues to hope that one day there will be a Wizard of Oz museum for his memorabilia.