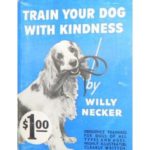 Willy Necker came to this country from Germany in 1929, finding work at a kennel. From there he went on to train war dogs and become one of the most respected dog trainers in the country.
Willy Necker Background
Willy Necker was born in Stuttgart, Germany in 1909. His father was a building contractor who raised dogs as a hobby so Willy grew up with a deep interest in dogs, spending as much time as he could working with them.
In 1929 when Willy was twenty, he came to America intending to get work as a carpenter, the job for which he had trained. However, when a kennel job in Detroit presented itself, Necker was happy to take it.
Training Kennel
In 1937 Necker opened his own training kennel in Wheeling, Illinois. By the 1950s, he had space for 125-150 dogs. According to Necker, it was the largest canine training camp in the country. Most of the training at that time was for guard dogs and field dogs, but Necker also accepted whatever challenges were presented him.
One fellow from Virginia, a horseman, arrived with two Dobermans. He wanted Necker to train the Dobermans to accompany him whenever he rode. He wanted one dog on each side of him, and they were to jump fences, retrieve dropped objects when necessary, and hold the horse by the reins when the fellow dismounted for a time.
Another family who lived on an island off Newfoundland came to Necker with another type of request: They wanted him to train their dog to watch over the family's young children and keep the youngsters from going too near the water. Necker was also able to accomplish that.
Necker Trained War Dogs
During World War II, Willy Necker was lieutenant commander of the U.S. Coast Guard War Dog Unit. The unit was responsible for training several thousand Dobermans and German shepherds as guard dogs. Many of these dogs were used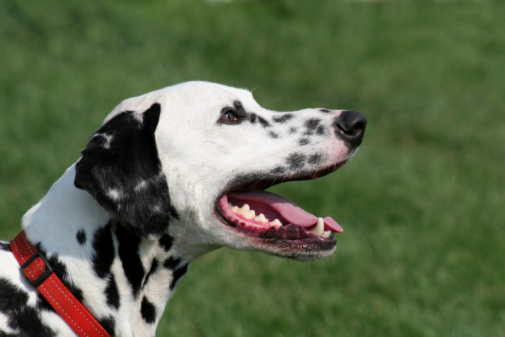 to patrol the coastlines of the United States. Some were also sent to the Pacific with the Coast Guard to work as attack and messenger dogs.
Training at Wheeling Kennel
Knowledge of dog behavior was at the heart of all Necker's training methods, and he disliked all who used any form of cruelty in training. Necker was frequently quoted as saying: "A trained dog is a happy dog."
His primary livelihood was the training of dogs for individuals and businesses from his kennel in Wheeling. However, Necker and his brother Emil found that a traveling show using the dogs to perform was great for business. Necker traveled about five months a year, and his wife took over business at the kennel during this time.
Original Troupe was Dobermans
Necker's first act was with Doberman Pinschers, since they were the breed he so often worked with. As he worked with various dogs, he found that Dalmatians, with their spotted coloring, were crowd-pleasers. (In the early days of black-and-white television, the black-and-white spotted dogs were particularly popular.)
They were a smart breed and once they learned the training, it stayed with them over time; Necker did not have to reinforce the work frequently.
Rumba and her Pups
For many years, the headliner dog was Rumba who performed with some of her offspring. Rumba and her pups could execute the foxtrot, waltz, tango, conga line, spar dance, and the jitterbug. Audiences loved it.
Necker and the Dalmatians traveled throughout the country with their act, appearing at dog shows and outdoor sporting expositions. The Westminster Kennel Club invited Necker to appear on several occasions, and in 1951 a reporter for The New Yorker arrived to write about Necker and the dogs.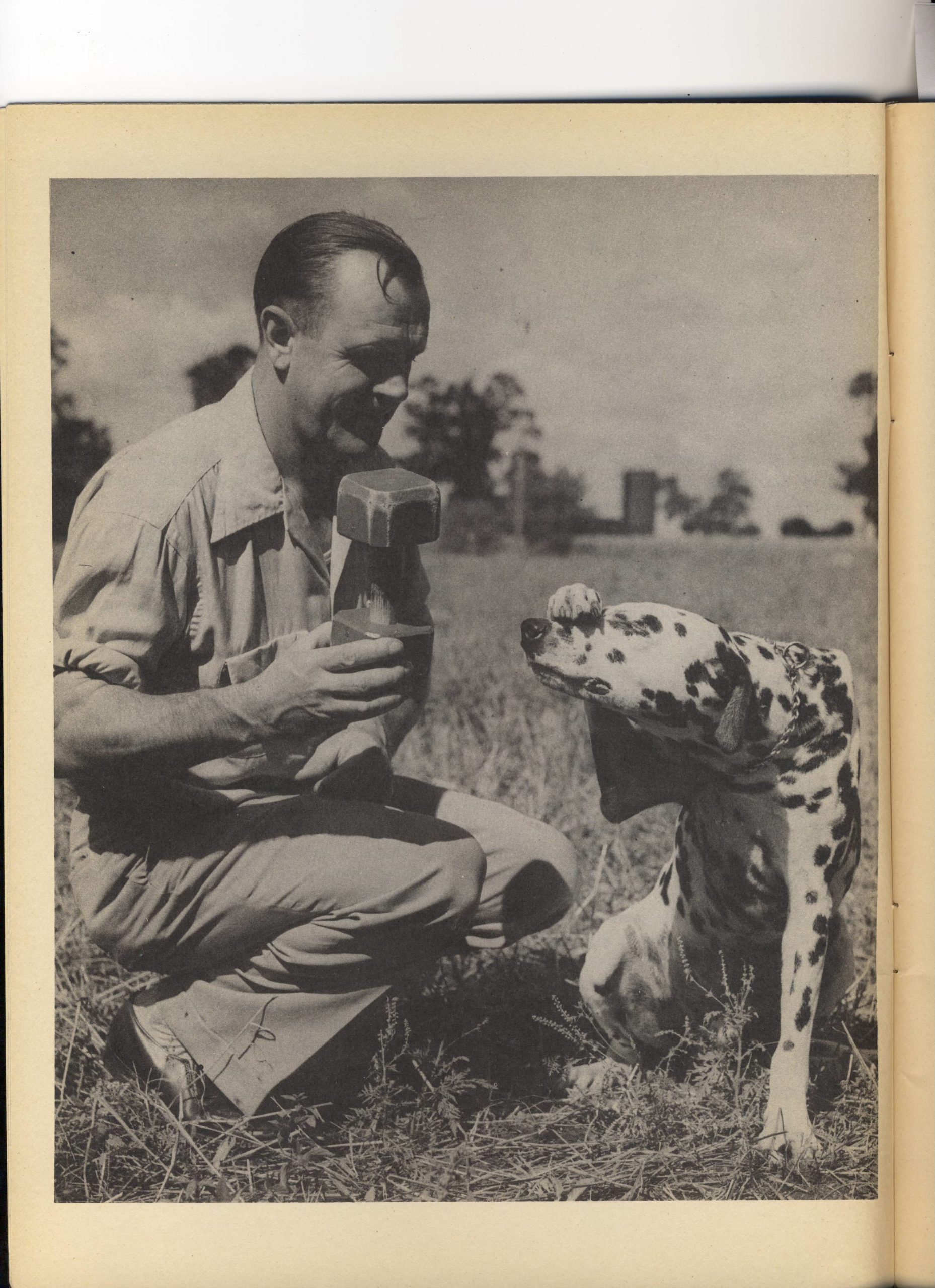 The Dalmatian act was said to include broad-jumping, hurdle-racing, leaps through hoops, balancing stunts, wall-scaling and basic obedience. Necker always included a comedian—one dog that specialized in doing the act wrong.
"Jitterbug [the dog playing the comic role in the 1950s] always goes under the hurdles when the others go over," Necker told the reporter from The New Yorker. Or if the rest of the group was jumping onto a platform, Jitterbug jumped into a box and would pop up later.
Dogs Moving in Unison
Necker noted that one of the hardest aspects of working the dogs was teaching them to move in unison. If one of the dogs gets out of line, he said, they all get out of line.
In The New Yorker piece, Necker is quoted as saying that Rumba was at an age (14) when she should be retired, but "…it would break her heart. When I'm about to go on the road, she senses it two days ahead, and as well-behaved a dog as she is, she goes crazy if I don't take her along." At the writing of that article (2-24-51), Rumba had performed in 45 states.
In 1961 he was featured in The New York Times for his performance with the dogs at the National Outdoor Exposition at the New York Coliseum. At the time he was performing with five Dalmatians and four pointers (three short-haired pointers and one wire-haired pointer). The pointers demonstrated retrieval, bringing back items from in and around a pool.
Testament to America
In one of his many newspaper interviews, Willy Necker talked about the opportunities he had had in the U.S. "This is a wonderful country—all a man has to have here is initiative.
"Some of the nicest people I've ever met, I've met through dogs."
And a special thanks to Rick Karl at the Hollywood Dog Training School who brought Willy Necker's work to my attention.
Also read about Sentry Dogs in the U.S. During World War II.