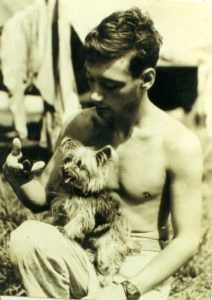 Smoky, a four-pound Yorkshire terrier, went to war by happenstance. She was found in New Guinea near an American military base in 1944. No one was going to send home a lost dog, no matter how tiny. She soon embedded with a unit of the U.S. 5th Air Force and was adopted by one of the photographers working reconnaissance near the front line in New Guinea.
Smoky was found in a foxhole and brought back to the base by a fellow who was happy to sell her so he could get into that night's poker game. William A. Wynne offered to buy Smoky for 2 pounds Australian ($6.44 U.S). After that, the two were inseparable.
War Dog?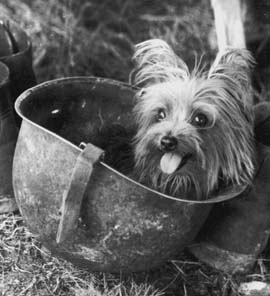 Describing Smoky as a war dog, a mascot, or as therapy dog for the wounded military men doesn't do her justice. She was all of those things. But most important, she became a soulmate for Bill Wynne. Wynne spent two years of his childhood in an orphanage, so he knew loneliness firsthand. When he adopted Smoky, he staved off what would have been many lonely hours by training his bright little companion. Then he did a loving thing: He turned and shared her with all those with whom Smoky and Bill came in contact.
Smoky accomplished many things while in the service, but her most important job was keeping smiles on the faces of the men with whom she served.
Smoky and the Telephone Wire
The most frequently told story about Smoky concerns her "war work." This heroic deed came about because someone realized Smoky's potential.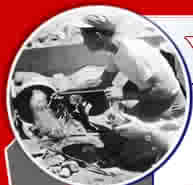 The Photo Reconnaissance Squad of which Wynne was a part, was with a unit that was moved forward to Luzon, the northernmost island in the Philippines. In that day, photo reconnaissance planes had to be very near the frontlines as the planes were only big enough for the pilot and a camera mounted to the plane. The pilot had to return to base quickly so the photographers could develop the film, which would reveal the whereabouts of the enemy.
They were part of a larger group moved to the Philippines to establish a full-scale military base. The goal was to move in quickly and keep everyone on the ground safe. Setting up the operation was going to require that new telegraph wire be run under the an existing runway that the Allies needed to keep open if at all possible.
The original airfield builders had provided a 70-foot long pipe that ran under the runway. The problem was that soil had shifted around the pipe joinings. In some places, dirt partially filled parts of the pipe.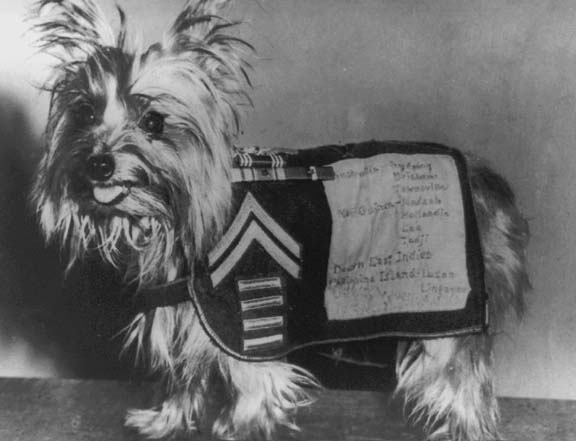 The engineers knew that there was a strong likelihood that they would need to dig up the airfield in that section to get the wire buried, and this was a bad thought. It meant wasted days and potential risk to the men while the airfield was out of service and under construction.
Someone on the team had a bright idea and approached Bill Wynne with it: Did he think he could coach Smoky to make her way through the pipe? If so, they could tie a string to her collar. After she was all the way through, they could then use the string to pull the wire to the other side.
Smoky to the Rescue
"Can you see daylight all the way through the culvert?" Wynne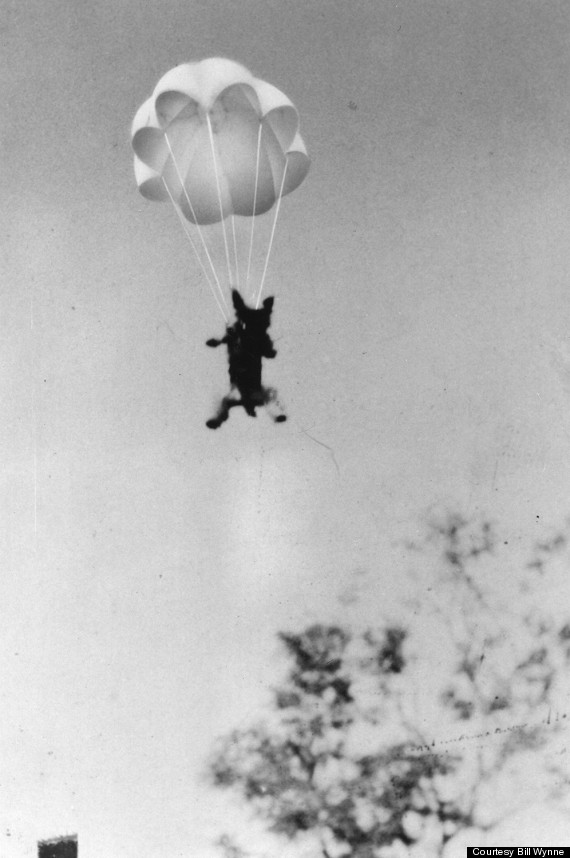 asked.
The answer was that there were a couple of places where dirt had almost filled the pipe but "yes, you could still see some daylight coming through."
Wynne figured it was worth a try. He and Smoky went out to become familiar with the sights and smells of the field. When Wynne felt Smoky was comfortable, he tied the string to her collar and left her with one of the engineers.
Wynne went to the other end of the culvert to try to coax her through. Her first steps were exploratory, Wynne wrote. She ran in about ten feet and then ran back out again.
"But I stayed on the other end and said sharply, 'Come Smoky.'" She re-approached the pipe and began to scamper and then crawl through the tighter sections.
"At last, about 20 feet away, I saw two amber eyes and heard a faint whimpering sound….At 15 feet, she broke into a run. We were so happy at Smoky's success that we all patted and praised her for a full five minutes," wrote Wynne. She kept the airfield open and saved the men from additional danger.
Smoky's Tricks
From the beginning, Wynne spent his downtime working with Smoky. He started with basic obedience commands and then went on to various tricks. One of the tricks Wynne invented was quite a complex version of "play dead." Smoky would drop down on command, and she didn't move even when poked until Bill lifted her "lifeless" body up by the feet.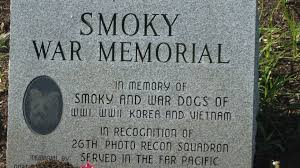 She also learned to cross a tightrope—blindfolded. Others in the unit made her a scooter that she learned to ride. Bill was always teaching her something new.
While Smoky initially performed for the men around her barracks, she soon became well enough known that Wynne would be asked to bring her to nearby military hospitals to perform. Everywhere they went, the two of them brought smiles.
Smoky and Hollywood
After the war, Wynne returned to his hometown of Cleveland and married his sweetheart. He suggested that they honeymoon in Hollywood so that he could see if Smoky could make a living in show business.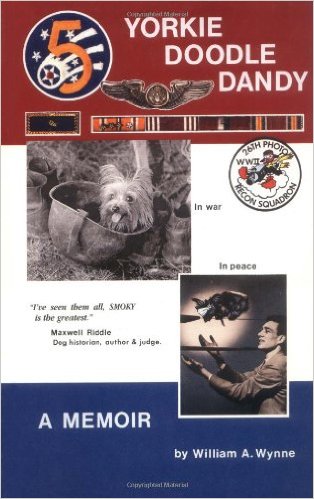 Wynne got a part-time job working with some of the dogs belonging to Rennie Renfro. This put him on set with all the Hollywood trainers of the day, including Rudd Weatherwax (Lassie) and the young Frank Inn (eventually Benji). Unfortunately, no roles came along that were right for a 4-pound Yorkshire terrier.
Wynne's wife waited for a time, but she was pregnant and wanted to have her baby in Cleveland with her mother nearby. This made Wynne's decision obvious. He started applying for jobs in Ohio and was soon hired as a flight photographer with the National Advisory Committee for Aeronautics (NACA; becomes NASA in 1957) in Cleveland, studying the de-icing of planes.
The Wynnes settled in Cleveland where they eventually had nine children. Bill supplemented their income by performing with Smoky on weekends.
By the mid-1950s, Smoky was still bright and funny and energetic, but her performing days were behind her. In 1957, she died. She was probably 14 at the time.
In closing the book, Bill Wynne writes of Smoky and how she happened into his life: "One wonders, could this have been an angel in a foxhole—a buddy sent to teach me how to share her comical antics in a bigger task? That task being the sharing of her with others in a time when joy was scarce? Sometimes under stress it only takes a delightful moment of diversion [to steer away from]… mental disaster."
Smoky in a Helmet?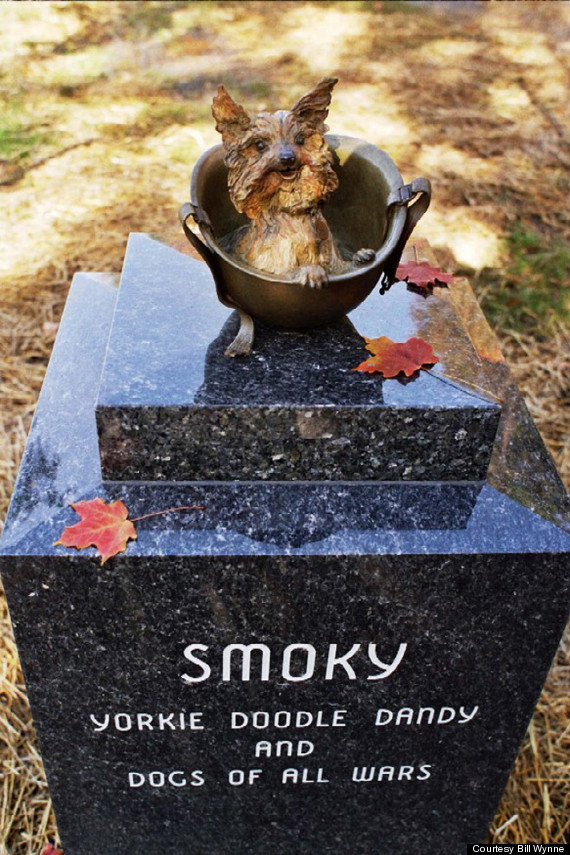 As you'll see from the photographs, the statues of Smoky that are part of the memorials to her, generally show Smoky in a helmet. This was not a "cute" pose; it was a practical one. Because of Smoky's hair and the jungle climate, Wynne found that he needed to bathe her regularly to keep her pest-free.
How best to bathe a four pound dog? Why in a helmet, of course!
Yorkie Doodle Dandy
I usually try to save my readers time by presenting to them a "story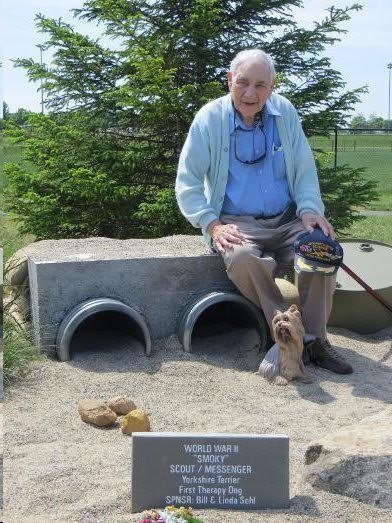 in a nutshell," but in this case, I highly recommend that you read Wynne's memoir, Yorkie Doodle Dandy: The Other Woman Was a Real Dog. The book is a delight because the bond between man and dog is so tight.
During the war, Bill frequently needs to hide Smoky from superiors as dogs were not an accepted part of the corps. His anxiety radiates—not for himself or his own safety–but with a fear that Smoky might be taken away from him. It is clear that this man and this dog are a true pair.
****
To read another great story about a war dog, read Lucky, who became a Marine Devil Dog.
Bill Wynne sent this video to me before Christmas 2017. There is original footage of Smoky and a delightful interview with Bill: