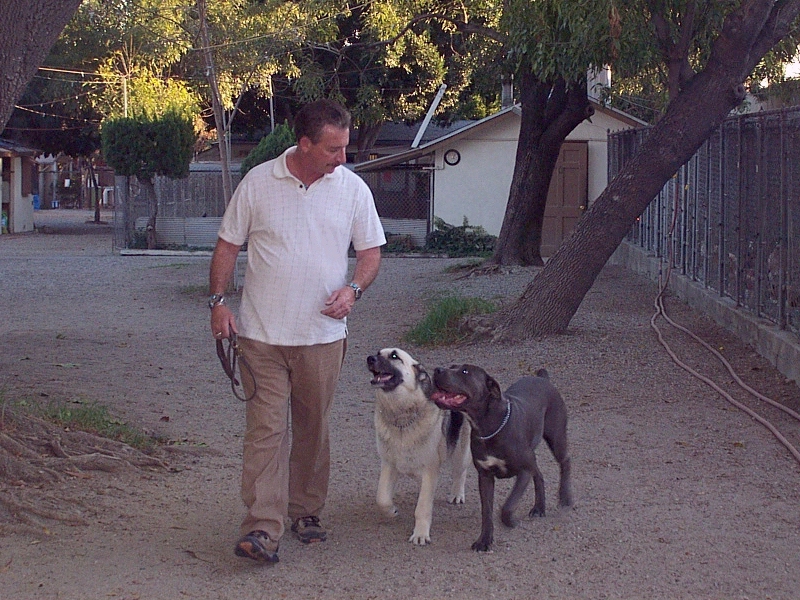 If there is hallowed ground for Hollywood canines, it is not the plaza outside Grauman's Chinese Theatre on Hollywood Boulevard where The Artist star, Uggie, recently left his pawprint. The hallowed spot for four-legged movie stars would be on the grounds of the Hollywood Dog Training School, a spot that was a hotel of sorts for the better-known of the "furry lovelies" during the 1930s-60s.
Today the school is owned by Richard Karl, who bought it in 1978. Karl's mission has been to bring the focus of the school to the pet he sees as a true and natural star—the family dog.
With a background in human counseling and many years spent developing his dog training techniques at locations all over the country, Rick Karl has turned the Hollywood Dog Training School into a place where anyone can bring their dogs for boarding or training or doggy day care. Cats are welcome, too. The rich and famous still come, of course, but they are the owners of the dogs now, not the dogs themselves.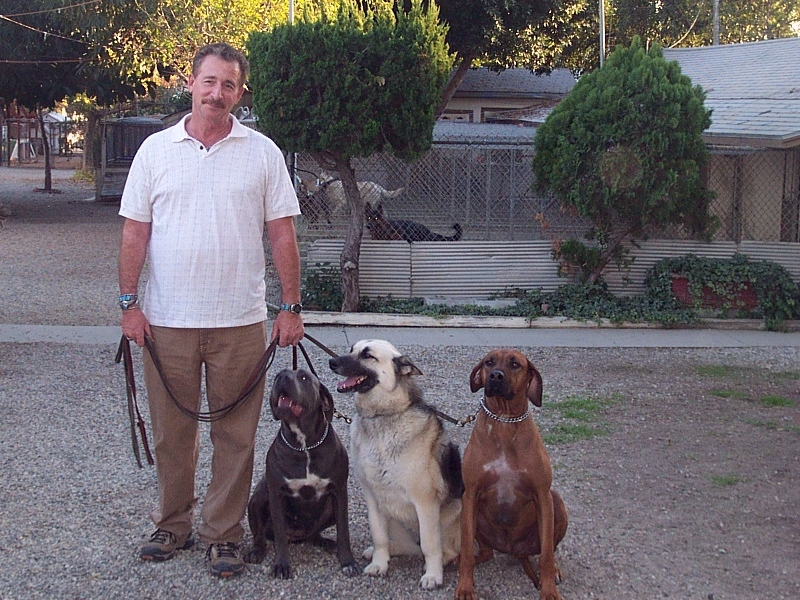 Rick Karl is very proud of –and happy to talk about—the school's Hollywood connection to canine stars, so why the business switch?
"Some of it was because of changes at the studios," Karl says. "Many of the jobs are union now, and as the movie business streamlined, they wanted companies they could call that could get them any kind of animal for a number of days. This was a booking challenge, since a dog and trainer would be off the property for a period of time.
"It also isn't where my heart is," Karl continues. "My idea of a perfect day is to come here to work with the animals. Why would I want to create a business that might put me off-site for any number of days each year?"
Today approximately twenty trainers work with 30-50 dogs per day, teaching on- and off-leash basic obedience courses. Many of the dogs board there during training. Other dogs are dropped off each day for doggie day care.
Not Just for Dogs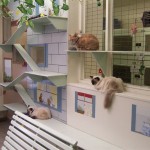 Kitty City was a Karl addition to the property and is now an important aspect of the business. When Karl first acquired the kennel, people would drop off their dogs and ask if he knew any place where they could take their cats. Today there is an entire building dedicated to cats (soundproofed so the cats aren't bothered by the dogs). While each cat has a separate "room" for eating and sleeping, the cats—if they so choose—can spend their days in the common room where staff is on hand to make certain that no guests get feisty.
Karl's Love of a German Shepherd
Rick Karl attributes his interest in a dog training career to a German shepherd he owned during college. "She was a really special animal," he said. Karl graduated from Southern Illinois University with a double major in psychology and sociology and decided to see if a career as a dog trainer was a possibility. "I could always go back to finish training for my original career in rehabilitation counseling."
Karl knew he needed to work in several types of animal-related positions to expand his knowledge. In Chicago he worked at one of the largest veterinary centers, and then he began traveling to take jobs at kennels and with trainers to learn more specifics. These jobs ranged from a German shepherd kennel in Westchester, New York to the Willy Necker School for Dogs in suburban Chicago. He also gained certification to train sentry dogs.
Eventually he moved to California, stopping first in San Rafael for three years, where he trained guide dogs for the blind. He then moved to Pacifica, California where he began his own training school based at Linda Mar Kennels.
When Carl Spitz Sr. died, Carl Spitz Jr. was exploring new options. Rick Karl heard the property they owned, the Hollywood Dog Training School, might change hands, but Karl could not afford to buy it. As a result, the two struck a deal. Karl leased the school in the early years until he could afford to purchase it outright.
The School's Background
The school was started in 1927 by Carl Spitz, Sr., a German immigrant who had learned dog training from the man considered to be the "Father of Dog Training," Colonel Konrad Most. Spitz found work in Hollywood, training dogs for the movies. He is best-known for training his family dog, Terry, to be Toto in the Wizard of Oz. (More about Terry next week.)
The first location of Spitz's school was a ten-acre parcel near Laurel Canyon Blvd. Because he was housing Hollywood lovelies, the accommodations were grander than most kennels. According to the school's website, the property featured two kennels, each 150-feet long, southern exposure, long runs to each kennel, a large grass playground, showers in each section, and several porcelain bathtubs with hot and cold water, an electric dryer, and a special kitchen where "vegetable and beef bone soup was cooked for dinner for the distinguished boarders."
In addition to the Hollywood dogs, the dogs used by the Pinkerton Detective agency were trained here, and Spitz was among the dog trainers who stepped forward for the U.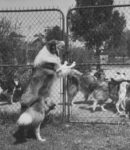 S. to help train the canine corps that was newly formed during World War II. (See "The Government Asks for Pets for Defense.")
In the 1950s, when the Ventura Freeway was being built, Spitz had to find a new location. As it happened, the property owned by another famous trainer, Rudd Weatherwax (1907-1985), trainer of Lassie, was possibly available. Weatherwax was in discussions about a television series starring Lassie, so the time was right for him to sell his dog kennel on Vanowen Street in North Hollywood.
The Lassie Connection
The Vanowen property, where the school now sits, actually figured into the creation of the Lassie TV series, for it was here that Lassie chose her Timmy. In Rudd Weatherwax's obituary in the Los Angeles Times (2-26-1985), the reporter cites an interview from 1979 with Tommy Rettig, the boy star of the show. Rettig says: "It was narrowed down to three of us. Each spent a week at Lassie's house [which would have been the Vanowen property]. Whoever got along best with the dog got the part. It was Lassie's choice." (For more on Lassie, see "Lassie: Star of Radio, Television, and Movies.")
And shortly thereafter, Weatherwax was ready to sell the property to Carl Spitz since the television show would be his full-time focus.
Spitz bought the property, but maintained the Weatherwax connection. Lassie's pawprints can still be seen embedded in cement that was being poured for new kennels.
In 1938 Carl Spitz wrote a dog training manual, Training Your Dog. The foreword is written by Clark Gable who worked with Carl Spitz on several occasions, most notably Spitz trained Buck to perform with Gable in The Call of the Wild. The book is intended for families and offers practical advice on the basics of puppy training as well as more advanced training for the family dog. The book is very rare but if you happen upon a library that has it, there are about 50-60 wonderful photos that are worth a look. Spitz also shares a few choice anecdotes about dog training that I'll write about in the next week or two.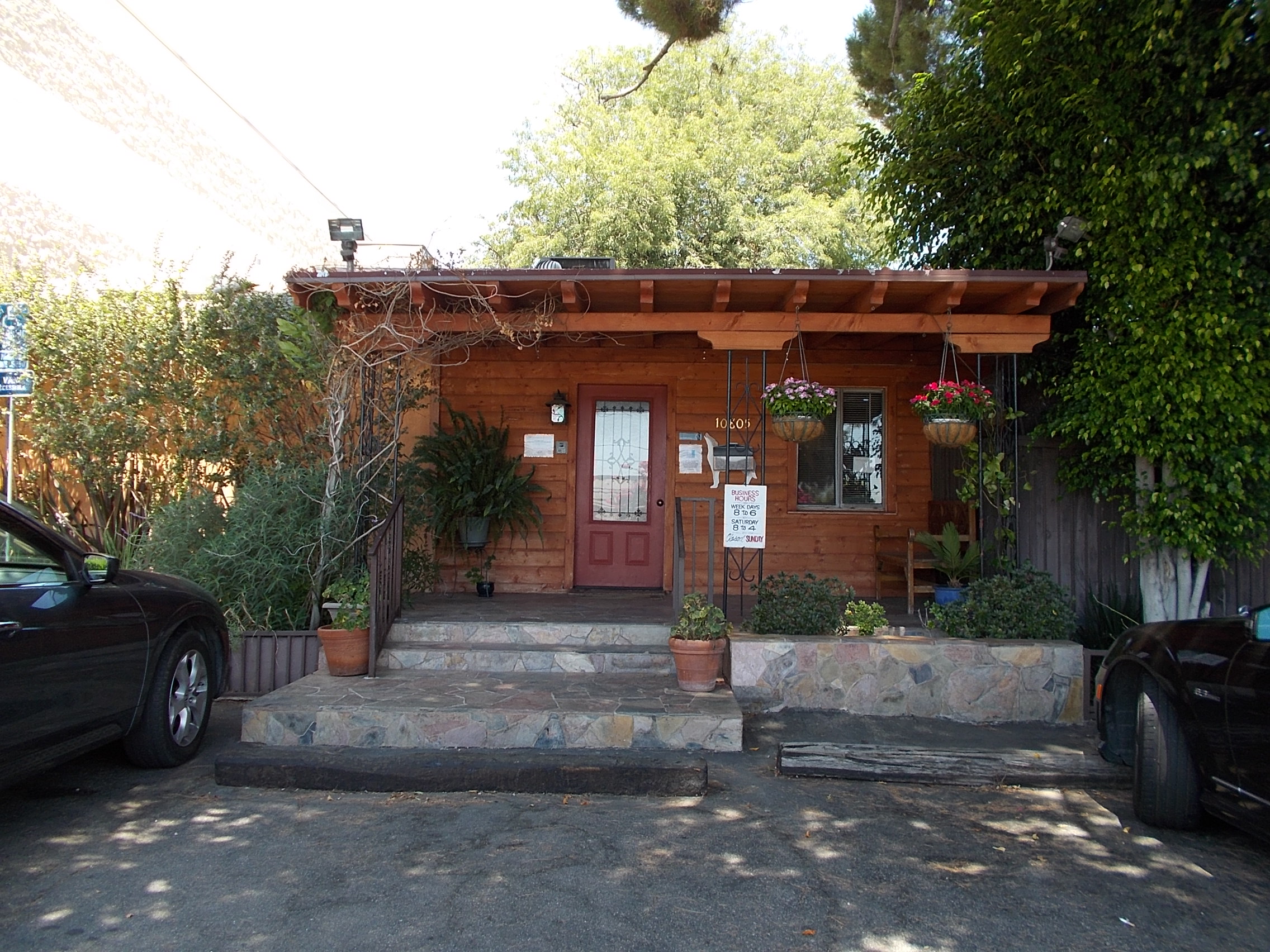 Legacy Continues
In the meantime current owner Rick Karl continues to build and maintain the Hollywood Dog Training School, working with his favorite clients—the four-legged ones and their owners—to be certain they are the best mannered Hollywood stars they can be in each of their respective families.