Ronald and Nancy Reagan were definitely "animal people" and had several dogs.  Before, during, and after the presidency (spanning from 1981-89), Ronald Reagan also was frequently seen on horseback, often accompanied by Nancy. In 1987, the press was nearby when he was in Nebraska about to go off on a ride and he left them with:  "I've often said that there is nothing better for the inside of a man than the outside of a horse."
A family dog offers a more convenient way to enjoy animals, and the Reagans always had them though they did not initially bring any of their own dogs to Washington. The first dog to join them at the White House was a tiny ball of black fluff who was presented to them in 1985 by the young girl who was serving as the poster girl for the March of Dimes.  The dog was named Lucky, and that tiny ball of fluff was actually a Bouvier des Flandres that quickly grew to "be the size of a pony," according to Nancy, Lucky was frequently seen thundering down the halls in the West Wing or the White House.
Nancy later noted that the Lucky's favorite moments were at Camp David where he had room to run. He knew that if he was getting on to the helicopter, then the odds were good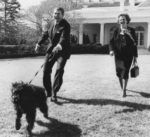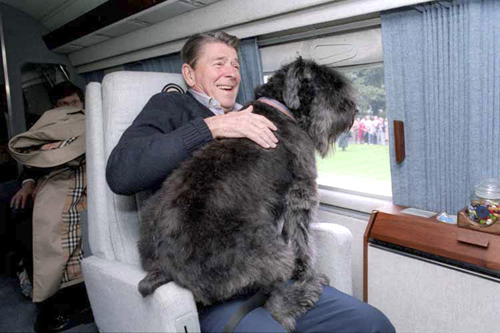 that he was going to Camp David, and his excitement knew no bounds. His favorite seat on the copter?  Preferably the President's lap.
The Reagans soon decided that living at the White House was not right for Lucky, so they sent him to live at the Reagan ranch where there was plenty of space to run as well as other dogs to play with, including a beloved golden Retriever named Victory.
Reagan's Dog, Rex
The White House was not dog-less for long.   On December 6, 1985 Ronald Reagan gave Nancy a Cavalier King Charles Spaniel for Christmas.  One of Rex's first jobs was helping to throw the switch to light the White House Christmas tree.
The Lincoln bedroom has long been rumored to be haunted, and Rex agreed. According to a Washington correspondent for the Glasgow Herald (4/23/88), Rex took a strong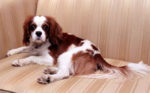 dislike to the room and wouldn't enter.  He stood at the doorway, looked in, and barked.
Rex's dog house was grander than any the White House dogs had owned previously.  Designed by Theo Hayes, great-great-grandson of President Rutherford Hayes, who also had dogs at the White House, the dog house was white clapboard with red velvet drapes and framed photos of the President and First Lady that hung on the interior walls.
When Rex and the Reagans moved out of the White House at the end of Reagan's second term, Rex must have planned to leave his elegant dog house for the next four-legged resident, as he was presented with a new dog house that was a replica of the White House. Lining the inside was a patch of carpet from Camp David.
Ron and Nancy took their pets very seriously, and when an animal died, the president personally would bury them in a little hilltop cemetery created especially for the Reagan pets on their ranch near Santa Barbara.  It was said that he also carved a headstone for each animal who died so that they always would be remembered.
Also a First Fish
Early in the presidency, Ronald Reagan was shot by John Hinckley, Jr. in an assassination attempt. Americans were quite concerned about the president, and one ten-year-old boy sent the president the best gift he could think of—a goldfish enclosed in a water-filled plastic bag.  The Reagans accepted the gift with graciousness and the goldfish spent the remainder of his life with Ron and Nancy.
This type of thing was business as usual for the Reagans, and the fish story would not have surprised daughter Patti Davis, who was estranged from her parents up until shortly before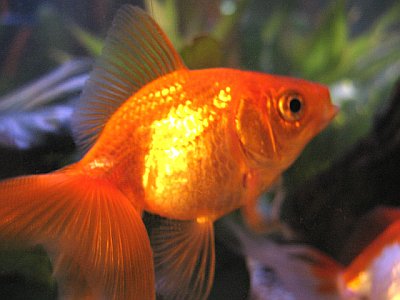 Reagan's death in 2004.  At Ronald Reagan's funeral, Ms. Davis recalled how her father gave a funeral to her pet goldfish (NY Times, 6-12-2004).
"We went out into the garden and we dug a tiny grave with a teaspoon," she said. "And he took two twigs and lashed them together with twine and formed a cross as a marker for the grave. And then he gave a beautiful eulogy. He told me that my fish was swimming in the clear blue waters in heaven. And he would never tire and he would never get hungry and he would never be in any danger. And he could swim as far and wide as he wanted. And he never had to stop because the river went on forever. He was free."
To read about Ronald Reagan's love of jelly beans, click here.