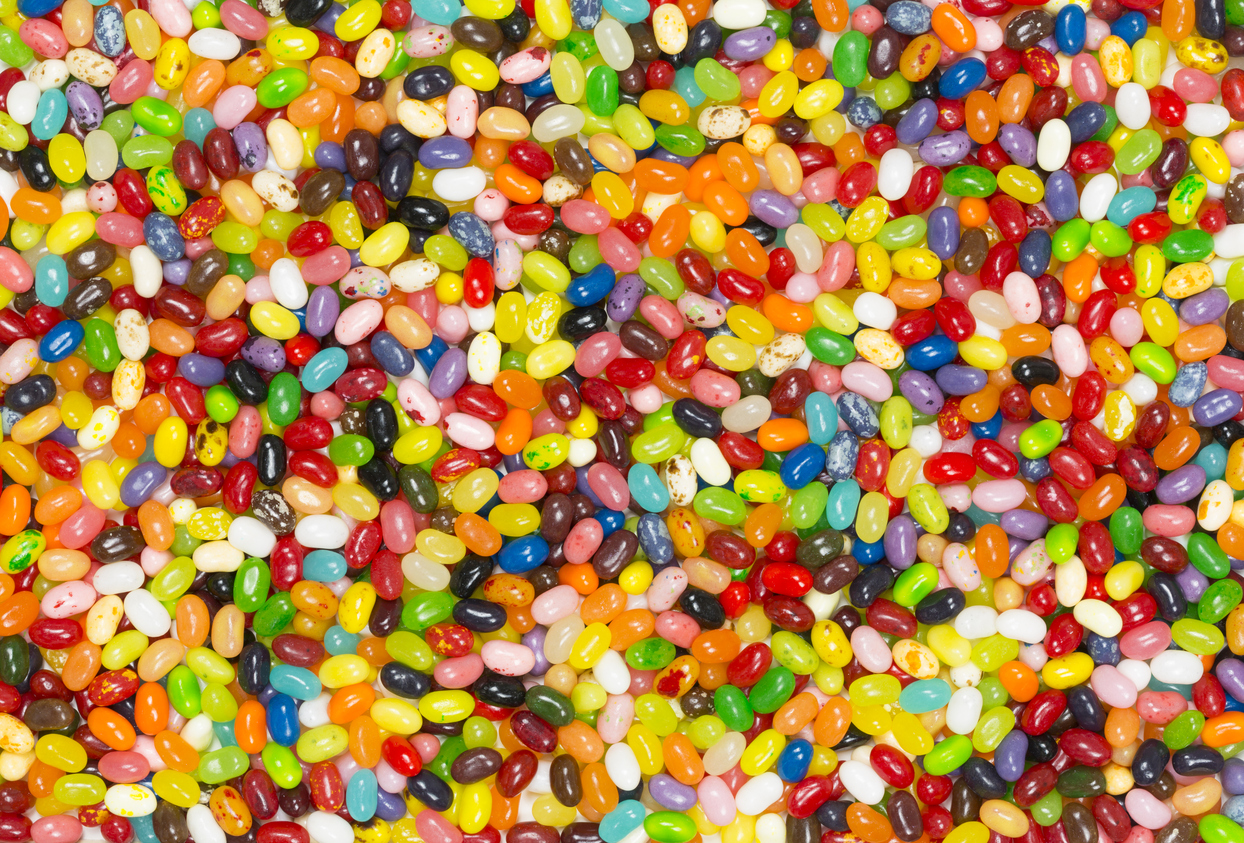 Jelly beans in America probably date to the early 19th century. The first known mention of this candy was in a Boston newspaper in 1861. Candy maker William Schrafft ran an advertisement urging citizens to buy jelly beans to send to Union soldiers.
The beans were small and hearty enough to mail. If Bostonians did send jelly beans off to the battlefront, the men would have welcomed the sweet taste and portability of the candy.
Like gum and gum drops, jelly beans became standard offerings at penny candy stores. They generally weren't in the news, but they were always available.
Things changed in the 1930s.
Growing Popularity in the 1930s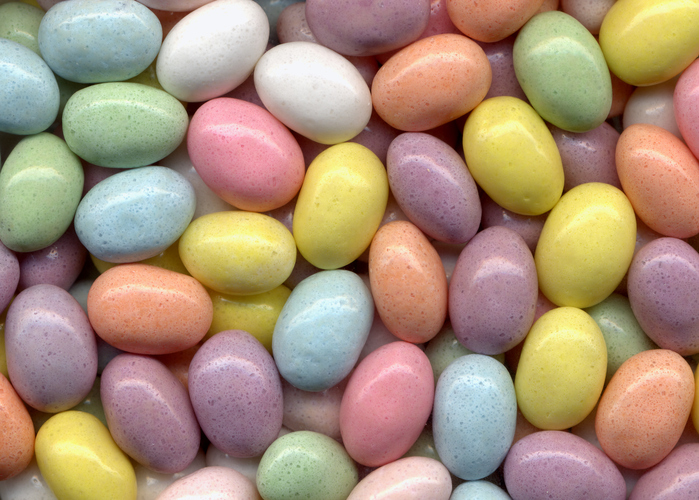 By the 1930s, jelly beans became part of the commercialization of Easter. Because of their shape, the companies succeeded in creating a strong holiday tie-in. At that time of year, jelly beans were manufactured primarily in pastel colors. Spring became their best-selling season.
By the 1940s, jelly beans were popular enough that they were part of American slang. A man referred to as a "jelly bean" was thought to be good-looking but not a person of much substance.  A song by bandleader Phil Harris describes this type of jelly bean. Listen to it here.
Presidential Buzz Around Jelly Beans
Before embarking on his campaign for governor of California, Ronald Reagan gave up smoking and turned to jelly beans. The candy became a staple in government offices in Sacramento.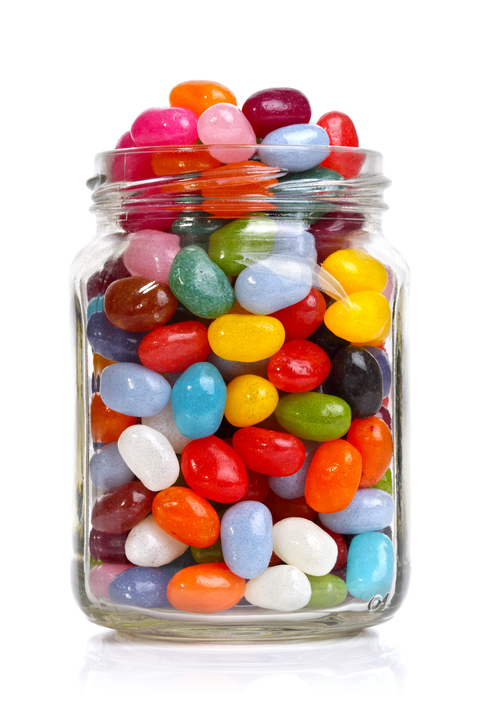 Reagan initially purchased a mini-jelly bean from the Herman Goelitz Candy Company in Oakland. (The company was also well-known for candy corn.)
The mini-beans sold well, but in 1976, the company introduced a new jelly bean.  It was still a mini-bean, but these were "gourmet." They came in unusual flavors ranging Tangerine and Green Apple to Root Beer.
These jelly beans were also distinctive because they were flavored all the way through. Original jelly beans had flavoring only on the outside; the inside was a simple chewy sweet flavor.
Customers—including Governor Reagan—loved them.
Jelly Bellys Become Famous
In 1980, a Time photographer snapped a photo of then-presidential candidate Reagan that showed the "Jelly Belly" packaging. Interest in the candy skyrocketed. The company was besieged by the press, and that year orders doubled. For several months, the company couldn't keep up with demand.
As it became clear that Jelly Bellys were here to stay, Goelitz built a new factory in Fairfield, California. In 2001, they officially became the Jelly Belly Candy Company.
The Making of Jelly Beans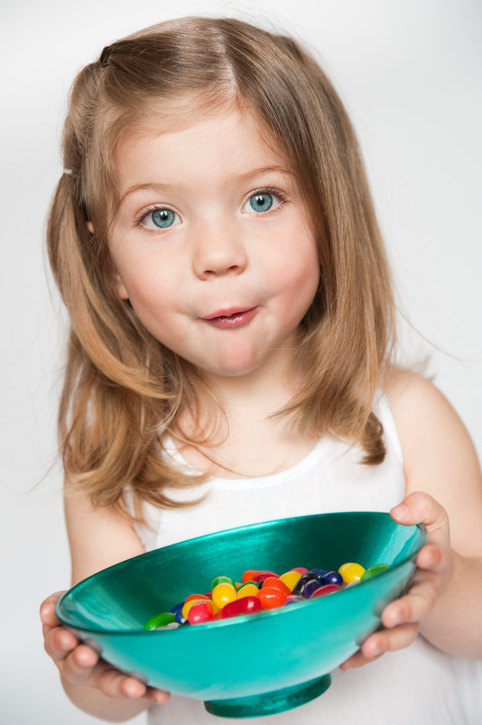 The ingredients for jelly beans are basic… sugar, corn syrup, and pectin (a starch from fruits).  The development of their bean shape is not known, but it was a good size of candy that could be grabbed and eaten by the handful.
Despite the limited ingredients, jelly beans take several days to make even with modern manufacturing methods:   Sugar is warmed to 350 degrees so it liquifies. Then starch and glucose are mixed in. The mixture is then poured into bean-shaped molds where it is left to dry and solidify.
The sweets are then popped out of the molds and placed in a machine that spins them continuously while they are coated with more liquid sugar. This stage adds color and flavor to the beans as well.
Next, the hard, outer shell is created by adding granulated sugar to the spinning machine at several intervals. The final glossy look of the beans is achieved by adding hot syrup and wax as a final coat.
Some companies package each color separately. Other companies sell the jelly bean mixtures.
The Jelly Belly Company
While many companies make jelly beans, Jelly Bellys are still the best known. The company has created approximately 100 flavors, and fifty of the flavors are generally in frequent rotation. Those that you might find include Blueberry, Cappuccino, Chocolate Pudding, Coconut, Cotton Candy, Pomegranate, Green Apple, Peach, Orange Sherbet, Piña Colada, Sunkist Lime, Watermelon, Tutti-Fruitti, Plum, Lemon Drop, or Sour Cherry. A complete list can be found on the Jelly Belly website.
The company also stays on top of current trends. They quickly snapped up the rights to the Harry Potter Bertie Botts Jelly Beans to make them their own..
For many years, candy corn was one of the biggest sellers for Goelitz Candy Company. Click for the complete story.