In the 1930's and 1940's, sunscreen was being developed independently but simultaneously by at least four different chemists in various parts of the world: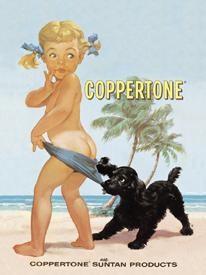 The first-to-market was likely H.A. Milton in Australia. In the early 1930s, he discovered that a wound-healing substance seemed to protect against the sun. Once he developed a cream that he thought could be manufactured, he turned to friends for funding. His first production run was for 500 tubes of "sunburn cream" under the name of Hamilton Sunscreen. (He took his first two initials and added it to "Milton" for "Hamilton.") The product sold well and was said to be distributed widely. It is not clear that it was available in other countries in those early years, but it is still sold today.
In 1936, French chemist Eugene Schueller founded L'Oreal to make hair coloring, and he soon developed a sunscreen. This sunscreen was also sold commercially but not much is known about it. L'Oreal, however, is now the parent company of Anthelios and Ombrelle, two well-regarded brands today.
In 1938, when Swiss student Franz Greiter returned home with a painful sunburn after hiking in the Alps, he set out to create a lotion or cream that would prevent burning. His first product was a barrier cream, sold as Gletscher Crème. It is unlikely that it was sold in the United States.
In America, the first chemist to successfully develop a sunscreen was Miami pharmacist Benjamin Green (1918-2004). Green served in the Pacific during World War II, and he saw that he and his fellow soldiers needed some way to protect against the sun. When he came home, he developed what we know as Coppertone.
Specifying a "First"
Terminology makes it very difficult to trace a "first" with this product. Today many of us shop for "sunblock," looking for a product that will prevent ultraviolet rays from penetrating our skin. But in the early part of the 20th century, people were wrestling with two pieces of information about sunlight:
Sunlight was important for providing Vitamin D—Vitamins were a relatively recent discovery.
Too much sun caused skin to redden and blister.
Obviously, a balance was necessary. One hundred years ago, people also dealt with the conflict we hear today: To tan or not to tan? Tan skin "looks so healthy…" People with white skin are rarely described with words like a "healthy glow."
Learning About Vitamin D
During the early 20th century, chemists were just beginning to learn about vitamins. As scientists observed deficiencies in diet, they explored what made different foods more valuable to the human body. This led to the discovery of vitamins.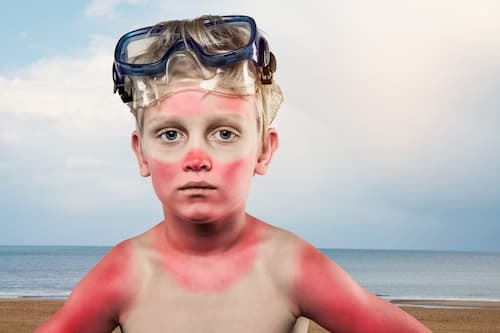 The first vitamin identified was vitamin A in 1913. Vitamin D was identified in 1920 when British scientists discovered that animals (and children) who were kept out of sunlight during cold winters, suffered from rickets. (Rickets is a disease that involves the softening of bones.) With this knowledge, they saw that bringing a measured amount of sunlight to animals and people during the winter helped prevent this illness.
But of course, many people had experience with too much sun. Soldiers, agricultural workers, travelers, and sportsmen all knew the pain of sunburns.
Chemists were looking for some way to balance the good with the bad.
Tracing History Through Press Coverage
The U.S. Patent Office did not have patents on sunscreens or sun cream until the 1950s, so I looked back at newspaper articles. In the 1920s, a search for "sunscreen" brought forward advertisements for parasols.
Then in the late 1930s, Helena Rubinstein advertised "sunproof cream" that sold for a dollar. Rubinstein brought her business to the United States in 1915, and her first product was a moisturizing cream. Based on what was known about sun and sun damage at that time, the moisturizing cream and the sun cream may have been one and the same. Like other companies, Rubinstein also used a confusing tag line by promising two things: "Keeps you Fair or Makes You Tan."
Newspaper Search Continues
When searching for news clippings about sunscreen or sunblock, I came upon an article from The Morning News, Wilmington, Delaware, from July 1943. The overall article offers summer health advice and was titled, "Good Dose of Summer Sun Prevents Winter Colds." The first part of the article calls for "war workers and office girls" to get outside and get some sun. The reporter recommends wearing shorts or a bathing suit while doing yard work in order to maximize sun exposure.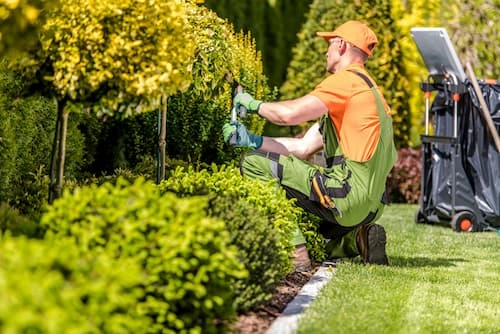 But the reporter, Jacqueline Hunt, adds that readers needs to be careful. She reverses her advice and suggests early exposure should be limited to 20 minutes, with time in the sun increasing day by day. She also writes: "There is a really fine protective lotion of the non-oily type containing a special form of tannic acid derivative. Because it doesn't leave a shine, men as well as women like it, and it is used extensively by our soldiers and marines in the Tropics."
While tannic acid (found in oak and chestnut branches, and when condensed contained in tea and red wine) is sometimes used to calm skin that is inflamed, it is not a chemical that is well-regarded for blocking ultraviolet rays. While this article describes a product more advanced that what we think they had at time, it is not clear what the product was. Perhaps this was the sunscreen manufactured in Australia.
After World War II
During World War II, Benjamin Green, an airman and pharmacist, was stationed in the South Pacific. When he saw that he and the other men needed protection from the harsh sun, and he recommended that the men use a red petroleum product that was intended for use by veterinarians. "Red Pet Vet" was a barrier cream. While it worked, those who used it described it as heavy and unpleasant. Despite that, one would speculate that the military were happy to have some way to protect their skin in the South Pacific.
Both Benjamin Green and Franz Greiter, the Swiss hiker, re-focused their attention on their respective products after the war. In 1946, Greiter developed a new version of his product. He called the lotion "Piz Buin," named for the mountain he was climbing when he came up with the idea that sunscreen was needed. (A company that manufactures Piz Buin still exists. There are many sun-related products sold under this brand name.)
Benjamin Green and Coppertone
Benjamin Green returned to Miami, Florida. He worked at a pharmacy, Douglas Drug Company (the store was located on Douglas Street in Miami). He spent nights and weekends experimenting with better ways to formulate Red Pet Vet. Working out of his kitchen, he added various amounts of cocoa butter and coconut oil to the original formula. He was bald, so he tested the different formulas on his own head in the Florida sun.
At some point, he became the owner of Douglas Drug Company, and when he felt his product was ready to be manufactured, he did so under the name, Douglas Laboratories."
As early as 1946, Green marketed the product as Coppertone. (There is a court case that documents this, as he successfully prevents another company from using the name, "Copper Tan.")
Coppertone is thought to be the first tanning lotion sold in the U.S., but there were still mixed messages about protecting from a burn. One of the company tag lines was "Don't be a Pale Face," (not acceptable today). Another was "Tan, Don't Burn." While Coppertone advertised the product as a way to get a better tan, the cream also contained ingredients that helped to protect against burns.
Coppertone Expands
At some point, Green received financial backing from two well-respected Miami businessmen who became part of the company. This added help gave Green the money and business staffing to grow from local distribution to nationwide sales in under ten years. Though Douglas Labs was still the manufacturer of the product, they took on the company name, Coppertone. Charles E. Clowe and Maurice Gusman were the two men who joined Green to run the company.
In the late 1940s, they also were using a young model named Norma Jean. She, of course, went on to be better known as Marilyn Monroe.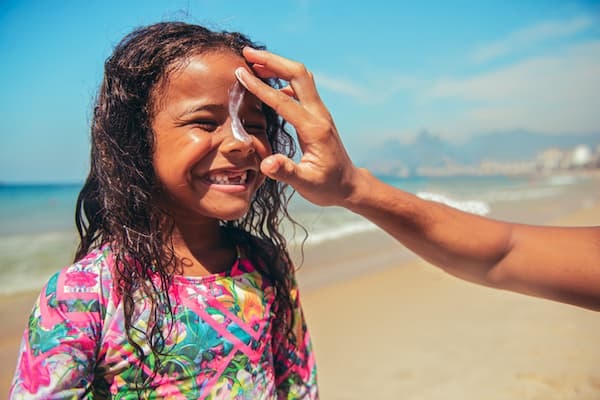 The company made news in 1955. The Miami News wrote that a fire gutted their plant, warehouse and offices on NW 23rd Street. Because Coppertone had wide distribution and was a big seller, the next stories were press releases assuring the public that there was still warehouse supply—they should keep buying it. The newspaper describes Coppertone as "the largest manufacturer of suntan oil in the United States," so getting this reassurance out there would been critical.
By the mid-1950s the product was very well known for its marketing featuring the iconic little girl and the dog who reveals her tan line.
Coppertone Ads
The little girl was introduced in 1956. She was drawn by illustrator Joyce Ballantyne, who modeled the little girl after her own 3-year-old daughter.
Coppertone and Douglas Labs remained independently owned until 2014 when Bayer purchased the company. In 2019, Coppertone was sold again to Beiersdorf, a company that sells Eucerin, Nivea, and La Prairie, among other brands.
Sunscreen Patents
Patents on sunscreen or sun lotion did not come along until the mid-1950s. At that time, the patent applications generally involved various chemicals to block or absorb the rays. The first "sunburn preventative" formula was filed by David X. Klein at Heyden Chemical Corp. His patent used n-salcoyl-p-aminophenol composite to absorb the rays.
Within a year, a patent using benzopenones was applied for. This is a chemical that is still used today to protect against UV light. By the late 1950s and early '60s, there were several approved patents for different way to absorb ultraviolet light.
Blocking UVA and UVB
In Europe, scientists discovered that ultraviolet light came in two forms that affected the skin. Ultraviolet B was the one absorbed or blocked by the early creams. Ultraviolet A was found to be more damaging to skin, but the preventative formulas were harder to find.
By the 1970s, Piz Buin, Franz Greiter's company, introduced sunscreens that filtered out both ultraviolet A and B filters. They also developed the formula for sun protective formula ratings (SPF numbers) and are also thought to be the first company to create water-resistant formulas.
The U.S. was slow to follow. Until 1988, most sunscreens sold in the U.S. filtered only UVB rays. Finally, in 1988, the FDA approved a sunscreen product that contained avobenzone, a UVA-only filter. However, for some reason, the FDA waited until 1997 for approval for sunscreen companies to market the fact that their lotions or creams contained UVA protection.
Today we still have those who like to look tan, sometimes accomplished by sitting out in the sun. Other times, by using a chemical tanner. But there are growing numbers of people who slather on the sunscreen, figuring it's good for the skin in the long run.