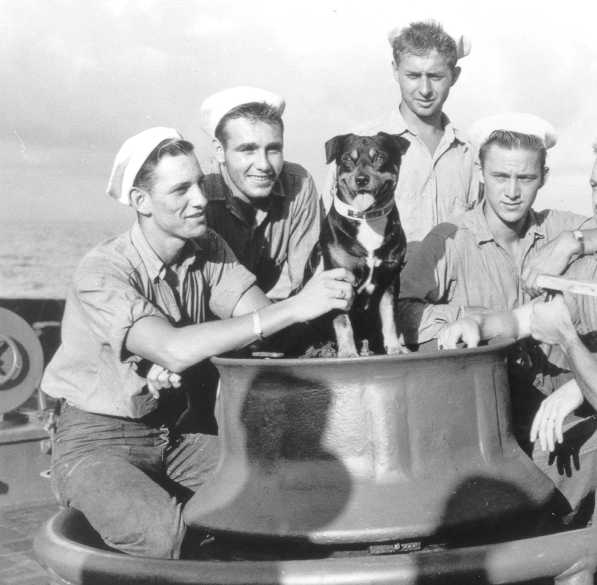 The story goes that in 1937 two Coast Guardsmen returned to their ship, The U.S.S. George W. Campbell, docked in Staten Island. They carried with them a bag they tried to conceal.
Once in their bunk they opened the bag to reveal to some of the other men a black and tan mutt with white eyebrows. The pup was quiet that night but he next morning his barking announced to all that a new sailor had come on board.
Official Rank
They named him Sinbad. From 1937-1948 he was a member of the crew on the Campbell. More than a mascot, Sinbad was a full member of the Coast Guard. He had his own service number, bunk, a uniform of sorts, and his assigned battle station. The men relied on Sinbad for morale and for fun. No one was bored if Sinbad was around.
In April of 1943 Sinbad was mentioned as an aside in The New York Times (April 6, 1943) when the Campbell was in port where a number of its crew were receiving awards for their anti-submarine patrol work.
Commander James A. Hirshfield said that Coast Guard cutters were being effectively used for the difficult and dangerous job of ramming enemy submarines. In February the Campbell had battled six enemy submarines over a 12-hour period, sinking at least one of them.
Hirshfield noted to the reporter that the sailors had a superstition that as long as Sinbad was on board nothing would happen to the Campbell.
Sinbad: A Sailor with Flaws–and Paws

Like most sailors, Sinbad was not perfect. As described by Eddie Lloyd, editor of the old Coast Guard magazine: "Sinbad was a salty sailor but he's not a good sailor. He'll never rate gold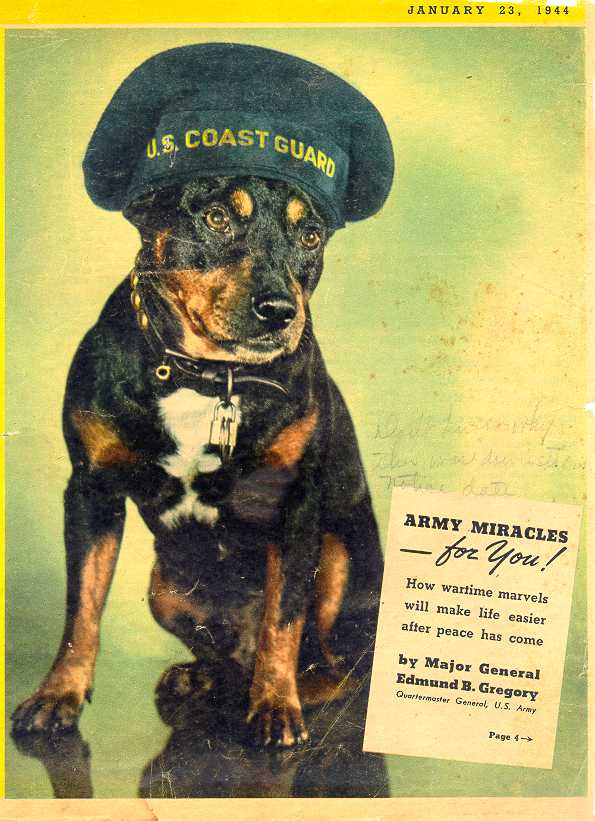 hash marks nor good conduct medals. He's been on report several times, and he's raised hell in a number of ports. On a few occasions, he has embarrassed the United States government by creating disturbances in foreign zones. Perhaps that's why Coast Guardsmen love Sinbad—He's as bad as the worst and as good as the best of us."
Official Visit to New York
In 1946 the George W. Campbell was docked in Charleston for repairs. Sinbad was scheduled for his first official peacetime visit to New York City. He arrived at Pennsylvania Station where a 24-piece Coast Guard District Band welcomed him. The dog then traveled to City Hall where he was given a jeep parade to Coast Guard Headquarters where he was expected to hold a "press conference."
The mascot was also scheduled to meet with Admiral Joseph Farley, Coast Guard commandant. Then there would be a screening of two Coast guard films at the Museum of Modern Art. Sinbad, however, was a no-show. One of the officers told the Times that "he was exhausted." (New York Times, January 9, 1946).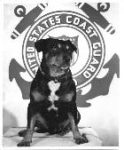 His collar displays six campaign ribbons and five battle stars.
Slowing Down with Age
By 1948, age was catching up with Sinbad. He received an honorable discharge. (The Coast Guard decided to discount his two Court Martials.) He spent the remaining years of his life at Barnegat Coast Guard Station in New Jersey. He died on December 30, 1951.
After I published this article, I heard from a Coast Guard historian who provided me with another wonderful story about Sinbad. It so happens that during the war, a stateside dog, Boots, wrote to Sinbad, with the hope that Sinbad might say hello to her master if Sinbad should see him. The letters have been preserved and are quite touching. Click here to read both letters.
For more stories of many mascots belonging to Coast Guard units, visit the very delightful site, "United States Coast Guard Mascots."