Eighteen months ago I profiled Harry McAlpin.  He was a reporter for the National Negro Press Association and the Atlanta Daily World covering Washington and the

president, but because he was black, he was not permitted to attend the presidential press briefings.
In the 1940s black editors and reporters began angling for representation, and Harry McAplin became the front man, getting permission from President Roosevelt himself to come into the press rooms for briefings.  White reporters tried to discourage McAplin from coming in, offering to take notes for him, but McAlpin was steadfast in his resolve.
At the first press conference he attended, he was personally welcomed by Franklin Roosevelt.  "I'm glad to have you here," the president told McAlpin.
He remained in Washington working as a reporter for a few more years and then decided to return to Louisville, Kentucky to practice law and to support causes that were important to him.  (He had been the chairman of the local chapter of the National Association for the Advancement of Colored People before he became a reporter.)
Throughout his time in DC on the presidential beat, he was never permitted membership in the White House Correspondents' Association nor was he permitted to attend their annual dinners. To read my original profile of McAlpin, click here.)
Righting a Long-Ago Wrong for Harry McAlpin
This May, while preparing to mark the 100th anniversary of their existence, the organization decided to right a wrong that had occurred 70 years. They gave McAlpin a posthumous honorary membership, and as of 2014 they have dedicated an annual scholarship in his memory.  His son Sherman was on hand to award the first scholarship.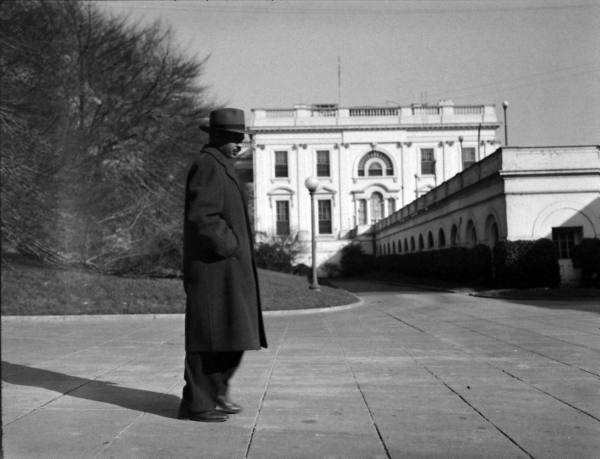 When I first started looking into McAlpin's story, there was not much information about him—a newspaper clip here and there.  It took a lot of digging to trace him back to Louisville where the archivist at the newspaper was surprised to find him in their files.
Perhaps America Comes Alive and our Black History Month celebration had something to do with heightening awareness. George E. Condon, Jr. who is at work on a history of the WHCA has ably picked up the thread of the story and added a great deal more, uncovering more detail on McAlpin than I had been able to find. (See his story here.) I tip my hat to him for this additional work on behalf of a man who very much deserves our respect and the belated honor bestowed on him by the White House Correspondents Association.