White Castle holds the title of being the first fast-food restaurant in the world. Their original hamburger eatery opened in Wichita, Kansas, in 1921. The restaurant was the start of what has become a multi-billion dollar fast food industry. (White Castle predated McDonald's by many years. The first food stand operated by the McDonald family did not open until 1937.)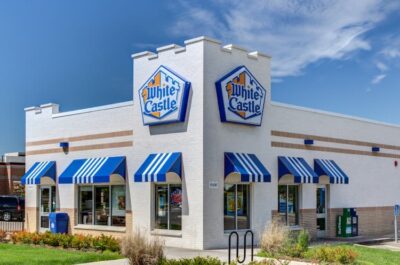 White Castle was also the first fast-food restaurant to sell over a billion burgers. They passed this milestone in 1961, far in advance of their competitors.
White Castle's Beginning
Walt Anderson (1880-1963) was the cook behind the counter of the earliest White Castle restaurant. Anderson had been running food stands in Wichita since 1916 when he opened his first diner in a converted streetcar.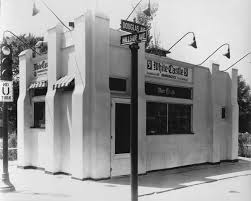 As he developed his preparation methods, he found that starting with a mound of fresh beef and then pressing it into a flat square and poking five well-placed holes in the meat meant that he could cook the burger thoroughly without having to flip it. He soon found that cooking the patty on a bed of chopped onions that were on the grill with the bun placed on top permitted all of the flavors to permeate the bun.
Anderson did well enough at his first location that he added a second and third. When scouting locations, he worked with a helpful real estate agent, Edgar Waldo "Billy" Ingram (1880-1966). As the two men got to know each other, they decided to team up on what would be a fourth restaurant for Anderson.
Looking for Growth
Anderson's operations were doing well, but he shared with Ingram the fact that there was still resistance by some to eating ground beef because of unsanitary aspects of the meat business that were exposed by Upton Sinclair's book, The Jungle (1906). To counter this, Ingram suggested a new style of restaurant.
Drawing inspiration from the castle-like look of the water pumping station in downtown Chicago, the two men decided to call the new restaurant "White Castle" and make the building look like a small white castle. Porcelain was used on the interior to emphasize a sparkling clean all-white restaurant. The kitchen was also viewable by the public to reassure them that the food was prepared under highly sanitary conditions.
When the first White Castle opened, the burgers were prepared with Anderson's signature cooking method, and they were priced at a nickel a burger. The ads encouraged people to "buy them by the sack."
In 1923, they expanded with a location in Omaha. Before 1930, they had branched into twelve major cities in the Midwest as well as New York and New Jersey. By1924, they incorporated as the White Castle System of Eating Houses Corporation.
In 1933 Ingram bought out Anderson and moved the headquarters to Columbus, Ohio to be more centrally located to the restaurants he was building.
White Castle: Selling Hamburgers
Ingram seemed to have a "marketing gene" as he continually implemented new ways to market White Castle. In the first few years when there was still public sentiment that ground beef wasn't healthy, Ingram hired a nutritional expert to speak to women's groups about the health benefits of hamburger.
Despite that, there were still many who were prepared to speak out against ground beef. One author wrote: "The hamburger habit is just about as safe as walking in a garden while the arsenic spray is being applied, and about as safe as getting your meat out of a garbage can standing in the hot sun."
Ingram had an answer in the form of an idea for a "scientific experiment." Many years before the movie, Super Size Me (2004), Ingram persuaded biochemist Jesse McClendon to conduct a scientific experiment. McClendon planned that a subject would eat only White Castle hamburgers and water for thirteen weeks. The volunteer chosen was a medical student at the University Minnesota. The fellow was very excited at the beginning of the experiment and often consumed ten burgers at a sitting. While he tired of the sameness of the diet, he kept up with it for the thirteen weeks, documenting all he ate in a diary. At the conclusion of the period, he was pronounced in good health. His consumption had averaged 20-24 burgers per day.
Ingram promoted the results of the study in ads, and some industry leaders felt this campaign resulted in a better view of hamburgers overall.
White Castle Introduced Restaurant Coupons
The company pioneered the first use of the restaurant newspaper coupons. In information provided by the School of Business at Emporia State University, the first coupon ran in a paper in St. Louis on June 3, 1932. It offered a carryout order of five hamburgers for ten cents. (Hamburgers then were a nickel so that was a great offer; probably anything that could boost sales during the Depression was a help.) The coupon was overwhelmingly successful and helped expand the White Castle audience. It also introduced a new type of marketing for the restaurant industry.
Fifty years later, the company was still promotion-minded and accepted a long distance carry-out order from soldiers in Beirut. The company flew over a generous supply of frozen White Castle sliders.
More Innovations
White Castle was the first to apply the assembly line method to the work going on in the kitchen. Walt Anderson, the original cook, realized the restaurants needed a uniform system of burger-making so that there was standardization across the chain. He also prepared a manual for food preparation and guidelines for employee cleanliness and appearance.
At the time White Castle was expanding, there were also no business models for how to support a group of chain restaurants. Ingram began establishing centralized bakeries, meat supply plants, and warehouses. In 1932 Ingram also established a subsidiary, Paperlynen, to make hats for the kitchen workers as well as the other paper supplies used by the restaurants. Thiswas also an innovation for the restaurant trade. Because of this, Paperlynen was able to supply restaurants worldwide. In 1955 alone, Paperlynen produced over 42 million paper hats for many different companies.
Building new restaurants quickly also became of paramount importance. In 1934 Ingram established Porcelain Steel Buildings to prefabricate the sections of the buildings so the pieces could be trucked into a location and put up quickly.
White Castle Marketing
The entire hamburger industry owes White Castle a "thanks" for creating National Hamburger Month in 1992. Every year when the month of May rolls around, places that sell hamburgers come up with new promotions to entice the public.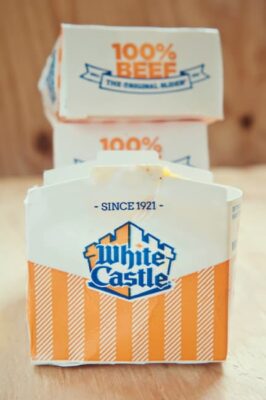 For White Castle's 80th anniversary in 2001 they began the Cravers' Hall of Fame. Cravers are inducted annually based on stories submitted by customers that demonstrate "brand loyalty, creative presentation, originality and magnitude of the crave." The Hall of Fame continues to attract tens of thousands of entries each year.
About fifteen years ago, White Castle management was approached by Hollywood producers who asked their cooperation in filming Harold & Kumar Go to White Castle (2004). Never having been approached for something like this, it took them awhile to decide whether or not to let White Castle become a part of the movie and be the late-night destination for a couple of stoners. Ultimately they decided to give it a try; the move was a huge hit and is still a favorite among many young people. With it, White Castle took on cult status.
There are now 420 White Castle restaurants. The business continues to resist franchising though they do sell White Castle frozen products in grocery stores. The restaurants are all owned by the privately-held White Castle Management Company. This business is controlled by descendants of Billy Ingram.
To read about another successful food business, read about Tom Carvel: King of Soft-Serve.