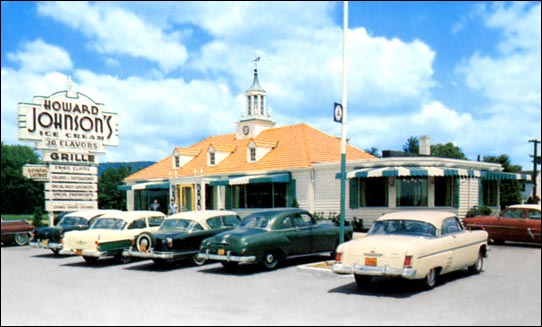 Restaurateur Howard Johnson made a name for himself by building a chain of roadside restaurants and motor lodges throughout the country. Johnson emphasized quality control and a consistently good experience for his guests.Over many decades, he overcame competition, survived setbacks, and developed a way to weather the economic and social changes brought on by World War II.
Howard Johnson: Growing Up
Howard Deering Johnson (1896-1972) grew up in Wollaston, Massachusetts, a beach-side section of the town of Quincy. In a family with four children, Howard was the only boy. School did not hold his interest, but he was a hard worker and had a regular after-school job at the local drug store.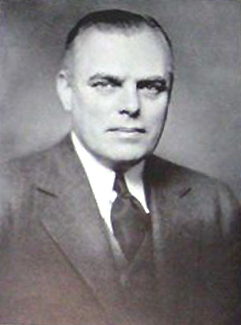 His father was in the cigar business. After owning a store, he became a cigar wholesaler, importing product form the West Indies. His orders had to be prepaid before the cigars were shipped, but many arrived damaged. No returns were accepted. In 1912, Howard's father hit a particularly bad patch. Howard, who left school at age 14, was working full-time at the local drugstore but came to help. The lessons he learned then about business and about the importance of quality control stayed with him for a lifetime.
Wartime
When the United States entered World War I in 1917, Howard enlisted. He served in the American Expeditionary Force's 26th Infantry. The regiment experienced heavy combat, but Johnson survived. He and the others who made it through returned home in May of 1919.
Johnson returned to work for his father, this time as a salesman. In 1921, his father died unexpectedly. The family, of course, was devastated, and Howard knew the business he inherited was deeply in debt. His first plan was to keep the business going, but he saw that would leave left his mother and sisters open to legal exposure and financial ruin. Instead, he closed the business and absorbed the debt himself.
Working His Way Out of Financial Trouble
To start paying the money owed, Howard returned to work at Walker Barlow, the Wollston drugstore where he worked previously. The drugstore owner was thinking of selling the store and offered Johnson the opportunity to buy it. Working with the owner and his son, Howard and the two men crafted a business deal that let Johnson take on ownership of the drugstore without paying cash upfront.
In addition to drugstore staples such as medicines and toiletries, there was a newspaper stand and a soda fountain. The store was located near the train depot, so commuters always stopped by for a newspaper on their way into Boston, but Johnson saw that he could improve sales even more. He enlisted a group of young boys to make newspaper deliveries, thereby expanding his market.
The soda fountain also offered an interesting opportunity since Wollaston was a beach town. Though the drugstore was a few blocks from the recreation area, Johnson felt that a particularly good ice cream could draw customers away from their beach towels for a bit.
Selling Ice Cream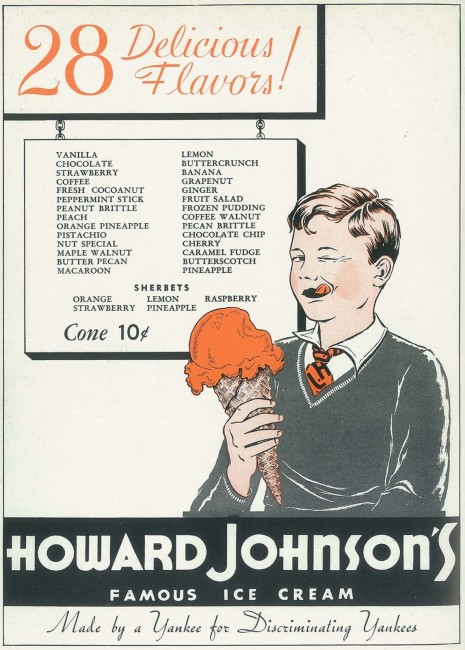 The origin of Howard Johnson's first recipe is not clear, but it was likely based on a recipe of his mother's. Johnson purchased several hand-crank ice cream makers. At first, he cranked the ice cream himself, but as sales picked up, he hired employees to increase output.
In experimenting, Johnson realized the key to a particularly delicious ice cream was a high quantity of butterfat. He purchased local milk from H.P. Hood Company, and his recipes generally began with 21-22 percent butterfat. When other ingredients were added for various flavors, the butterfat content remained high—generally 18-19 percent, far higher than the required 10 percent that the law required for anything sold as ice cream.
As he got his bearings, he sought a way to increase ice cream sales, and he rented a concession stand by the beach. These kiosks were his first foray into the food business. He added other snack offerings to the menu and expanded his ice cream flavors to 28. With that number, he felt he had settled on the right variety of flavors. (Later on, his car license plate read "HJ-28.")
More Kiosks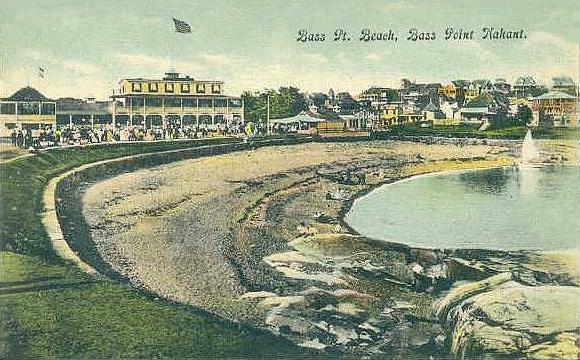 By the late 1920s, Johnson expanded his concession stand locations. First he added kiosks south of Quincy. Then he moved north and had a fortuitous meeting with ice cream maker William Hallbauer. Hallbauer owned an ice cream shop in Lynn, Massachusetts, and during summer months sold from a kiosk on nearby Nahant Beach.
Documents from the Hallbauer family reveal that Johnson hired Hallbauer to aid with business expansion, helping to open at least 20 Howard Johnson locations in Massachusetts. Hallbauer is almost certainly the ice-cream maker who helped Johnson adjust his recipe so that it could be made in large quantities.
Howard Johnson's ice cream fame grew. It was known for its all-natural ingredients, its high percentage of butterfat, and the fact that Johnson service staff were taught to scoop generously. People got their money's worth.
Adding Fried Clams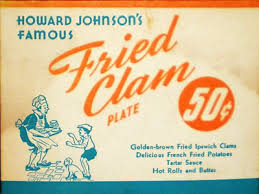 In Massachusetts, clams were a logical offering for beachfront stands. Howard Johnson developed a business relationship with the Soffron Brothers Clam Company, established by four brothers in Ipswich, Massachusetts, in 1932.
The primary clam used by Soffron was the soft-shell clam. Until the Depression, soft-shell clams were considered little more than fish bait, but the brothers, working with Johnson, found a way to fry them, creating a tasty snack.
In the 1950s, however, there was a clam shortage. The brothers turned to surf clams (also known as sea clams). By removing the big muscle and cutting the clam into strips, it could be tender and tasty. This new iteration was trademarked as Tendersweet, and they became an instant success. For 32 years, Soffron and Howard Johnson maintained an exclusive relationship.
By this time, the concession stands featured a somewhat expanded menu. In addition to the clams and the 28 flavors of ice cream, Johnson sold a specially-formulated way of fixing hot dogs, calling them "frankforts."
First Full-Service Restaurant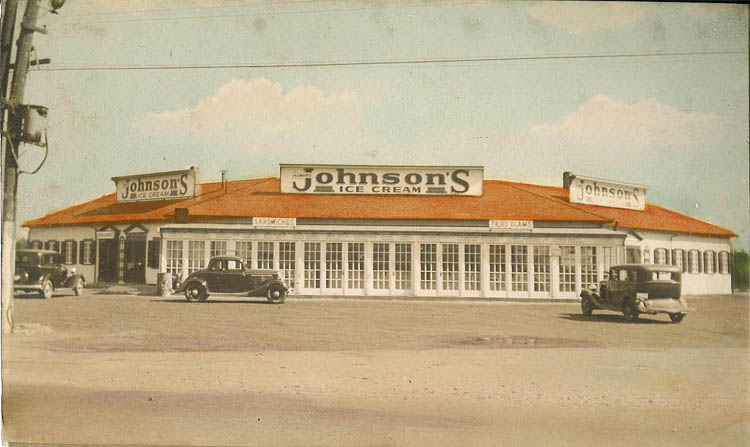 Howard Johnson saw his first opportunity for a full-service restaurant when the bank in Quincy, Massachusetts, built a new multi-story office building in the late 1920s. Johnson knew he was unlikely to get a loan for a restaurant, but he went to the bank with a different proposal. If they accommodated him with a good price on the ground floor space, he would bring foot traffic by establishing a restaurant.
The bank building opened in early 1929, and Howard Johnson opened his first restaurant with table service.
Censored Play Saves Restaurant
The Howard Johnson story might have gone very differently if it hadn't been for a problem with a new play by Eugene O'Neill. The play, Strange Interlude, opened in New York in 1928 to critical acclaim and was awarded the Pulitzer Prize for Drama.
But the subject matter raised eyebrows. The play concerned a woman whose fiancé is killed in World War I. In grief, she plunges into a series of love affairs, one of which leads her to end a pregnancy. The Boston mayor announced that it would not be permitted to be performed in that city.
Play Moves to Quincy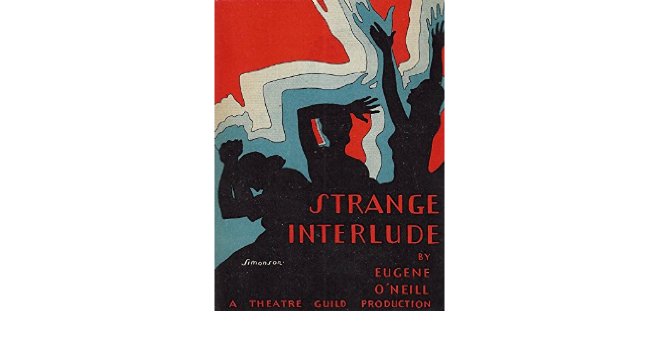 With the mayor's ban, suburban communities offered space. The producers liked the Quincy Theater best, and it was just across the street from the new Howard Johnson restaurant. A play that was expected to play to full houses offered good commercial opportunity under any circumstances, but there was another twist that favored Howard Johnson. The play ran five hours, and in New York, the precedent was established that a dinner break was built in.
When the play opened in Quincy in early 1929, Bostonians came to see it, and they flocked across the street to the new restaurant to enjoy New England favorites for a dollar per plate. Of course, they could also sample the ice cream that beach-goers raved about.
Because of this fortuitous opportunity, Howard Johnson's restaurant was well enough established for the company to ride through the stock market crash of October 1929 and the hard times that followed.
Designer Familiar with Competitor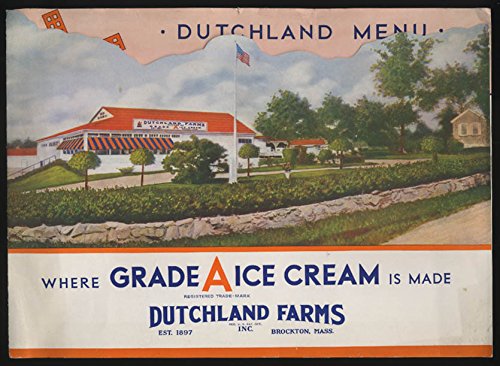 Howard Johnson hired industrial designer John E. Alcott (1899-1978) when he observed modifications Alcott was making on a restaurant that had formerly been a Dutchland Farms location.
Dutchland Farms started its restaurant chain in 1928, but it did not weather the Depression well. As Howard Johnson added roadside restaurants, he and John Alcott may have seen the wisdom of taking these restaurants and adapting them to become a Howard Johnson look. Avoiding a full remodel would have been wise in the 1930s.
The design of the Dutchland Farms restaurants featured a brightly-colored roof topped by a windmill. Alcott also used the building colors for Howard Johnson that Dutchland Farms used—white with blue shutters.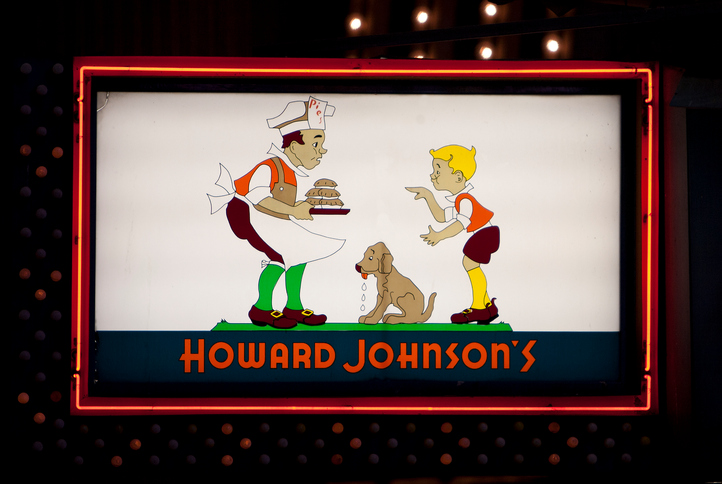 In the modifications, the Howard Johnson buildings featured a cupola and eventually a weathervane instead of a windmill. This projection on the roof served the practical purpose of hiding exhaust pipes that helped with ventilation.
John Alcott also designed the "Simple Simon and the Pieman" logo, complete with salivating dog. The placemats eventually carried the caption: "Should Simple Simon seek a Pieman while going to the fair/ He'd now head for a Johnson Stand—'Tis best' he would declare."
Howard Johnson Expansion
In 1935, as the economy was improving slightly, Howard Johnson wanted to expand beyond the single restaurant and dozen seaside snack kiosks, but he lacked capital. When a well-to-do high school buddy called about some property available on Cape Cod, Howard Johnson made a proposal. If buddy Reginald Heber Sprague (1897-1972) would invest in and open the restaurant, Johnson would provide the expertise.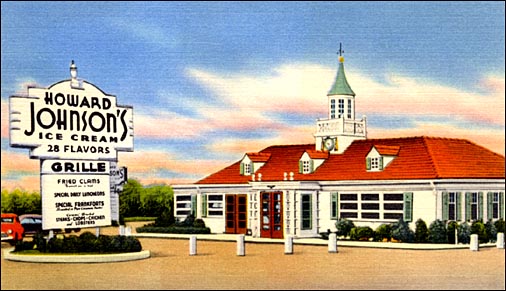 After working out a business deal, Howard Johnson had his first franchisee. Sprague's location was in Orleans in a perfect spot where it was visible from both Routes 6A and 28A, leading more people to leave the road to eat.
Johnson licensed the name and logo to Sprague for the restaurant, and he then crafted his plan for standardizing the menu, providing dishes, doilies, and napkins and supervising the set-up of the kitchen. (Johnson was early in the franchise business, but he was not the first, as some claim.)
As he worked out his plan, he was a stickler for detail. Later he credited his mother, Olive Belle Johnson (1867-1939), with offering wise advice: "Her woman's intuition and her mother's interest in my affairs brought countless little suggestions that would probably not have occurred to a man."
The Howard Johnson franchise was off and running, and Johnson made more business deals that year. By the end of that year (1935), Howard Johnson had 25 roadside restaurants and ice cream stands in eastern Massachusetts.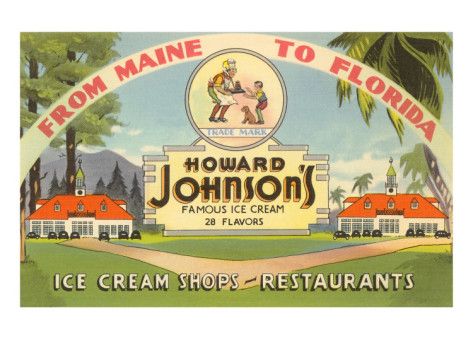 As the business grew, Johnson realized the best way to standardize the food was to centralize the cooking and deliver partly-prepared food to the restaurants with information on completing preparation, heating, and serving. He also prepared what he referred to as The Johnson Bible. It offered instructions on everything from cooking to equipment maintenance, staff uniforms and serving methods.
More Roadside Restaurants
When the state of Pennsylvania began building their Interstate Turnpike, Howard Johnson bid on and won exclusive rights to build the restaurants for the service areas. (Esso obtained the exclusive rights to sell gasoline.) Other turnpike business in both Ohio and New Jersey followed. Elsewhere, Johnson began snapping up more locations visible from highways.
By 1940, Howard Johnson had more than 130 restaurants; 23 of them were franchises.
Weathering World War II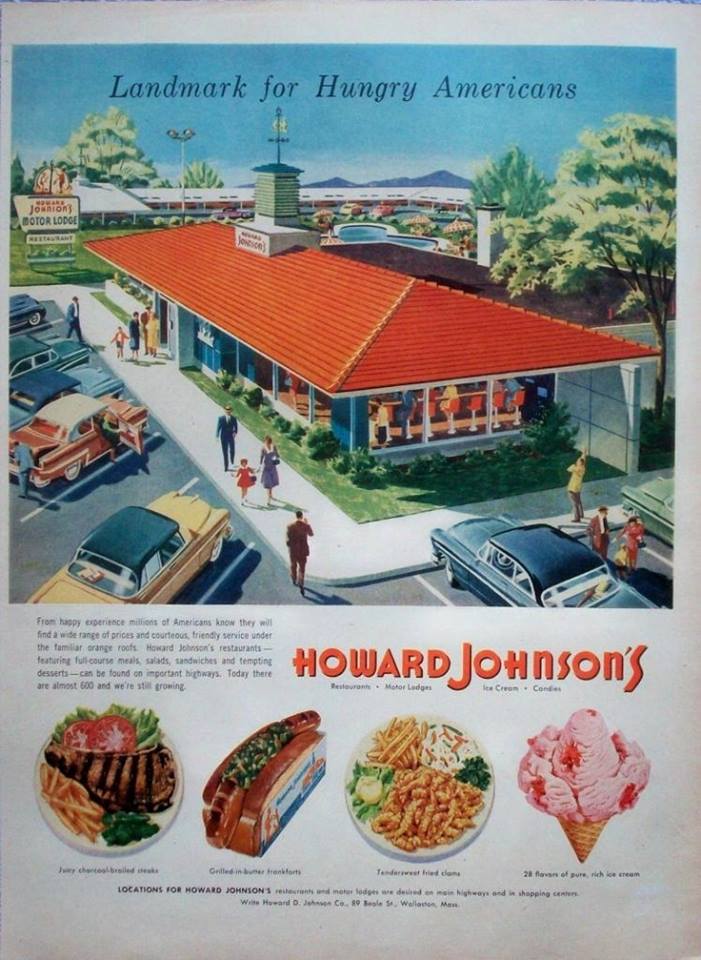 Wartime always brings economic upheaval. The need for equipment and weapons meant that manufacturing soared, but it brought a fast end to leisure travel. As business eroded, Johnson closed about 90 percent of his locations.
But Howard Johnson was a survivor. He knew people had to eat and saw a growing need for commissaries. He soon had contracts with the government to supply food at military training facilities as well as to feed workers at the large industrial plants. While company profitability dropped precipitously, he managed to keep the business alive.
After the war was over, Johnson was ready to re-build. As the soldiers returned and life became more normal, Johnson returned to his belief that roadside locations were key. This time he looked to the Southeast and Midwest and established his trademark buildings in locations along the roadways. He also invested in billboard advertising. That way people knew a Howard Johnson's was just a few miles ahead.
By 1951, sales totaled $115 million.
Big Names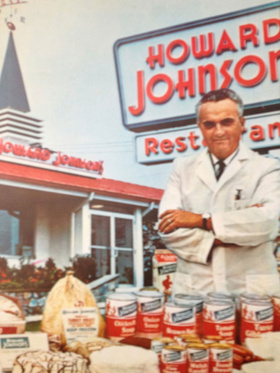 Johnson's success gave him added opportunity to capitalize on getting his name around. When wealthy socialite Dorothy May Kinnicutt Parish (known as Sister Parish) began her decorating business in the 1930s, Johnson hired her to decorate the restaurant he built in Somerville, New Jersey. She told a reporter from The New York Times, "I dressed the waitresses in aqua, did the walls in aqua, I made the placemats in aqua. I guess I must have thought it was quite chic, but I haven't done a thing in aqua since." (quoted in A History of Howard Johnson's by Anthony Mitchell Sammarco).
Another opportunity presented itself with the kitchen staff. Howard Johnson was a regular at New York City's posh Le Pavilion. In the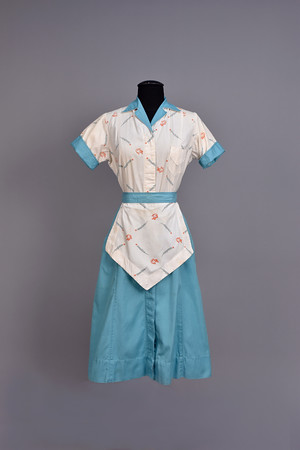 early '60s, a wage dispute upset the kitchen staff. Johnson snagged two of the up-and-coming chefs—Pierre Franey and Jacques Pepin–who were happy to have "day jobs" creating new recipes for Howard Johnson that would taste delicious even after being shipped nationwide.
Son Howard Brennan Johnson, who assumed the presidency when his father moved up to be chairman of the board in 1959, garnered good publicity through a similar maneuver. He wanted new uniforms for the waitresses. Instead of buying them from a supply house, he enlisted the House of Dior to design a new look. Publicity followed.
Motor Lodges and Reservation System
After expansion of restaurants nationwide, Johnson decided that the same standardization could be successful with overnight accommodations. He opened his first motel and restaurant combination in December of 1953 on Route 17 in Savannah, Georgia. Motor lodges began sprouting up alongside some of the restaurants.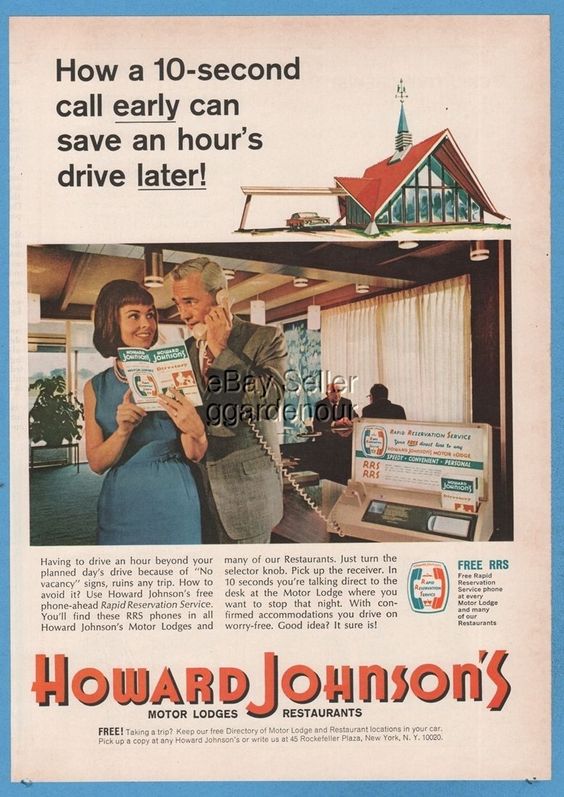 Another innovation came in the mid-1960s. Anyone who has driven cross-country without a particular plan knows the stress of arriving in a town and then hunting for a place to stay. (Think of "Vacancy" and "No Vacancy" signs along the roads.) In 1964, Howard B. Johnson introduced a reservation system that linked all the lodges. Travelers could book as they went from lodge to lodge, or if one lodge was completely full, the reservation operator could help locate the next closest lodge where there was a room to stay.
When the company went public in 1961, there were 604 restaurants, 265 of which were operated by licensees. The company had also acquired the chain of Red Coach Grills, and there were 88 motor lodges, all of which were franchised. (Later, the Ground Round restaurants were added.)
Energy Crisis Changed Business Model
The energy crisis of the mid-1970s shifted the focus of the business. Rather than promoting the restaurants to travelers, management knew it had to focus on nearby population centers.
The 28 flavors of ice cream and piggybank-sensitive meal prices made it possible to lure families. The company also started some child-friendly promotions. One was a birthday club. Children signed up in advance and were sent birthday cards redeemable for a free meal, a cake, and in some locations, balloons and lollipops. Family members' meals were charged at normal rates. The Springfield, New Jersey, restaurant sent out 10,000 cards one year, and they had a 50 percent return on those who came to take advantage of the birthday offer.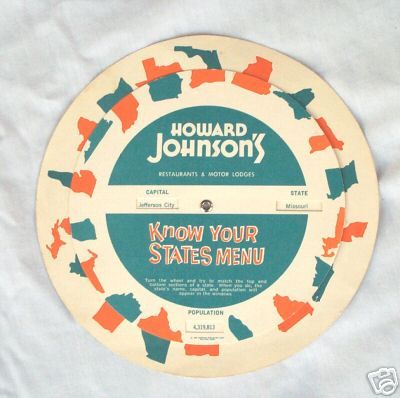 Children's menus were an attractive staple of Howard Johnson's. In addition to offering kid-friendly food at lower prices, industrial designer John Alcott's firm created a variety of menus that kept the kids entertained. Some were maps of the United States, one was a guide to the metric system. Another menu could be converted to a mask if string was added at home.
Howard Johnson's also held contests. If a person submitted proof via a check-off coupon that they had sampled all 28 flavors of ice cream, the next ice cream cone was free.
Business Change
While the energy crisis started the business slow-down, Howard Johnson's was also feeling the impact of the fast-food restaurants that were proliferating in the 1970s. McDonald's, Burger King, and Wendy's were novel and very speedy compared to table service at Howard Johnson's.
In 1979, Howard B. Johnson received an offer for the company from the Imperial Group Ltd. British food conglomerate, and he took it. Five years later, the British company sold Howard Johnson's to Marriott who valued the real estate. From there, the restaurants, motor lodges, and franchises went different directions depending on their locations.
Howard Johnson's Today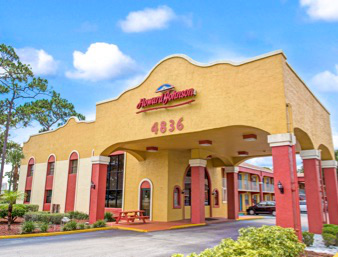 There are still a few orange-roofed locations bearing the Howard Johnson name, but most are motor lodges owned by Wyndham. The restaurants that exist no longer work from a Howard Johnson blueprint, and the ice cream has not been made in decades.
While Howard Johnson proved to be a welcoming Host of the Highway for more than forty years, the inevitable issue of changing times eventually brought an end to the unified company.
All the same, most adults today have fond memories of Howard Johnson. The restaurants were a welcome oasis to kids in the backseat suffering through a boring car ride, and they were a treat for families who enjoyed them as a local destination for a family meal. The Howard Johnson name lived up to the motto: "a landmark for hungry Americans."
**
You might also like the True Story of the Ice Cream Cone or the story of another chain of restaurants: White Castle Hamburgers.