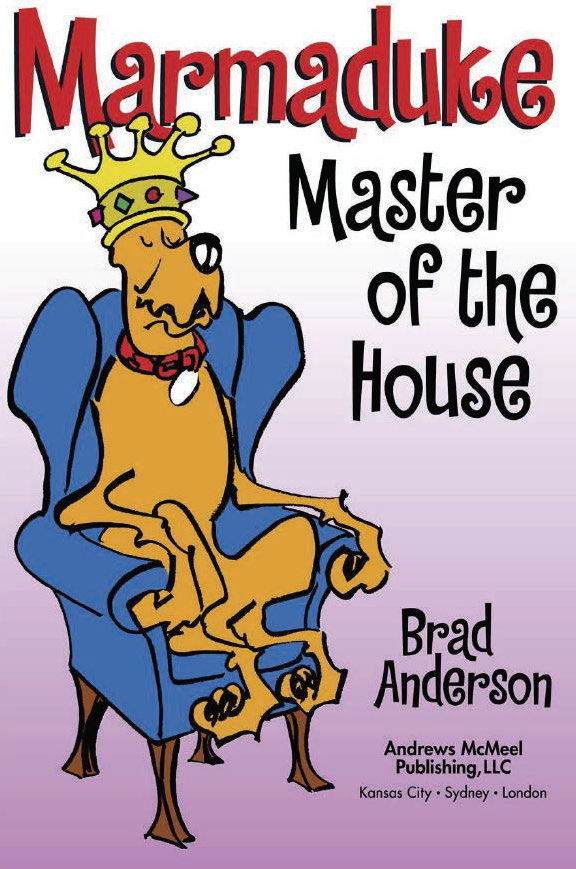 Marmaduke made his first appearance in the newspaper comic pages in 1954. Since that time, Brad Anderson, who created the strip, and Paul Anderson, his son who joined the business in 2004, have never repeated a single panel. Despite a library of 63 years' worth of daily panels and Sunday strips, readers are given brand new Marmaduke stories daily.
Marmaduke lives with the Winslow family, and all his dog capers involve his family, their neighbors, and anyone who happens into Marmaduke's orbit.
Marmaduke Makes Readers Laugh
Whether it's Marmaduke trying to order from the ice cream truck or Marmaduke taking up all the space on the family bed, the Andersons have maintained an unfailing commitment to making the world a little brighter and more fun every day.
While Marmaduke is notable for many reasons, one aspect of the cartoon that separates Marmaduke from other animal comics is that Marmaduke is truly a dog. This lovable Great Dane needs no word balloons. The Andersons—both father and son–have perfected the art of dog facial expressions and expressive bodily poses. One glance at the day's panel, and any reader knows exactly what Marmaduke is thinking about. It's sure to elicit a grin or even a laugh.
How Marmaduke Came About
Brad Anderson (1924-2015) grew up in Portland, New York. His father was an inventor and sold farm machinery. Brad had exposure to what had been his father and grandfather's business, but his earliest interest was in drawing. From a very young age, he had a pencil in his hand and was often sketching out ideas for cartoons.
In high school, he contributed comics to the school paper, but he was also sending out cartoons to consumer magazines. In 1939, when Brad was only 15, he sold his first cartoon. The sale was to Flying Aces magazine.
As World War II loomed, Brad Anderson, like other young men his age, enlisted in the military. He joined the Navy.  He started as a machinist, but at only 19, he was assigned to be Acting Chief in charge of the engine room. His ship was in the Pacific Theater where his unit saw a lot of action.
After the War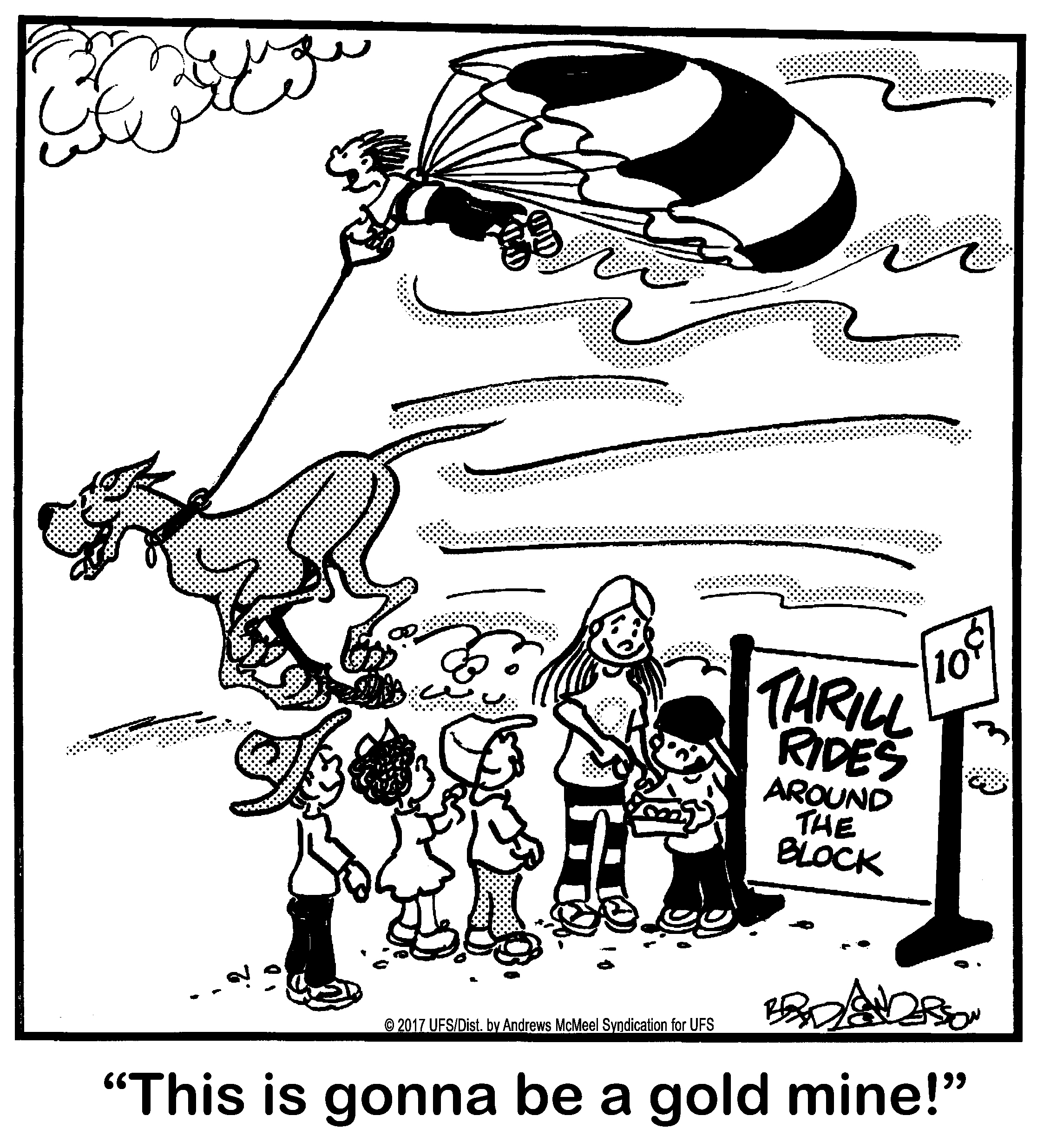 When he finished in the military, he returned and married his high school sweetheart, Barbara. Together the two moved to Syracuse, New York, where Brad entered Syracuse University under the GI bill.
The focus of his studies was marketing, but his love continued to be cartooning. Brad kept thinking, drawing, and sending out cartoons. During this time, he made several sales to two of the bigger markets—Collier's Magazine and the Saturday Evening Post.
After receiving his diploma, Brad Anderson knew he'd better take a "real job" until he was certain he could make it full time as a cartoonist. He worked in public relations and advertising for a time, but freelance sales continued. He and Barb decided that he could undertake cartooning full-time. Grandpa's Boy was his first strip, though he continued to sell single panels.
Creates Dog Character
When Anderson decided to create a dog cartoon, his first creation was a shaggy dog in cartoons he sold to a farm magazine. From this experience, he learned something about animal-drawing. A short-haired dog could be more expressive. He knew any dogs in his future would not have long hair.
The next dog was modeled after a goofy boxer his parents owned. "My father would sometimes put him in a necktie or put a scarf on him. He didn't seem to mind" Brad Anderson told the Dallas Morning News in 1999.
But as Anderson further developed his character, he wanted an even bigger, goofier pet. He selected the Great Dane.
When he first sold a Marmaduke panel in 1954, only eight newspapers carried it, but the character grew in popularity. Today there is no diminishing of interest. While some newspapers have shed their comic pages,  Andrews McMeel Syndication, runs an active and popular website with many offerings. Marmaduke is a very popular part of their Comics section.
Marmaduke's Real Family
Barb and Brad Anderson began family life in upstate New York, living near Niagara Falls. They were eventually to have three sons and a daughter. In the early 1960s, the Andersons moved to southern California and settled in Escondido.
In a phone interview with Paul Anderson, he says that while they were growing up, Marmaduke was just a part of the fabric of family life. He said what was different in those days was having a dad at home.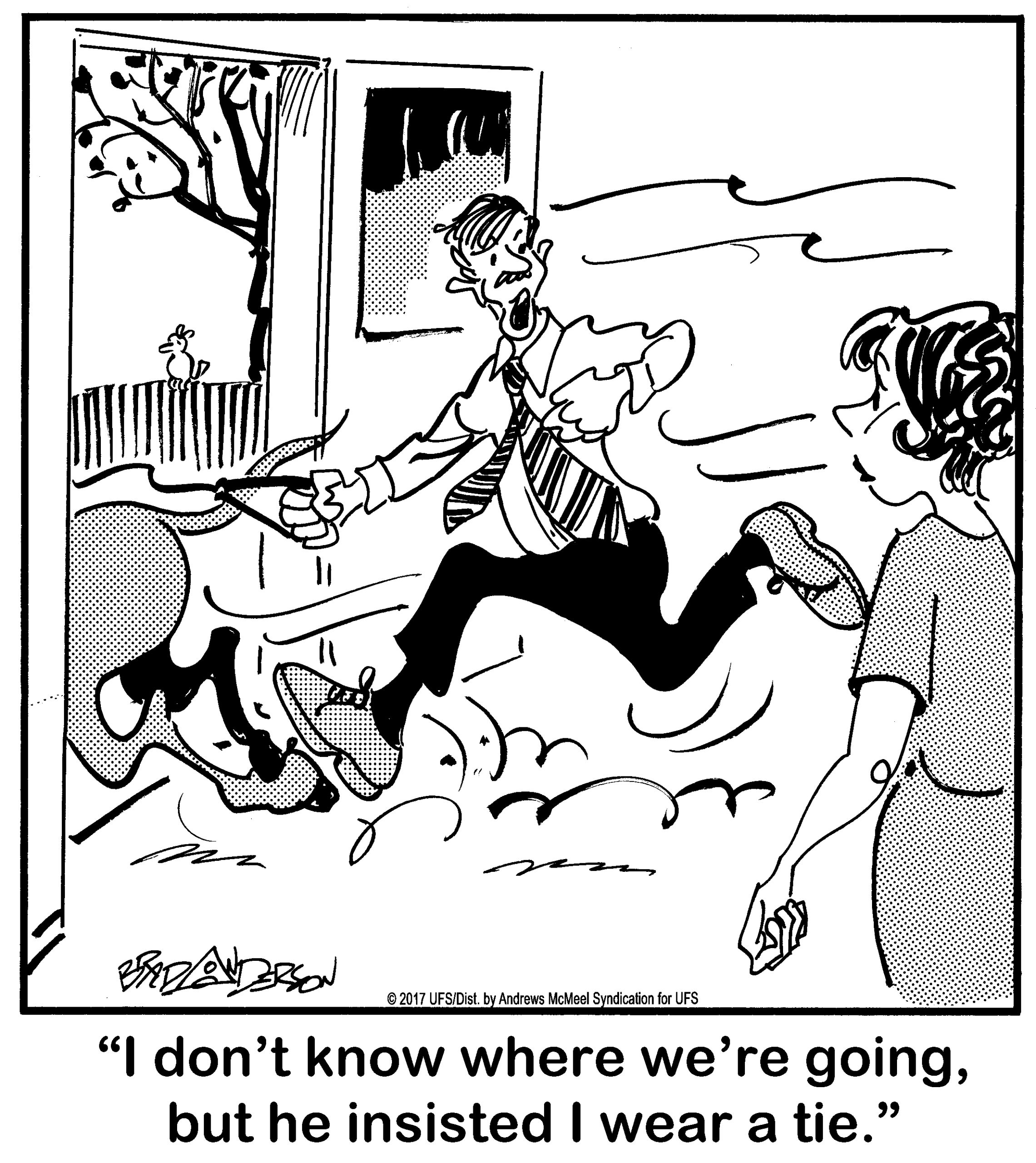 Brad was always happy with his work arrangement, and it was truly a family affair. Wife Barb took care of the business end of things. She also helped with a part of the shading process that at that time had to be done by hand.
Brad Anderson traveled everywhere with a pen and notepad. Occasionally, the family would be in another car on their way home. They would pass him pulled off to the side of the road…head down.
"We stopped a few times, but then we learned that he simply pulled out of traffic to capture something before the idea was lost," says Paul.
One of his father's friends once asked Brad, 'Why don't you say much?'"
Paul says his father's reply was "If I'm talking, then I'm not watching and listening."
Follow Your Dreams
As the children grew up, Paul Anderson says, "My father always believed we should each follow our own dreams. He was supportive of whatever we decided to do."
Paul's dream was to serve in the Air Force. He graduated from college and then joined the Air Force. He served for twenty years, leaving the service as a Lieutenant Colonel.
The Anderson Dogs
So what dogs provided inspiration over the last 63 years?
Paul Anderson said that his family has always owned many pets, including cats and fish and chickens. When it came to dogs, they brought home dogs of all types—all of whom "helped" with the strip.
It wasn't until everyone was grown that sister Christine decided it was time to add Great Danes. She owned several, but one named Marmaladee she gave to her parents. Reportedly, Marmaladee did a good job of being a Marmaduke kind of dog.
Paul has always kept dogs and now has a standard poodle who often provides material for him to work from.
Marmaduke and the Future
In 1994 Brad and Barb moved to Texas to be closer to where their children and grandchildren lived. And Paul, too, came to Texas to be near family.
With four siblings, how did Paul Anderson become the one who joined the business to carry on the Marmaduke legacy?
"Dad loved the work. He never talked about retirement. Every morning he got up and went to his studio," says Paul. "He was certainly not worrying about a succession plan."
"The four of us talked, and one of my brothers said, 'Paul, you're the one of us who can do it.'"
Paul had the right combination of artistic talent combined with an accommodating personality where he could ease in without causing upset.

Discussing Marmaduke's Future
Paul continues: "I brought up the idea of my joining him and why. My dad's first reaction was 'Hmmm.' He clearly hadn't given it any thought.
"But after a bit, he decided, 'why not?"
From there, Paul began his "apprenticeship" under his father. "I began with gag-writing, and moved more slowly into the art of the illustrations."
"One day we were going back through some of the old files, and I saw some of my first illustrations," Paul continues. "I was horrified, and asked how he let them go through?"
His father very patiently answered, "Why you were just developing. I knew there was no need to stop you."
"Throughout, he was the most wonderful, patient mentor," said Paul.
Marmaduke Today
Most cartoonists work several months ahead. Because Brad Anderson so loved his work, he kept creating, regardless of the date or what was due. Though Brad died over two years ago, Paul is still working off the new original comic strip panels that Brad outlined for the Sunday color strip before he died.
Paul creates all the daily panels from scratch. He uses a digital drawing tablet. This permits him to still draw freehand, but some of the layering and shading can be done more quickly. And of course, delivery to the editor is eased by working digitally.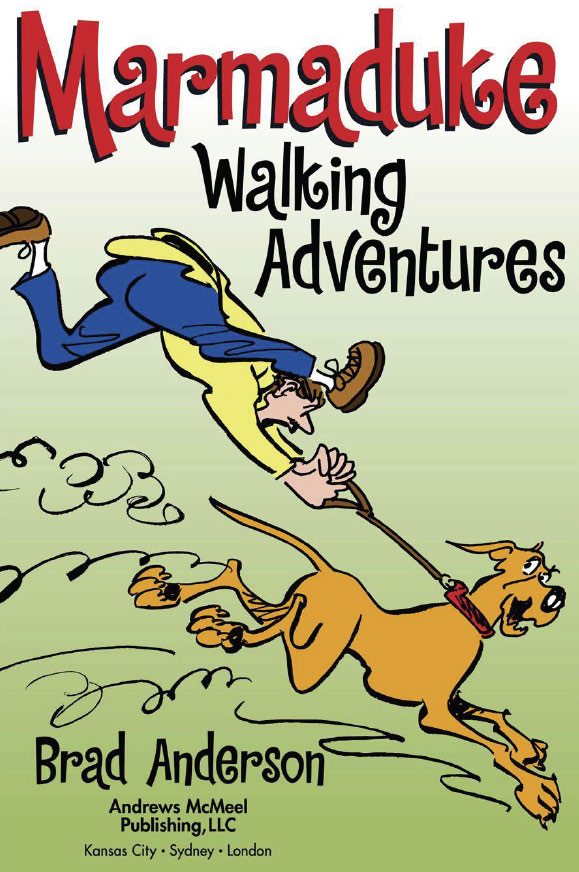 For both Brad and Paul, one of the true joys of Marmaduke's fame is getting letters from readers. Most letters are from readers sharing stories of their own beloved pets. "It's always fun to receive them."
But particularly during the days when children opened up the newspaper and spread out the comic pages on the floor, teachers would write saying that some of their students used Marmaduke to learn to read.
Many Awards and a Marmaduke Library
Over the course of Marmaduke's 63 years, the Andersons have received many awards. Brad was presented the National Cartoonists Society's 1978 Newspaper Panel Cartoon Award, and in 2013, he received the Milton Caniff Lifetime Achievement Award. There have been many other recognitions as well.
Brad Anderson's family wanted the Marmaduke collection to be housed in a place where it would be accessible to cartoonists and researchers.  They selected the Billy Ireland Cartoon Library & Museum at Ohio State University.
The Joy of Marmaduke
Paul said that his father used to tell people, "I am so fortunate I can do what I love and make a living at it."  From the joy in Paul's voice as we talked about Marmaduke, I would say he feels the same way.
***
For other stories about cartoonists, read about Olive Oyl, Gasoline Alley or Gordo.