The concept for the first drive-in movie business originated with one man in the late 1920s. Richard M. Hollingshead, Jr. came up with the concept of watching movies from one's car. He was looking for an alternative for his mother who was very uncomfortable in movie theaters. Hollingshead thought sitting in a car might be better for her and for others.
To view this story as a video, scroll down. The video has just been added.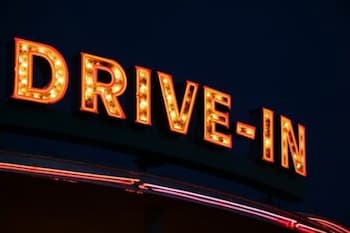 Creating a Drive-In Theater
The best place to experiment with this possible plan was in his own driveway. Taking a white bed sheet, he tacked it up between two trees in his backyard. He parked his car facing the sheet. Next, he placed a projector on the hood of the car. He was delighted to see that once it became dark, it was relatively easy to watch a movie against the bed sheet.
Sound was the next issue he needed to address. If everyone was sitting in separate cars, how could music and dialog reach them?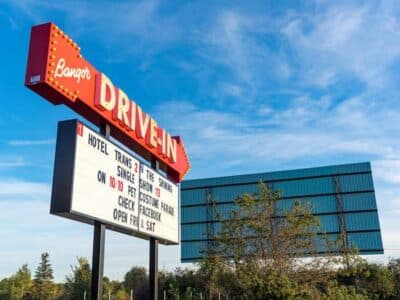 For an answer, Hollingshead contacted the RCA Victor Company and described his concept for an outdoor theater. The fellow assured him that three good-sized speakers placed around a lot where cars were parked could provide adequate sound. (When drive-in theaters first opened, they all relied on big speakers well placed around the drive-in lot.)
Making the Movie Visible to Many
To make money, Hollingshead's needed his business to accommodate many cars. He envisioned rows of cars with an elevated screen so cars parked further back would still be able to see the screen. That meant that for more comfortable viewing, the cars needed to tilt back ever so slightly. To accomplish that, he planned on short, low ramps to elevate the front of the car slightly. That way passengers leaned back a bit to look up toward the raised screen.
Hollingshead received a patent for his plan on May 16, 1933. By this time, he had enlisted a couple of investors and found a 400-acre lot in Camden, New Jersey. The next step was ordering a custom-built 40 by 50-foot screen.
He named the company Park-In Theatres.
First Drive-In Movie
Hollingshead's drive-in opened on June 6, 1933. He was there himself to get things started. He charged 25 cents per car and an additional 25 cents for each occupant. This was the Depression, so he capped the charge for any one car at a dollar. If families could fit more than three people in the car, then they could save a bit of money.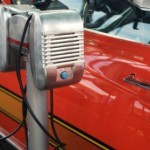 Competitors were entering the market, and Hollingshead attempted to slow the pace by charging royalties to license his idea. Loews Drive-In Theatres were among those who made a deal with Park-In, but Hollingshead found it difficult to collect the royalties. When the case went to court, Hollingshead's patent was eventually declared invalid. At the time, there was no category for patenting this type of enterprise.
New Speaker System
By 1941, RCA introduced a new speaker system for use in outdoor theaters. The ground needed to be wired so that posts with two speakers could be installed between cars. Drivers would pull up into the parking places between the poles. The speakers could be removed from the pole and hung over the windows of the car. That way each family had a speaker and could control their own volume for the film. These initial speakers were a bit tinny in sound, but the sound quality improved over time.
More Drive-Ins
By the late 1940s, more companies entered the drive-in movie business. Following Hollingshead's original model, tickets were sold on a per-customer basis.
Once on the property, an "usher" greeted cars with a flashlight signaling where each car should park.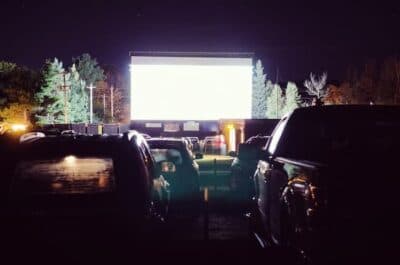 Teens and some families loved to "game" the ticket system. As they drove through the ticket booth, the driver paid for himself and his companion. Once in and parked, several additional heads would often pop out from under a blanket in the backseat.
And of course, high school kids relished the privacy of the car while ostensibly watching a movie.
Concession sales were a big part of the business. Drive-in movies usually offered double features. Theater owners provided an intermission of 10-15 minutes between features to give customers time to get to the concession stand and buy popcorn, soda, and candy.
Play Until Dark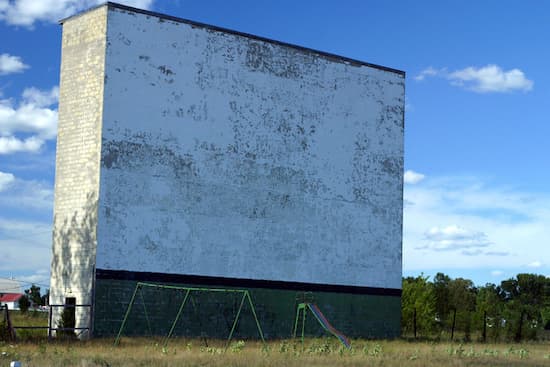 Because the films could not begin until it was dark, theater owners installed playgrounds on the property. That way families could come early—visit the concession stand—and have an appealing way to amuse the children until dark.
With double features, parents always hoped for some bonus time. If they were lucky, the whole family enjoyed the first film, and then the kids would fall asleep for the second one. (The idea of children sleeping during the second feature probably falls in the category of "best-laid-plans." I have a vivid memory of returning to the drive-in one morning with my mother; my brother had thrown one of his shoes out of the car window, and it was impossible to find it in the dark.)
Though a few drive-in movie theatres still exist, the era of drive-ins has passed. In most communities, land is too valuable for what is essentially a seasonal business that can only truly make money at night time. Most theater owners have been perfectly willing to sell to a strip mall developer or a car company looking for a sales lot.
Here is a link to some drive-in theaters that still exist in the U.S.
To read about another type of movie experience, read about one of the movie palaces: Behind-the-Scenes at Grauman's Chinese Theatre.
And here's a story about a woman adventurer–the first woman to ever drive cross-country. Alice Huyler Ramsey.
Who Thought of the Drive-In Movie Theater? The Video