Tom Carvel was a self-made success story whose name is synonymous with the product he created—soft-serve ice cream.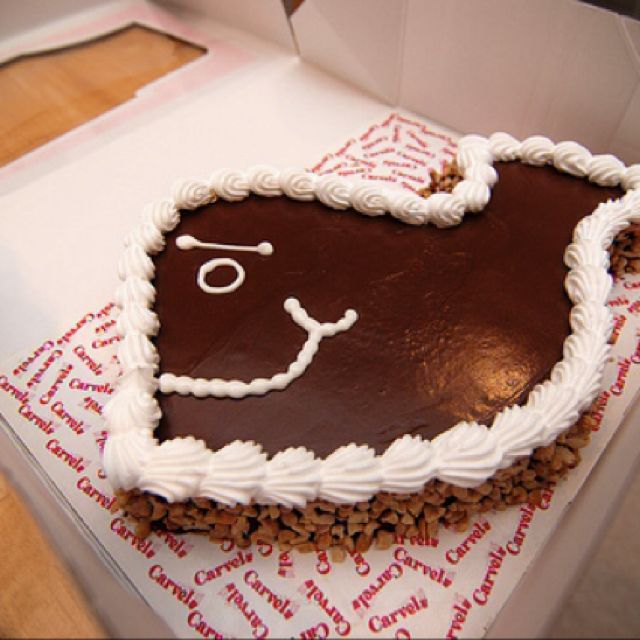 Carvel (1906-1990) was among the early adopters of using a franchise system to grow his business. He was also the first chief executive officer of a company who served as his own spokesperson/commercial announcer for radio and television. He proved that movie-star looks and a professional "announcing voice" are not necessary for building product sales. Carvel's gravelly voice did just fine in creating effective commercials. "Thinny thin ice cream for your fatty fat friends" may perhaps be the most memorable of his ad lines (though today public opinion would not take kindly to this tag line).
Carvel's Early Life
Born in Greece and named Athanassios Karvelas, Tom Carvel and his family emigrated to the United States in 1910. Tom was only 4 at time. At some point, perhaps before they even left Greece, the family shortened their last name to Carvel. Tom was one of seven children, and his parents quickly realized that life would be easier outside New York City. They settled in Stratford, Connecticut, where the family grew up. 
The children all understood that even if they had American dreams, they needed to become self-supporting. Tom dreamed of a career as a drummer, and in his early twenties, he played in a Dixieland band. To make ends meet, he worked as a test driver for the Studebaker car company. On weekends, he drove an ice cream truck. This changed Carvel's life trajectory.
Ice Cream Truck Breakdown
Carvel was known for occasionally embellishing his past, but the story goes that on Memorial Day weekend in 1934, his ice cream truck broke down in Hartsdale, New York. He pulled into a parking lot and sold the beginning-to-melt ice cream to weekend drivers as they passed by. From this experience he gleaned two valuable lessons:
He could succeed with a single location for selling, which would save on wear-and-tear and having to travel with ice cream.
People loved the partially melted ice cream he sold from the truck. He wondered if there was a way to mass produce a soft ice cream.
The lot he pulled into was outside a pottery store in Westchester County. Carvel made a deal with the store owner. He would pay a small rental fee so that he could keep the ice cream cold by plugging in his refrigeration equipment on weekends.
Roadside sales from this location were strong enough that two years later, Carvel purchased the pottery store and created his first permanent ice cream shop. (This location remained a Carvel store until the property was sold in 2006. The shop was torn down soon after to be replaced by a Japanese restaurant.)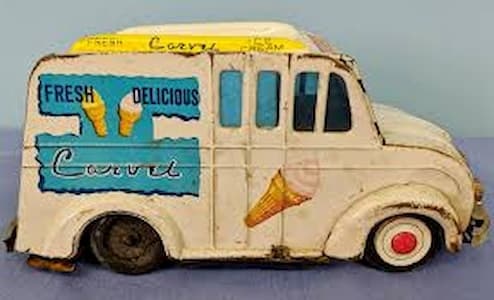 The Invention of Soft Ice Cream
Soft ice cream—also known then as custard—was first created by British chemists who discovered a method to double the air within ice cream to create a softer product. Tom and his brother, Bruce, knew that soft ice cream existed. But they wanted to create a machine that could dispense the softer product. To keep the ice cream truck going and to keep the ice cream product cool enough, Tom had learned a lot about how refrigerators work. His brother Bruce was also good at tinkering, so they started experimenting.
The machine they developed could fast freeze the ingredients, and then small cup- or cone-size quantities of soft ice cream could be pumped out. Carvel eventually patented his invention, and went on to hold over 300 patents, trademarks and copyrights on various ice cream-related items and products.
Marriage
In 1937 Tom married Agnes Stewart. Agnes was born in Aberdeen, Scotland in 1908. She and her family came to New York City via Montreal where she attended business school.
With the approach of World War II, Carvel was sent to Fort Bragg, North Carolina. His experience with refrigeration was welcomed by the military, and he quickly found himself assigned to work with the food service people. This deepened his experience, and he learaned even more about freezing systems.
Building the Business
After World War II, Carvel was ready to grow his business. His goal was to market the soft-serve ice cream machine for use in restaurants. Ice cream stores were never part of the plan. But machine sales got off to a rough start. The restaurateurs had trouble training their staff to use them so that they ice cream dispensed properly. Carvel saw that he needed to take his business a different direction to maintain product control.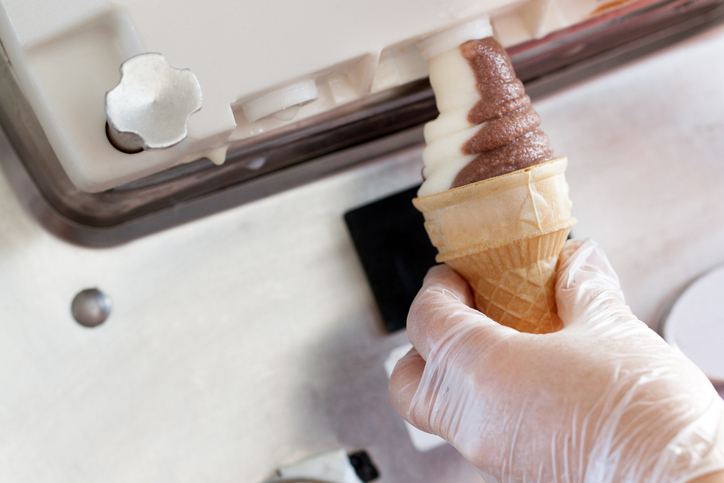 He read about a new way to grow businesses via "franchises." (Singer Sewing Machine Company is thought to be the first company to sell franchises. They did so in the 1850s.) By the early twentieth century, food businesses like White Castle (1923), A&W (1925), Kentucky Fried Chicken (1930), and Howard Johnson (1935) were beginning to experiment with the system. Franchises were structured in different ways, but in general, the main company sold to aspiring business owners the supplies, the recipes, the logo, and business promotion plans to launch independent stores.
Sundae School
In 1947, Carvel sold his first franchise. As an immigrant himself, Tom Carvel welcomed others new to the United States to buy into his franchise operation. Within the next few years, the company had 25 more franchised stores. To train those who wanted to buy a franchise, he opened Carvel College of Ice Cream Knowledge (also known as Sundae School).
At one point, Carvel considered expanding into hospitality, and he bought a motel in Yonkers. He soon decided against taking his business in that direction, but he found a good use for the motel. When future franchisees came in for training, he had motel rooms for them, and some of the bigger rooms could be used as classrooms.
By the 1980s, there were more than 700 Carvel outlets along the East Coast.
Business Innovations
Though the company began with the intention of selling soft ice cream by the cone or cup, Tom Carvel soon developed a plan for what the company's best-known products, the ice cream cakes.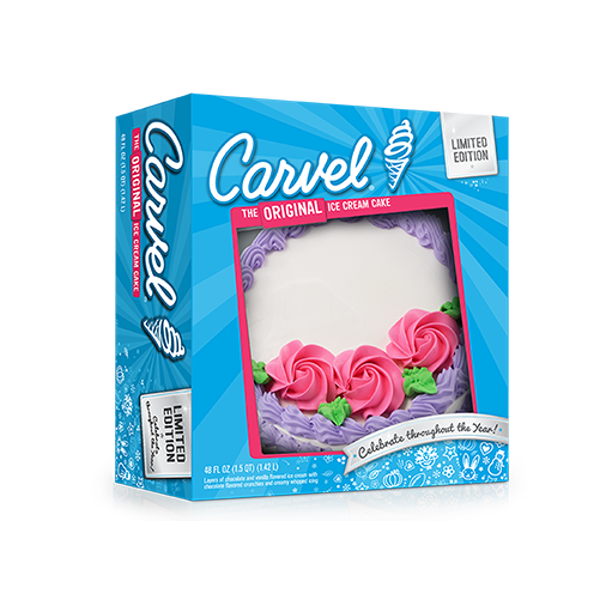 Carvel visited as many franchise stores as he could regularly. He noted a recurring problem: the staff inevitably had slow times with nothing to do but stand around. He decided there had to be a way to keep them occupied. This led to the idea of having the staff create ice cream cakes.
The plan was ingenious. Whether his staff was making Fudgie the Whale or a leprechaun, the basic mold could remain the same. A few adjustments could turn Cookie Puss into Santa and Santa into an Easter Bunny.
Fudgie the Whale remains the best-known of the cakes, but when shopper stroll the ice cream aisle at grocery stores, it's clear that Fudgie is not alone. During the 1980s, one of the cakes—Cookie Puss–was made additionally famous when a hip-hop group, the Beastie Boys, released a song called "Cooky Puss."
Carvel developed other product innovations including the Flying Saucer, which was the first round ice cream sandwich (1951). In 1972, he responded to American interest in less fattening food with the introduction of Lo-Yo frozen yogurt and Thinny-Thin frozen dessert.
Marketing Innovator
Carvel was also an innovator in marketing. He was among the first to try increasing sales via "buy one, get one free."
When he started buying radios ads in the 1950s, he was annoyed when announcers made mistakes with the ad copy. In 1955, Carvel, who had a nasal and gravelly-sounding voice, decided to do the Carvel commercials himself.
"I can't find anyone cheaper than me," Carvel was to have said. He recorded them without a script and did not permit editing by the sound engineers. The do-it-yourself commercials became so popular that he inspired other CEOs to follow his lead. Sy Syms was soon selling suits on television, and Lee Iacocca personally promoted Chryslers.
Over time, Carvel built the company to be the third largest chain of ice cream stores, behind only Dairy Queen and Häagen Dazs.
Low-Key in Personal Life
Tom Carvel was known for being a tough businessman but a low-key fellow. He and Agnes maintained a full-time residence in Ardsley, New York, but they had one vacation home in Florida and another in Pine Plains, New York (about 100 miles north of Ardsley in Dutchess County).
Though his golf companions included well-known people such as Bob Hope, Perry Como, and Jackie Gleason, he drove a Chevrolet and maintained a middle-class lifestyle with an extra home or two.
Tom and Agnes Carvel had no children, and in 1976 they formed a charitable foundation where they planned to leave their money. The intent of the foundation was to fund causes that benefited children and families. During the time that Tom and Agnes steered the giving, they tended to give smaller gifts to more places. They rarely wanted the Carvel name attached to whatever they were funding.
Legal Problems
As with any large entity, The Carvel Corporation had its share of problems. In 1963, a group of franchisees asked for an FTC investigation of the Carvel Corporation, claiming that Carvel was illegally lessening competition by placing too many restrictions on franchise dealers. Carvel defended his franchise requirements, stating they were necessary to maintain quality control.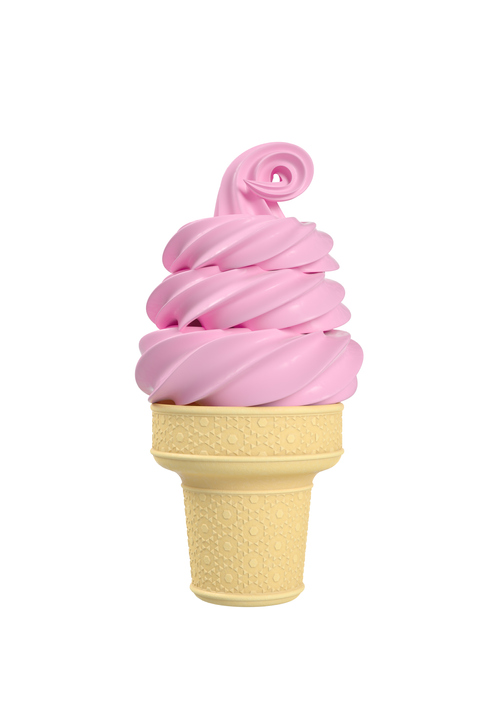 In 1966, Carvel won an award of more than $10 million dollars from the franchise groups for filing a "baseless suit." But the issue did not totally go away. In 1980, the attorney general opened an anti-trust investigation into possible restraint of trade by Carvel.
By 1985, the Carvel Corporation business dropped 25 percent because of the entanglement. The case dragged on for a full eight years. The attorney general dropped the inquiry only after Carvel agreed to license independent suppliers to sell some of the products.
In November of 1989, Carvel sold his company to an investment firm, Investcorp, for $80 million dollars. The new owners—who had previously invested in companies like Avon and Tiffany–moved Carvel headquarters out of Westchester to Farmington, Connecticut. They also made a major policy decision. For the first time, Carvel products became available for supermarket sales.
In 2001, Investcorp sold Carvel to Roark Capital Group. (Roark is affiliated with Focus Brands that also owns Schlotzsky's, Carvel, Cinnabon, Moe's Southwest Grill, McAlister's Deli, Auntie Anne's and Jamba brands.) With this sale, the parent company created two divisions: One focused on the franchise business, and the other managed supermarket sales.
Carvel's Death
Weekends would generally find the Carvels at their home in Pine Plains. Tom loved to play golf on the course he built there. Journalist Joel Siegel wrote in Condé Nast's Portfolio magazine (August 2008) that in October of 1990, Carvel arrived for the weekend. He was pre-occupied, because he heard that two of his long-time employees, corporate attorney Robert Davis and personal assistant Mildred Aracadipane, were scheming behind his back. Siegel indicates that Carvel may have intended to deal with the issue the following Monday.
He played a round of golf Saturday afternoon and went to bed that night and never woke up. The New York Timesobituary said that "apparently he died in his sleep…"
While Agnes Carvel was at the wake, attorney Robert Davis, who was also on the Carvel Foundation board, hired a locksmith to help him break into the Carvel home to search for the will. Since that time there have been numerous legal battles and scandalous headlines.
By 1996, attorney Robert Davis and Mildred Arcadipane, also a foundation board member, were forced to resign from the foundation. They were accused of taking money for their own use and engineering a stock sale to benefit themselves.
The Foundation has continued to give generously to organizations that help children and families, but during Robert Davis's tenure as paid president, the philosophy altered somewhat. The foundation gave to the same type of causes but awarded fewer grants in larger amounts. With that, the Foundation was willing to grant naming privileges. There are now some facilities that are named for the Carvels.
Business Continues
In the meantime, the business steams along under the new owners. In 2004—on the occasion of the company's 70th birthday–Carvel received the Guinness World Record for "largest ice cream cake." And as further proof that Carvel is viewed as big-time in America, the Smithsonian American History Museum dedicated a special exhibit to Carvel History and Memorabilia.
Tom Carvel was the quintessential American entrepreneur—hard working, energetic, opinionated, and very independent. The long-term legacy will be the cakes and the soft-serve ice cream, but those organizations who received donation and grants from the Carvel Foundation will also carry on Tom and Agnes Carvel's message: that their gain should go to help children and families.
To read more about ice cream, click on Ice Cream Cones: The True Story.
This article originally appeared in the Westchester Historian, the publication of the Westchester County Historical Society. My thanks to the Society for permitting me to reprint it here.