As a Mississippi resident, Fannie Lou Hamer was not informed that Black people had the right to vote in the United States until she was almost 42 years old (1960). The family had no television set, and even if they had, the stations frequently put up a slide, "transmission trouble," if the news had to do with African American rights.
It was the arrival of the Student Nonviolent Coordinating Committee (SNCC) in her community of Ruleville, Mississippi, that made the difference. They began holding meetings. Suddenly, Fannie Lou knew that Black people had to start voting. It was power.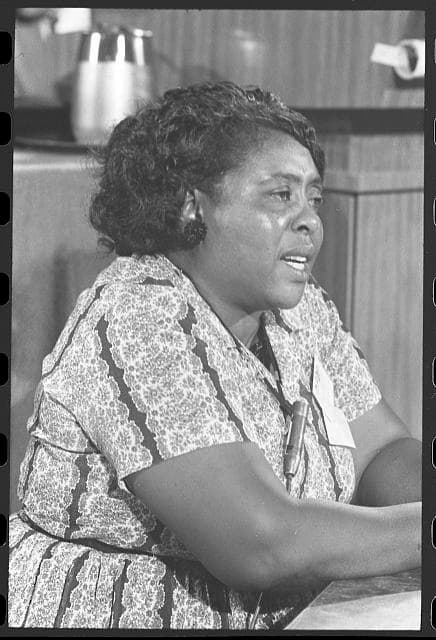 For her, the right to vote—the right to peacefully urge for change—was everything. She devoted her life to turning out the Black vote. She was fired from her job on a plantation; imprisoned and beaten severely; chased and shot at; and threatened numerous times. She explained:
"I guess if I'd had any sense, I'd have been a little scared—but what was the point of being scared? The only thing they could do was kill me, and it kinda seemed like they'd been trying to do that a little bit at a time since I could remember."
Share to Google Classroom:
Why Is She Not Better Known?
Fannie Lou Hamer's name is not the household word that Martin Luther King Jr's name is, but Eleanor Homes Norton, the current delegate to Congress from the District of Columbia, says Fannie Lou Hamer was of equal stature when it came to moving an audience. Norton described Hamer's "extraordinary brilliance," noting that Hamer had "the capacity to put together a mosaic of coherent thought about freedom and justice. Her speeches had themes. They had lessons. They had principles."
Many say that her speech in Atlantic City before the credentials committee of the Democratic Party was a defining moment in the civil rights movement. Such was her power that when President Lyndon Baines Johnson saw that the credential committee was receiving live television coverage with her testimony, he pulled together an impromptu news conference at the White House to pull the live coverage to himself. Johnson was not opposed to integrating the state delegations, but he needed the white Southern vote. He couldn't risk taking a stand.
Fannie Lou Hamer came into the convention hall with a decided limp to her step. She was dressed in a borrowed dress and old shoes, but she left having helped Americans gain a new understanding about how the country needed to deliver justice for all.
What's more, she was so compelling that NBC aired her speech in its entirety later that night.
Fannie Lou Hamer Background
Fannie Lou was born in 1917, the 20th child of Lou Ella and James Lee Townsend. They were sharecroppers on land east of the Mississippi Delta. From the age of 6 on, Fannie was in the fields picking cotton with her family. With her siblings, she attended a Black elementary school for a time, so she learned to read and write.
But school hours were dictated by the work schedule. If children were needed to help, schools closed.
At some point during her childhood, she suffered polio. As a result, she always limped, favoring her left leg.
In the early 1940s, she married Perry Hamer (known as Pap) and moved with him to Ruleville in Sunflower County. They became sharecroppers on a plantation owned by a man named W.D. Marlow. Because Fannie could read and write, she had the job of timekeeping for those working the plantation. The job was prestigious, and with her bad leg, it saved her from field work and more pain.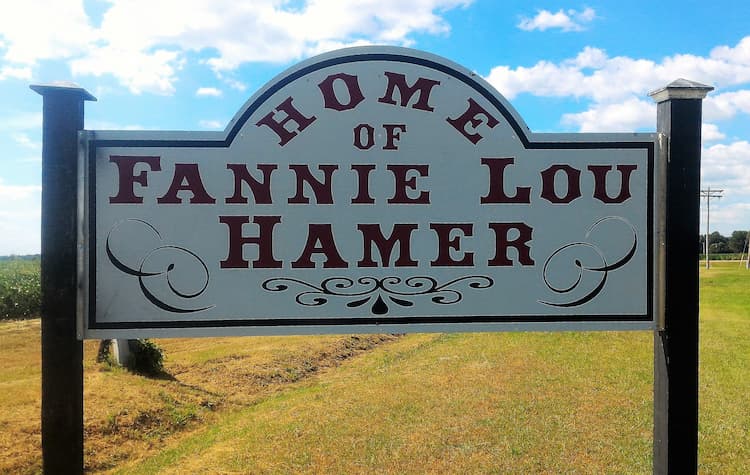 "Mississippi Appendectomy"
Fannie Lou and Pap were very eager to be parents. But month after month, she did not get pregnant. She suffered bad menstrual pain, and finally confided in Mrs. Marlow. The white woman recommended Fannie Lou go to a doctor at the North Sunflower Hospital. (Doctors in the area were all white.)
Fannie's diagnosis must have been fibroids or endometriosis. She underwent surgery to correct the problem, and while her pains were better, she still didn't get pregnant. Finally, one of the house servants told her that she had overheard Mrs. Marlow mention that the doctor who performed the surgery removed Fannie Lou's uterus.
When she discovered that her uterus had been removed while she was under anesthesia, she was beyond despair.
Fannie Lou later coined the term "Mississippi Appendectomy." It was not uncommon for white doctors to sterilize Black women without permission.
Her Life Changed
In August of 1962, the student organization Student Nonviolent Coordinating Committee (SNCC) came to Ruleville to introduce to Black residents the fact that they had the right to vote.
SNCC was formed in 1960 with the encouragement of the Southern Christian Leadership Conference. The SCLC watched as students led the lunch counter sit-ins, and they encouraged the young people to take their work farther—into the realm of voting.
When the SNCC held their first meeting in Ruleville, Fannie Lou and the neighbors who attended were all somewhat surprised to hear they had voting rights. But as the group listened to the SNCC leaders, they were intrigued. If they could vote, there might be a sanctioned way to change their world.
The first plan for SNCC was to transport potential voters to the county seat of Indianola where they should be permitted to register to vote. This was a 25-mile trip, so SNCC rented an old school bus that was usually used to take cotton pickers to the fields.
Trip to Indianola
On the appointed Saturday morning, the group departed. Everyone was excited and nervous. They had heard about literacy tests but they couldn't imagine what that meant.
When they arrived at the courthouse and got out of the bus, the group was told they could only enter the courthouse two at a time. They would then register and take the literacy test. Fannie Lou Hamer was among one of the better readers, but she quickly saw that the literacy test was designed for failure. Potential Black voters in Mississippi were asked to interpret a section of the state constitution. Clerks could easily deny their interpretation.
As they went back to board the bus, they saw that it was now surrounded by local police urging them on their way. They knew that it was unlikely that any of them would qualify for the vote.
However, Fannie Lou Hamer and all the others saw another immediate threat. Because they provided their addresses to the county clerk, their employers would eventually learn they had tried to register to vote.
Someone at the courthouse phoned the Marlow household while Fannie Lou was in Indianola. Before she even returned, Walter Marlow came to the house to tell Pap that Fannie should withdraw her application.
The Return Trip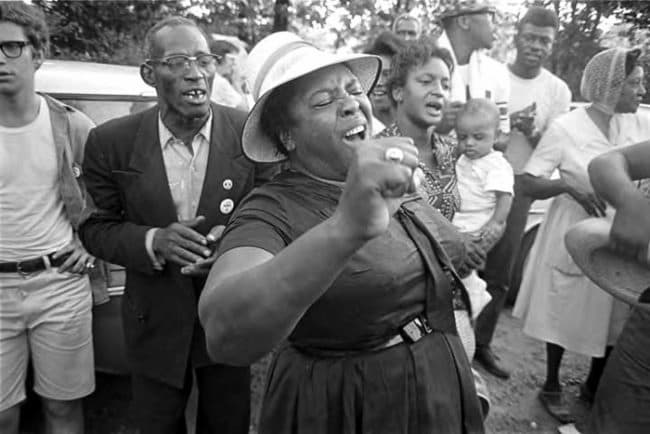 On the return trip, the bus was pulled over by the state patrol. The driver was told he was being ticketed for driving a bus that was the wrong color of yellow. (It was an old school bus.)
The patrolman took the driver back to their headquarters to book him. Everyone on the bus scrounged for any money they had to see if they could pay the fine and get the driver out of jail.
But when they saw they couldn't come up with enough money—nor did they have transportation to follow the state patrol—they knew they just had to wait. Fannie Lou kept people calm by singing. She had a beautiful voice that was a pleasure to hear. Soon others on the bus were singing as well.
At the SNCC headquarters, the organizers noted that the bus was late returning to Ruleville. They soon discovered that the driver was under arrest. One of the leaders got in the car and drove to the state patrol headquarters. SNCC paid the fine and took the driver back to the bus so that everyone could get home.
Hamer Fired
Fannie Lou Hamer and Pap had been good tenant farmers on the Marlow property for 18 years. They had every right to feel that the Marlows would not get involved in Fannie's effort to register to vote—but Fannie Lou was relatively certain her activity placed them in danger.
Though Mr. Marlow left Pap with the message that Fannie Lou needed to withdraw her registration, he returned to the Hamer household when he saw that Fannie arrived.
Fannie Lou was told to go back to Indianola to withdraw the paperwork or to pack up and leave the plantation. By this time, she and Pap had adopted two daughters. The couple decided Pap should remain in the home with the girls so that he could finish bringing in the crops. Otherwise, the Hamers would not be paid.
Fannie would leave alone.
She told Marlow: "I didn't go down there to register for you. I went to register for myself."
Fannie Lou Hamer moved in with friends, but she was a target. A few days later, some men drove by and shot up the house where she was staying. With that, Hamer knew that she would have to move every few days to keep those she cared about safe.
Pap ultimately was forced off the Marlow plantation without the family belongings or the pay that was due the Hamers.
Citizenship Schools
In the early 1960s, civil rights activists were moving forward in many directions. Lunch counter sit-ins, pressure to integrate interstate busing, general resistance to Jim Crow laws whenever possible, and voter registration were all bubbling to the surface. But none of it was easy.
Protests and resulting arrests kept the social ferment very much in the news.
A former Black teacher and activist named Septima Clark saw that education was needed. Black voters needed to understand what to expect if they attempted to vote, and what the steps forward might be. Her first workshops began at the Highlander School in Tennessee.
Clark's program grew from there. Since each state came with their own literacy rules—some had quizzes, some wanted interpretation of the state constitution– Clark soon saw that she needed to tailor the workshops on a state-by-state basis.
Septima Clark also hoped these classes would motivate people to return to their communities to motivate more people to vote.
Ruleville SNCC Raises Funds for Trip
In 1963, the SNCC volunteers decided to travel to one of Septima Clark's Citizenship schools. This trip could accomplish two things: The group could bring back helpful voter information to those in Mississippi. They could also put to the test a new law that had been passed: In 1961, the Interstate Commerce Commission placed a ban on segregated bus terminals, and interstate buses were no longer able to enforce the Jim Crow practice that stipulated Blacks had to ride in the back of the bus.
The Ruleville group attended a workshop in Greenville, South Carolina, in early June. Their trip back was about 600 miles crossing several state lines. As the group traveled home, they stopped as necessary.
On June 9, the bus was about an hour from Greenwood, Mississippi. They decided to stop at Staley's, a bus terminal café in Winona, Mississippi, between Montgomery and Greenville.
Cafe in Winona
The restaurant was busy. Only a few of the passengers associated with SNCC got off to use the bathroom and get food. Fannie Lou was tired and didn't get off, but she was watchful. She was older than most of the volunteers, and she kept a parental eye on them.
Hamer noticed that throughout the most recent leg of the trip, the white bus driver was making phone calls from pay phones where they stopped. He had expressed anger that Black passengers were sitting wherever they wanted on the bus (see Sarah Keys Evans story) instead of riding in the back.
When the activists did not emerge from the café in a normal amount of time, Hamer got off the bus. Winona police and state patrolmen were driving up, so it was clear there would be trouble. She knew that police often masked their name tags to prevent people from identifying them, so she started noting the squad car numbers. She soon saw that the car numbers, too, were covered.
At that point, police entered the café and began pulling out the Black travelers. They also grabbed Fannie Lou Hamer and threw her into the back of squad car. Six were arrested.
At the Station
The group was taken to the police headquarters and separated for interrogation. While she waited, Fannie Lou Hamer could hear cries and screams from somewhere in the building.
When officers came to fetch Fannie Lou, they put her in a cell with two Black men who were jailed for other reasons. Hamer was told to lie face down on the cot and the men were given a leather billy club (also called a blackjack) and ordered to take turns thrashing her.
Over the course of several hours, she was raped and beaten. Her injuries were such that it took more than a month for her to recover. Ultimately, she was left with permanent kidney damage, further damage to the leg weakened by polio, and she had a blood clot in her left eye.
None of the group was released until June 12—a long three days from the time they were picked up at the Staley Café.
But by mid-summer, she was back at work with those who were registering voters.
Mock Election in Greenwood
In the fall of 1963, civil rights activists in Greenwood decided they should organize a mock election for November. It was an off-year for elections so, the sample system would show new voters what to expect.
The election brought out several thousand voters. Fannie Lou Hamer was among the speakers in Greenwood that day: "If it [the ballot] wasn't good how come, he [the white man] trying to keep you from it and he still using it?
"Don't be foolish, folks: they go in there [to the polls] by droves and droves, and they use guards and dogs to keep us out. Now if that's good enough for them, I want some of it too."
The Washington Post sent a reporter to cover the mock election. The story's headline: "Negro Campaign Lights Up New Goals in Mississippi: A 'Whisper of Freedom' Growing into a Shout."
Civil Rights Movement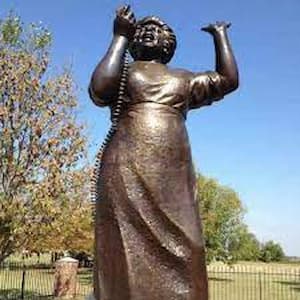 In the early 1960s, the civil rights movement was in full swing throughout the country. The Freedom Riders spent 1961 riding buses throughout the segregated South and pushing back against Jim Crow laws. The March on Washington occurred in August of 1963 with 250,000 people attending. They heard Martin Luther King, Jr.'s "I Have a Dream" speech. His soaring eloquence was irresistible to television news broadcasts so his reach extended beyond his very large audience.
Despite all that was happening, the South remained segregated, especially when it came to the polls. Black people faced violence and intimidation when they attempted to exercise their constitutional right to vote.
Fannie Lou Hamer successfully registered to vote on January 10, 1963, but when she arrived at the polls for the next election, she was turned away. Election officials were now insisting that voters present poll receipts from the two previous years.
Since Hamer had not been eligible to vote, she had no prior receipts. The rule was an automatic way to deny her and many others the right to vote. (Fannie saved the money to "buy" the receipts so she could vote in the future.)
Mississippi Unmovable
Though SNCC and other organizations had been trying to get people registered, Mississippi blocked the voters in many ways. Statistics in 1962 revealed that fewer than 7 percent of the state's eligible Black voters were registered to vote.
Due to this historically low level of Black voters, several of the civil rights organizations—SNCC and the Congress of Racial Equality (CORE) as well as the Council of Federated Organizations (COFO) decided that a clear effort needed to be placed on Mississippi.
The era became known as Freedom Summer. Activists ran workshops like the ones crafted by Septima Clark, sit-ins continued as necessary, and the ongoing effort to register voters continued.
Activists knew they needed to be prepared for anything. White college students from the northeast were interested in volunteering, but they were warned that violence was likely.
Some of the Black activists talked to Fannie Lou Hamer about permitting white college kids to come in and help. She pointed out that they were fighting for unity and equality. This was no time to discriminate.
Volunteers Arrive
On June 15, 1964, the first three hundred volunteers arrived in Mississippi. The state's project director Robert "Bob" Moses pledged his staff and volunteers to attempt to find "nonviolent solutions" as issues arose. Few could have foreseen how dire the situation would become.
During the training sessions for the volunteers, the students were warned of the high probability of being arrested. They were told to always have enough money with them for bail.
In the first wave of volunteers, Michael Schwerner and Andrew Goodman arrived from New York. They soon became friendly with a local Black volunteer, James Chaney.
After attending an evening meeting in Philadelphia, Mississippi, where a Black church had just been burned, Schwerner, Goodman, and Chaney left Philadelphia. They never made it back to the Greenwood office.
As the news about the men's disappearance filtered out, the national press descended on the area. The story reverberated throughout the country for six weeks until three beaten bodies were found.
Nationally, outrage grew. Why had it taken so long? What were the Mississippi police doing (protecting their own), and why hadn't the federal government stepped in to help?
Perseverance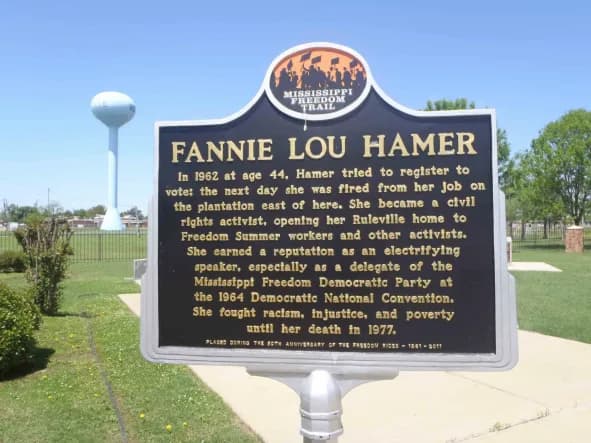 The staff and volunteers were spooked but determined. They continued on with their mission to register voters and foster a grassroots freedom movement that would continue after their departure.
Voter registration in Mississippi was not greatly impacted by the Freedom Summer. While 17,000 Black Mississippians attempted to register to vote that summer, only 1,200 were successful.
But things were happening. The Mississippi Project established more than 40 Freedom Schools serving a combined 3,000 students. The Freedom Summer also raised awareness for the Mississippi Freedom Democratic Party, about which Dr. King said: "If you value your party, if you value your nation, if you value democratic government, you have no alternative but to recognize, with full voice and vote, the Mississippi Freedom Democratic Party."
Democratic Convention in Atlantic City
But at the August 1964 Democratic National Convention held in Atlantic City, New Jersey, MFDP delegates were told they would not be seated. Only the white delegation was to be permitted to vote the Mississippi votes, even though 20 percent of the state residents were Black.
Organizers, including Fannie Lou Hamer, opted to take their case to the credentials committee scheduled before the convention was to begin.
While President Johnson supported the convention platform that required integration of all state delegations, he was nervous. He needed the white votes from Mississippi, or he feared he wouldn't win.
By this time, Fannie Lou Hamer had become a powerful and magnetic speaker. News crews switched to cover her speech live. When Johnson saw this, he called an impromptu news conference at the White House. As he knew it would, the live television cameras switched to cover him.
But Hamer was a compelling speaker to watch. Later that evening, NBC ran her speech in full.
Convention Decision
Ultimately, the credentials committee chose to seat the all-white delegation. This was a blow to the Mississippi Freedom Democratic Party, so they decided to show up anyway. They managed to get to the floor to the area where Mississippi delegates would sit, and they remained there. The convention organizers knew that dragging the Mississippians off the convention floor would not be a good look, so they tolerated both delegations on that first day.
The next day, all the seats in the Mississippi area had been unbolted and removed from the floor. All Mississippi delegates were left standing. Eventually, the convention security force removed members of the MFDP. They did not go quietly.
Other Issues
Fannie Lou Hamer had achieved a high level of prominence within the civil rights movement that grew into nationwide recognition. She knew the importance of using her platform to talk about rural poverty—a topic she knew personally—and food insecurity.
By 1969, she formed the Freedom Farm Cooperative …a community-based rural and economic development project designed to help supplement nutritional needs of the poor. She also became a founding member of the National Women Political Caucus, an organization that is still strong today.
But by 1974, her health worsened. In 1976, she was diagnosed with cancer. She lived only a year longer.
Tributes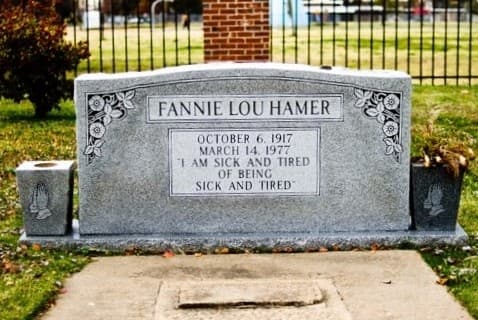 Since that time, there have been tributes and honors to Fannie Lou Hamer. A high school and a post office have been named for her. Both Jackson State University and the University of California at Berkeley established resource centers in her memory. In Jackson it was a Human and Civil Rights Interdisciplinary Education Center; at Berkeley, the Fannie Lou Hamer Black Resource Center opened in 2017.
In January of 2019, the third annual Women's March, held in Atlantic City, New Jersey, was dedicated to Fannie Lou Hamer's life and legacy.
But if you have read this story, you know that only one "honor" would be of value to Fannie Lou Hamer: That American citizens of all colors are eligible to register and vote. Regrettably, completion of Fannie's mission still lies ahead of us.
***
To read the complete story of Fannie Lou Hamer, I recommend reading Walk With Me: A Biography of Fannie Lou Hamer, by Kate Clifford Larson, Oxford University Press, 2021.