Ruth McCombs Harkness was one of four children born to hard-working parents in Titusville, Pennsylvania. Her father was a carpenter and her mother a seamstress.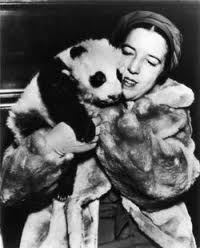 Like many young people of her era, the lure of the Jazz Age culture and life in a big city led her to New York. She got a job in the fashion industry, designing and sewing knock-off apparel modeled after what was being shown in Paris.
The flapper-lifestyle and visits to speakeasies appealed to Ruth, who is quoted as having said that there were only two things in the world she hated: "Going to bed at night and getting up in the morning."
Being out and about socially, Ruth also met Harvard graduate and man about town, William Harkness, the son of a well-to-do attorney who had a respectable family fortune. The two were together for a good number of years and finally married.
The World of Exploration

During that era, a good diploma, a spirit of adventure and the willingness to pay for an expedition seemed to be the ingredients needed for becoming an explorer. (Think of Teddy Roosevelt and his adventures.) William Harkness and some fellow adventurers had traveled to the island of Komodo in Indonesia where they brought back the Komodo dragon (the world's largest lizard). Based on that successful jaunt, Harkness was mounting an expedition to China to bring back the giant panda, an animal the world was aware of but one that had never been seen in the West.
William Harkness had been in China for 13 months waiting for the appropriate permits. He was not feeling well but sent back cheerful reports to his wife and family as he didn't want them to worry. In February of 1936 he was hospitalized and died after undergoing three operations for what turned out to be throat cancer.
The news came as a terrible shock to Ruth, who had not a clue that her husband was ill. She responded by immediately departing for China. Once there, she commandeered the expedition her husband had organized and set off in search of the giant panda. (She may have altered the trip's route or perhaps gone ahead without the permits.)
The trek to the border of China and Tibet was to be a 1500-mile journey through rugged terrain. Harkness was said to have kept up with the best of them. She and Quentin Young, a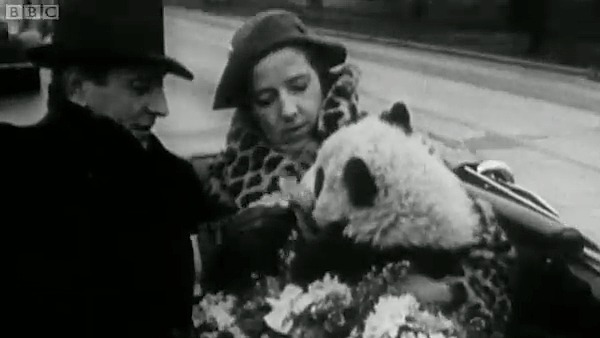 Chinese-American explorer who went along as a guide, also began an affair.
Shortly after reaching the area where they expected to find a panda, they found a villager who was hand-rearing a baby panda. Soon the expedition left the area with that panda; Ruth named it Su-Lin.
The "lady and the panda" was a big news story of the day and their progress was covered by The New York Times and other papers. When Harkness was delayed in customs, waiting for a permit to allow her to take the panda out of the country, friends helped her wangle permission to take the young bear to a hotel for "proper nursing." When Harkness arrived in the United States, she was carrying the panda in her arms.
The panda was delivered to the Brookfield Zoo in Chicago. The zoo paid just under $9000 for it.
Another Trip
A few months later, Harkness returned to bring back another panda to live with Su-Lin but the time the two pandas had together was short. Su-Lin had added oak leaves to his diet, and a twig became stuck in his throat. Though the twig was quickly removed, Su-Lin soon died from an infection from the injury. The newspapers reported that Su-Lin "died of his own curiosity."
Ruth Harkness did not fare much better. Life in the city did not fully capture her attention again and in the early 1940s she undertook an unsuccessful trip to the Andes in search of a silver-gray bear.
In 1947 she was found dead in a half-filled bathtub in Pittsburgh, Pennsylvania. Alcoholism was said to have been a contributing factor.
When I selected Ruth Harkness for the 2012 "Inspirational Women" list, most descriptions were of a "socialite-turned-explorer who brought home the first living panda." As I read in greater depth there was much more that was unsaid regarding the well-being of wildlife as well as the life of Ruth Harkness. Her life tells a particular story of her time. I was captivated, though it certainly was not what I expected!