The first giant panda brought to the United States was introduced by Ruth Harkness in 1937. Harkness wasn't driven by a passion for pandas or an enthusiasm for exploration. Harkness stepped in to bring back the panda cub because her new husband died before he could complete the task.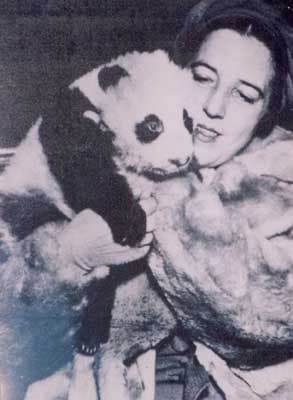 William Harkness had gone to China and was seeking permission for his expedition to look for the elusive giant panda. But the permit process was slow, and he died of throat cancer before he could make the expedition.
Though Ruth Harkness was more comfortable enjoying herself in New York City night spots, the money she inherited in her marriage inspired her. She felt it was her responsibility to find out where her husband had been and see if his effort to find a panda could be fulfilled.
Share to Google Classroom:
Who Was Ruth McCombs Harkness?
Ruth McCombs (1900-1947) came from a working class background. She was one of four children born to parents in Titusville, Pennsylvania. Her father was a carpenter and her mother a seamstress.
Like many young people of her era, the lure of the Jazz Age culture and life in a big city led her to New York. She got a job in the fashion industry, designing and sewing knock-off apparel modeled after what was being shown in Paris.
The flapper lifestyle and visits to speakeasies appealed to Ruth. She also socialized with a well-heeled crowd. One of the newspapers ran a quote from her saying there were only two things in the world she hated: "Going to bed at night and getting up in the morning."
Being out and about socially, Ruth began spending time with a Harvard graduate and man about town, William Harkness Jr. (1902-1936). Harkness was the son of a well-to-do attorney who had a respectable family fortune. Ruth and William became good friends. After several years together, they married.
Exploration Took Money Not Expertise
In the early part of the twentieth century, young college men found a great thrill in developing a plan for a grand adventure after graduation. (This was the era when Teddy Roosevelt was also taking time to explore the world.) A good diploma, a spirit of adventure and the willingness to pay for an expedition were the ingredients needed for becoming an explorer.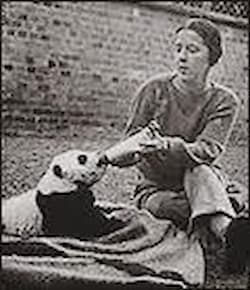 Shortly after college, William Harkness was part of a 1926 expedition to the island of Komodo in Indonesia to capture a Komodo dragon (the world's largest lizard). Based on this experience, Harkness began working with several others to fund an expedition to find the giant panda–a rare animal that had been sighted by only a few hunters.
In the midst of planning the trip to China, William decided to marry Ruth. Though the couple were only married a few weeks, Harkness and his group continued their plans for the expedition and departed shortly after.
Waiting in China
When they arrived in China, the permits to travel to Tibet had yet to come through. The group settled in to a hotel in Shanghai to wait for the government to complete the paperwork. Harkness was not feeling well but he and his group were well-situated, so he sent back cheerful reports to his wife and family. He didn't want them to worry.
But by February of 1936, Harkness was hospitalized. He underwent three operations for what turned out to be throat cancer. He did not survive.
The news came as a terrible shock to Ruth, who had not even known that her husband was ill.
Ruth Harkness to China
Harkness responded by immediately departing for China. Ocean travel at that time was very slow. When she arrived in Shanghai, she connected with those with whom he would have traveled. The permits had come through, and soon the group were ready to travel.
The trek to the border of China and Tibet was a 1500-mile journey through rugged terrain. Harkness was said to have kept up with the best of them. Though they were discreet at first, she and the trip's guide, Quentin Young, began an affair.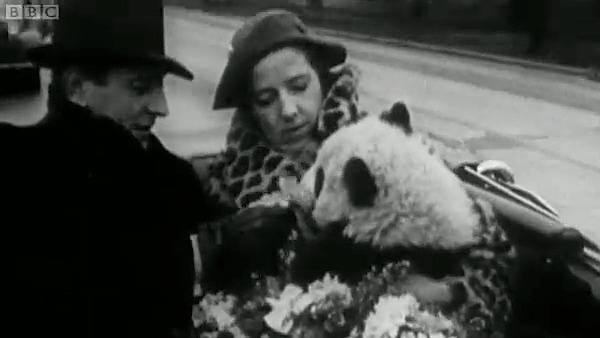 While it could have taken months to locate and capture a panda, the local guides happened on a panda cub very early in the trip. The group arrived in a village where a local man was hand-rearing a baby panda.
After some negotiation, the local people were willing to give up the panda. Much sooner than anyone dreamed possible, Ruth Harkness and her group were on their way back to Shanghai.
Ruth named the cub Su-Lin.
The Lady and the Panda
The "lady and the panda" was a big news story of the day. Photographers and newsmen followed her travels. Though she hoped to leave quickly for New York, she was delayed in customs. She needed a permit to take the panda out of the country.
In these years, no one knew much about the care of unusual animals, so Ruth worked by instinct. Ruth's friends helped her gain permission to take the young bear with her to a Shanghai hotel for "proper nursing," relying primarily on a milk mixture.
When Harkness arrived in the United States, she got off the plane, carrying the panda in her arms.
Harkness did not yet have a firm offer for a zoo ready to take the panda. At the Bronx Zoo, the veterinarian decided there was something wrong with the panda because it was bow-legged. But Mrs. Harkness soon heard from the Brookfield Zoo in Chicago. Soon Su-Lin was delivered there. The zoo paid $9000 for the panda bear.
Another Trip and Another Panda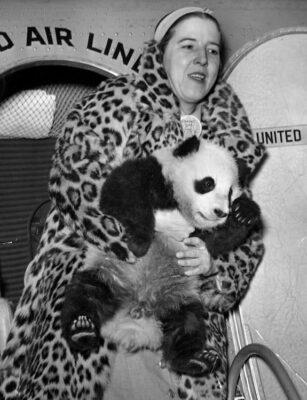 A few months later, Harkness returned to China to bring back another panda to live with Su-Lin. However, the two pandas were together for only a short time. No one knew much about how or what to feed exotic animals. Su-Lin ate some of the oak leaves that found their way into his enclosure, and a twig became lodged in his throat. Though the twig was quickly removed, Su-Lin soon died of an infection from the injury.
The newspapers reported that Su-Lin "died of his own curiosity."
Life for Ruth Harkness
Ruth Harkness did not fare much better. Life in the city did not fully capture her attention again. In the early 1940s, she undertook a trip to the Andes in search of a silver-gray bear. The adventure was unsuccessful.
Her next mention in the newspapers was in 1947. She was found dead in a half-filled bathtub in Pittsburgh, Pennsylvania. Alcoholism was said to have been a contributing factor.
Woman Adventurer
Initially, Ruth Harkness caught my attention as a "woman adventurer." But even in her day, it quickly became clear that capturing Su-Lin was a tragedy. Today we still wrestle with whether animals should be captured to preserve certain species and to educate the public.
While this is far from a positive story, Ruth and William Harkness represent the opportunities and mistakes of Americans of a certain time.
You may also be interested in reading about Ruth Robertson, a photojournalist and adventurer.