The collies of Sunnybank were one of the best-loved kennels for collie breeding in the twentieth century. The dogs were bred by newsman Albert Payson Terhune. Terhune had two loves besides his wife: his beloved collies and his home in New Jersey, Sunnybank.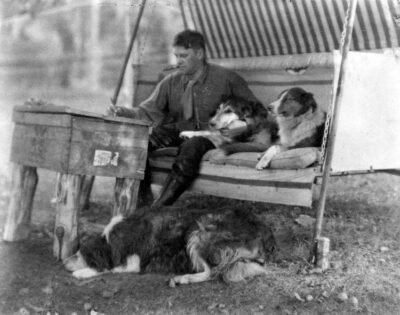 Sunnybank is located in Wayne, New Jersey. Though the town is only about an hour from Manhattan today, the area was very rural when Albert Payson Terhune's father bought the property. The Terhunes wanted a summer retreat and built a gabled home that looked out over Pompton Lakes. Anyone who visited the family remembers the home's big verandas and the beautiful lavender wisteria that seemed to grow everywhere.
By the time Albert Terhune began Sunnybank Kennel, he was a well-known writer. Readers adored the stories about the dogs of Sunnybank. Terhune wrote so lovingly about all aspects of life at home that he cast a mythical spell over the collies as well as Sunnybank.
In the 80-odd years since Terhune's death in 1942. the passions of readers and collie-lovers has not dissipated. For the last 25 years (interrupted only by Covid), the Collie Health Foundation has sponsored "The Gathering" in mid-August. Over the course of two days, collie owners gather to meet and greet each other, compare notes, and raise funds for research on diseases that are common to collies.
Each year on that weekend, Sunnybank resounds beautifully with the barking of collies just as it used to when the Terhunes were alive.
Who Was Albert Payson Terhune?
Albert Payson Terhune (1872-1942) was born in Newark, New Jersey. His father, the Reverend Edward Payson Terhune, was pastor of the Old First Presbyterian Church in Newark.
The reverend met his wife when he was assigned to a congregation in Virginia. There he met Mary Hawes. They married, and she became a very successful author, writing novels and household books under the name Marion Harland.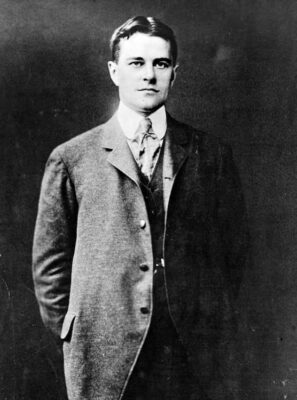 Albert was the youngest of six children, but only three of them—Albert and two sisters—lived to adulthood.
Reverend Terhune served as a pastor at several churches over many years. While they were based in Newark, they acquired land along Pompton Lakes. The family loved the time they spent there. Over time, the family added to the property, and at one point their holdings were close to 40 acres.
His mother adored the garden and put time, thought, and effort into the flowers she chose for it. Reverend and Mrs. Terhune traveled a great deal and always brought home cuttings of plants that might adapt to the New Jersey soil. It was considered the "garden from everywhere."
College Years
Albert Terhune graduated from Columbia University in 1893. He was a good-sized man—over 6 feet tall, 230 pounds with a muscular build. During these years, he made a name for himself as an amateur boxer. He fought in exhibition fights against some of the greats of that day. Kid McCoy and Jim Jeffries were among them.
During his first year after college, Albert Terhune set off for an adventure in the Near East. Traveling by horseback, he toured through Syria and Egypt, living among the local people. When he returned home, he wrote a book about his travels. The book was published in 1896.
Journalism and Freelancing
In 1894, He was hired for a full-time job with The Evening World. From the beginning, he sold freelance articles and wrote books when he could.
But financial stability was vital to him. Long after he was selling regularly to both magazines and book publishers, he maintained his staff job until 1916. Even after leaving full-time employment, he worked six days a week generally for 9-11 hours each day.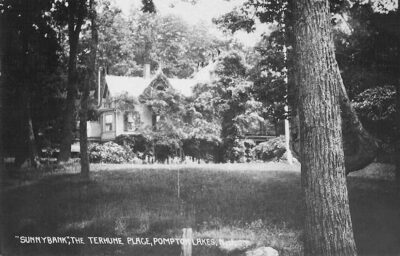 As his fame grew, this schedule became problematic. Terhune made Sunnybank so famous that it became a destination for families. In the beginning, people were able to come onto the lawn and wander down to the lake. But as the numbers increased, the crowds became very troublesome. Visitors often wanted to meet the famous author. When one of the dogs was killed by a visitor who drove too quickly along the driveway, additional restrictions were put in place.
A staffed guardhouse was placed at the gateway to the property. Visiting hours were limited to weekends only…before 10 am.
Marriage
Terhune married twice. In the late 1890s, he wed Lorraine Bryson. She gave birth to their daughter in 1898, but Lorraine died of complications from childbirth. Albert Terhune's mother took over care of the baby. By this time, the older Terhunes were living at Sunnybank for much of the year. The little girl spent her first 8 years living there with her grandparents.
Not too long after, Albert Terhune remarried. He had known Anice Stockton since grammar school. She was a composer and music educator. Unfortunately, she wanted nothing to do with Terhune's daughter. When Terhune's mother could no longer manage full-time care of her granddaughter, the child was sent to boarding school. She was with her father for some vacations, but she also stayed with relatives.
Took Over Sunnybank
One of his sisters lived at Sunnybank during their mother's final years, but Albert so desperately wanted the house that he worked out an arrangement to buy it from his mother before she died. Albert and wife Anice took ownership of the property in 1909. Over time, Sunnybank became their primary home.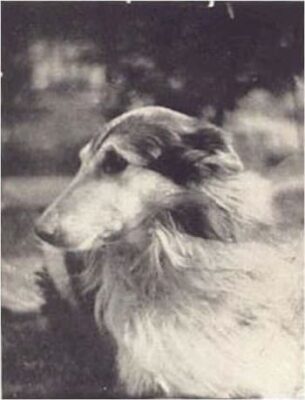 Dog Stories
With a news background, Albert Terhune was equipped to write on many topics. In addition to his work for The Evening World, he sold magazine articles on topics ranging from boxing to famous American Indians.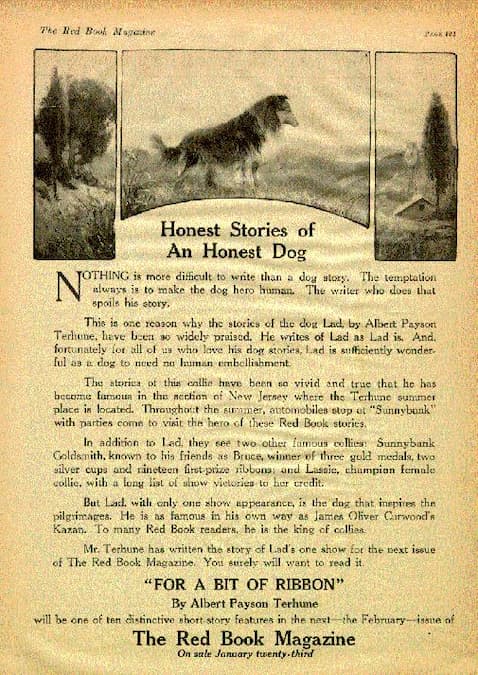 In the early 1900s, his editor at Red Book magazine [sic] noticed that dog stories were becoming popular. He suggested Terhune try his hand at one, guaranteeing that Red Book would publish it. Terhune had a beloved collie named Lad (1902-1918), and Terhune made him the star of his first dog story.
After the story was published, readers couldn't get enough of Lad's tale. Terhune and Red Book complied. While Terhune continued to write on other subjects, always hoping that one of his books would be the next Great American Novel, he was happy to produce whatever sold well. The dog stories continued and were published in many different publications.
As was the style of the day, Terhune's plots were often melodramatic with dogs performing incredible acts of heroism. The strength in his writing lay in the personalities of the dogs. They were loving, lovable, and very faithful to their masters. For the reading public, these were perfect.
Sunnybank Kennel
Lad, the dog that began the Sunnybank line, did not have AKC papers, but dog experts now know that his pedigree papers were lost. Reverend Terhune was not the dog's first owner. According to Kristina Marshall, the kennel historian of the Terhune Sunnybank Memorial, Lad was purchased in Colorado by a Miss Booth. The dog was soon given to her brother, and his pedigree was packed in a trunk that was lost. At some point, Lad was given to the Terhunes. he was very much loved and an important part of the family. Without papers, he was not the best for building the pedigree.
Bruce (1909-1920) was Terhune's first AKC-registered collie, and therefore, foundation of the Sunnybank line. Later, another collie, Treve, born in 1919, also brought favorable attributes to the kennel line.
When Terhune started his kennel, he knew that he would sell some of the puppies, but his primary motivation was to achieve the look, the temperament, and the coat texture that he preferred in his dogs.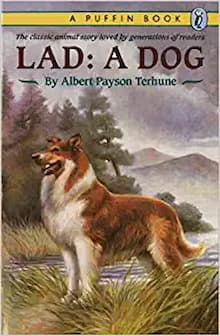 Showed Dogs Infrequently
As a devoted dog lover, Terhune did not like to be separated from his dogs. He permitted his kennel manager to show the dogs occasionally. The awards won were to maintain the reputation of the kennel.
Many years, Sunnybank had as many as forty-five collies on the property. A few of them were designated as house dogs and had full run of the place. There was a heated outer house for mothers and puppies, and the collies kept in the kennels were not forgotten. On his writing breaks, Terhune would take walks through the property. Each time he would gather a big group of dogs to accompany him.
The Story of Wolf
Terhune was at his peak of popularity in 1923 when one of his dogs was killed.
The story printed in The New York Times read as if it were one of Terhune's own works—and perhaps it was based on a press release sent out by the author:
The headline read: Wolf, the Hero of Terhune Dog Stories Dies Saving the Life of a Canine."
"Wolf, son of Lad, is dead. The shaggy collie, with the eyes that understood and the friendly tail, made famous in the stories of Albert Payson Terhune, died like a thoroughbred [definitely a term from Terhune], so when Wolf joined his father in the canine beyond last Sunday night there was no hanging of heads."
Wolf was known to the public to be among Lad's "more boisterous" offspring. But over time, Wolf became a family favorite. He was one of the chosen who were house dogs.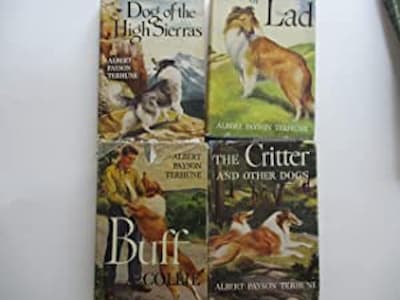 Wolf Protector
Wolf considered himself the warden of Sunnybank and was watchful with all litters of puppies. If cars were coming up the driveway, Wolf carefully herded any puppies up to the lawn so they wouldn't be hit.
Each evening, Wolf sauntered off the property for an exploratory walk. One night he was near the town's railway station. An express train sped through the station. Wolf was nearby and saw a "canine tramp with a homeless droop to his tail" had paused on the tracks.
Wolf heard the train's warning whistle. He raced forward, successfully scaring the dog off the tracks. As luck would have it, the hero himself was clipped and killed by the express train.
Those who saw it happen knew where to return the body.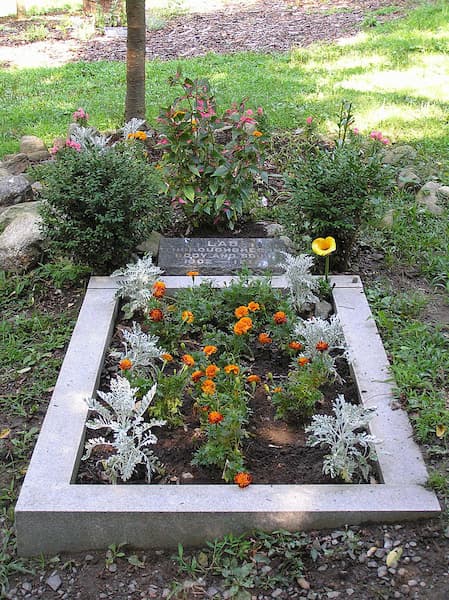 Terhune In Accident
Five years later, Terhune himself had a bad accident. One evening he was out for a walk along the road after dark. (Kristina Marshall says that his dog Gray Dawn, wanted to go with him, but because it was dark he left her at home. While out, he was hit by a car and gravely injured and was bed-ridden for several months. Those who knew him said he was never the same after that.
While he returned to his writing in 1929, his output slowed. He still produced a few books (often story compilations) and continued to write some original stories, but the drive that kept him at his desk for at least 9 hours each day was no longer there.
Radio Voice
Terhune had a strong voice that commanded attention. Even after his accident, he was a frequent guest on radio programs. One of the radio producers decided Terhune could carry a program on his own. The producer signed up Spratt's dog biscuits as the sponsor, and a team worked with Terhune to put together the weekly program.
But as time went on, Terhune's health worsened. He turned out some stories and continued to have a Christmas party for the press until 1940.
He died in February of 1942.
His will made provisions for support for both his wife and the collies. A monthly stipend was also specified for his daughter who lived in New York City.
Anice Terhune at Sunnybank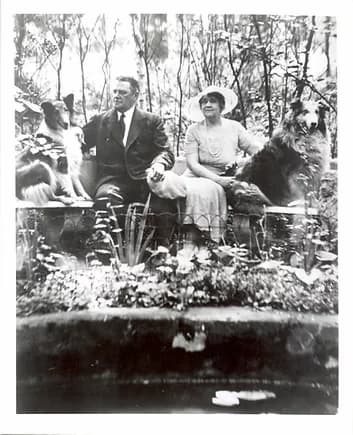 Anice Terhune remained at Sunnybank, maintaining the dogs that they shared. When Terhune died, there were about ten dogs still living with the couple. Chips and King Coal died shortly after their master. All the other dogs remained with Anice at Sunnybank.
Anice lived until 1964, outliving Albert's daughter by eight years.
Her will provided generous cash bequests for the staff of Sunnybank, and since the couple had no children, they established a charitable foundation, The Albert Payson Terhune Foundation. Income continued to accrue for about another 10 years while the books still did well.
Desirable Real Estate
With Anice Terhune's death, developers were ready. Thirty of the 40 acres were sold almost immediately. The last section to sell—perhaps because it was more costly—was the acreage with the house and outbuildings, and of course the gardens and beautiful lake view.
When news broke that a developer bought that final piece of the property, neighbors, collie owners, and readers were galvanized into action.
Collie owner Claire Leishman from nearby Paramus, knew the property must be saved. National visibility would help the cause, so she wrote letters to collie organizations nationwide to ask for letters of support for Sunnybank.
Citizens for Sunnybank worked with the Wayne town council. Everyone was also looking for grant money. By the time the property was saved in a very close 5-4 council vote, grants had been obtained from federal and state organizations to help the town acquire Sunnybank.
It is now known as Terhune Memorial Park.
Volunteers raised money to save the house as well, but the town deemed it unsafe and the house was bulldozed.
Today Terhune-Sunnybank stands as a great success story.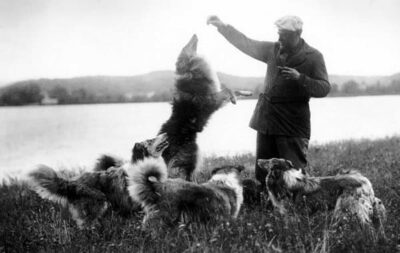 The Gathering
Each August, the Collie Health Foundation sponsors The Gathering. Collie owners come from near and far to enjoy a weekend of being together to celebrate Terhune, Sunnybank, and their shared love of the collie breed.
The first gathering was held in 1997. Claire Leishman welcomed everyone. She had with her the memorabilia that had been saved from Sunnybank. Today those items are on display at the Van Riper Hopper House museum in Wayne.
The Gathering has been held annually with the exception of the interruption by Covid.
Throughout the year, an active group of volunteers still love and pay attention to the park. Graves where the dogs have been buried are tidied. Pathways to some of the "secret" parts of the property that Terhune wrote about in his books are now marked. A memorial bench for the Terhunes and Claire Leishman has been added in more recent times. (Leishman also worked with the AKC to retire the Sunnybank Kennel name so that no other collie breeders could use it.)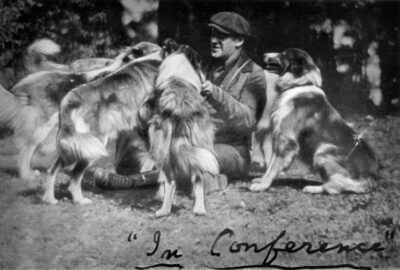 "A Magical Place"
And each year, of course, a mid-August gathering and celebration continues.
Pati Merrill, vice president of the Collie Health Foundation, explains that any funds raised from the activities of the weekend are donated to research and causes that help maintain the health and strength of the breed.
As for the next Gathering, Merrill, who travels from Florida, says: "We're like children when we arrive! The setting is magical, and it's absolutely thrilling to be with people who fell in love with both collies and Albert Terhune's stories."
On the Collie Health Foundation website, they have posted a tribute video to the Terhunes, the collies, and Sunnybank. Scroll to the bottom here, and you'll find the video. And don't miss the website telling about The Gathering. You'll find many beautiful photos of the land as well as so many collies!
Thank you to Kristina Marshall, historian of the Terhune Sunnybank Memorial, for reaching out after the article was posted on my website. As you'll see from her comments below, there was information that I had not uncovered. Those changes have now been made. I'm appreciative of her sharing her knowledge with me so that the article on America Comes Alive can be correct. Kristina Marshall also posts on Facebook in a public group: Sunnybank-Terhune Collies.