Ruth Robertson was a photojournalist, war correspondent, and explorer at a time when few women had careers at all, let alone one that involved traveling the world.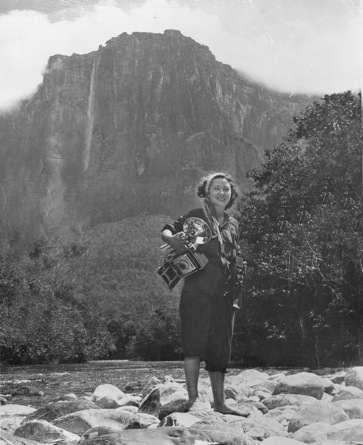 Robertson (1905-1998) achieved many "firsts" in journalism. She was a news editor in Chicago in the 1940s when many male reporters went off to cover the war. Robertson was in the perfect place to scoop up assignments that she never would have been assigned if her male counterparts were still in the U.S.
One of her most daring "firsts" was one she instigated herself. After hearing about a spectacular waterfall in Venezuela said to be "a mile high," she made it her mission to travel there to photograph Angel Falls from its base. It took her several years to come up with the funding and a plan, but eventually her photographs became a major story in National Geographic.
Early Life
Ruth Robertson was born in Taylorville, Illinois. Her mother died when she was 7, and she lived with her grandmother until her teen years when she moved to Peoria to live with her father. He was a street photographer, and she was old enough to be interested in what he was doing. She not only learned about cameras but also about how to develop and print the photographs she took.
Robertson was hired by The Peoria Journal Star newspaper and became known as the "girl photographer." She successfully pitched the editor on giving her regular space for a column, "Peoria and Her People." Its popularity helped build her credentials for future work.
In 1942, Robertson moved to Chicago and became a news editor at Acme Newspictures (later United Press International).
Opportunities in Chicago
Robertson was doing well in her job in Chicago, but as the United States entered the war, the news business changed. By 1944, many male news photographers had taken war assignments, so newspapers were scrambling for people who could cover events. This was a perfect opportunity for Ruth Robertson.
Both the Republican and Democratic political conventions were held in Chicago, so Robertson was assigned to cover both of them as a photojournalist. The sports editors also turned to her, and she was the first woman to photograph baseball games from the infield at Chicago's Wrigley Field. That fall she achieved some other "female firsts," including photographing football games from the 50-yard line at Northwestern and Notre Dame.
Robertson Forms Press Syndicate
During the mid-1940s, Robertson and another journalist formed their own bureau, the Press Syndicate. Robertson applied for war correspondent status and received it.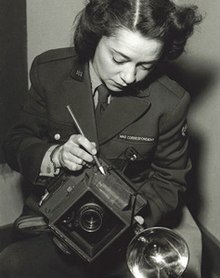 She was one of only three reporters (and the only woman) assigned to the Alaskan-Aleutian area in Fairbanks. While few remember the fighting in Alaska, it was a treacherous area. Following the bombing of Pearl Harbor, Japan bombed Amaknak Island (part of the Aleutian Islands) where there were two American military installations: The Dutch Harbor Naval Operating Base and the U.S. Army's Fort Mears. Much of the fighting took place on nearby Unalaska Island, part of the same Aleutian chain of islands. Robertson covered the story for a year.
To New York For Work
After World War II, Robertson moved to New York and accepted a job at the New York Herald Tribune. But after writing and photographing scenes from war, this assignment seemed boring to her.
One night she and a group of photographers went out for drinks. A few of the photographers were from Venezuela and were describing the beauty of the country. One of the topographic elements they talked of was a majestic waterfall that was thought to be "a mile high."
Angel Falls
The waterfalls now called Angel Falls was little-known until man could fly. The Falls could be seen from a far distance, but the base was deep in a very dense rain forest. Except for a few hearty people scouting for minerals or rubber sources, few ever penetrated the forest. The native people came to believe the area was taboo, so they specifically avoided it.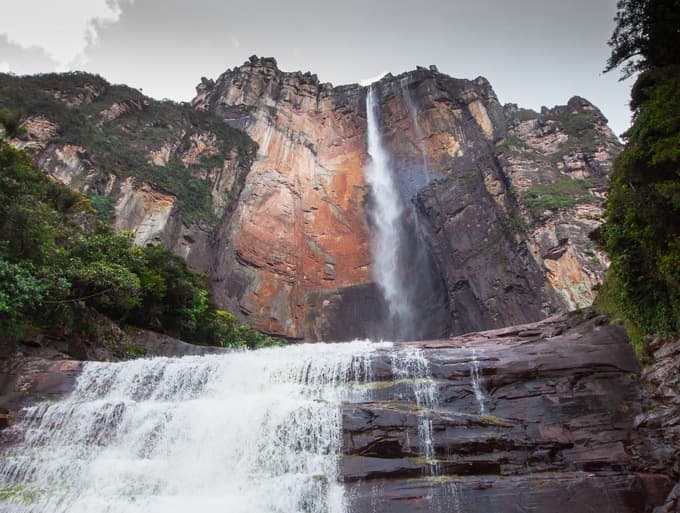 In the early 1930s, an American aviator, Jimmie Angel (1899-1956), was exploring Venezuela by air, in search of an ore field. He spotted the Falls and was amazed at their height and their beauty. After spotting them from the air, he was determined to go back.
In 1937, he returned with his wife and two companions. He intended to land on the mountain tabletop near the Falls, but he ran into grave difficulties. He successfully touched down, but as the plane taxied to a stop, the plane wheels sank into what turned out to be very soft ground. Jimmie soon realized there was no way to dig the wheels out and take off again. They would have to hike out.
Hiking Out
The four of them set out on what would be an 11-day trek to hack their way through the rain forest, down from where they landed, and into the first sign of civilization they could find. (The aircraft they flew was not removed until 1970 when Venezuela had it brought down by helicopter piece by piece. It is now on exhibit at Ciudad Bolivar airport.)
Jimmie Angel's trip brought attention to the Falls, and soon scientific groups were trying to figure out how to explore the base. In 1938, the Falls were officially named for their discoverer, Jimmie Angel.
Robertson Intrigued
As the Venezuelan photographers in New York talked, Robertson began to formulate a plan. She needed an assignment to travel to Venezuela to photograph the Falls.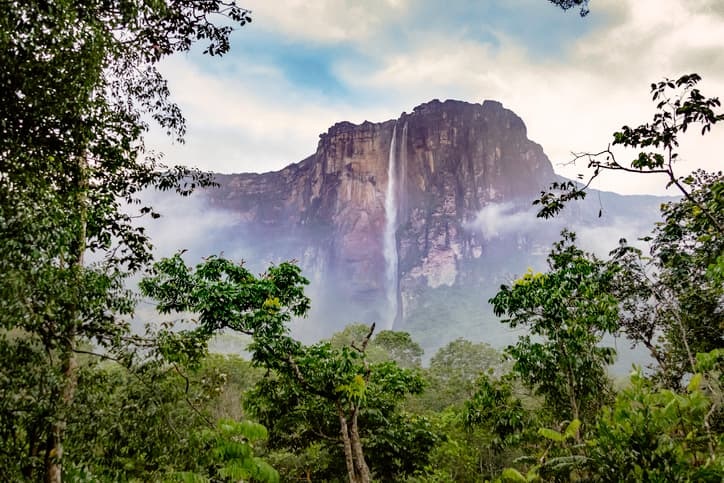 Her first visit was in 1947. At that time, no one had successfully found a way to hike through the rain forest to the base of the Falls, so she looked for pilots to fly her nearby so she could take pictures.
But once she developed the photographs, Robertson saw that there was so much more to understand. From the top, she could capture the dramatic crest of the Falls, but there was no way to capture the scope of what was truly a natural wonder. She knew she had to find a way to get to the basin where the Falls emptied out.
Four other previous groups had failed to reach the Falls by land, but Ruth Robertson was undaunted. She located a guide who had been near the area, and she added team members to help with the trip and also those who could assist in measuring the exact height of the waterfall.
In addition to her assignment from National Geographic, she also needed additional funding to put together all she needed. She knew they would need to travel part way via river and then hack their way through the rain forest. This was no simple assignment.
Successful Trip in 1949
Finally, in the spring of 1949, Ruth Robertson and her team were ready to start the journey. They traveled in dugout canoes up the Rio Acanan, eventually stowing the boats and traveling by foot through thick underbrush.
On May 12 they finally saw the waterfall, making Robertson's expedition the first land group to ever reach the base of the Falls.
She not only got her photographs, but the group brought back the first-ever measurement of the height of the Falls: Angel Falls rises 3,212 feet above the jungle—fifteen times the height of Niagara Falls (twice the height of the Empire State Building). Newspapers around the world reported on her success, but her own story with photos appeared in the National Geographic.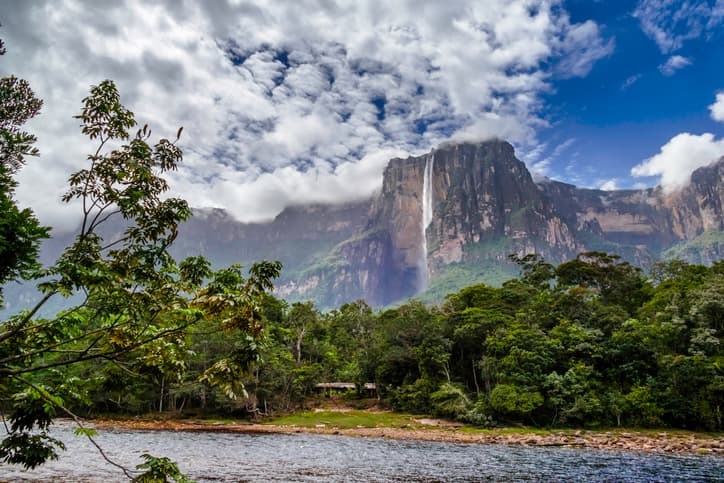 To see the photograph that is considered one of the most valuable in her collection, visit Ruth Robertson's website: www.ruthrobertson.org. The photograph is spectacular, but it is also surprising. Though she was initially dissatisfied with the photographs that she took from the air, it is one of these that she eventually considered particularly noteworthy. (Note the plane wing in the photo!)
Nonetheless, she made the trip, measured the falls, and came back to tell her story.
***
The Ruth Robertson Archives have been preserved at the Harry Ransom Center of the University of Texas in Austin.
I am indebted to Jorge M. González, who has written in depth about Ruth Robertson. He pointed out an error I made in my previous article and also provided additional background to Robertson's story.  He has written extensively about Ruth Robertson, and this is a link to his more detailed article: "May 12, 1949: 70 years ago, Ruth Robertson's expedition reached Angel Falls". Wall Street International. 
For more information about pilot Jimmie Angel, click Jimmie Angel Historical Project.
To read about another woman explorer, read about Sacagawea who accompanied Lewis & Clark.