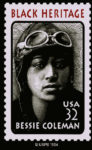 First African-American woman to earn an international pilot's license
Bessie Coleman (1893-1926) had limited career options as a woman and as an African American.
When Bessie Coleman's older brothers came home from World War I, they had exciting stories about flying. They also told her that in Paris, "even a woman could fly."
African Americans Barred From Early Pilot Training
Because of segregation, she could not learn to fly in the U.S. so she determined she would go to France. She began to save the money she earned from her job in a beauty parlor.
By 1921, Coleman saved enough money for the trip; she was the only woman in her aviation class. Her return to the U.S. was a front page story, but if Coleman had not taken matters into her own hands, that would have been the end of it. The only regular job in the U.S. that required pilots was flying mail planes, and the post office only hired white men.
Took Up Barnstorming
Coleman realized she could continue to fly and make money doing it by barnstorming. Coleman embarked on a lecture circuit and combined it with demonstration flights for the public. Her goal was to set up a school where African-Americans could learn to fly. Coleman was testing a newly purchased but older plane in 1926; it crashed and she did not survive.
To read about other women who took on great adventures, read about Annie Edson Taylor, a school teacher who needed money. She decided the answer was in going over Niagara Falls in a barrel.