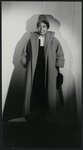 African American Performer who had to go to Europe to be Appreciated
She was born Freda Josephine McDonald in 1906 in St. Louis, Missouri. Her mother was a washerwoman and her father performed as a drummer in vaudeville. Josephine dropped out of school at the age of 12; she cleaned houses and babysat and started waiting tables when she was only 13.
At the age of 16 she began touring with different performing groups, but she was primarily relegated to comedic parts of the show as she was told she was "too dark" and "too skinny" to be a chorus girl. However, she learned the dance routines by observing, and she finally got a break one night when the group was desperate to replace an ailing chorus girl.
Later she tried performing in New York, but Baker's break-through was in Paris in the mid-1920s. Her performing style was uninhibited and fun-loving, and the Parisian audiences loved her. She became one of the most photographed women in the world, rivaling Gloria Swanson and Mary Pickford, and she soon earned more money than any entertainer in Europe.
In 1936 she returned to the U.S. to appear in the Ziegfeld Follies, but reviews were cruel, and the American audiences rejected her.
During World War II she was back in France and was willing to do whatever she could to help the cause. She performed for the troops and carried secret messages for the French Resistance. She also served as a sub-lieutenant in the Women's Auxiliary Air Force. After the war she received several awards from the French government for her efforts.
In the 1950s and 60s, Baker returned to the U.S. One night at the Stork Club in New York City, they refused to seat her. She began a media battle on several fronts to bring to light the discriminatory treatment of African Americans.
During this period, she also began adopting children of different ethnicities; she felt that by raising different children as one family she could show that they could all get along. She lovingly referred to them as her "Rainbow Tribe."
In 1973 she was invited to perform at New York's Carnegie Hall. Baker was quite nervous after her previous experience performing in the U.S. long ago, but this time the audience couldn't get enough of her. She received a standing ovation when she first stepped on the stage. She was so touched that she broke down in tears.
Her final performance was in April of 1975 in Paris before guests including Sophia Loren and Princess Grace of Monaco and Mick Jagger. Days later she died of a cerebral hemorrhage.
Her funeral was in Paris, and 20,000 people lined the streets for the funeral procession. The French government honored her with a 21-gun salute, making her the first American woman buried in France with military honors.
There are many clips of Josephine Baker online, but my favorite is a tribute to her that blends still photographs of her throughout the years with a more recent audio recording of Baker's singing. This clip is just lovely.