Sacagawea, a Native American woman from a Hidatsa Village in North Dakota, accompanied Lewis and Clark's Corps of Discovery in their exploration of the West. The journey was the first official opportunity to explore the Louisiana Purchase President Thomas Jefferson obtained from France in 1803.
Sacagawea (1788-1869) was one of the wives of Toussaint Charbonneau (1767-1843), a French Canadian trapper and explorer. She accompanied him on one of his trips west of the Hidatsa Village where Sacagawea lived. Her trail experience and her knowledge of plants and herbal medicines made her an asset to Corps Commander Meriwether Lewis (1774-1809) and Captain William Clark (1770-1838). In addition, Sacagawea's presence—along with her infant son—indicated to other Native Americans that the white men were not a war party.
In addition to exploring this new land, Thomas Jefferson hoped that Lewis and Clark would map as much territory as they could and bring back plant samples and reports of wildlife. They also hoped to establish trading with the Native Americans they met, and if possible, identify a water route to the Pacific Ocean.
Sacagawea's Background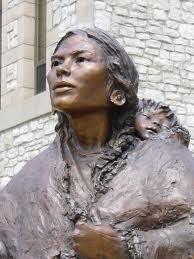 Most sources throughout the years have identified Sacagawea as Shoshone. Some variations of her story state that she was Hidatsa but was captured by Shoshones and lived among them for a time.
Today there is strong documentation that she was a member of the Hidatsa Tribe. While she did not live among the Shoshones, she did have a connection to them. (This is fully explored in the 2021 book, "Our Story of Eagle Woman, Sacagawea." Some of the information discovered by the authors, the Sacagawea Project Board of the Mandan, Hidatsa, and Arikara Nation, is explained in "Sacagawea: Native Americans Tell Her Story."
Sacagawea's story that led to her future begins when a French-Canadian trapper and fur trader Toussaint Charbonneau came to live at the Hidatsa village located in western North Dakota. Charbonneau was attracted to Sacagawea. While she was in her early teens, she became one of his wives.
During their first year together, she accompanied him on some of his trips west as he trapped fur-bearing animals and did further exploring.
In the autumn of 1804, the Lewis and Clark expedition arrived at the Hidatsa Village. Winter was coming, and they knew they had to build shelter that would withstand the snowstorms.
Interpreter Needed
Both the Hidatsa and Mandan people (located in a village nearby) were amenable to helping the Corps of Discovery. They advised on the type of wood to use and how to build a structure that would last through the winter months. The men in the Corps began construction in early November and remained there until early April 1805.
As Lewis and Clark further discussed their needs for continuing their travels, they asked the tribes about interpreters. Charbonneau professed that he was an excellent translator. He was very eager to go with the men and may have elaborated on his own qualifications as well as those of Sacagawea. (More about how Charbonneau may have represented her qualifications in Sacagawea: Native Americans Tell Her Story."
Lewis and Clark also saw that having a Native American woman along could be helpful, both as a possible aide with languages encountered but also indicating that the white men traveled in peace.
Sacagawea was pregnant with Charbonneau's baby when the Corps of Discovery arrived in the village. When it was decided that Charbonneau and Sacagawea would accompany them, Lewis and Clark invited them both to move into the Corps of Discovery's newly-built Fort Mandan. That way they could help prepare for the trip. Sacagawea gave birth at the Fort.
Meriwether Lewis documented that Sacagawea's baby, Jean Baptiste Charbonneau, was born on February 11, 1805. The baby was frequently referred to by a nickname, "Pomp."
The Trip Begins
The Corps left Fort Mandan in early April of 1805. As the trip proceeded, it was clear that Charbonneau often needed a third party to help with translations, but they all muddled through.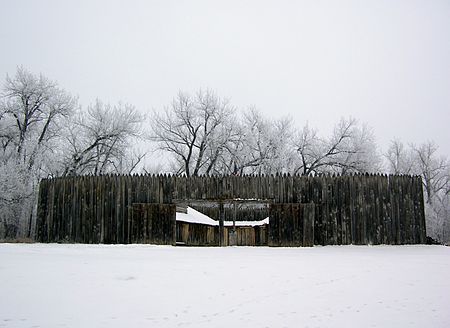 As they left the Hidatsa Village, they planned to travel by boat as far as they could, beginning on the Little Missouri. They hoped it might take them west to the Pacific.
Early in the trip, Sacagawea proved her worth in a way that no one could have anticipated. On May 14, 1805, the boat in which Sacagawea was traveling was hit by a wave in such a way that the boat pitched to the side. The men worked to right the boat, but books, instruments, and other supplies slipped overboard.
Sacagawea was a strong woman and an excellent swimmer. Though she had the baby strapped on her back, she let herself over the side of the boat and retrieved all that she could. (This was precious cargo so the men always wrapped what they could in waterproof packaging when the Corps traveled by water.)
Sacagawea's fast thinking and quick response saved many of the needed materials. So grateful were the commanders that they named that section of the river in her honor.
The Shoshone Village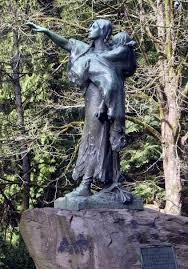 As the group continued west, Sacagawea and Charbonneau recognized some of the trails they have explored the previous year. When the group arrived at a Shoshone Village, Sacagawea asked for her brother. Sacagawea's father had greatly admired the Shoshone brave and asked him to participate in an adoption ceremony to link the two families. While Sacagawea considered the young man her "brother," they were not blood relatives.
The books that describe Sacagawea as Shoshone usually mention a "joyful reunion" when the Corps of Discovery arrived at the Shoshone Village. However, oral stories from the Hidatsa as well as careful study of the journals tell a different story. This is more fully documented in the just-published book, "Our Story of Eagle Woman, Sacagawea."
Horses Needed
Lewis and Clark realized that no river would take them all the way through to the Pacific Ocean. Their trip through the Rocky Mountains would be over land. The Corps of Discovery needed to procure horses from the Shoshone, and they asked for a guide to go with them.
The trip was far worse than anyone could have imagined. Once again, Sacagawea's knowledge was very helpful. Food became nonexistent and the Corps was reduced to eating tallow candles to survive.
As they finally began the descent on the western slope of the Rockies, the men began to see plants. Sacagawea guided the men on which plants were safe to eat. However, the men were accustomed to a mostly meat diet. Switching to plants was hard on their digestive systems. Sacagawea's herbal remedies were then needed to settle their stomachs.
Sacagawea's Character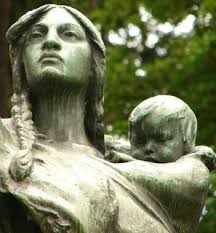 Several of the men mentioned in their journals Sacagawea's general good spirits. For the most part this was true. However, as they neared the Pacific, Captain Clark intended to leave Sacagawea at the camp while the men ventured on.
When Sacagawea heard this, she expressed her dismay directly to Clark. She had not come all this distance to be denied the opportunity to see the great waters. Captain Clark took her along with the rest of the group.
Pompey's Pillar
After reaching the Pacific, Lewis and Clark agreed to take two separate routes to return. They planned to meet again at the point where the Yellowstone empties into the Missouri.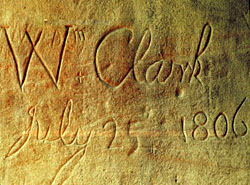 Sacagawea stayed with Captain Clark's group. When they reached the Rockies, Sacagawea told the captain that she knew the area well enough that she would locate a gap in the high range of the Rockies that would let them cross. She set off with Pomp strapped to her back, and after a week, she returned. She then led them down to the Yellowstone River basin to cross via what is now known as Bozeman Pass. (Later the Northern Pacific Railway chose this passage to build their rail line.)
As they traveled along the Yellowstone River, they encountered a particularly interesting flat-topped rock formation. Clark and a few of the other men climbed up to the top to see what was visible from above. They saw that from the top, they had an excellent view of the surrounding territory. Captain Clark named it Pompey's Tower (now Pompey's Pillar) and it can still be visited today. From Clark's journals, we have this mention:
"At 4PM [I] arrived at the remarkable rock situated in an extensive bottom.This rock I ascended and from it's top had a most extensive view in every direction. This rock which I shall call Pompy's Tower is 200 feet high and 400 paces in secumpherance and only axcessible on one side which is from the N.E."
Sacagawea and Charbonneau Return Home
On August 14, 1806, the Corps of Discovery passed into the Hidatsa-Mandan village where Sacagawea and Charbonneau originally joined them. Here, the couple and Jean Baptiste (Pompey) said good-by to the others, and the group continued on.
Charbonneau was paid $500.33 and was to receive 320 acres of land. Sacagawea was not paid.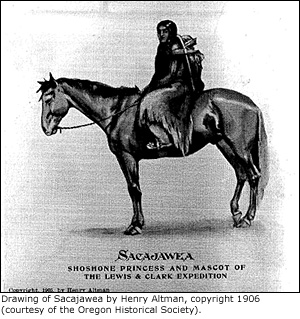 William Clark adored Little Pomp, and before the Corps departed, he asked Charbonneau's permission to take the boy and raise him as his own. Charbonneau and Sacagawea declined, saying he was too young.
A few years later, Sacagawea and Charbonneau accepted Clark's invitation to come to St. Louis to visit. Of course, Jean Baptiste was with them. Captain Clark provided Charbonneau with the land he promised him.
But after a time, Charbonneau saw that the lifestyle was not right for them. Charbonneau wanted to return to trapping and exploring. Sacagawea missed family life. Charbonneau gave back the land Clark had provided him.
But after much discussion, the couple finally accepted Captain Clark's offer to keep Jean Baptiste with him and send him to school.
Sacagawea's Later Life
Sacagawea had three more children with Charbonneau: Otter Woman, Different Breast, and Cedar Woman. (These additional children are not mentioned in some articles about Sacagawea, but they are carefully delineated by the Sacagawea Project Board of the Mandan, Hidatsa, and Arikara Nation.)
But the definitive story comes from Sacagawea's grandson, Bulls Eye. He was son of Sacagawea's second child, Otter Woman. (Sacagawea also had a sister named Otter Woman. The re-use of names was customary among some Native American tribes.)
Did Sacagawea Die in 1812?
The MHA Nation (Mandan, Hidatsa, and Arikara Nation) document that, contrary to some reports, Sacagawea did not die in 1812. The Native American woman who died in 1812 was Sacagawea's older sister, Otter Woman, another wife of Charbonneau. A more complete explanation of the documentation of this story can be found "Sacagawea: Native Americans Tell Her Story."
Bulls Eye was still living in the 1920s when a white military officer, Major A.B. Welch began documenting many of the stories of the tribal people whom he met. Bulls Eye asked Major Welch to listen to his story. Before they met, Welch invited other tribe members to come as witnesses who might add information.
Because Bulls Eye was only 4 or 5 at the time of Sacagawea's death, the tribal elders invited older members of the tribe to come to the meeting where Major Welch was to hear Bulls Eye's story. If Bulls Eye did not recall certain dates or other facts, they were with him to help tell the story.
With Sacagawea When She Died
As it happened, Bulls Eye was with both his mother and Sacagawea when they died within seven days of each other.
Several tribe members, including Sacagawea, Otter woman, and Bulls Eye, were traveling to a trader's outpost in Montana. Sacagawea was known to love coffee, and while they were going to obtain many things, Sacagawea was particularly pleased about the coffee.
The group traveled with two wagons, both pulled by oxen. At night, they customarily had dinner and then laid out their blankets to sleep under the wagons. One night they established camp along Sand Creek. Bulls Eye was asleep between the wheels of the wagon, lying alongside his grandmother, Sacagawea. His mother slept just ahead of them under the wagon's front wheels.
During the night, the camp was attacked. They awoke to the sound of gunfire. Otter Woman told Sacagawea to take Bulls Eye to hide in the brush down by the nearby stream bed.
The gunfire continued for what seemed like a very long time. When the night finally became quiet, Sacagawea climbed cautiously up from the gully where they had hidden. She and Bulls Eye saw right away that several of their group had been killed. As they neared the wagon, they saw Otter Woman still sitting up. But when they reached her, they saw she was badly wounded.
As documented by A.B. Welch, Bulls Eye described how his mother told Sacagawea: "I am dying now. The boy is young to look after now." [meaning Sacagawea would need to take care of him.]
Otter Woman died, sitting against the wheel. Her final actions were to signal that Sacagewea and Bulls Eye should continue on.
Outpost
The group made their way to the outpost, but by that time, Sacagawea was ill with a fever. They camped near the outpost to let her rest, but she grew worse. Within a few days, Sacagawea died.
Bulls Eye was taken to live with his aunt, Cedar Woman, one of Sacagawea's other daughters.
What Happened to Jean Baptiste?
Jean Baptiste stayed with Captain Clark and attended school. By the time he graduated, he spoke French, German, Spanish, Crow (his mother's language) and Hidatsa.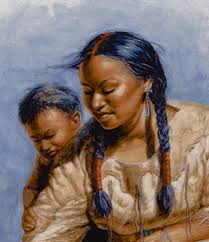 He was known for having been the toddler who accompanied the Corps of Discovery. Like those around him, Jean Batiste wanted to be a trapper and scout.
Because of his fine education and his celebrity status, he was used for plum jobs. One of them was guiding Prince Paul of Wurttemberg, Germany, who wanted to visit the American West.
In 1823, Jean Baptiste returned to Germany with the prince. Four years later, he came back to the United States to continue his work, trapping and guiding. He was considered to be among the best mountain men of that time, including Jim Bridger, James Beckwourth, and Kit Carson.
When gold was discovered in the West, Jean Baptiste set out to become part of that westward movement (1866). Unfortunately, he caught pneumonia and died.
As for Sacagawea, she lives on as an example of a fearless mother who accompanied 33 men on what was a history-making journey.
***
This article was originally written in 2014. But since that time, new research has been done: "Our Story of Eagle Woman Sacagawea: They Got it Wrong," by the Sacagawea Project Board of the Mandan, Hidatsa & Arikara Nation, published by the Paragon Agency, Orange, California, 2021. Available from Special Books in hardcover or PDF.
Note about spelling of Sacagawea:
Readers will sometimes see her name spelled with a "j", Sacajewea, and occasionally a "k", Sakakawea. The spelling with a "j" was used by an editor working on publishing the Lewis and Clark journals. The Sakakawea spelling would be the way the Hidatsa people would spell it but in the late 20th century, the MHA Nation felt it was important to standardize the spelling. They settled on Sacagawea."
When Captain William Clark wrote the name phonetically, he indicated that the pronunciation of the "g" was with a "gah" sound.