Served as interpreter and symbol of peace to Native Americans whom the Corps of Discovery encountered on their trip West;
Her knowledge of edible plants often saved the men from starvation.
Sacagawea (ca. 1788-1812) is the Native American woman who accompanied the Army Corps of Discovery, led by Captain William Clark and Meriwether Lewis, in their exploration of the West and their search for a route to the Pacific Ocean.
One of the major benefits of having Sacagawea on the trip was that as the Corps of Discovery encountered native people, the fact that they were traveling with a Shoshone woman and her child heralded the peaceful nature of their trip.
The spelling of her name in all journals of the time is as above—with a g—and when Captain William Clark wrote the name phonetically, he indicated that the pronunciation of the "g" was with a "gah" sound.
There are many myths surrounding her life because there is so little documentation. Here you will read of some of the controversies.

Early Life
Sacagawea was a member of the Lemhi Shoshone tribe in what is now Idaho. As a young girl she and other Shoshone were captured by an enemy tribe, the Hidatsa. While some reports record that they were taken as slaves, Hidatsa scholars say that the most likely victims were motherless children who would have been given to the Hidatsa mothers who had lost their children to disease. These children would have been blended into their new family.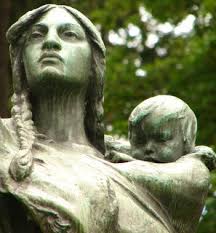 French-Canadian trapper and fur trader Toussaint Charbonneau met Sacagewea while she was living with the Hidatsa. While still in early teens, she became one of his two wives.
Lewis and Clark Expedition
Sacagawea was pregnant with her first child when the Corps of Discovery arrived near the Hidatsa village to spend the winter of 1804-05. Lewis and Clark's men built Fort Mandan to have a place to live during the severe winter weather. The Corps leaders also used the time to talk to different trappers to select one to come with them as a guide and interpreter.
Toussaint Charbonneau was selected to be a part of the Corps because of his knowledge of the West and his facility with French and English. When Lewis and Clark discovered that one of his wives was Shoshone, they asked him to bring her along to help them through Indian territory.
Charbonneau and Sacagawea moved into Fort Mandan with the Corps of Discovery to help prepare for the trip. Meriwether Lewis documented that her baby, Jean Baptiste Charbonneau, was born on February 11, 1805. The baby was frequently referred to by his Shoshone name, "Pomp" meaning first born.
Trip Begins
The Corps left Fort Mandan in early April of 1805. They planned to travel west to the mountains along the Missouri River.
Early in the trip, Sacagawea proved her worth. On May 14, 1805, the boat in which Sacagawea was traveling was hit by a wave in such a way that the boat pitched to the side. The m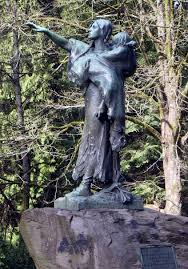 en worked to right the boat, and Sacagewea with Pompey strapped to her back, set about retrieving the instruments and books that floated out of the boat when it tipped. (This was precious cargo so they were always wrapped in waterproof packaging when the Corps traveled by water.) Sacagawea's fast thinking and quick response saved the needed materials with very little damage done. So grateful were the corps commanders that they named that section of the river in her honor.
As the group neared Sacagewea's former home and village, she began to recognize trails and provided helpful guidance. (Reports that she was the primary guide for the group are incorrect.) When the group arrived at the village, Sacagawea learned that all of her family except two brothers and the son of a sister had been killed. One of her brothers was now the chief, and a joyful reunion ensued.
As Lewis and Clark requested, Sacagawea negotiated a deal with the Shoshone that provided them with the horses needed to cross the Rockies but also a guide to help them through.
The trip was far worse than anyone could have imagined. Food became nonexistent and the Corps was reduced to eating tallow candles to survive. As they descended the western slope and reached an area below timberline, Sacagawea showed the men how to find and cook camas roots to help them regain their strength.
Sacagawea's Character
Several of the men mentioned Sacagawea's general good spirits in their journals. There was only one time on record when she was unhappy. When they were very near the Pacific, Clark had intended to leave Sacagewea at the camp while the men ventured on. When Sacagawea heard this, she expressed her dismay directly to Captain Clark. She had not come all this distance to be denied the opportunity to see the great waters. Clark took her.
Return Trip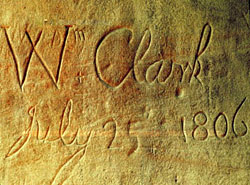 After reaching the Pacific, Lewis and Clark agreed to take two separate routes on the return, meeting up at the point where the Yellowstone empties into the Missouri. Sacagawea stayed with Captain Clark's group. When they reached the Rockies, Sacagawea told the captain that she knew the area well enough that she would locate a gap in the high range of the Rockies that would let them cross. After a week, she returned and led them down to the Yellowstone River basin to cross via what is now known as Bozeman Pass. (Later the Northern Pacific Railway chose this passage to build their rail line.)
As they traveled along the Yellowstone River they encountered a particularly interesting flat-topped rock formation that offered Clark an excellent view of the surrounding territory. He named it Pompey's Tower (now Pompey's Pillar) and it can still be visited today. From Clark's journals, we have this mention:
At 4PM [I] arrived at the remarkable rock situated in an extensive bottom.This rock I ascended and from it's top had a most extensive view in every direction. This rock which I shall call Pompy's Tower is 200 feet high and 400 paces in secumpherance and only axcessible on one side which is from the N.E.
Sacagawea and Charbonneau Return Home
On August 14, 1806 when the Corps passed into the Hidatsa-Mandan village where Sacagawea and Charnonneau had originally joined them, the couple and Jean Baptiste said good-by to the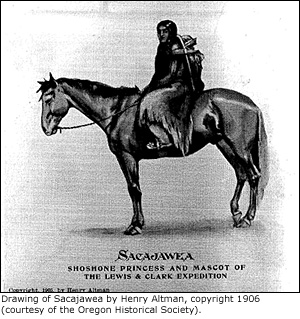 others, and the group continued on. Charbonneau was paid $500.33 and received 320 acres of land; Sacagawea was not paid.
William Clark adored Little Pomp, and before the Corps departed, he asked Charbonneau's permission to take the boy and raise him as his own. Charbonneau and Sacagawea declined at first saying he was too young but a few months later they accepted Clark's invitation to come to St. Louis. After a time however, the lifestyle did not agree with them and Charbonneau gave back the land Clark had provided him. Pompy remained with Clark who promised to provide an excellent education for the boy.
Sacagawea's Later Life
Sometimes after 1810 Sacagawea gave birth to a daughter, Lizette, at Fort Manuel Lisa in what is now South Dakota. From this time forward, two versions of her story are told.
IN the 1930s, a historian came upon information that Sacagawea may have left Charbonneau and married into a Comanche tribe. She eventually returned to the Shoshone in Wyoming and died in 1884 when she was in her 90s. This documentation relied on a Dr. Charles Eastman, a Dakota Sioux physician, who believed she assumed the Comanche name of Porivo (chief woman). For a time, this narrative dominated.
More recent evidence has been uncovered that Sacagawea probably died at Fort Lisa. Charbonneau was away at the time Sacagawea's became very ill in 1812. John Luttig, a clerk at the fort, recorded that on December 20, 1812 the wife of Charbonneau died of putrid fever. He noted that she was about 25 and left behind an infant girl. (Jean Baptiste was in boarding school at that time.)
Shortly after this, there was an Indian attack on Fort Lisa. Charbonneau had not returned so Luttig escaped and took with him Lizette and another young boy (perhaps another son of Charbonneau from his other wife). Luttig traveled to St. Louis and applied for and received adoption papers for the children. By later in 1813 Luttig's name was replaced with that of William Clark, so the children were left in Clark's care. (Luttig died in 1815 so perhaps he implemented this, knowing that he was sick.)
There are no further reliable records of Lizette, which may indicate that she died during childhood.
What Happened to Jean Baptiste?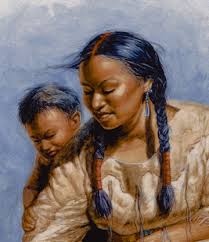 Jean Baptiste continued in school and achieved a certain celebrity status for being an infant who had accompanied the Corps of Discovery on their exploration. He was well-educated and spoke French, German, Spanish and Shoshone. He became a well-respected trapper and scout.
After guiding Prince Paul of Wurttemberg, Germany on his travels in the American West, Jean Baptiste went to Germany with the prince in 1823. When he returned to the U.S. in 1829, he went back to his life of trapping and guiding, and he was included among the best of the mountain men of that time–Jim Bridger, James Beckwourth, and Kit Carson.
In 1866 he left to go to Montana for the gold rush but he caught pneumonia and died.
As for Sacagawea, she lives on as an example of a fearless mother who accompanied 33 men on what was a history-making trek.