First woman field naturalist to obtain and prepare her own specimens
Set a precedent for showing the animals in lifelike poses surrounded by a natural setting
Was the first to find and identify the Colorado screech owl; in her honor, a Smithsonian ornithologist named the bird for her, Scops asio maxwellae
Just as John James Audubon killed the birds he desired to paint, so did all the 19th century naturalists who were studying animals in their natural habitats. All that was different about Martha Ann Maxwell was that she was a woman.
In a time before powerful binoculars or high-range cameras, the only way to study and understand an animal was by killing it in a way that did the least harm to the body.
Early Life
Martha Maxwell was born in Tioga County, Pennsylvania, and her grandmother was the person who instilled in her a love for nature. She took Martha on frequent walks in the woods where they would watch for and identify birds, squirrels, and other wildlife.
Martha's mother remarried after the death of Martha's father in the late 1830s, and this newly blended family set off for Oregon where the plan was to convert Native Americans to Christianity. To Martha's sadness, her grandmother died along the way, and the trip was extremely taxing for all. As a result, the family made it only as far as Wisconsin, and they settled in Baraboo.
Marriage and Motherhood
Martha began college at Oberlin in Ohio but money for tuition soon ran out, so she moved back to Baraboo to teach school. She and James Alexander Maxwell, a widower with four children and the owner of the local mill and general store, married in 1853, making Martha an instant mother.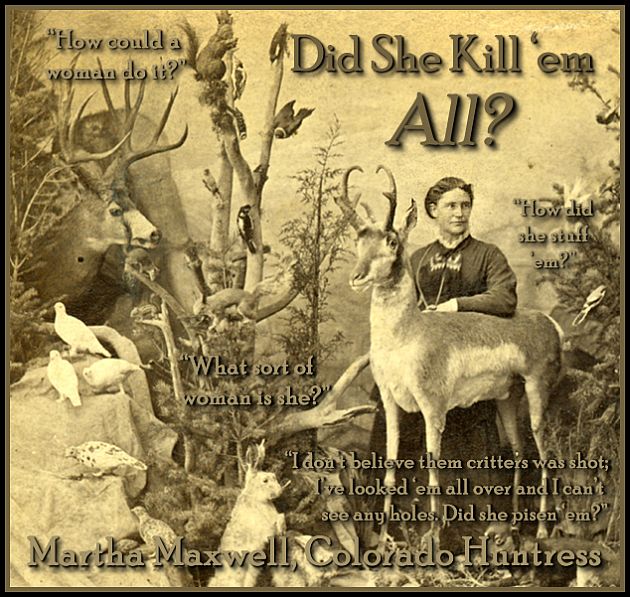 In 1857, James hit financial ruin, losing both the store and the mill. By this time, James' first children were getting older but he and Martha now had a two-year-old daughter, Mabel. James wanted to go to Colorado to see if he could strike it rich in the Colorado Gold Rush. He expected Martha to stay behind, but she did not share that sentiment. She arranged for Mabel to stay with her parents, and she and James and the older boys traveled to Central City, settling in Nevadaville, where most believed the riches were to be found.
Colorado
While James and the boys pursued mining, Martha took in washing and mending and baked pies to earn her own income. Martha made her own investments, and she bought an interest in a boarding house, some mining claims, and she purchased a one-room log cabin on the plains east of Denver.
Fire was a big risk in any of these communities, and in 1861 the entire boarding house burned to the ground, leaving Martha and the family with no place to live and for Martha, no way to earn an income. The plan was to move to the cabin that Martha had bought east of Denver, but when they got there, they found that a claim jumper had moved into the cabin.
They took the squatter to court, and the decision came down in favor of the Maxwells but the German fellow living in their cabin refused to move out.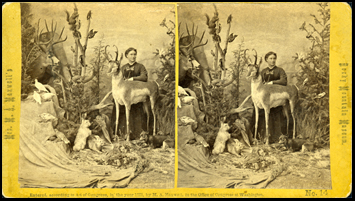 Martha waited until the fellow finally left the cabin on an errand. In preparation for what she knew she must do, she brought along some tools. Once he was out, she removed the door from the frame so that she could go in. When she entered the cabin, she was stunned by what she found: perfectly preserved stuffed birds and animals. The fellow was clearly a taxidermist by training.
While Martha certainly must have taken a few minutes to study the specimens, she also lost no time putting everything out on the prairie and reclaiming her property.
Back to Wisconsin
In 1862, Martha received a letter that her mother was too ill to take care of Mabel any longer, so Martha moved back to Baraboo. When she arrived, she herself was not feeling well so she found a relative to care for Mabel and she went to a sanitarium to recover her strength.
She returned to Baraboo to care for Mabel, and she also found someone there doing taxidermy; she begged him to let her learn from him.
Back in Colorado to Pursue Taxidermy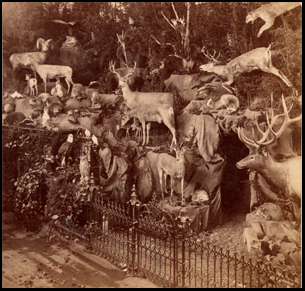 James wanted her back in Colorado with Mabel but Martha was in no rush to return. Finally in 1868 she and Mabel started for Colorado, this time going to Boulder where James was now living. In this new location, Martha began to seriously pursue her art, collecting plants and birds and animals in order to study and stuff them.
Initially she asked neighbor boys to collect birds and animals for her, but she wanted more say in what they brought to her, so she bought her own rifle and began to practice. As she gained accuracy in her shooting, she began planning trips into the Rockies where she gathered chipmunks, various species of squirrels and birds. She was indifferent to the weather and to hiking conditions. Mabel was still young enough that Martha had little choice but to drag her along, much to Mabel's displeasure.
By the fall of 1868 Martha had prepared almost 100 specimens, ranging from chicks to hawks, and hummingbirds to eagles.
Several local people had seen her work, and she was asked to display it at the Colorado Agricultural Society exhibition. Attendees particularly admired that Martha created an entire natural habitat for each species, making it appear as if they were still alive. Her work was acknowledged with a $50 prize and a diploma.
Based on this positive response, she expanded her travels, going into Wyoming Territory and the Black Hills looking for other species. By 1869, she had 600 specimens to exhibit including her latest addition, a pronghorn antelope.
She Refines the Process
Whether she was working with birds or bison, the first step in preparing the animals for preservation was always skinning the carcass. Then she took very careful and exacting measurements of all aspects of the body so that she could create a replica of the body. Doing this preparation herself was very important as this was the stage when she could best study the species.
Later on, she soon found it practical to hire a blacksmith to craft a light frame; she specified the exact dimension for each specimen, and then after the blacksmith made the frame, she covered it with cloth before sewing the animal skins over it. This was a more advanced approach than what was done by taxidermists in the East. However, Martha Maxwell was isolated by geography and gender, so it took time for others to realize the advances she was making.
As she built her collection she added a six-and-a-half foot grizzly bear and many new snakes that she had never preserved before.
When she found what she felt were rare items, she sent them on to the Smithsonian where she had established a nice relationship. Martha is credited with being the first to identify the Rocky Mountain Screech Owl, which the ornithologist at the Smithsonian then named in her honor: Scops Asio var. Maxwell. She also was the first to send back specimens later known as the black-footed ferret.
Rocky Mountain Museum
Money was still a huge issue for the Maxwells, and Martha hit upon a possible way to continue her work but also make money: establish a museum and charge admission to those who wanted to see her collection.
The Rocky Mountain Museum first opened in Boulder in 1874, and the response by experts was excellent. Ferdinand V. Hayden of the U.S. Geological Survey said "it excelled every other [museum] in the West" and he recommended it be absorbed by a university. Despite the praise, it didn't make money, and James still wasn't working.
Philadelphia Exposition
Once again an opportunity presented itself and bailed the Maxwells out for a time. Colorado representatives in charge of Colorado's exhibit for the Philadelphia Centennial International Exposition in 1876 invited her to provide an exhibit for the Kansas/Colorado building, which would entail being there to act as an interpreter at the exhibit.
Few people in the East had ever traveled West, so they were absolutely amazed by Martha Maxwell's work. Her presentation showed bears, deer, and other mammals cavorting across a Rocky Mountain landscape, and people were fascinated by it—and her. It was reported that police were on hand when she was in the building, to maintain crowd control around her. They wanted to see the "little woman" who had "killed all those animals." Many asked, "How could a woman do it?" "What did she wear to hunt them?"
The question as to how a woman could do all this was asked so frequently that Martha finally added a small placard in front of the exhibit, saying WOMAN'S WORK.
The money made was set aside for Mabel's college education but earning income was still difficult. After the exposition, two businessmen funded getting Martha's exhibit to Washington, and she hoped that would be her ticket into the big time, but it wasn't to be. She remained east trying to figure out a way to make the exhibits she created pay, but at age 49 she became too ill to work and soon died of ovarian cancer.
The Collection
When Martha died, Mabel contracted with a fellow in Saratoga Springs, New York to exhibit and/or sell the collection. The gentleman exhibited it several times but then when it went into storage, it was not put away carefully, and pieces began to disintegrate.
In 1920 Martha's sister, Mary, tried to retrieve the collection and planned to donate work to the University of Colorado. Unfortunately, the pieces had aged badly and there was nothing worth preserving.
While we are unable to see the exact specimens Martha Maxwell created, we see her influence in every diorama at natural history museums across the country, as it was she who laid the groundwork for placing the animals in settings that indicated their natural environments.
What Martha Maxwell's Work Meant to Her
"All must die sometime; I only shorten the period of consciousness that I may give their form perpetual memory."